Comics Disassembled: Ten Things of Note from the Past Week in Comics, Led by Returning Topics
JLA/Avengers and ComiXology at the top once again? What is this, Groundhog Day?! No, it's Comics Disassembled, so let's look at ten things I liked or didn't like from the week of comics, led by two hot topics being hot once again.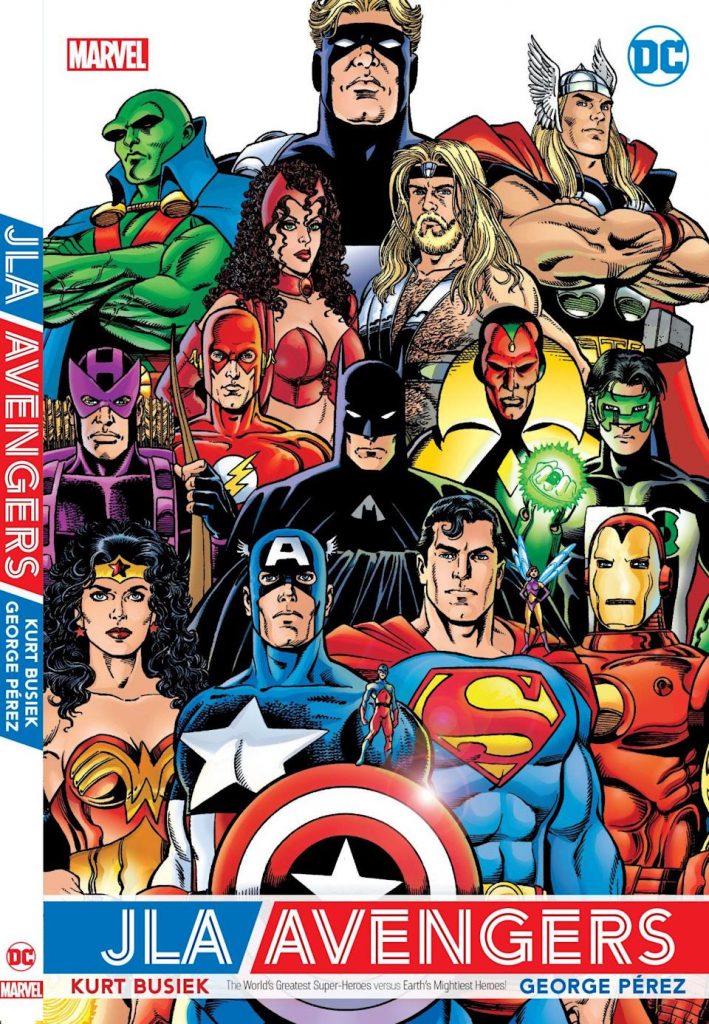 1. JLA/Avengers, Good and Bad
As noted before, JLA/Avengers is being reprinted in honor artist George Perez, whose terminal diagnosis resulted in earths being moved and deals being made to bring this long out-of-print collection back. This is something fans and retailers have long wanted. The problem was only 7,000 copies were able to be turned around by the release date of March 16th – seemingly because of the quick turnaround and supply chain issues – meaning the divide between supply and demand was enormous. If shops are good at anything, though, it's rolling with the punches, and it seems as if plans have been formed and solutions have been found as to how they will handle this limited inventory. As you might have expected, the solutions shops came up with are…let's say, as divided as the supply and demand.
Take the good side. Some shops, like my pals over at Challengers Comics + Conversation as well as others like Double Midnight Comics & Games and Brave New Worlds, have elected to go with a very logical, rewarding solution for their small selection of copies (Challengers received five so I presume that's about the max for shops): you can buy raffle tickets for $5 that get you entered to win a copy, with each raffle ticket representing one entry, and all proceeds from the raffle go to The Hero Initiative. Double Midnight is even matching the proceeds, making it doubly awesome. This is a great solution. I'm sure we will see a lot more of that.
On the flip side is one expected result, which is some…entities (I don't want to say shops, because that isn't certain) are instead selling them at a premium on eBay. There are currently 35 entries when you search "JLA/Avengers Hero Initiative," and while some are shops like Coliseum of Comics and Fourcorners Comics auctioning copies off with all proceeds set to go to the Hero Initiative, others are not. They're touting the limited nature of the volume, calling it a "variant," and basically doing anything the can to make money off the supply/demand disparity. This is not a great solution. It's a gross one.
Fingers crossed that we see more people going with solutions like the one Challengers, Double Midnight, and Brave New Worlds came up with. It's a smart one that gives everyone a shot, results in a win for a good charity like Hero Initiative, and isn't taking advantage of people because of a good thing that was born into an unfortunate situation. It'll be interesting to see how other shops roll it out as the release date approaches. I'll be watching.
2. David Steinberger, Heading Out
I understand and appreciate how upset people are about the ComiXology update. It has by almost all accounts – which are considerable! there are so many accounts of this news! – been an abject disaster. We can all agree on that, because it is just a thing.
That said, I do think some of the response has started to edge from "rightfully upset" to "irrationally conspiratorial," especially when it came to the news of ComiXology's co-founder David Steinberger departing from the company to head up a new "Amazon-wide initiative." I saw one person suggest that Steinberger intentionally tanked ComiXology so he could leave for Amazon, a company he already worked for. Others were suggesting it's Steinberger abandoning ship, as if he wasn't simply moving from one cabin to another in the same ship. That's all just…insane to me. Sure, it's possible that Steinberger saw this new initiative as an opportunity to for a fresh start away from all this (as well as a fitting next step for his career, and one that has likely been in the works for a bit considering how slowly large corporations tend to move), but he's still serving as an Advisor to the company with two of his long-time lieutenants, Tom Ashley and Jeff DiBartolomeo, leading the way for the digital comics platform from here. So if it's an attempt to escape, he's doing a pretty terrible job at it.
More than that, seeing people say that Steinberger ruined everything they loved about ComiXology is particularly strange considering Steinberger co-founded the company, so he also made everything they loved about it as well. It's fair to be mad about the update, and even to pin Steinberger with it if you so desire (I'm still putting it on Amazon personally, not the original ComiXology team). But he should also earn partial credit for the aspects you used to enjoy.
Anyways, the ultimate point is this further underlines ComiXology's update as a line in the sand for a new era at the company. I'm skeptical they'll earn back widespread faith from their customer base, so it's a tough place to start at. But they're sort of the only game in town, so I also don't imagine they're going to collapse. This type of thing looks bad more than it actually is bad, I'd bet, not that this matters to anyone in the grand scheme of things. Optics are what plays, and the optics are not great. Whatever the reasoning behind this move was, though, I don't expect it's going to make a material difference on how ComiXology operates today and tomorrow — especially considering the comics storefront page title calls it "Kindle Comics," so who knows how much longer the ComiXology era even lasts — or how its users are going to feel about the update. All it means is there are different names at the top of the masthead now. This isn't the sky falling.
The sky already fell last month.
The rest of this article is for
subscribers only.
Want to read it? A monthly SKTCHD subscription is just $4.99, or the price of one Marvel #1.
Or for the lower rate, you can sign up on our quarterly plan for just $3.99 a month, or the price of one regularly priced comic.
Want the lowest price? Sign up for the Annual Plan, which is just $2.99 a month.
Learn more about what you get with a subscription