Comics Disassembled: Ten Things of Note from the Past Week in Comics, Led by So Much…Too Much Even
Rumors of San Diego Comic Con's demise were apparently greatly exaggerated, as many have repeatedly noted on social media. That was apparently true in person and certainly true from a news front, where the information was coming fast and furiously. That made this week's column quite the challenge. Let's to it, with the whole thing led by one of the standouts from the past couple years in comics doing something new.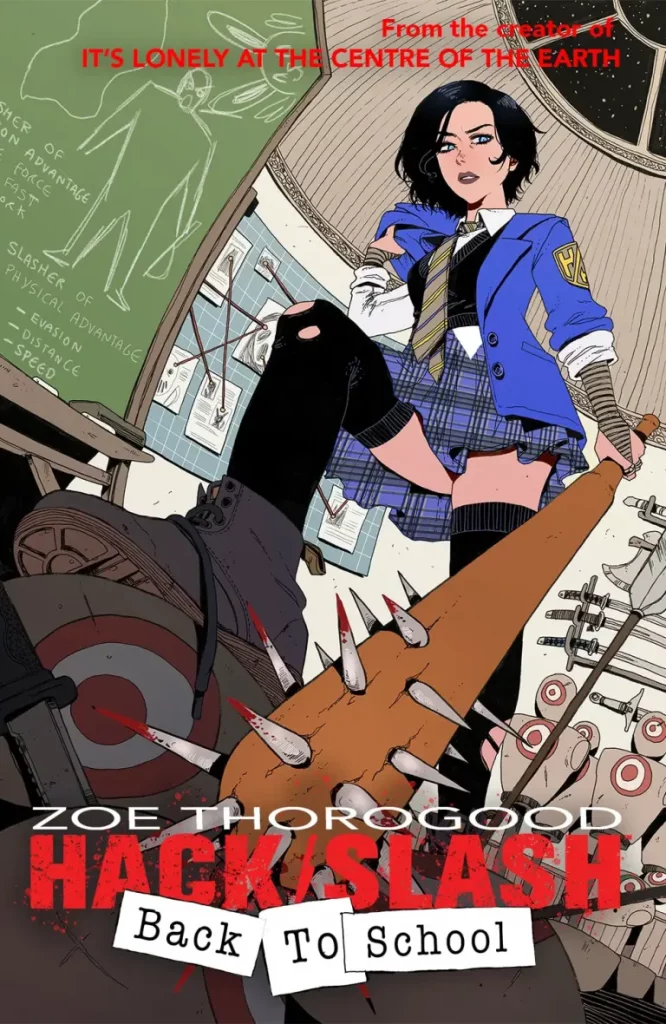 1. Zoe Thorogood, Winner of the Week
If there's one name that's leading the way at San Diego Comic Con this weekend, it's Zoe Thorogood. That's not altogether different from most times in comics, of late, as Thorogood has been a boss for a while now, and one who has deservedly earned a lot of acclaim. But she'll be hearing her name a lot at the Eisner Awards – the most, actually, as she earned five nominations and a currently unknown number of victories – she received a glowing feature about her in The Guardian, and she locked in the vaunted award for the "most surprising announcement from SDCC" basically as soon as the event kicked off.
It's that she'll be writing and drawing her own Hack/Slash mini-series in Hack/Slash: Back to School. Thorogood is apparently a fan of Tim Seeley and Stefano Caselli's world, and she has a specific angle she's taking to this four issue mini-series that's coming in October, one that she described as a "real joy" that also earned the description "monster hunting school for girls with mommy issues." To be honest, I have never read Hack/Slash before now. But I've also not not read a Zoe Thorogood project, so, uh, Hack/Slash! Yeah! I trust in her ability to deliver the goods, and I'm excited to see what she has in store for us.
Oh, and could she be brewing up a sequel to her autobio sensation It's Lonely at the Centre of the Earth? Possibly, it seems. Apologies in advance, aspiring Eisner Award nominees! Zoe Thorogood's gotta cook!
2. The Strike's Impact, Being Analyzed
Last week, I wrote a little bit about the new SAG-AFTRA strike and what that might mean for conventions, amongst a great many other things. For good reason, my answer was simple: I don't really know what that means! I'm not a union expert, nor am I a SAG-AFTRA member, so it was difficult to tell especially in the infancy of that strike. The early word didn't look great, as initial language seemed to suggest that conventions were off the menu because of it, but thankfully The Beat's Heidi MacDonald is always there to dig into the convention dirt and find some answers.
She wrote a piece examining this idea, and it seems as if there's some gray area available for actors to still appear at conventions for photos and autographs as long as they're not there to promote a specific project. What that means precisely again is uncertain, as MacDonald suggests it's a fluid situation. But it probably means the people who run conventions are breathing a sigh of relief to some degree, and the same may be true for other folks who want to make a profit from conventions – like, comic creators and publishers, for example – because this could result in a positive area of effect for them.
All I know is it makes it a little more likely that I can get Ewan McGregor to sign my Moulin Rouge DVD and to do a "Come What May" duet with me for Off Panel purposes when I go to NYCC. I too am breathing a sigh of relief, so thank you, Heidi!
The rest of this article is for
subscribers only.
Want to read it? A monthly SKTCHD subscription is just $4.99, or the price of one Marvel #1.
Or for the lower rate, you can sign up on our quarterly plan for just $3.99 a month, or the price of one regularly priced comic.
Want the lowest price? Sign up for the Annual Plan, which is just $2.99 a month.
Learn more about what you get with a subscription