Comics Disassembled: Ten Things of Note from the Past Week in Comics, Led by the Future Being Now
This week brought a stunning amount of options for the ten spots of Comics Disassembled, but as is the case with Highlanders, there can only be ten. Wait…that's not right…whatever. Let's get to the week that was in comics.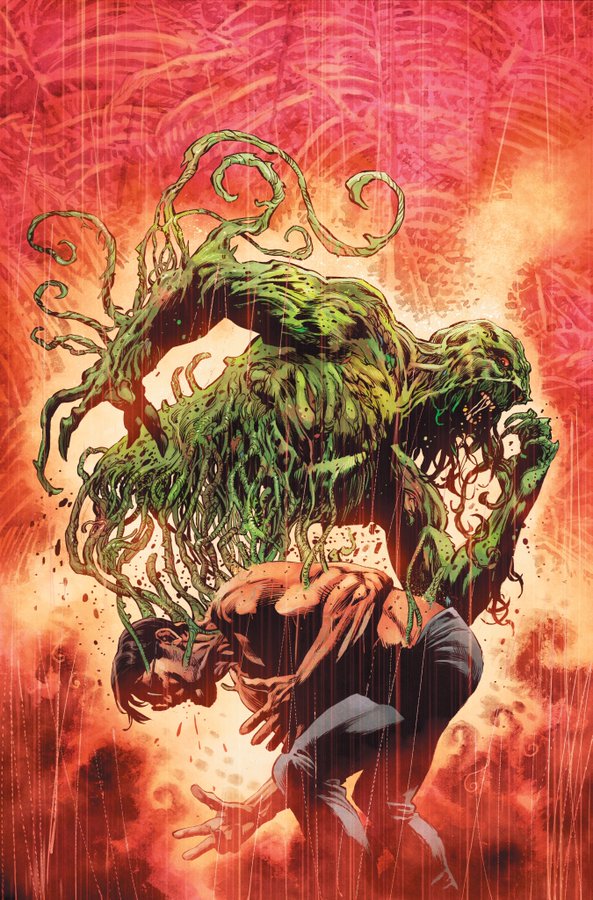 1. DC's Future, Being Now
Sympathies to DC, as it concluded its run of publishing comic boo…wait, wait, we're getting an update, it appears that DC is not actually folding up and licensing its intellectual property to Marvel or stopping publishing comics altogether, as many people with an internet connection and conspiratorial hearts suggested. At least not yet, I suppose, because they're at least going to be continuing to publish comics in March after Future State wraps up, with that two month jaunt of good vibes and new creators not being a temporary flirtation but a jump off for a new stretch at the publisher.
That means more of Mariko Tamaki and Dan Mora on Detective Comics (with Mora somehow also still drawing Once & Future), Gene Luen Yang and Ivan Reis on Batman/Superman, Becky Cloonan and Michael Conrad on Wonder Woman (no more Jen Bartel, though, as Travis Moore joins them instead), Ram V and Mike Perkins on Swamp Thing, and a whole lot more. Those are some exciting teams, just as they were on Future State, and I'm much more intrigued by these new flavors than I am more of the same. Now, some of the same will stick around – James Tynion IV and Jorge Jimenez are still on Batman – but it's finding new angles on the periphery. That's smart of DC.
There's plenty more to come, and plenty of other titles were announced this week too. The good news is that means more good, interesting comics. The bad news is it will make it more difficult to say asinine things on the internet about the future of DC. You win some you lose some, I guess.
2. Marvel Adaptations, Being Insane
Originally this point was simply going to be about the new Spider-Man movie and how it seems to be more of a collection of every single other Spider-Man movie in one place than a movie, as every previous hero and villain is seemingly returning for multiversal madness. Which honestly is insane, but also the kind of thing Marvel surprisingly excels at, so who the hell knows, maybe it will work? But then on Thursday, a million other Marvel related adaptations and adaptation related was announced at Disney's investor call, and it became even bigger.
So, let's quickly share every bit of new info that came from this call. Here we go…*takes a deep breath* The Falcon and The Winter Soldier is coming to Disney+ on March 19th, Loki is coming hot on its heels in May (and looks amazing), Xochitl Gomez IS playing America Chavez, What If…? is coming in the summer of 2021 (and also looks fantastic), Captain Marvel 2 will feature both Ms. Marvel and Monica Rambeau, the upcoming Nick Fury show is, incredibly, going to be named Secret Invasion and will feature Ben Mendelsohn's Talos (a Skrull), Ironheart is getting a series starring Dominique Thorne, Don Cheadle's returning as James Rhodes in an Armor Wars series (????), there's a Guardians holiday special coming up from James Gunn and a Groot series of shorts, KANG IS CONFIRMED FOR THE NEW ANT-MAN AND THE WASP, CHRISTIAN BALE IS PLAYING GORR THE GOD BUTCHER, Echo will appear in the Hawkeye series, and, oh yeah, Jon Watts is directing a Fantastic Four movie.
That's honestly an annoying amount of typing, but you get it. Marvel's going to be busy, because it turns out Marvel makes Disney a whole lot of money. And you know what? I'm excited for pretty much all of it! I like the Marvel movies, they're entertaining even if they aren't Citizen Kane by any means, and this is an amazing cross-section of glorious insanity from Marvel's history. I've said this before, but I remember when the first X-Men movie was coming out and I was hoping with all of my being that it would just…not be trash. Now we very well may be getting movies and shows featuring the Living Tribunal, Kang the Conqueror, Celestials, and Gorr the God Butcher and it probably will be super well done!
I mean, Christian Bale is playing Gorr! It's wild.
Is superhero media out of control? Yeah. Maybe. Is it kind of weird how fiercely some people tether themselves to these ideas as if they're gangs they belong to rather than giant franchises? Absolutely. But honestly, all of this news brought a smile to my face during a year that loves ranging from awful to historically bad. There are worse things than too many comic movies and shows, and we've seen a whole lot of them in 2020. Let people enjoy things, I say.
The rest of this article is for
subscribers only.
Want to read it? A monthly SKTCHD subscription is just $4.99, or the price of one Marvel #1.
Or for the lower rate, you can sign up on our quarterly plan for just $3.99 a month, or the price of one regularly priced comic.
Want only the longform content? Sign up for the monthly longforms only plan, which is just $2.99 a month.
Learn more about what you get with a subscription