Comics Disassembled: Ten Things of Note from the Past Week in Comics, Led by the Dream of the '90s
Do you smell that in the air?
It's the 1990s, and they're coming back. Let's look at that idea and more in this week's edition of Comics Disassembled.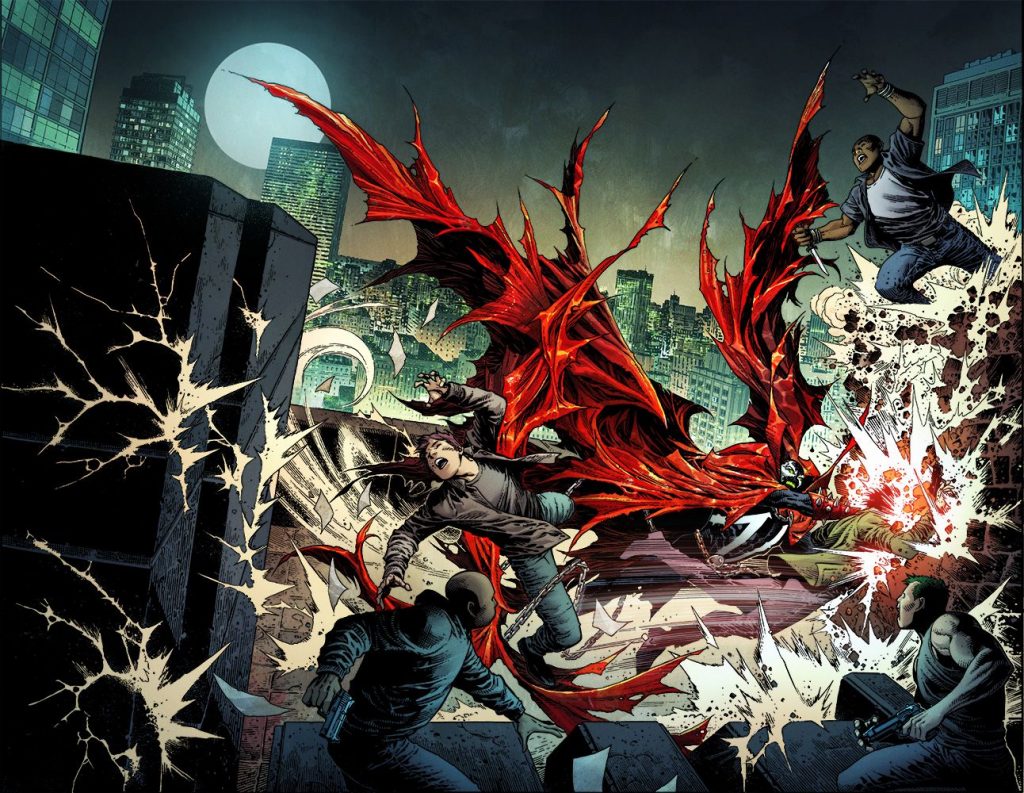 1. The 90s (Reprise)
If you asked me five years ago what I'd expect from the future of Image Comics, I'd probably have guessed around 1,437 different things before I came to "land of the superheroes," but that's starting to seem what it might actually be. On the heels of the rumored shared superhero universe idea and a plethora of variant covers is a new Spawn Universe – or "Spawn's Universe," I should say – loaded with at least three new titles (including King Spawn, The Gunslinger, and The Scorched) as well as Savage Dragon #259 getting reprinted as North Force #0 instead of, well, Savage Dragon #259, as Erik Larsen hopes to connect it more directly with the interest in the new Canadian superhero team that he created.
God, that was a ridiculously large sentence, but it's just a lot. I'm not even going to get into the merit of the comics, because plenty of much smarter people are addressing the nature of these books. I wanted to look at what it all means, because it feels pretty weird to me. It's all very 1990s, although I suppose that should make sense. From what I've heard, a huge part of what's fueled the increased interest in Spawn and, to a lesser degree, Savage Dragon has been a mix of speculator intrigue and nostalgia – two fits for the themes of 2021 – so these moves feel like a situation where they are striking while the iron is hot.
But at the same time, it's weird to think of the larger entity that is Image as the trend chaser rather than the trendsetter. Obviously Spawn and Savage Dragon don't represent the totality of the publisher, especially considering that neither are even Image Central publications. Image is doing some cool things outside of these books (see: item #10), of course, so this is just one part of a larger whole. But when you think of that in concert with the superhero interest and the onslaught of variants, it just feels weird for Image to be in a nostalgia cycle when forward motion defined the 2010s for them. I can't say I totally blame them. The pandemic has delivered plenty of unexpected challenges, and when things get bad, you focus on what's working. All of these things are doing just that, for better or worse.
But at least to a degree, what harmed Image in the 1990s was over-expansion, as a hot title would become hot titles. That proved difficult to sustain. Is that what we're looking at here, or are we looking at something different? It's hard to say. I guess we'll find out later. I just can't help but feel this is troubling direction, even if in the near term it represents big wins.
2. Manga, Splained
Here's a cruel admission for you. Despite hosting a podcast myself, I listen to almost no podcasts. Truly, the only one I listen to on the regular is Binge Mode over at The Ringer, and that's because Jason Concepcion and Mallory Rubin are an unstoppable force of goodness and fandom in one. But if I was going to draw up a second to listen to, it might look a whole lot like Mangasplaining, a new show in which David Brothers, Deb Aoki, and a perhaps rotating host (or perhaps not!) in Christopher Butcher help educate the woefully new to the world of manga Chip Zdarsky about the glory of the form.
It all starts with a first episode that focuses on Katsuhiro Otomo's Akira Vol. 1, a comic I myself – like Chip – have not read, with an upcoming syllabus existing on the site for you to keep up, read along, and join in on the fun. I love this idea, as it allows a quartet of fun people to riff but also helps people who want to explore the world of manga more – like me! – better do that. It's a fantastic idea, and what a name! What's not to like about this idea? Nothing. That's the answer.
The rest of this article is for
subscribers only.
Want to read it? A monthly SKTCHD subscription is just $4.99, or the price of one Marvel #1.
Or for the lower rate, you can sign up on our quarterly plan for just $3.99 a month, or the price of one regularly priced comic.
Want the lowest price? Sign up for the annual plan, which is just $2.99 a month.
Learn more about what you get with a subscription