Comics Disassembled: Ten Things of Note from the Past Week in Comics, Led by Wild Conjecture
After an array of enormous and/or notably interesting headliners in recent editions, this week brings…a little calm to the mix. Let's put on the tinfoil hats to start with in this week's edition of Comics Disassembled, then.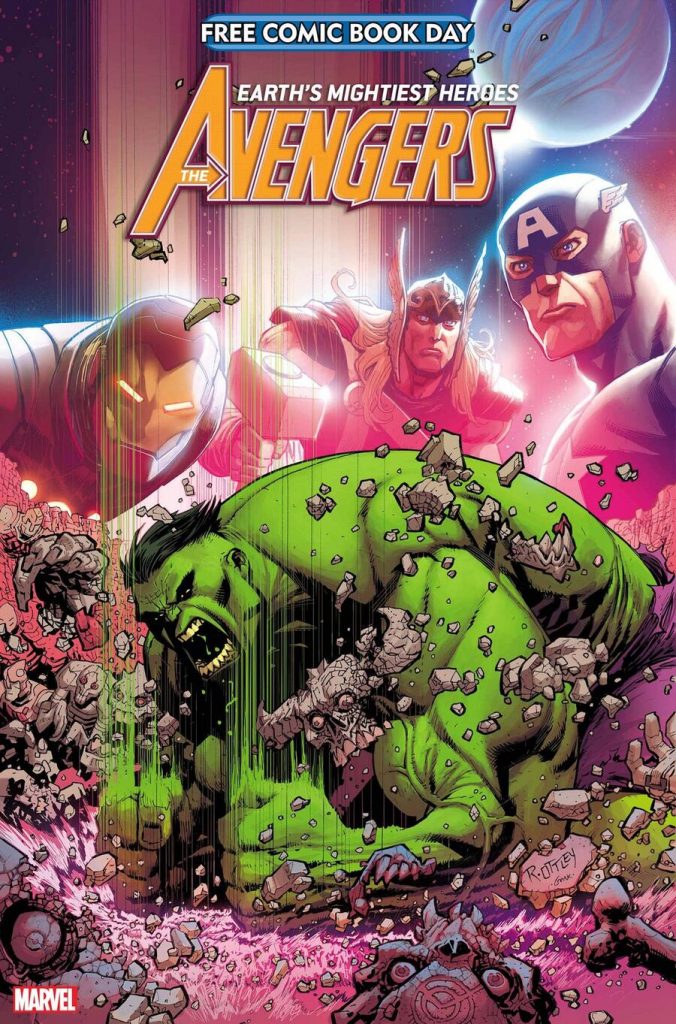 1. Marvel's FCBD Slate, Revealed
With no typical headliners this week, it's time for me to put my conspiracy theorist hat on. This week, Marvel revealed its Free Comic Book Day releases, with one being an Avengers/Hulk issue with a Ryan Ottley over, as you can see above, and the other being Spider-Man/Venom with a Patrick Gleason cover. Language used within describes these titles as giving "comic fans their first glimpse at the exciting new eras for their favorite characters" as well as describing Chip Zdarsky (and Jason Aaron) as chief architects of the Marvel Universe. Let's try to unnecessarily connect some dots from all of this.
Here's what we know about the current state of these titles:
Donny Cates and Ryan Stegman are off Venom
Joe Bennett, once upon a time, suggested that Immortal Hulk would end with #50
The current runs for Avengers and Amazing Spider-Man have been, based off the modern idea ideal superhero run lengths, going for six million years
With those scenarios and that "exciting new eras" language in mind, are we going to see a shuffling of the deck coming off of these Free Comic Book Day releases? Is this the beginning of the new beginning, if you will? Because Ryan Ottley makes a lot of sense as a new Hulk artist, I could easily see Zdarsky taking over…well, any of those four properties, with Spider-Man being the least likely given how much we've seen from him with the character, and if Cates is moving on and this is the end of Aaron on Avengers, that book makes a ton of sense for Cates. Given Aaron's inclusion here, the most likely move for him would be to Amazing Spider-Man given his exceedingly effective writing of that character in the past, the perhaps poor fit for Venom from a budgetary standpoint, and his previous experience with Hulk.
This all could happen. None of this could happen. Who the heck knows? But given the timing of Free Comic Book Day this year, what we know about these titles, and the language in that press release, if this all ends with…let's say, Cates on Avengers, Aaron on Spidey, Zdarsky on Hulk, and, I don't know, you, the current reader of this article, as the writer of Venom, I wouldn't be too surprised. Well, maybe on Venom. That might be unlikely. The rest feels feasible, though. It does feel like the right time for a new direction on those titles for Marvel, and like they're crescendoing at the right time to do it. We'll see as more information arrives.
2. DC, Dropping Imprints
Theories have existed on the comics internet for a while that Warner Bros. and AT&T would ultimately not see the value in publishing DC Comics as a business endeavor. While those theories are not eternally untrue, they are currently so. In fact, it seems as if the opposite is happening, as DC is launching a new imprint titled "DC Horror" in conjunction with Warner Bros. Consumer Products, as the latter is seemingly willing the former to create a line to publish comics connected to its horror films, starting with The Conjuring: The Lover, a five-issue mini-series that acts as a prequel to the next film in that series, The Conjuring: The Devil Made Me Do It.
They're not messing around with it either, as it's co-written by series screenwriter David Leslie Johnson-McGoldrick and author Rex Ogle with art by Garry Brown and covers by Bill Sienkiewicz. If this was designed as a cheap tie-in, they're doing a terrible job of it. This feels like an expansion with intent, although I should note that the idea that DC Horror is going to strictly be related to WB horror film releases is purely conjecture by yours truly. Evidently more announcements for the line are coming in July, and we'll see the makeup of the line then.
I do think this is smart, even a 17+ horror line feels a little random when that's…sort of what Black Label does as well at times, especially with The Nice House on the Lake coming soon? Maybe in lieu of Hill House or other pop up imprints they're going for a genre direction going forward with new imprint creation? Or maybe this really is just a crossover with Warner Bros. Consumer Products and that's all it will be? I'm not sure, but WB investing in DC in that direction makes the whole feel more stable to me, even if I've had little doubt that DC was in fine shape despite the spicy takes out there about the publisher's perpetual near death experiences. This seems like a good move, and one they're investing in. It's hard to go wrong with that combo.
The rest of this article is for
subscribers only.
Want to read it? A monthly SKTCHD subscription is just $4.99, or the price of one Marvel #1.
Or for the lower rate, you can sign up on our quarterly plan for just $3.99 a month, or the price of one regularly priced comic.
Want the lowest price? Sign up for the Annual Plan, which is just $2.99 a month.
Learn more about what you get with a subscription