Comics Disassembled: Ten Things of Note from the Past Week in Comics, Led by Winners and Losers
This week's edition of Comics Disassembled, my column in which I look at ten things I liked or didn't like from the week of comics, is going to be a little different. There was one topic that was so interesting to me this week that I almost made it an entire column unto itself on Thursday. Instead, I'm dedicating the first four entries in this column to it, pulling from the world of sports for a breakdown of the winners and losers of this big deal. It's that interesting to me!
Let's get to it!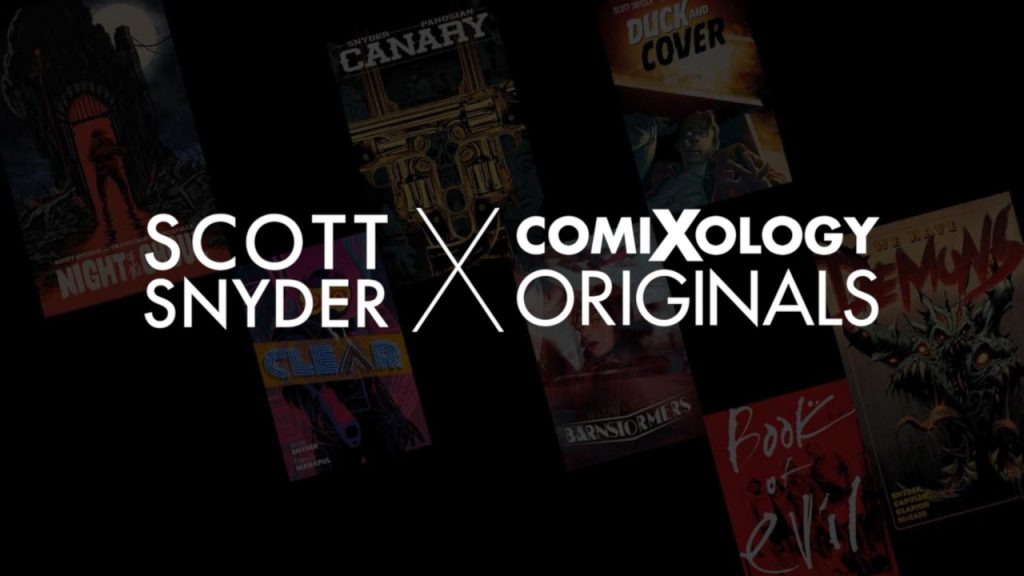 1. Scott Snyder & Friends, Winners!
This week, Scott Snyder and his Best Jackett Press imprint signed a big, big deal with ComiXology Originals to publish not just one, or two, or three, or a bunch of other numbers, but EIGHT comics over yonder on the aforementioned digital giant. These eight titles would be released on ComiXology Unlimited, meaning subscribers could pay just $5.99 a month to get access to all of them, with each title varying in format, from finite series to ongoing, as the writer recently told me. That in theory raises the readability ceiling for these titles, as an all-in-one price for eight books is pretty appealing. More than that, as part of this deal, the creative teams are paid a Big Two level (at least) page rate while still maintaining all media rights.
That's why the first winner of this deal has to be Scott Snyder and the incredible collection of talented creators he's working with, as Snyder and Tula Lotay, Jock, Dan Panosian, Francis Manapul, Rafael Albuquerque, Jamal Igle, Francesco Francavilla, and Greg Capullo, as well as an assortment of other gifted folks, are going to be living the dream. Healthy page rates? Owning your own rights? Creative freedom? What's next…health care?!?!
It's a big win for all creators involved, as well as an exciting manifestation of the mad science approach Snyder had talked about wanting to take when he visited me on Off Panel last year. It was clear when talking to him that he didn't just want to do the usual thing with Best Jackett, and this is, by and large, not the usual thing. Even better, they get to have their cake and eat it too, as Snyder noted that – as part of the deal between the two companies – these ComiXology releases will eventually be released in print at Dark Horse as well. Not only that, but they'll each have their own solutions to the print question, as some titles – like We Have Demons, his collabo with Capullo – could be released in single issues, while others like Barnstormers with Tula Lotay could exclusively be graphic novels. And the way they all look and feel will diverge as well.
It's a super fascinating deal, and a remarkably big win for all involved. I think there are limitations here – I'll get to those – but in terms of working creatives, this is about as good as you can ask for.
One last note: I'll be curious about the timing of release for a lot of these. There's a lot of them and if each of them arrived in the same relative window, it strikes me as something that wouldn't be as valuable. With the first coming in October as well, it will be curious to see how…efficiently they're released, as some involved do have a) full dance cards (including Jock, who is drawing Book of Evil here but also a new Batman Black Label series that he's writing too as well as apparently more Wytches) and/or b) are not traditionally the best at hitting deadlines. There's a lot of variables here.
2. ComiXology and Dark Horse, Winners!
The publishers involved with this deal are the other big winners. Let's start with the former, as ComiXology Originals has been a thing that has existed for a while, with a number of nice releases and even Eisner-winning ones – shouts to Afterlift, which still rules! – to their name. What they lacked, though, is the real heat that comes from bringing in superstar creators. This gave them their fill of that and then some in one fell swoop, populating their line with A-listers when the names had previously been talented folks who might have lacked the same curb appeal.
That's big for two reasons. One, it likely increases ComiXology Unlimited's subscribers, which is a revenue generator. Two, Snyder talking up the deal in public makes this a far, far more attractive destination for his peers, as it's a crazy good deal. If it's what Snyder has said it is, it's kind of hard to argue that it isn't the best deal in comics, maybe? At the very least, it's a very high floor, high ceiling deal, which is attractive, as low risk and high reward is a truly rare idea in comics.
Meanwhile, Dark Horse has struck me as a publisher that's been floundering for a while. They've lost some big licenses, they've had some (well-earned) controversy to their name, and they just lack heat, especially on the originals side. I honestly cannot recall the last time they had a creator-owned book that really popped. Now, they're going to get a deluge of them, as I'd label at least half of the announced eight releases as high potential successes, with the others probably doing fairly well too.
They've been in need of a win for a while, and this ComiXology Originals deal has long seemed like something that could potentially deliver that. Now it has, and I'm sure there are a lot of thrilled folks in Dark Horse's offices because of that.
The rest of this article is for
subscribers only.
Want to read it? A monthly SKTCHD subscription is just $4.99, or the price of one Marvel #1.
Or for the lower rate, you can sign up on our quarterly plan for just $3.99 a month, or the price of one regularly priced comic.
Want the lowest price? Sign up for the Annual Plan, which is just $2.99 a month.
Learn more about what you get with a subscription