Revisitor: On the Endlessly Underrated, Shockingly Consequential Annihilation: Conquest – Starlord
Revisitor is a regular column in which I look back on personal favorites from comic history, whether they're a single issue, graphic novel, comic strip, webcomic or basically any form of sequential art you can think of. When I do this, my hope is to include perspective from the people who made these comics, but that may not always happen. This is not one of those times, save for some quotes from a previous piece.
When I was watching Guardians of the Galaxy Vol. 3 this past weekend, my mind kept wandering to comics writer and artist Keith Giffen.
The veteran comics man has always been a respected talent, a writer and artist with notable fans within his field. But he's arguably never been one of the top names, despite an elite list of headliners at the top of his bibliography. 16 Which is a shame, because Giffen's one of the best to ever do it, someone whose impact deserves to be touted and recognized more than it has been.
This line of thinking was present while I watched that film for one main reason: nothing on that screen could have happened without Giffen.
That might sound like a hot take. It isn't. It's not even that difficult of an argument to make. So many of the foundational elements of the version of the Guardians of the Galaxy that the world knows and loves were born in the brains of Giffen and his collaborators. He co-created Rocket Raccoon with writer Bill Mantlo. He brought Peter Quill — the Star-Lord himself — to the Marvel universe for the first time in his brief run on a Thanos solo title. He completely rejuvenated Drax in a 2005 mini-series. Those were consequential creative decisions, ones that changed the fate of a core group of characters.
But perhaps his greatest impact came in the Marvel event Annihilation, one where he and a bevy of collaborators completely resuscitated the space side of the Marvel universe. That event set the stage for Dan Abnett and Andy Lanning's time on the Guardians of the Galaxy title that became a key guide to the movie franchise we all know and love, 17 to say nothing of the next half decade or so of Marvel's comics in space.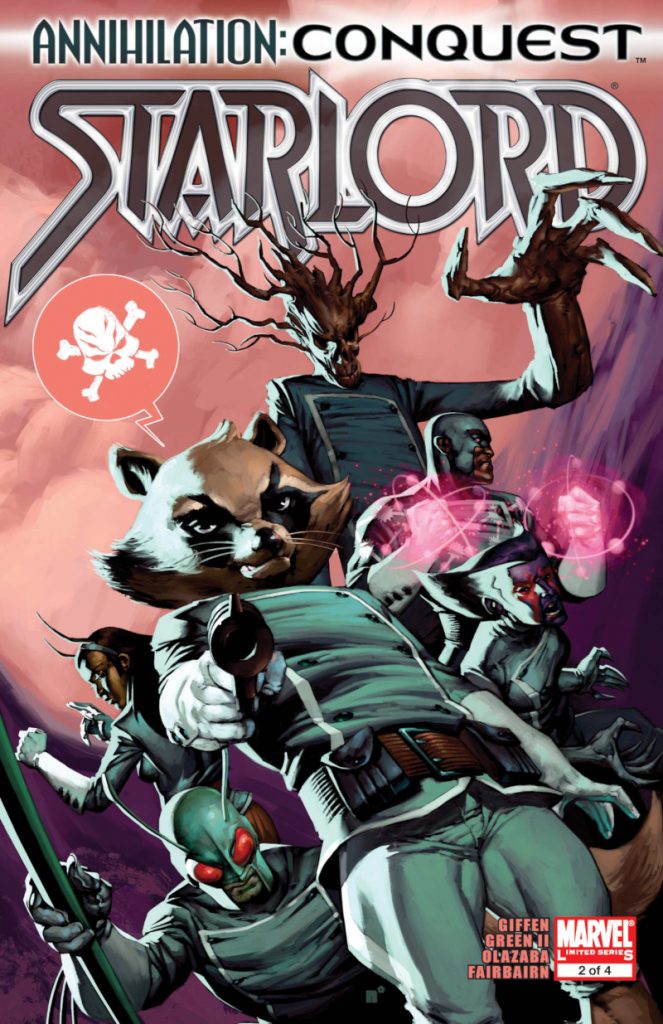 While Annihilation is undeniably and understandably what almost everyone points to when they think of when it comes to Giffen's contributions to the space side of Marvel, I'd argue that there's another title from the writer that deserves to be the 1b to Annihilation's 1a in terms of impact on the modern Guardians.
That's Annihilation: Conquest – Starlord, a four-part mini-series that preceded its titular event sequel and set the stage for much more to follow.
It's no surprise that some slept on this title. It was a tie-in mini-series at a time when both of those labels were scarlet letters for many comic fans and retailers. It starred a slew of D-list characters, forgotten names, or entirely new creations. Its writer was coming off a banner achievement, but he was taking a deliberate step back from the enormity of Annihilation with this mini, and its artist — Timothy Green II — was a comparative unknown. It wasn't perceived as a big deal because, in that moment, it wasn't one.
But it was an enormously consequential comic. More than that, it's an exceptional one, showcasing the gifts of the entire creative team in Giffen, Green, inker Victor Olazaba, colorist Nathan Fairbairn, and letterer Rus Wooton over a tight, action-packed quartet of issues that thrill and delight in equal measure. And with Guardians of the Galaxy Vol. 3 a massive hit as expected and its roots in many ways found in the pages of this comic, it's time to give that comic — and its creators — the flowers they so deserve.
The rest of this article is for
subscribers only.
Want to read it? A monthly SKTCHD subscription is just $4.99, or the price of one Marvel #1.
Or for the lower rate, you can sign up on our quarterly plan for just $3.99 a month, or the price of one regularly priced comic.
Want the lowest price? Sign up for the Annual Plan, which is just $2.99 a month.
Learn more about what you get with a subscription