Ten Very Specific Things I Loved from the Wider World of Comics in 2022
This weekend brings the official end of the year, and at this point, I'm sure you're just about tired of me celebrating the year that was. After 25 entries to both my Comics of 2022 and my Creators of 2022, that might be understandable. But as we're analyzing the grandest creators and creations of the year that was, a lot of fun things can be lost in the shuffle. The comic book experience isn't exclusively defined by the best and brightest from the larger stories or entries. Singular efforts and aspects of the larger comic book world play a big part in making the comic book medium special as well.
That's why today, I'm remixing my typical Friday formula — you know, Comics Disassembled, where I look at ten things I liked or didn't like from the week that was — to instead look back on ten very specific things that helped make this year such a wonderful one, at least for this reader. This isn't an exhaustive list. It could be a thousand items long, easily. Instead of doing that, because that sounds exhausting, I leaned on instinct and what came to mind first when I started conceiving this piece.
The trick here, though, is it doesn't have to be comics alone. It can be comics related, even though that probably makes you think of movies or shows, neither of which factor into this list. As long as it's something that added value to my year as a fan of this wonderful medium, then it could play a part in this piece.
So, without further ado, let's get to those ten things, and hey, let me know what made the year in comics a special one for you in the comments! I'm dying to know!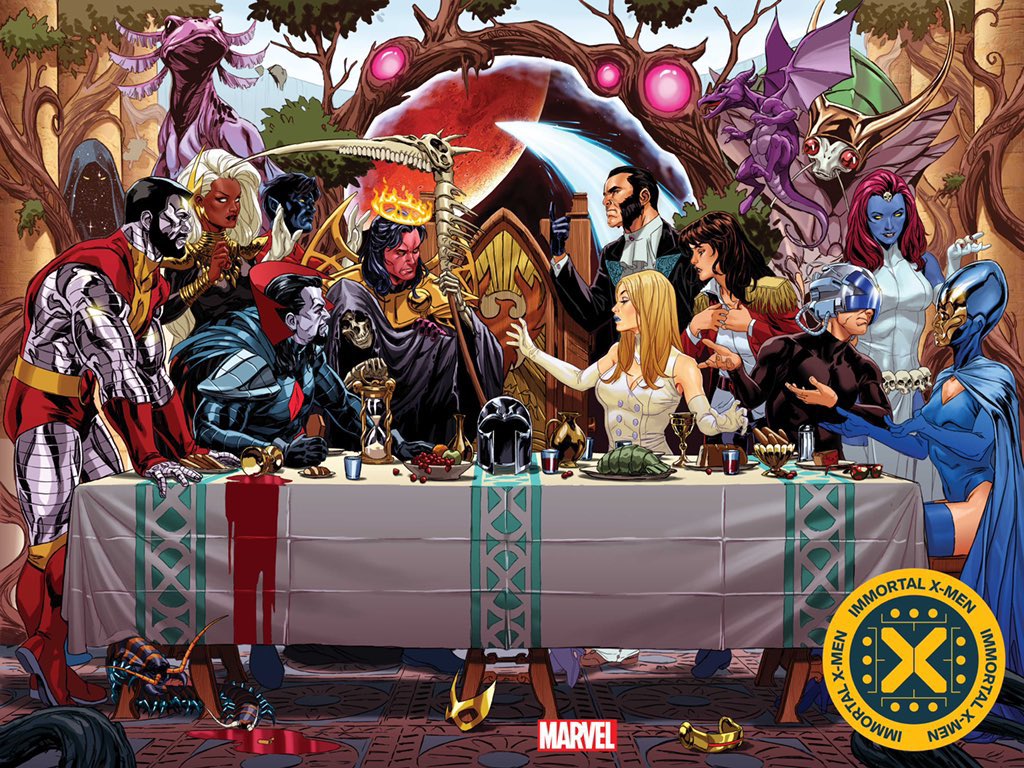 1. Mark Brooks, Setting the Tone for Immortal X-Men
I've talked a lot over the years about what makes a good cover for me. There are three main components, typically. First is the pop. You want a cover to stand out as you walk the stands at your local comic book shop (or browse your favorite digital comics vendor), as it should draw your eye and hopefully convince you to consider buying it. Another is that it needs to be an excellent piece of art, which is obvious. Lastly, it needs to reflect what's inside the comic itself, to some degree. You don't want to pick up a comic and find out this issue with Dazzler dressed as Spider-Gwen on the cover stars neither character.
Not every artist thrives at those three things. It's no problem for Mark Brooks. Brooks is one of the best cover artists in comics today, and if you've seen even just one of his efforts, you know those three components are no strangers to him. He lives at the center of the Venn diagram they create, delivering on each at a constant rate.
Occasionally, though, Brooks is so good at what he does that he unearths a fourth component that unlocks an even higher level of cover. That's something he did with Immortal X-Men #1, an effort that spread to both the front and back of the release. This fourth component is in some ways a blend of all three of the originals, pushing each to another level to unearth something magical. To be specific, that additional component is how a cover can be so specifically designed and drawn that it doesn't just stand out, look good, or reflect the interiors, it urges readers to imagine the possibilities before they ever open its pages.
Brooks' cover to Immortal X-Men #1 does just that, as its The Last Supper-inspired look is filled with details we cannot help but speculate on, like why Cyclops' visor is on the ground or even just the way the characters engage with one another. Each detail is like a story being opened in our head, creating direction and misdirection all within one spellbinding piece. Other covers and pieces do this sort of thing, but Brooks' work here is so perfectly integrated into the core concept and so weighty thanks to his gifts as an artist that it sends your mind into overdrive.
There are a lot of things that make the Krakoan Era of the X-Men special, but its superpower has long been how it inspires speculation in its readers, as secrets and hints drive us to consider what it could all mean. Few efforts have been better at playing that game than Immortal X-Men, and from the jump, Brooks' cover set the tone for what was coming down the line. It's a remarkable piece, a cover as a mission statement, and a promise of the greatness still to come.
2. Liana Kangas, Taking Over
My favorite episode of Ted Lasso is its third one: "Trent Crimm: The Independent." It's the story of newfangled English Premier League soccer manager Ted Lasso spending the day with journalist Trent Crimm, and how a profile story everyone expected to be ugly — one of an overwhelmed coach trapped in a situation sure to end in tragedy (and his firing) — was turned on its head. In the eventual feature piece, Crimm writes of how regardless of Lasso's ill-fitting nature and the squad's results, the journalist can't help but root for the manager in his unexpected journey.
You might be wondering what this has to do with comics, or, especially, Liana Kangas. It's simple: Liana Kangas is my Ted Lasso.
Kangas is an artist and a writer, but also an in demand cover artist and a podcast host and a livestream personality and a social media maven and a million other things. They've crafted comics people like or even love this year in Trve Kvlt and Know Your Station, and found success with those and more. Like Lasso with soccer, Kangas is taking an unconventional path in comics, one that touches on every facet of what being a creator in 2022 could look like. That resulted in a wrap-up social media graphic for the year that was filled with an overwhelming number of rectangles, showcasing their prodigious and prolific work from the year. The weirdest part about that wasn't the number of covers and comics Kangas worked on, it was my response to seeing it.
I wasn't impressed. At least not exclusively. It's very impressive. But my biggest emotion was pride. I felt pride. It brought joy to my heart to see just how successful Kangas has become, thanks to a mix of endless effort and artistic gifts. That feeling isn't even because those attributes alone, though. It was because this increasingly busy and beloved creator has done all that while maintaining the likability and engaging nature that she's had since we first met. It creates a situation where you aren't just excited to see their work; you're hopeful for their success. Like with Ted Lasso, regardless of results or perceived quality, you root for Kangas as she blazes a trail in this industry that's often unfriendly to those in it. For those with stock in Liana Kangas, it was a very good year. I'll keep holding it and buying more, too, because I don't see Liana's ascent slowing any time soon.
The rest of this article is for
subscribers only.
Want to read it? A monthly SKTCHD subscription is just $4.99, or the price of one Marvel #1.
Or for the lower rate, you can sign up on our quarterly plan for just $3.99 a month, or the price of one regularly priced comic.
Want the lowest price? Sign up for the Annual Plan, which is just $2.99 a month.
Learn more about what you get with a subscription
---
See: JLA's Tower of Babel storyline.↩