The Comics Community Shares Their Favorite Creators of 2020
I somehow simultaneously cannot believe it's already the end of the year and that it has taken so long for us to get there. But hey, time is weird, especially in a year that has offered so many unique challenges and unexpected insanity. 2020 was definitely one for the record books, as long as those record books are about a variety of terribly unappealing attributes. But that doesn't mean that was the case for the year in comics, as it was a pretty dang good year for the medium as a whole, even if the industry itself had its own challenges.
This week begins our celebration of the year that was, but instead of myself talking about it from the jump, we're going to lead things off with a variety of creators sharing their perspectives on a quintet of subjects. Some are chipper, like their favorite creators of the year – which we're starting with today! – or favorite comics. Others are more real, as a variety of folks from around comics share insight on how the general 2020ness of the year impacted their lives and work.
That's coming later, though, so for today, let's focus on the good stuff: this squad's favorite creators of the year. And what a list it is! Before we get into it, here's the prompt each person was given before we dove into it. It's pretty simple today.
What comic creators – cartoonists, writers, artists, colorists, letters, designers, or whomever – stood out to you the most in 2020?
That's it. Let's jump into it, with each day the creators featured being ordered alphabetically by last name (in case anyone thinks I'm playing favorites!). Also, these creator-fueled articles will be open to non-subscribers all week, but if you want to read more SKTCHD content, consider subscribing to support independent comics journalism! Learn more about this on the subscriptions page.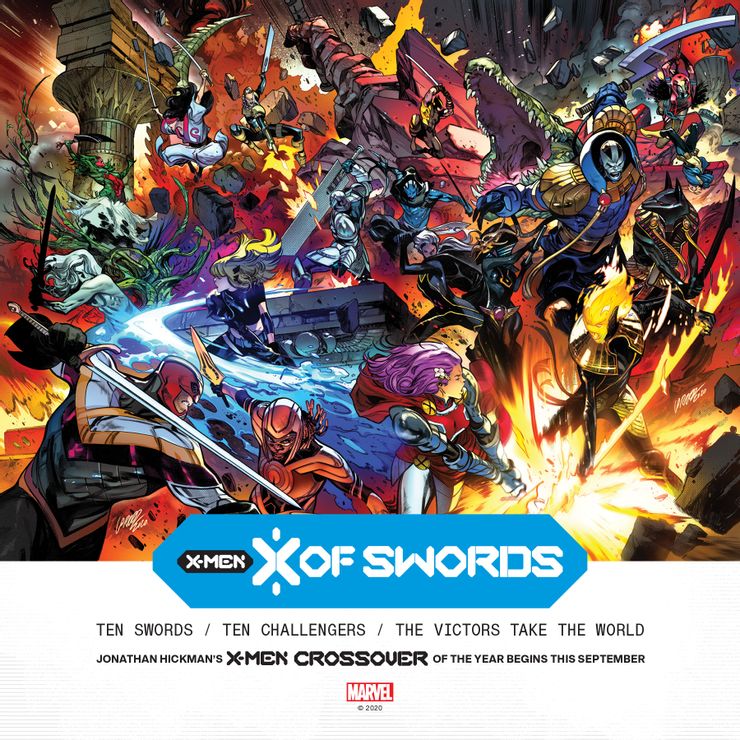 Vita Ayala (New Mutants, Children of the Atom)
Honestly, there have too many to truly get into, but I can list some (and feel guilty for missing others haha). Also, forgive me, this year has been a century long and I am not great at remembering what happened THIS year versus…the rest of human history.
Writer wise, Danny Lore has been having a banner year, and I am so proud of both Tini Howard and Leah Williams (Tini co-headlining a huge, instant-classic X-Men event is *insert a million X-cited emojis,* and Leah reviving a beloved title with wild success has been a pleasure to see). Ram V and Alex Paknadel have both been putting out wonderful work, and it's so awesome to see Jordan Clark, Che Grayson, and Stephanie Williams coming up too! Also, I am so excited for what Ed Brisson and James Tynion have cooking for us in the creator owned arena! Also high key obsessed with Alex De Campi and Johnnie Christmas are serving us!
Line artist wise, it is gonna be hard because I have SO MANY folks who have blown me away this year. Liana Kangas (as always), Rod Reis, Robby Poggi and Marcelo Ferreira, Claire Roe, Michel Fiffe, Andie Tong, Erin O'Neill-Jones, Yesenia Moises, Ariel Olivetti, Jen Bartel, Lisa Sterle, and Erica Henderson are bringing me so much joy.
I think we share sensibilities when it comes (Mat Wilson, Jordie Bellaire, etc), but I did want to say that Mike Spicer, Trish Mulvihill, Dearbhla Kelly, and Marissa Louise have especially thrilled me this year!
There are a million cartoonists I adore, but I am low key ready to just buy anything and everything that Trung Le Nguyen or Jamie Jones puts out. Just, send it straight to my house, please!
Jim Campbell, Clayton Cowles, Ariana Maher, Travis Lanham, Corey Petit, Ryan Ferrier, and Rob Leigh are the secret magicians behind the scenes and don't get NEARLY enough love!
I feel like this was the year of Tom Muller (rightfully so), but I wanted to again shout out Ryan Ferrier, who designed and lettered Quarter Killer – he is so delightful!
Also, lemme take a second to shout out a few editors, who work long hours and get so little thanks: Annalise Bissa, Lauren Moreno, Heather Antos, Shannon Ballesteros, Jessica Chen, and Dave Wielgosz – a prince amongst men!
Tadd Galusha (Cretaceous)
Jesse Lonergan. I was first introduced to his marvelous and unique page compositions with his release of Hedra. Blew my mind. I can't wait to check out his new OGN coming out here soon.
Liana Kangas (Seeds of Eden, TRVE KVLT)
To help make sense of all the wonderful talent I've had the pleasure to encounter or befriend, and see them spread so much positivity or ideas, I might be listing a lot here. However they're equally as notable as the last:
Some writers I'm incredibly inspired by like Vita Ayala and Michael Conrad channel this almost tactile kind of community energy. Ones that you felt at cons or panels. It empowers me personally, but more importantly, it's energy that fuels the industry. I'm always buying or engaging with writers and editors like Erica Schultz, Sarah Litt, AJ Mendez/Aimee Garcia, Henry Barajas, my comics dad Tim Daniel, and his collaborator and Star Wars legend in my eyes, Michael Moreci, my TRVE KVLT comic co-creator Scott Bryan Wilson, my bud Eric Palicki, Shelly Bond (for running Insider Art) and more, the list goes on.
Artists: my peers. I think the art processes kind of bonds us as creators, and a few people stand out here in the relationships I've fostered or loved collecting their work. A few examples include Emily Pearson and Lisa Sterle, Sweeney Boo, Chris Shehan, Steenz, Soo Lee, Lauren Walsh, Yoshi Yoshitani, Gavin Smith, DJ Kirkland, Kelly Williams, Josh Hixson, Phillip Sevy, Matt Aytch Taylor, Matt Emmons (second at best), Fabian Lelay and Leisha Riddel. All of these folks are among those that I keep cheering for this year, I love seeing them work & succeed.
Some other creators like colorist Gab Contreras (who I adore), prose writer & new comic creator Brent Fisher who's the most positive driving force in this industry, My buds Jazzlyn Stone and Mellow Brown who are incredible (script) writers, and debuted writer buds like my 'Inevitables' Kickstarter collaborator Jono Diener, and newcomer Hagai Palevsky, both recently just published in Maybe Someday, I root for as well.
I'm always worried there's tons of creators I'll forget to list but I see how hard everyone is working, and I just respect the heck out of it, and hope that the energy is well received by fans and creators alike.
Stephen Mooney (Half Past Danger)
I'm constantly blown away by the work of Pepe Larraz on the X-Men stuff, and by that token; Marte Gracia on colours, too. Just ridiculously, consistently beautiful. That level of craftsmanship is so hard to maintain and if anything, they're just getting better. Honourable mention for Leinil Yu and Mahmud Asrar, too. The level of professionalism on those books has bee astounding across the board. Which begs a mention for the editorial team on that series for keeping everything so seamless, and the Hickman himself for orchestrating the whole thing. I'm a big X-Men guy from way back and this is the most entertained I've been by these characters since I was Teenager.
New Adam Hughes interiors on the HellBoy and The Seven Wives one-shot was a real treat, too. His previous Christmas special with Mignola from a year or two back was my favourite single issue in a long, long time.
Trung Le Nguyen (The Magic Fish)
I have not been able to read many new comics over the last year, to be honest. It's mostly manga and old comics. I'm diving into the Michael Moorcock books, like Elric of Melnibone, and that has a whole suite of creators behind it, like Roy Thomas, Michael T. Gilbert, P. Craig Russell, and I'm sure many others. These were done decades ago, though, and though there is no shortage of retro comic book aficionados out there, I thought it would be meaningful for me, as a comic creator with very few ties to its history on this side of the globe, to take a look back at how people long before me told their stories.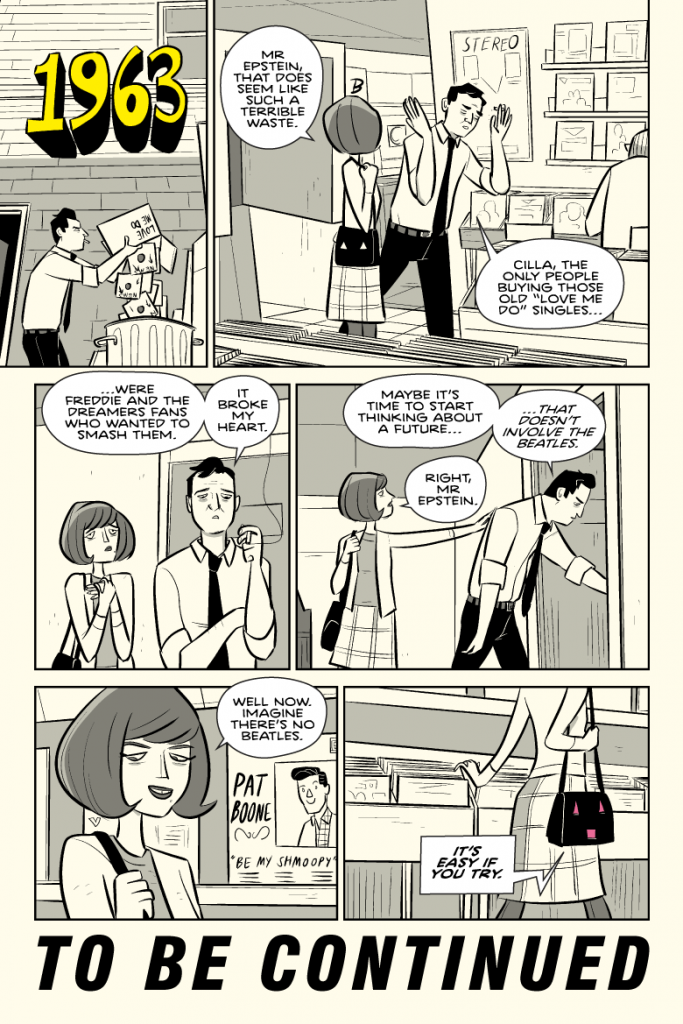 Nick Roche (Scarenthood)
I did my bit for the industry by BUYING lots of stuff this year, but I was using Covid downtime to spin into an existential horror show, so didn't crack open as many spines as I'd have liked this year. Or opened many books. A-heh. I think I fully gave myself over to the Church of John Allison this year, as he fulfills nearly all of your above criteria, mainly the 'whomever' bit. As well as the stuff he allows shops to sell, I think my favourite thing he did this year was a webcomic called 'DESTROY HISTORY' dealing with time travel, The Beatles, and the cutthroat nature of the Merseybeat scene. How can a touch be so light and so self-assured? That's what John Allison's manicurist asks themselves with every appointment.
And I usually measure my worth against the creators I want to be a little more like, so on the page, I want to steal some of the essences of Rachael Stott, Nate Stockman, Dan Mora and Kei Zama. And for sheer 'Get-It-Done-edness as far as just making stuff happen, the Irish lot (Shalvey, Sliney and Mooney) all just WILLED stuff into existence, and I wish I had their bloody-mindedness.
Matthew Rosenberg (Hawkeye: Freefall)
I'm probably a bad judge of this stuff, because I'm just always excited about comics so I'm constantly falling in love with stuff all over again. So I'm just going to name a bunch of people off the top of my head and then later I will frantically email you "I forget this person" and you can tell me "the article went live a week ago."
I'm sure he's on a lot of people's list, but Hassan Otsmane-Elhaou is a gifted designer but his lettering really elevates every project he touches. A rare talent.
Alex Paknadel has been a writer I have been a fan of for years, but it's fun to see him get better and better and have more and more people notice.
Chris Sebela is my favorite "big idea" writer in comic. Every time I hear about a new book of his I get mad at myself that he thought of this brilliant thing that I never could. But then I read it and realize even if I had thought of it, I couldn't have done it as well as him anyway.
Danny Lore is a longtime friend and someone I knew would be a great comic writer before I'd ever read any of their writing. They just have a great, critical mind for story and approach things in such a smart way. It's nice to find out how smart I am because they have killed it on everything they've touched this year.
Taiyō Matsumoto has done a lot of stuff I've really loved, but Ping Pong this year really was exactly the book I wanted to read. It was just all around excellent use of the medium and a great example of how story transcends genre and scale.
Becca Carey is a gifted illustrator but her sense of design is really breathtaking. She's going to be a big name in design next year I'm sure, and it's exciting to watch.
Obviously Adrian Tomine is close to an institution at this point, but new Tomine still gets me excited and The Loneliness of the Long Distance Cartoonist was well worth the wait.
Self-serving, but Tyler Boss continues to be one of my favorites. Covid screwed up the release of his own series Dead Dog Bite and the book we are doing together What's The Furthest Place From Here?, but I've seen them and they make me want to be a better creator, which is the highest praise I can give.
Seeing Otto Schmidt's work on our Hawkeye Freefall book this year was about as much fun as I've had as a creator, and I can't wait to see what he does next.
Honestly, so many awesome artists have made me really excited about comics. Sweeney Boo, Martin Simmonds, Tom Reilly, Nikola Čižmešija, Ramon Villalobos, Gleb Melnikov, Elena Casagrande, Pepe Larraz.
Phillip Sevy (Triage)
In January of this year, I had a friend give me Monster Vol 1 by Naoki Urasawa and it changed my life. I'd read some manga before (big Junji Ito fan), but this was the first Manga that hooked me like a drug. I read all 9 volumes back to back. Then I read Pluto. Then I read Monster again. I have all the volumes of 20th Century Boys on my shelf, just waiting for Viz to finish reprinting them (Spring 2021 can't get here soon enough!) before I start that series. Urasawa is the single greatest cartoonist possibly ever. Reading his work changed how I approach mine. I spent most of the year redefining my artistic style and approach as well as reexamining how I write stories. I know his works weren't "new" this year, per se (though I read and loved Mujirushi and am reading Sneeze right now and have the first 3 volumes of Asadora preordered), but they defined my 2020.
As far as American creators, Jesse Lonergan blew me away this year. His experimentation with style, form, and structure got me excited about comics in a way that I haven't felt in a long time.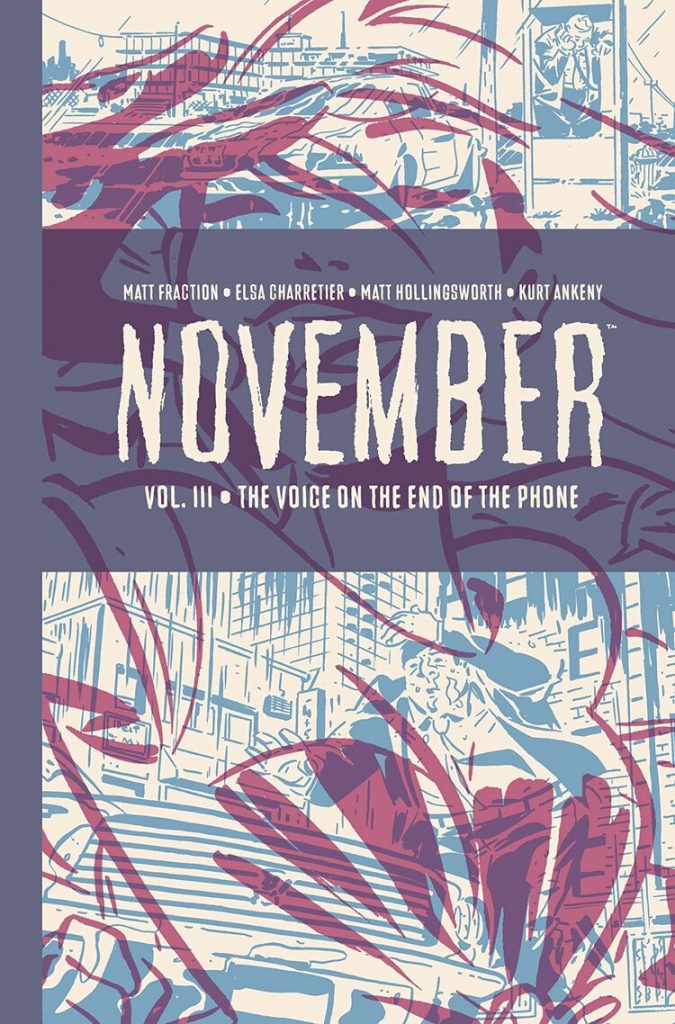 Declan Shalvey (Wolverine: Black, White and Blood, Immortal Hulk: Flatline)
I think Elsa Charretier has really knocked it out of the part this year. Not just her work on the NOVEMBER books, but also her god-tier results in showing us all how to do an art book on Kickstarter. Elsa is a wonderful artist with a passion for storytelling and it's great to see her come into her own more as a creator. She's writing her own playbook and dumbos like me should be taking notes. She was already great but Erica Henderson has also levelled up like crazy on DRACULA MOTHERF*CKER. J Totino Tedesco has been killing me with the amazing covers he continues to put out and I feel white hot rage every time I remember he's been snubbed and Eisner win THREE times. I'm really happy to see Ed Brisson return to crime with CATCH AND RELEASE. Chris O'Halloran has been levelling up like crazy as a colourist, seeing what he's been doing on ICE CREAM MAN, IMMORTAL HULK, etc, whatever artist he works on, he makes them into something better. Sasha Head's design on DECORUM is something else, doing Hicmanian work but also making it her own.
Kyle Starks (Karate Prom, Old Head)
You know, I generally hear about what's hot and who's doing good work through interaction with my peers at the conventions that didn't happen this year. BUT, I am glad that Alex Paknadel (Giga, Redfork) seems to finally have arrived for the greater mainstream. I think that dude is super talented and has a lot to offer the industry. I know everyone seemed to still be talking about Chip Zdarsky and Donny Cates which is well deserved for those two.
Caitlin Yarsky (Bliss)
Jason Shawn Alexander is someone I've followed a lot this year. His cover work for Killadelphia and textures in his interiors are really stunning. He said something on twitter about wanting his paintings to look like a Tom Waits song and, being a huge Waits fan myself, it makes sense that I'm so drawn to his art.
Come back tomorrow for more from these creators and more, and if you enjoy this content, consider subscribing to get much more like it!