The Pull: A Look at the Comics Dropping the Week of February 3rd
My god. We have consecutive weeks in which Chip Zdarsky gets the Book of the Week nod. What is happening here on The Pull? What is happening in the world? Who can tell, really? Let's get to the Chip of it all and more in this week's edition of The Pull, my look at my buys, recommendations and curiosities from the week of comics.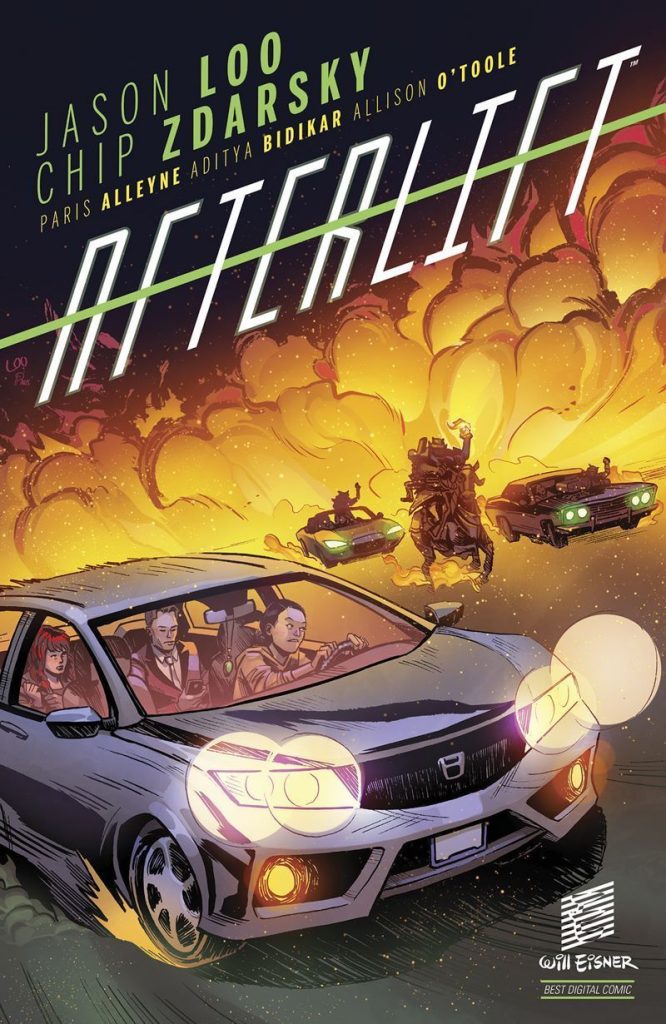 Book of the Week: Afterlift TP
This won the Eisner Award for Best Digital Comic, as you can see on the image above, so me saying this comic is "good" should hardly be news. It's certified "good" by people that are neither David Harper nor people who just yell at you about comics on a website and a podcast like yours truly. Comic folks deemed this good, so yes, it is good.
THAT SAID.
It's really good. And in a weird way, this in some ways feels like…the most Chip comic yet? It's actually wonderful to see what Zdarsky, artist Jason Loo, colorist Paris Alleyne and letterer Aditya Bidikar do with this book because it's one of the more rare morsels you have in comics: a complete story that has a beginning, middle and an end. That allows it to have a full arc, another rarity, and one that doesn't promise a reset but instead offers resolution, a far more alluring "res" word from a storytelling standpoint.
It ends up being a comic that starts with a great idea – what if ride share drivers occasionally escorted souls to the River Styx?! – but becomes so much more than that by the end of it. It's a funny idea, but it's a poignant, reflective, and thoughtful story that allows for character growth even within its naturally limited series. That falls on the team both as individuals and as a group. Zdarsky meshes heart and entertainment with the deftest of touches. Loo's work is exemplary throughout, helping ground all of the insanity with his tremendous art, while also making us care about the cast with his stellar character work, all of which is complemented perfectly by Alleyne. Bidikar does his usual thing of always finding the right solution.
But like the best ride share experiences, Afterlift is more than the sum of its parts. It's the look. It's the feel. It's the wildly unexpected. Sometimes the best rides are the ones that start as one thing and become so much more. That's what this book is. Five stars, will ride again.
The rest of this article is for
subscribers only.
Want to read it? A monthly SKTCHD subscription is just $4.99, or the price of one Marvel #1.
Or for the lower rate, you can sign up on our quarterly plan for just $3.99 a month, or the price of one regularly priced comic.
Want only the longform content? Sign up for the monthly longforms only plan, which is just $2.99 a month.
Learn more about what you get with a subscription