The SKTCHIES: Favorite Comics of 2015 (Part Two)
Welcome back to The SKTCHIES, SKTCHD.com's first annual year-end awards. With The SKTCHIES, it's less about defining the best in comics. Instead, it's more about sharing our favorites, and the ones that helped make this year a great one for the medium. And today, our comic-centric section continues.
It turns out there are a lot of comics coming out these days, and they are more diverse and interesting than ever. New publishers are springing up all over the place, comics are being released in new ways, and more varied subjects and stories are being told than at any point in comic book history. What does that mean for my year end awards? Well, it means they're going to be big in response. This week, I'll be revealing five different titles a day that were my favorite – not necessarily best, but my favorite – comics of the year, with each getting their own SKTCHIES award. While that means they're getting a fake award, it is in fact a fake award that celebrates their very real quality. Even with that larger than usual list, I can't cover everything, so please, by all means – share your favorites in the comments.
So without further ado, here are the next five titles that make my year end list. The titles are ordered alphabetically, so if you're wondering where a title that starts with an "S" or a "U" is, wait a day or two before sassing me. It may make the list yet.
---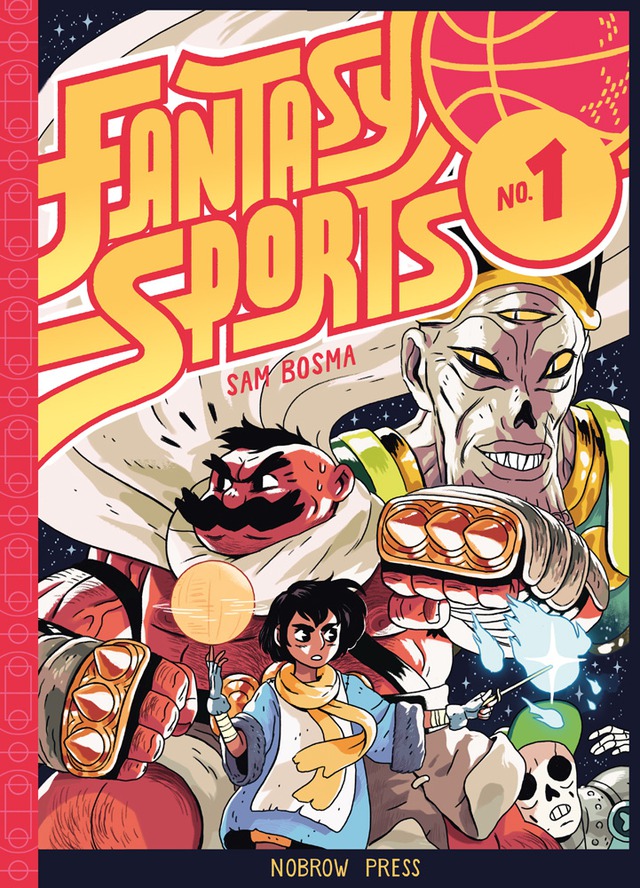 The Heat Check Award: Fantasy Sports No. 1 (Nobrow Press)
One of the most trite questions in comic interviews is the classic "what are your influences?" line. I say that with love, as I ask it on the regular and there's a reason it's asked – it can be a valuable question when used right. Of course, that's rarely the case, but that's neither here nor there.
The reason I bring it up, however, is Sam Bosma's Fantasy Sports No. 1 is a book that wears its influences on its sleeves, and that isn't a bad thing. Influences are powerful things – just like that question can be – when used right and not as a crutch. Bosma's graphic novel was previously self-published, but it was republished this year by Nobrow Press but in full color, and it's a gorgeous, fun book that showcases its creator's love for disparate sources like dungeon crawling video games, basketball and Hayao Miyazaki's work. As a fan of all of those things, I recognize that and enjoy it more because of it, but it doesn't define the book. It's enjoyable for anyone, really, as it's a light, fun read that has its own identity even with the evident influences.
It tells the tale of Wiz and Mug – two mages of varying talents – whose job it is to raid dungeons and claim the magical booty within. The main conceit is it shows what happens when they're challenged to a game to 21 in basketball by the enormous (and talented) mummy at the center of the dungeon, He of the Giant Steps. Spoiler alert: gloriousness happens. Whether you're talking about the sassy repartee between the two mages or the climactic hoops showdown, this book is a joy to read, and it showcases a cartoonist firing on all cylinders. The art is the main event, of course, and it never ceases to impress, whether you're talking action sequences or a quiet moment. It's clear Bosma put a lot of love and care into the book, and you can see that in elements like the costumes of his cast. I love Wiz's look, and her varying looks are simple touches that add a lot to the character.
Fantasy Sports No. 1 is a superb book, and it's one that feels very unique even with Bosma wearing his influences on his sleeve. It's also a whole lot of fun, which is something that is welcomed with open arms by yours truly. It's an all too rare characteristic. Better yet, this new edition of his graphic novel comes in a gorgeous package. Nobrow Press did phenomenal work in making sure that every detail of the cover and design works well (the basketball court print on the binding is especially appreciated), and it enhanced the experience for this reader in a big way.
---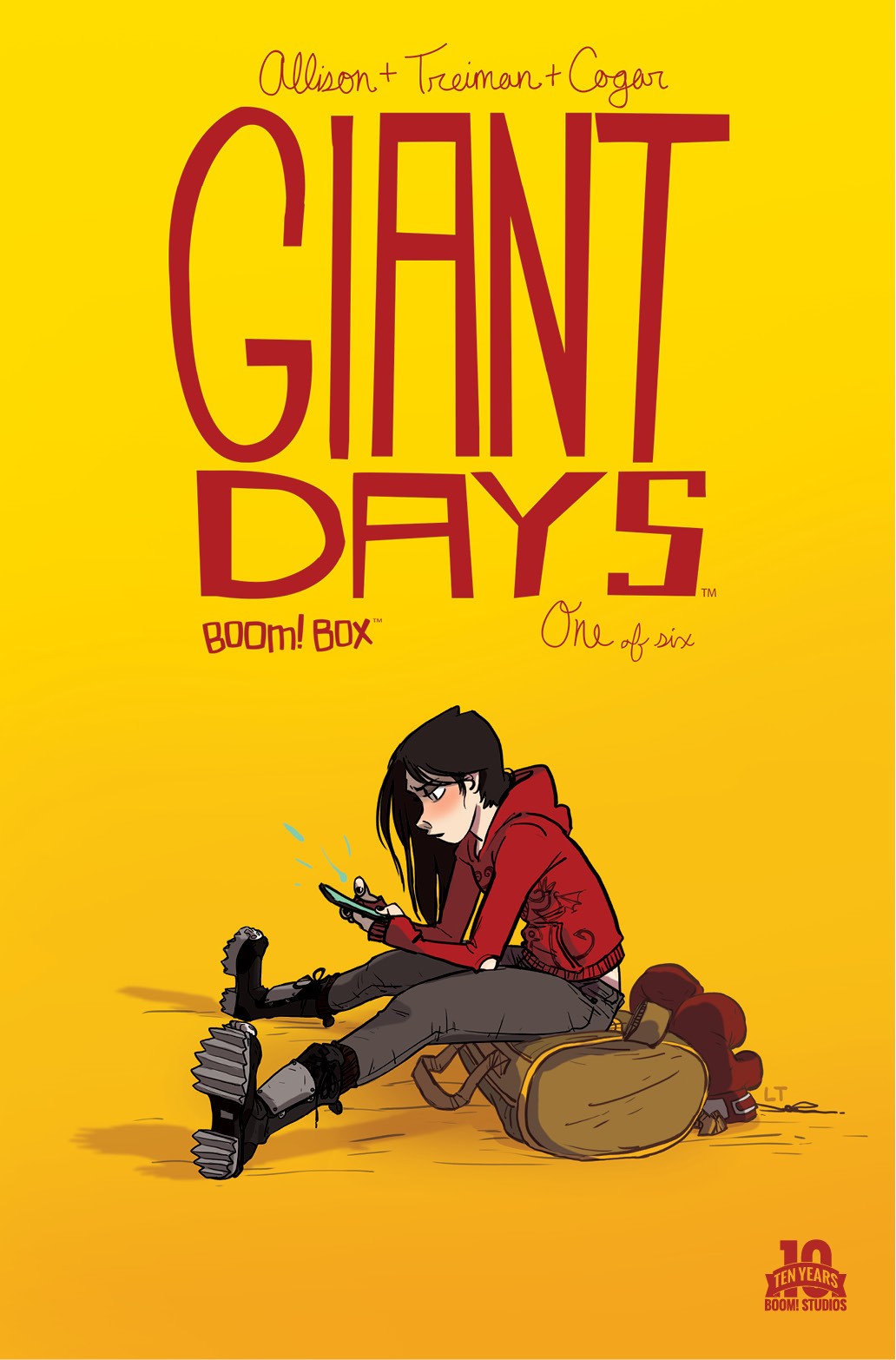 The Undeclared Award: Giant Days (BOOM! Studios)
No title shows how my personal practices as a comic reader have changed in 2015 more than Giant Days. I've been ride or die with floppy comics for a long time, and I have never been a trade waiter. I'd say it's because I believe in supporting creators with single issues so they get paid sooner, but that'd be a lie. The simple answer is if I try to trade wait, more often than not, I'll forget about the book. It's out of sight, out of mind, and it isn't just with run of the mill comics. It has happened to comics I like a whole lot. That's on me.
But in 2015 – thanks to a gateway drug comic I'll talk about tomorrow – I've finally started to break down the walls and stick to trade waiting on some books, and Giant Days? That's one of them. Part of it was it took a few issues for me to hear the buzz behind the book, and part is on Boom! doing a really great job with the production on their trades. Besides a book that's set to appear on the last day, I wait for trade on every Boom! title (which is a weird little trend within a trend). Their quality production goes a long way to ensuring that.
Whatever the explanation is, that means I'm behind on this comic overall. I've only read the first four issues, but trust me when I say it's a hell of a start. As you saw in the creator section, I'm gaga over artist Lissa Treiman's work, and writer John Allison's no slouch himself. Their collaboration is a beauty, showcasing two creators in complete lockstep. It is a highly entertaining, relatable look at college life with charming characters throughout the cast. It's a good concept, but my first real hook for the title was Treiman's art. The cover to #1 (which became the cover to Volume One) got a hook in me deep, and I was curious from then on. Treiman draws some of the best character acting in comics and makes series leads Esther, Daisy and Susan impossible not to love. The weirdest compliment I could give the book is with how Treiman draws and Allison writes the trio of leads, I at one point thought about how I'd like to be friends with them. That's not weird, right?
Allison gives superb perspective on what college life is like too. It reminds me quite a bit of Judd Apatow's oft forgotten TV series Undeclared. Neither of them were exactly like my college experience, but having went through the ridiculousness of university life, it's hard not to see their adventures as what life could have been like if just few things were different. Its focus is lovely and small, and it's a charmer throughout. I've said a lot about this book already, but it's worth saying once again: this is a great comic, and one you should definitely give a shot. I hear the first trade is quite nice, even for you folks out there who are hard line on single issues traditionally.
---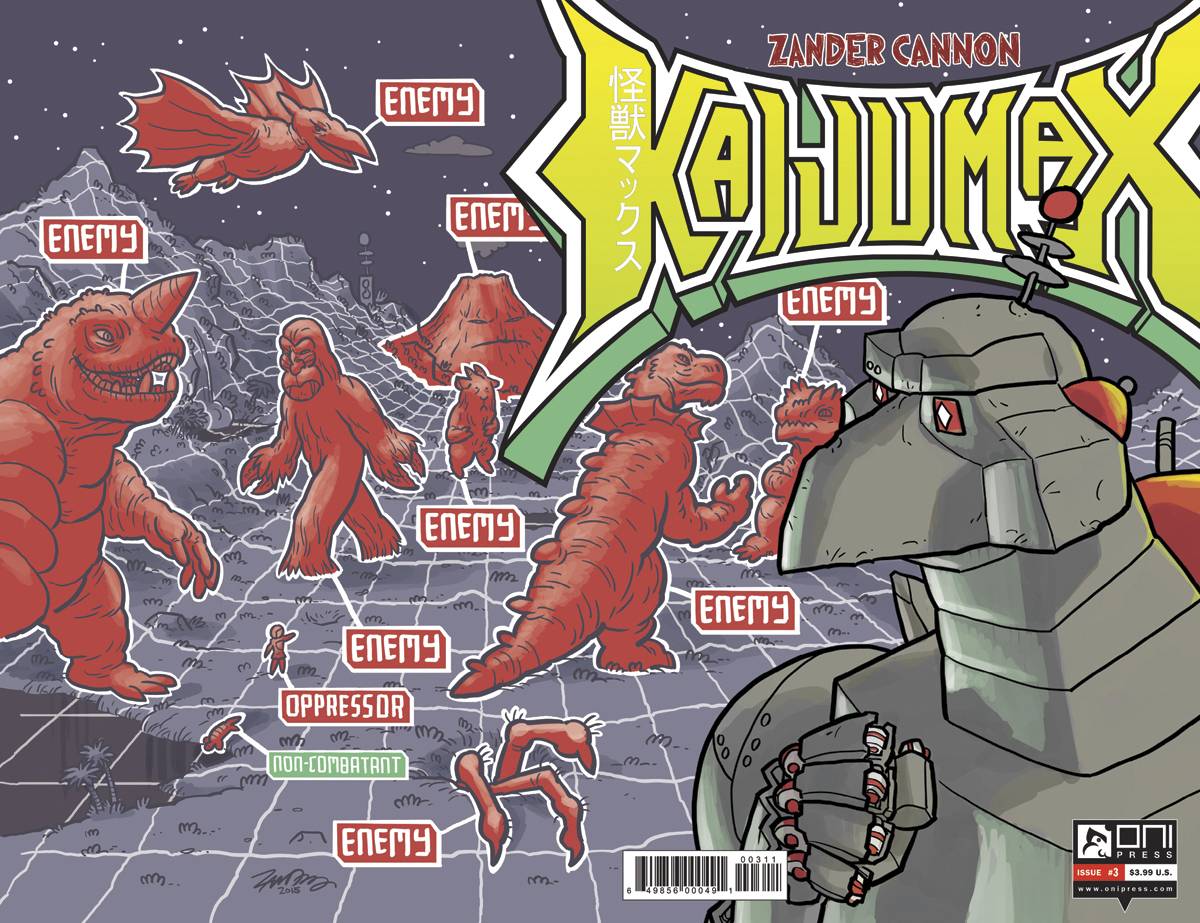 The "Why Am I Crying?" Award: Kaijumax (Oni Press)
I touched on this last week in the creator lists, but don't let its fun and friendly look fool you: Kaijumax is emotional dynamite. While it ostensibly looks and sounds like a comic that would just be a blast thanks to its high concept – a look at a Supermax prison for Kaiju – and Zander Cannon's happy color palette and cartoony art, that kind of thinking is a one-way ticket to Heartbreak City. This book will rip your heart out and enjoy the experience in the process.
With that said, it is still very fun. I know that's contradictory to my opening paragraph, but the slang Cannon's created for the inmates, the absurd situations and the warped perspective on both monster movies and prison stories gives this book a whole mess of grin-worthy moments. Even the letters column – which is one of the best in the biz – sets the book up as a fun, community experience. It really is fun at times, just like it looks. But it's kind of like a great football team using the run to set up the pass. When Cannon starts drawing you in, that's when you know he's going to go play action for the kill.
Cannon's a maestro of reader emotions. He brings you up and tears you down as you become invested in Electrogor and other characters, and he puts you and his cast through the ringer on the regular. There have only been six issues so far, but each is as memorable as anything I read this year, and it's undoubtedly one of the most unique books on the market. These are all impressive things, especially when you consider it's basically a one-man show on Kaijumax. It is one of the best comics of 2015, and no creator carries more weight yet works it as well as Cannon does on a monthly basis.
When I asked Cannon about the experience of handling almost every role on the book himself, every month, he described it as a "questionable move, at best." It's understandable why he'd say that. It's a huge burden. But it's worth it from this outsider's perspective, as it has resulted in something rare in comics: something unlike anything else around that is all created by one person. That, my friends, is a hell of a thing, and something I'll pay attention to in comics any time.
---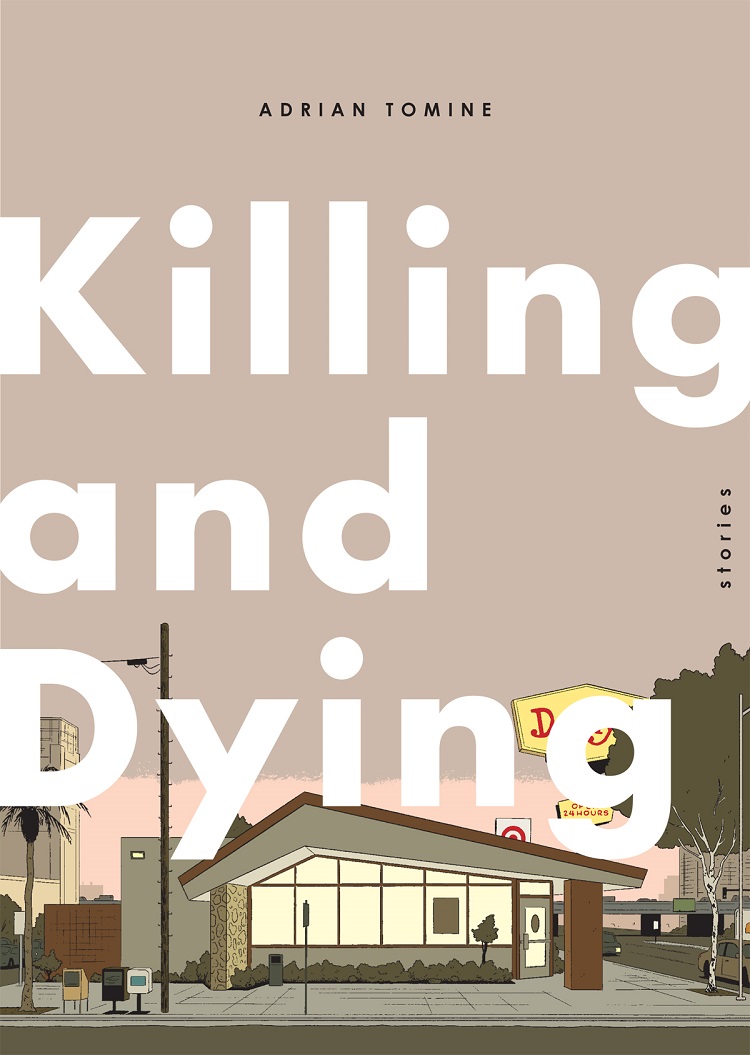 The Dose of Perspective Award: Killing and Dying (Drawn & Quarterly)
Even at their most narrowly focused, most monthly comics fall into some level of genre fiction as an umbrella. They're about relationships and people, but they're often about them in space or through the prism of a zombie outbreak or some other sort of angle. And that's fine. Not every comic has to be the same, and there's room for plenty of diversity in today's era of comics. But reading a comic that provides real insight into an ordinary part of the world and the perspectives that can come from unexpected places can be an exhilarating experience in its own right. Few do that as well as cartoonist Adrian Tomine.
His graphic novel Killing and Dying is one of his finest works yet, and while it collects work that had been previously published for the most part – mostly in his own series Optic Nerve – it doesn't make it any less insightful or powerful. Comprised of six short stories, each story in Killing and Dying has its own merits and impact. For me, the standout was Amber Sweet (previously published in Optic Nerve #12), which tells the story of a young woman who looks eerily similar to the titular character (who happens to be an adult film actress). It's a fascinating look into how your own life can be hijacked by something unexpected, and how your relationships can be colored by things outside of your control. The base concept is a gem in of itself, but the way Tomine executes the story makes it rise above its origins. The reading experience can (or at least it did for me) create real introspection, and it made it an even more rewarding read. As a young man digesting the story, it made me think of how I treat women and how much more little actions I take can impact others around me in a major way. Not many comics do that.
But that's what makes Tomine's work so riveting. Some would look at this book and say it seems simple; even cartoony. But that's what he wants, as he's focusing on clarity of story to maximize the impact of the events on the page. The simplicity belies its emotional complexity. In vignettes like the one where the book itself gets its title or "Translated, From the Japanese," this helps make the sorrow and yearning he's conveying dig into you all the more. Each story has a wildly different perspective to it, and it showcases both Tomine's versatility and his rare gift of being able to bring truth out of any situation. It's a stunning work, and one that lives with you far past closing the book the final time.
The production itself is worth noting as well. The package is a beauty, with a hearty stock giving the cover and the book as a whole a real weight to it. This book is a worthwhile pick up even if it was produced on looseleaf newspaper stock, but the gorgeous work on the cover production and the quality paper stock give it a bonus for people who pay attention to things of that sort.
---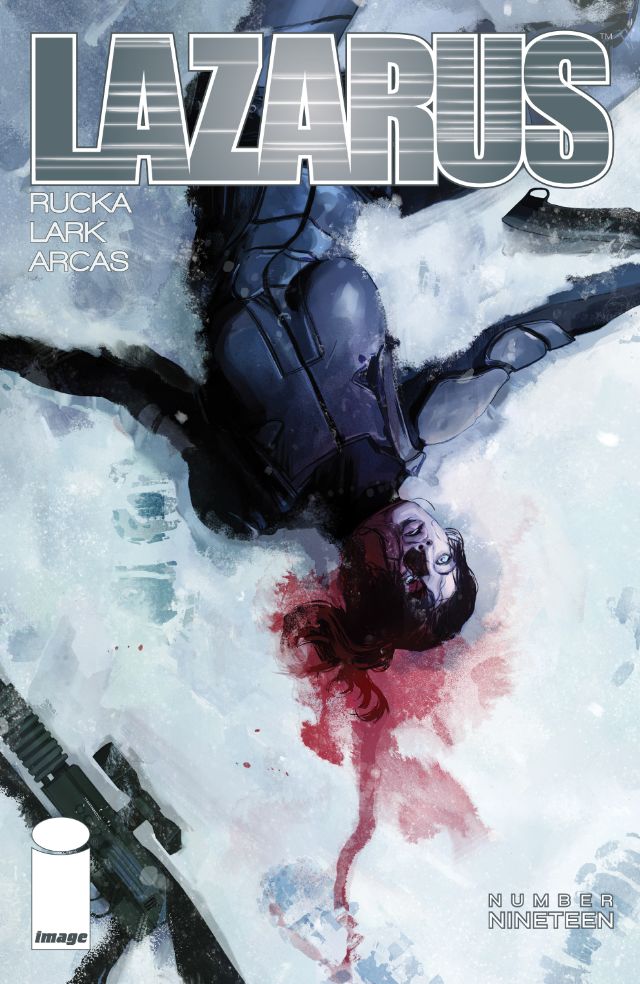 The Whole New World Award: Lazarus (Image Comics)
Back in July, I called Lazarus the best comic Image was publishing at the time, and little has changed since then. It is still one of the best in the business, as Greg Rucka, Michael Lark, Santi Arcas, Jodi Wynne and Eric Trautmann craft a sprawling story that immerses you in this broken version of the world we know. It is an expertly crafted and unforgettable read, but I want to highlight one thing above all, and and I'm not going to say family. Instead, I want to talk about world building.
Lazarus is a master class of world building. It finds the team tearing down our known world and replacing it with where the world could go from here, if families and corporations effectively took over everything. The team has meticulously built out the key elements of this world – who the families are, where they rule, what they do, what their relationships are, etc. – and they do so in the story, in the backmatter and even the back covers of each issue. Comics do have a limitation of space, to a degree, and Team Lazarus solved that problem by using each and every page to more fully realize this twisted Earth.
Everything about the book is good, but the world building? That's the ace up their sleeve. Both volumes from this year – Conclave and Poison – have used that as the flint they sharpen their edges against, as we've seen more families and locations than ever before. It only makes the book better and better. Lazarus is one of the few books that the main question I have as a reader isn't "what's going to happen next?", instead making me ask "where are we going to go from here?" It's an exciting characteristic, and one mostly unique to Lazarus.
Stay tuned for five more of our favorite comics of 2015, coming tomorrow!