Comics in the Time of the Coronavirus
The world is in crisis, and with that comes an impact on the comic industry. That impact is explored here.
Let's make an assumption from the top.
I'm going to assume that each and every one of you is well aware of what COVID-19 – or novel coronavirus – is, and the broad impact it's having. It's a new strain of an existing virus family that hits people with flu-like symptoms, and it can hit hard – particularly those who are elderly or immunocompromised – and spread quickly. 1 It's reaching every country, every state, and it's only expanding. That's why local, state, and very occasionally federal governments are doing what they can to prevent the spread of this incendiary disease by closing bars, dine-in restaurants, movie theaters, gyms, and beyond. From New York to my home of Alaska, from China to Chile, its presence is being felt.
And it isn't stopping any time soon.
The incredible thing is up until 13 days ago, I had planned on being in Seattle over this past weekend for Emerald City Comic Con. Like many others when Seattle became COVID-19's first hotbed in the United States, I was thinking, "I'll be fine!" if I went. But my tune changed as the climate did, and just a few days after I (and many, many others) canceled plans to go, Emerald City Comic Con was postponed. 2 Shortly after that, it felt as if the world changed entirely.
Since then, Wondercon was postponed, Diamond Comic Distributors canceled their Annual Meeting at Orlando MegaCon in April, and other comic events have been threatened, postponed or canceled altogether, amongst many, many other changes to our lives. Now, let me say one other thing up front. I know in the grand scheme of things, the world of comic books might be perceived as an inessential idea, a minor plot point in an otherwise sprawling, staggering narrative.
But behind every comic book is a group of creators, and behind them is a publisher, and behind them are the retailers who buy those comics, and so on, and so on, and so on. Just as easily as this virus spreads, so does the impact, and real lives within the comic industry are being affected already by this pandemic, even if you just talk about their livelihoods rather than their actual health.
Much has been made about convention closures and the impact of those events, and I've written about those in previous editions of my Friday column, Comics Disassembled. But at this point, as the impact of COVID-19 starts truly being felt by an industry like comics, it felt like the right time to take the temperature of the situation from the perspective of the people in comics being affected by it. While this is only the beginning, the people that comprise the world of comics are preparing to weather the storm, however they can.
I wanted to highlight their stories, digging into the potential short and mid-term impact this could have on the industry and the people who make it what it is. That's why over the past few days, I reached out to…a lot of people. Creators. Retailers. Publishers. Those in comics-adjacent roles. Industry analysts. All of it with a couple key ideas in mind: how the presence of COVID-19 factors into their thinking in the near term, and what they're doing to make it through it as unscathed as humanly possible.
This is what I learned.
---
Some creators didn't want to talk when I reached out. It wasn't because they weren't able to or weren't willing to. It was that they couldn't even comprehend how to answer my questions at this point. How do you think of the future if you can't even guess what next month, next week, or even tomorrow brings?
But plenty of other creators shared their thoughts, and the vast majority of them believed it's going to have some level of impact on their lives. In fact, only three believed their plans were likely to be relatively unharmed by it in the short to mid-term. But each was aware that they're in atypical positions.
"I almost feel like a jerk saying it, given all the complications, anxiety and misery the virus is currently causing, but it doesn't effect my short term decision-making at all," writer Brenden Fletcher told me. "I work from home and take most meetings via phone, Skype or FaceTime. And though I'm in a densely populated urban center, I can totally limit my exposure to other human beings by having most anything I need delivered and dropped at my front door.
"I feel very lucky."
Because conventions aren't a significant portion of his livelihood, Fletcher doesn't believe this will have an impact on him in the near term. It could effect his plans for the summer, though. He said he's "stressing about the commitments" he's making for July's San Diego Comic Con, and if that event doesn't happen, he's "on the hook for every dollar spent." Even if the event goes on as planned, this situation has him thinking about the con experience as a whole. Not on a micro level, as one-on-one engagements are manageable in his mind. But the crowds at conventions are worrisome to him. Because of that, he described himself as "happy to stay home and type" for the time being.
While cartoonist Faith Erin Hicks admitted it "absolutely would be a factor if I had a book out this spring," sharing that she likely would have canceled signings or other events if that was the case, her primary focus is on the development of a new project, ensuring accidental self-quarantining.
"This year was planned as a year that I stayed home to work on a new graphic novel that isn't announced yet, and that's what I'm doing," Hicks told me.
Artist Tadd Galusha is based out of Eagle River, Alaska, a town that's effectively a suburb of the state's largest city, Anchorage. He's the final "no," and it's for two simple reasons: his location and the solitary nature of artists. Those two variables put him in "a super fortunate situation where" he's at "a minimal risk of the virus." 3
But they were definite outliers from the group of creators I spoke to, as most believe they'll be affected to some degree, possibly a significant one. Much of it falls on the convention front, an immense part of the year for many. Take cartoonist Kyle Starks, someone who described himself as "probably" doing "way too many" cons at 25 to 30 a year. Up until recently, he and his fellow cartoonist Chris Schweizer were considering whether they should go to an upcoming convention if it wasn't canceled or rescheduled. They decided that they were going to go, but Starks admitted "I wouldn't be lying if I said it wouldn't have been with some real concern." It was canceled, removing the choice from them in the process.
While Starks describes himself as "probably ahead of the curve in really efforting personal health at conventions," 4 the difficult part of these decisions stem from his situation. He works from home, his wife doesn't work, and thanks to that situation, they're generally low risk besides their children. But conventions make up a large portion of his yearly income, which makes discussions like the one he had with Schweizer necessary. At this point, he imagines he'll be back on the convention trail as soon as humanly possible.
"I still have shows in April in May and by all accounts I can't see how I don't attend them if they still happen. It's going to reach a point where I'd have to just to pay my bills, danger or not, I think. And I fear it might be that way for a lot of people," Starks said. "It's going to be a tough decision that, for me and I suspect everyone else, will be decided by how desolate the pantry becomes."
These are the kinds of decisions creators are wrestling with right now. Artist Tony Gregori – someone who was very early on the "let's protect ourselves" train, as he was one of the first to cancel on Emerald City – said conventions are an "added risk I'm not willing to take under the current circumstances," adding he doesn't plan on attending any cons for the rest of the year.
Artist Terry Dodson was planning on a much deeper than usual convention season, as he's preparing for the launch of his new Image series Adventureman on April 29th, with a slew of dates including Emerald City, Wondercon, and numerous other cons and signings between May and August. It was the biggest slate he had ever taken on. That's all on hold now. Dodson "won't be attending anything until there's an all clear."
Because of the planning conventions require, this is of course not as easy as just sending an email and washing your hands of the event. 5 As artist Phillip Sevy told me, he's looking at "the rest of (his) year and trying to anticipate which other shows will cancel," saying "it's difficult because you usually have to plan/put money down far in advance of the show in order to exhibit."
And that's only one cost you have to worry about. Artist Jen Bartel shared "the reality of tabling at conventions is that it requires a huge monetary investment on the front end: ordering prints, zines, and other products is not cheap and many do not have the ability to run an online store or handle fulfillment, so they are truly in a position of not seeing any return on their investment—that can have a cascading effect if they were hoping to recoup enough of their costs at ECCC (the first big show of the year) and apply it to convention expenses later in the year."
Bartel said COVID-19 is "definitely having a huge impact" on her travel plans, and it's putting creators in a tough position because of how essential conventions are to their livelihoods. While she herself is somewhat insulated from this – conventions are huge for her, but she's managed to develop other channels to earn from – she emphasized the impact on her fellow creators who rely on conventions.
"Many creators are facing devastating financial losses this convention season because of canceled/postponed shows—many of us make a significant portion of our annual income from these events, and it's not uncommon for even established comic artists to factor in potential convention print and original art sales into their rates for actual commissioned work such as covers and interior pages," Bartel said. "Publishers are often able to pay artists lower rates because it's been well established that there will be opportunities to make additional profit from selling comped/discounted copies of comics at conventions, but without that as an option, now creators are faced with overflowing stock and nowhere to sell."
The potential of lost earnings and expenses from producing merch and booking flights is what leads people like Starks and artist Lucas Elliott – who up until a week before Emerald City "was prepared to dive into Seattle" because of its outsized importance to his year – to potentially risk their health. While almost everyone I spoke to noted that they would change their practices as much as they can with people who stop by their tables at conventions – cartoonist Declan Shalvey said he'll "probably just do a comical salute," while others lean towards fist bumps or air fives – there's only so much you can do in a time where social distancing is crucial to managing the impact.
There are alternatives to conventions, though. While artist Liana Kangas told me she "already canceled two trips" and is "mildly regretting" another she's slated for down the line, Emerald City's postponement led to potential gains for her. The lead up to that event was spent revamping her online store with the idea of this year's con season being virtual, an essential pivot given the situation. That's something we're seeing a lot of already, as creators aim to make up for the losses from cons being moved or canceled in the near term.
That's why many creators were so active this past weekend. Artists like Kangas, Elliott and many others used the hashtags #ECCCOnline and #ArtistAlleyOnline as well as platforms like the Very Very Shopping Network – or the VVSN, a infomercial-like stream experience where a variety of publishers and creators appeared to sell their wares online to seemingly great success – to help offset some of the losses they saw from Emerald City's postponement. Bartel described these kinds of efforts as a "silver lining" in all of this, as it's "encouraging many of us to make those connections online and help other creators" through those arenas.
Andrea Demonakos is the person who owns and operates White Squirrel, a company that works "with artists, authors, designers, and makers who have products they want to sell, but don't have the time or brain space to take care of all the details." As someone with extensive experience helping comic creators like Bartel, Kris Anka and Irene Koh sell their work online, she has nearly unmatched expertise in managing online platforms like the ones discussed above. While she believes "this crisis has really emphasized the flaws in our freelance-based industry," as creators are perhaps too reliant – by design of the system – on revenues generated by the paused slate of conventions that are on the horizon, she did offer suggestions for creators in need.
"I think it's very worthwhile for creators to look into alternate income options. Now is the time to take a chance on something new: set up a Ko-fi, Patreon, or Drip. They're all excellent secondary income sources, and some are more passive than others," Demonakos said. "If you're ambitious, I definitely recommend setting up an online store, but it's not easy. 6 Start small, what do you have on hand that you could sell? Set up a pre-order for pricey products like pins or apparel. Pre-orders and pop-up shops can be great projects to devote your time and energy to, since they have a defined end point, so you're not facing an overwhelming ongoing amount of work. Those are projects you can do now, and then wrap up when things hopefully return to normal."
"Obviously all of the above depends on the individual creators' workload, and comfort level, but I like to think of it this way: take the hours you would have spent on convention prep, and redistribute those to setting up an online income source," Demonakos added. "Give people a way to support you, even if it's not from the other side of your Artist Alley table."
Those are all great tips for creators looking to make up for lost revenue. For those missing out on the promotional opportunities cons present, there are options as well. Without travel in the cards, Dodson is refocusing his efforts on promoting his upcoming book via online and social media efforts, including live streaming, YouTube and other platforms he wouldn't typically utilize. That could be hugely beneficial. It's also given him time to focus on his work, as now he can knock out the 164 pages he needs to color of the first arc of Adventureman without having to break up his efforts with travel plans.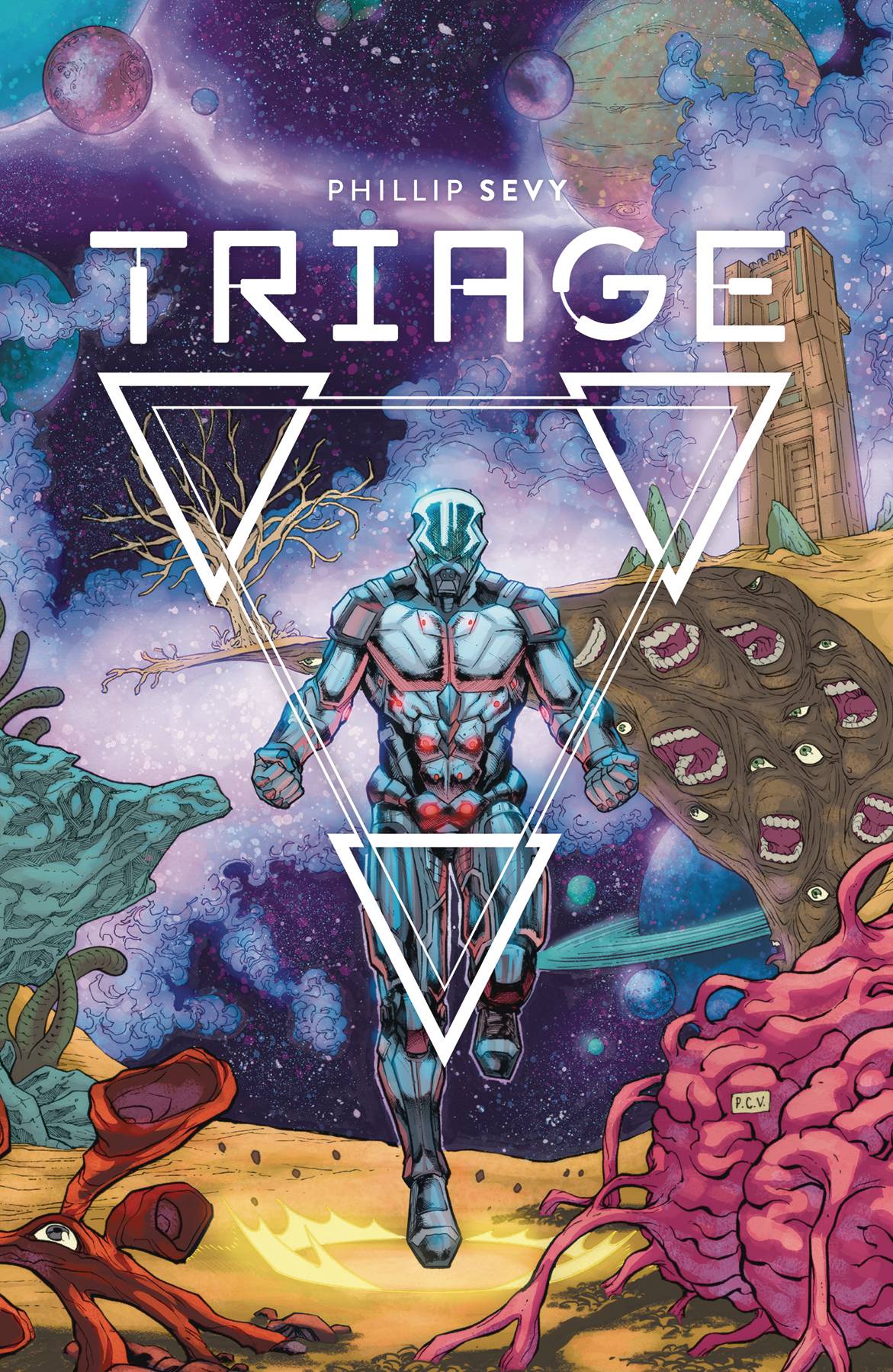 That's another silver lining of all of this, if there is one. Time spent working is largely time well-spent in a global pandemic, as many creators are used to self-quarantining due to the solitary nature of comic work. This gives creators more of a chance to focus on developing projects they might not have time for otherwise. Elliott is on paid leave from both of his day jobs, and he's using the time to work on book pitches he's been "chipping away at." Kangas has set her sights on picking up more work on covers and interiors, something she wouldn't have had time for with a full convention schedule. These are good things, even if they aren't planned by any means.
Of course, the lack of conventions leads to a cost for those looking to develop project work as well. Sevy said the ability to interact with publishers, editors and pros is often how he lines up work for the year.
"If I'm not able to see anyone, how will that affect securing work for 2020?" Sevy asked.
"The sudden lack of viable opportunities to get in face time with editorial staff and potential clients is huge as many people rely on those in-person meetings and networking events to get their projects funded and further develop important working relationships," Bartel added.
That's something that could have more of a long-term cost for creators, as the conventions of today lead to the projects of tomorrow. Networking is a key part of those events, even if it's one that isn't as visible to the average fan. But just because we're not aware of it doesn't mean it's not there. It's a crucial part of doing business for creators. Even those who are gainfully employed can be affected by the lack of face time, as one creator I spoke to noted that they'd typically visit the offices of one of the publishers they work for to plan what's next for their work. Now, they'll be calling in, at best. That may not seem like a big deal, but comics is often an industry of relationships. There can be a cost there.
In the short to mid-term, it's easy to wonder about what this could mean for creator-owned comics and crowd-funding efforts, as retailers and potential backers might be tightening their belts in the face of this. Maybe, maybe not. Creators Spike Trotman, Tracy Butler and Fable Siegel managed to successfully fund their new multi-media project Lackadaisy Cats on Kickstarter yesterday in just six hours. There's still potential there. It's not necessarily doom and gloom; it's just a time of rethinking approaches and developing alternatives to business as usual.
Like with everything else, though, creators will find ways to adjust to the new world order. Some are carrying a heavier burden than others in the process, though. Writer Eric Palicki is one of them. Like everyone else, he's reliant on conventions for getting the word out on his books, and with two yet-to-be-announced projects coming in 2020, he described them as "vital" to his plans for promoting them. Palicki is based in the greater Seattle area, though, and more than that, his day job is "medical-adjacent." Because of that, the disease "has thrown my entire year into upheaval," he said.
"I have to be mindful of how exposure to COVID-19 could impact my ability to do the work," Palicki shared. "In addition, my employer considers me 'essential personnel,' so there's no self-quarantining for me." 7
Because of that, he has to be extra careful about how he uses his time off for conventions.
"When shows like Emerald City or Wondercon cancel at the eleventh hour, that's not time I necessarily get back to use traveling to another con," Palicki added. "I suspect some hard decisions will have to be made about SDCC and NYCC in the near future."
---
As the first city to feel the weight of the COVID-19 virus, Seattle is almost operating as a preview of what others could be seeing, unless actions taken on the local, state and federal levels have the impact everyone is hoping for. While everyone is hopeful for that, it's still worth considering what a comic shop like Scott Tomlin's Comics Dungeon experienced when the coronavirus made an early arrival in his city. Tomlin said it's impacting his "short, mid and long-term plans." It's easy to understand why.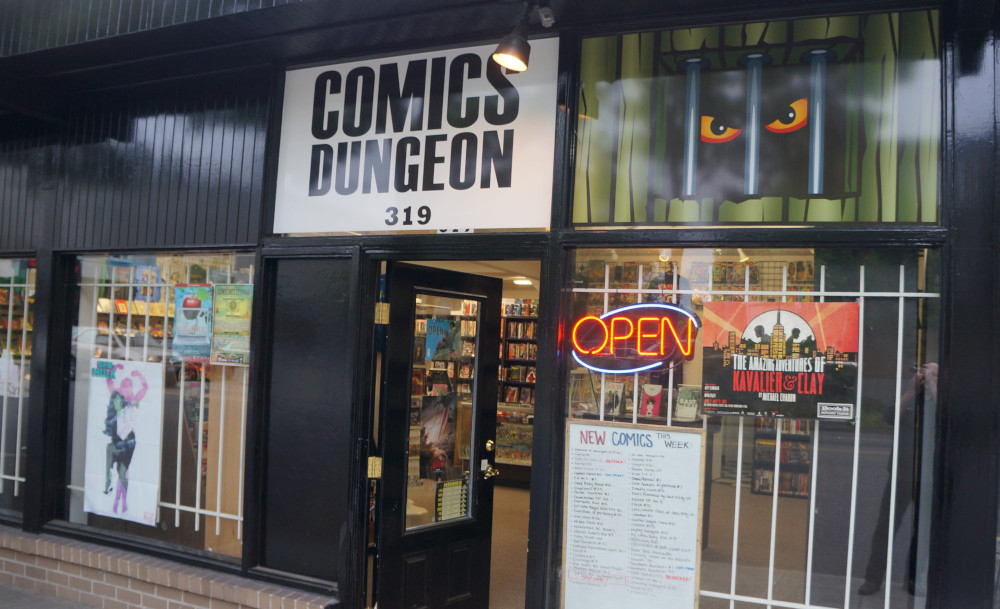 "Customers have already starting canceling subscriptions due to financial burden. We are reducing what we can on FOC 8 assuming less foot traffic will be the case," Tomlin told me. "Mid-term it will affect our initial orders significantly, we are already discussing staffing strategies and business pivots, like more mail orders, etc.
"Long term, the finances could be a struggle and we are taking it a day at a time. A long-term downturn in people visiting retail stores won't be good for the small brick and mortars especially in an industry that is already struggling with the model."
The model he likely speaks of is, of course, the direct model structure in comics. Because of the way things work, shops have to make initial orders three months out before final order cut-off (or FOC, the last point shops can adjust orders) on orders arrives about three weeks out. That means retailers are attempting to predict how to order what is primarily non-returnable inventory during a global pandemic in an industry where it's usually far more of a guessing game than anyone really wants to admit. 9 Cruelly adding to that struggle is FOC for early April's orders was yesterday, ensuring that retailers needed to get final orders in without having any clue what the world could be like would be when they're released. There could be a national lockdown, like in Italy. Retail stores could be ordered to temporarily close on a national or even international scale. It's impossible to predict, but the idea that shops could order comics with a dramatically restricted ability to sell said inventory is an increasingly real one.
That's why Tomlin, and really every other retailer I spoke to, is in a tough spot. Options are limited here, especially in a segment of the industry where margins are razor thin to begin with. The good news is the able teams at many shops around the world are working to find solutions.
Every shop I spoke to is at the very least taking on enhanced cleaning techniques, ranging from aggressive cleaning practices 10 to even requiring staff to wear vinyl gloves, like the team at Dublin's Big Bang Comics is doing. Shops like Portland, Oregon's Books with Pictures, Toronto's The Beguiling, 11 Oak Ridge North, Texas' Space Cadets Collection Collection, and Lima, Ohio's Alter Ego Comics are offering curbside pickup for customers, with the intrepid team at Books with Pictures even providing free local delivery for subscribers. Everyone is either leveraging existing mail-order options – even for local customers – or quickly mobilizing to build up that side of the business. They're finding answers, and it's honestly inspiring to see how quickly these entrepreneurs have adjusted to their new situations. It's necessary given what the world is going through, as Challengers Comics + Conversation's co-owner Patrick Brower shared.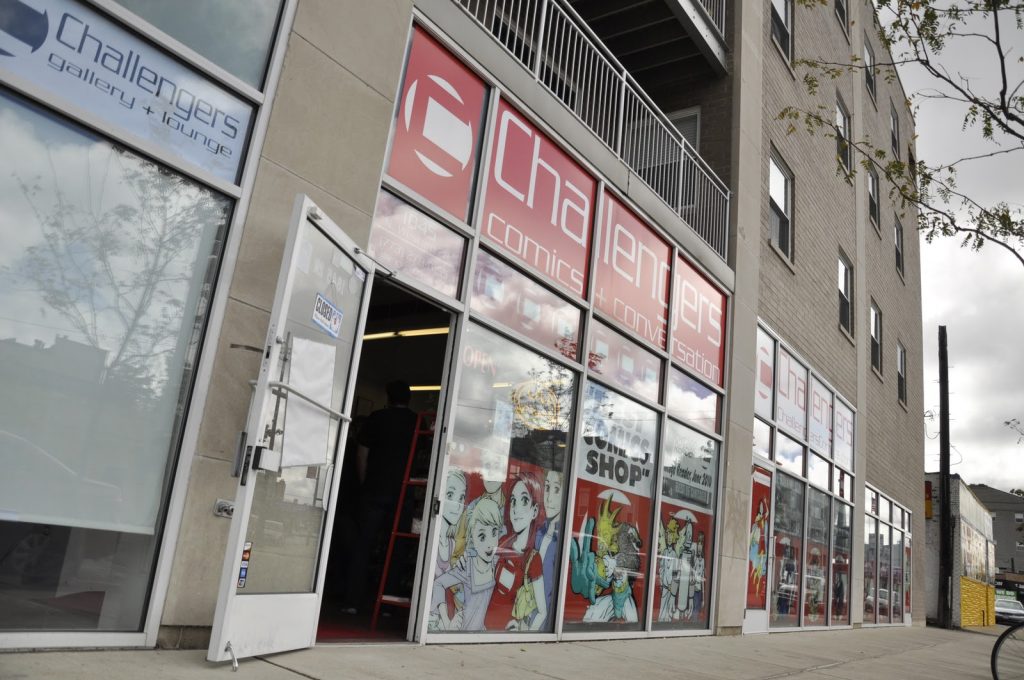 "This is an unprecedented time on our planet. People are scared and the first thing they're changing is their everyday routine," Brower said. "I wasn't worried this time last week, but the customer count in both of our stores has dipped this week, and we can't help but think that fear of the virus is responsible. We haven't done any order adjusting as a result of this, but it's also too new to see if this is a lasting change."
That last point is an important one. This has all been such a whirlwind that some retailers have been hesitant to make drastic moves. Brian Hibbs of San Francisco's Comix Experience and Comix Experience Outpost said he's "held back from pulling a lot of triggers, as of yet, to see where and how things land." That changed yesterday when one of those triggers hit, with San Francisco going on lockdown and "non-essential" businesses – like Hibbs' two shops – being ordered to close their doors to the public for the time being. Both shops will still be open for mail-order and curbside pickup – and offering some nice perks for the former, with free shipping on orders of $20 or more – but that's still a tough place for the duo of Comix Experience stores. Pairing that with FOC made it an even more harrowing experience, and with limited response from his "top five suppliers" about the potential returnability of product, the long-time retailer slashed his orders at the last minute. It was a necessary move.
That's one thing I and likely all retailers would love to see from publishers, even if it will be rare: increased returnability for retailers in the near term. Shops already carry a disproportionate amount of weight in the way the comic industry works, with the bulk of the risk in the consumer decision making process falling to them. Compounding it with a pandemic makes it an even tougher spot. It'd be a lot easier for shops to order how they'd like to order versus how they think they should order given the environment if they were offered some level of protection. The good news is with FOC looming, at least one publisher offered full returnability on all product for yesterday's cut-off and all remaining ones in March: Image Comics. They'll likely be the exception to the rule up at the top of the industry, but if publishers really want to be collaborative team players with their retail partners, this is the move to make.
Like with creators, the decisions retailers make today affect their viability tomorrow. Playing it tight could cost them later, if the situation (hopefully) resolves quicker than we expect. Some believe that's a better risk to take without returnability – Jetpack Comics' owner Ralph DiBernardo told me "since we have to order so far ahead I'd rather get caught short and reorder than have product and no one to sell it to," which is an understandable position 12 – but the point is, they're being left with even more difficult decisions to make than usual.
The good news is that some shops have seen support from their customers rise because of the occasion. Bruno Batista of Big Bang Comics said a lot of customers "have said that they can't make it in for various reasons but want to pay for the comics they have aside with us so we are not in a lurch." Because their shop uses ComicHub – a suite of retailer tools created by retailer Stu Colson 13 – customers can pay directly through their online customer portal, which "makes our lives a whole lot easier," Batista said.
But this situation is affecting everyone's plans for 2020. Katie Proctor, the owner of Books with Pictures, shared that "it is a major factor for planning the rest of 2020, including stock ordering, business model adjustments, capital expenditures, staffing levels, cleaning protocols, event planning, and toilet paper acquisition strategies," the last part of which was a joke but also a joke with a whole lot of truth behind it. Most echoed the sentiment Marc Bowker of Alter Ego Comics said to me, though. While he believes "it's going to get worse before it gets better," he said "we're going to get through this. And we're going to be here for our customers until we're told that we must close."
The last point I want to note in regards to retailers is where things can really go awry. While many are doing what they can to learn from what Tomlin has seen in Seattle, adjusting their focuses towards new means of doing business, things get dicey if certain dominoes fall. The first one is just a month and a half away: Free Comic Book Day.
"Retailers are already asking about Free Comic Book Day," Batista shared. "Can we possibly see a delay on that this year?"
Many shops rely on that day, as it provides multitudes of revenue on top of the best Wednesday the average shop can even imagine. DiBernardo said Jetpack typically sees upwards of 3,000 people at his store that day. If the CDC is recommending events that gather 50 or more people within the next eight weeks are postponed or canceled, then Free Comic Book Day is square in the sights of that. It feels inevitable that Free Comic Book Day will be postponed at the very least, but it's a day retailers bake into their plans. It isn't important; it's necessary.
The other domino is the biggest one of them all for the direct market.
"One very, very important thing to consider is that we are only a case or two away of COVID-19 hitting some Diamond workers in their warehouses and we might be looking at a complete stop of comics distribution worldwide for a number of weeks," Batista told me.
That's an incredible point, as depending on your perspective, the comic industry is either disconcertingly single-layered from a distribution standpoint or one that faces a monopoly. If someone at Diamond is affected, we'll find out rather quickly how resilient the direct market really can be. 14
Above all, I think Batista speaks for everyone in the retail community when he says that despite the questions and uncertainties, "All we can hope is that in the middle of this, all our staff, our customers and all our loved ones remain safe."
"That is the number one priority."
---
Those same dominoes are concerns for comic publishers, as well, although it extends even further for them. When you escape the direct market, there are any number of other distribution houses publishers deal with for the book market. 15 Like with Diamond, if anyone is affected in one of their warehouses, a cascading effect could be triggered. Health should be the number one consideration in all of this, of course, but if Diamond or Simon & Schuster is affected, there's no recourse available really. If that happens, it's going to get rather nervy for every publisher and these distribution houses.
That opens up some tough decisions for everyone. Would publishers consider rolling out new releases via digital platforms like ComiXology initially if physical distribution is delayed? Universal Pictures announced yesterday they're doing that with currently in-theater releases like The Invisible Man and The Hunt, and it feels like an apt solution to a potential problem on the surface. Would publishers dare go that route and put retailers in an even worse position in that hypothetical scenario? My guess is no, but these conversations almost certainly will come up.
The tricky part of digital as an alternative is it doesn't behave like a replacement product for most comic fans. Comichron's John Jackson Miller was skeptical of any potential lift digital might see because of the situation, saying he's "not sure digital would see tremendous leaps beyond, perhaps, the usage levels for the subscriber-based services — by now I expect everyone who is comfortable with digital as an option has long since migrated there." That combined with the rather tough look it'd be to their retail partners might be enough to make this – again, very hypothetical – scenario unrealistic.
One nice alternative publishers have been deploying digitally are free to read first issues for those stuck at home. Vault Comics has long offered that as an option, and Image Comics released 100+ first issues just last week. It's a good guy these publishers are offering to readers when we're all doing our best to just stay home. I like that.
Free Comic Book Day is an even more curious potential problem. Postponing likely would solve the issue for retailers, presuming some level of timeliness to the resolution to the COVID-19 pandemic, 16, but the two publishers at the top of the direct market are relying on Free Comic Book Day as platforms to roll out new initiatives. Marvel is launching its new X-Men event, X of Swords, on that day, while DC's 5G – but don't call it 5G! – effort begins with the Generation Zero release on FCBD. Larger publishing plans rely on these releases coming when they do. What happens if they don't arrive on time? That's a question they'll likely need to answer soon.
It's almost certain this will impact the roll out of new titles. This week brings the arrival of Axel Alonso and Bill Jemas' AWA Studios, with four titles debuting on Wednesday. While shops couldn't adjust orders in time for this, the timing could not be worse for AWA, as in-store discoverability – an essential element for a new publishers – will likely be low because of the situation.
That's something others might try to avoid. I could see bigger, launches being bumped to later in the year for the same reasons films like No Time to Die and the eternally, comically delayed New Mutants have been: it's harder to sell to people when they can't go anywhere. Miller agreed with this idea, saying, "I wouldn't be surprised to see new release volume decreasing if the containment stage goes long — publishers, like movie producers, might see some benefit in releasing big event titles later when there's more cash flow and more certainty."
It shouldn't just be the big titles, though. With retailers limited in their potential impact to motivate consumers and with a downturn – or complete erasure – of the actual shopping experience, it's going to be a difficult time to move anything that doesn't have top of mind awareness amongst comic fans, especially with the tenuous economic situation on a micro and macro scale. I'd wager if publishers rescheduled whole portions of their publishing lines down the road – especially something like the X-Men line, which is likely reliant on certain beats hitting in the Free Comic Book Day issue – some retailers might breathe a sigh of relief.
This idea isn't based on any insider knowledge – either for Miller or myself – but why wouldn't you bump at least your key releases to a time where it would have maximum impact for both yourself and your retail partners?
These types of situations could arise simply because COVID-19 is "a special case of a kind we haven't seen" before in comics, as Miller told me. While major events have affected the industry before – some for the better, as he noted in a recent write-up – this has no precedent because it "attacks consumers' mobility in the same way that, say, winter weather does, making it harder to go to stores to get those subscription copies — but it also strikes at their disposable income." That double threat makes it especially difficult to predict what could happen, leading to a real state of uncertainty, which this market abhors.
"Markets don't like uncertainty and neither do retailers, so I could see this impacting how much they order from here, both out of a lack of cash flow and concern that the customers won't be there as often," Miller said.
He did want to emphasize that this is "all conjecture." But he felt it was important to add a note about the industry's healthy starting point, saying "what we know for sure is that the Direct Market was in decent shape when this started, perhaps on the way to a promising year — and that the book channel had been doing great. The fundamentals of the business are sound; it's just a matter of how quickly we can get back to that business."
That's the big question, and publishers – like creators and retailers – are doing what they can to maintain some semblance of status quo. Many houses – including Oni Press, as well as other notable ones who haven't went public – have shifted to remote work to preserve the health of their employees. That's a positive step, but it's undeniable that there is a broader impact. While there was limited interest in going on the record at this time amongst publishers I reached out to, several did share their thoughts. Chris Fernandez, the publisher at indie house Mad Cave Studios, said, "at the moment, we are treating the situation like it has the potential to alter the course of 2020 in terms of conventions and other events."
Mad Cave is focusing on the health of their staff and family, so they're taking conventions on a case-by-case basis, finding alternative means of sales and distribution for convention exclusives as they move along. As for book launches and internal process, Fernandez said they "will be continuing with (their) scheduled releases for the year and will be looking to facilitate purchases in any way we can to meet readers' needs."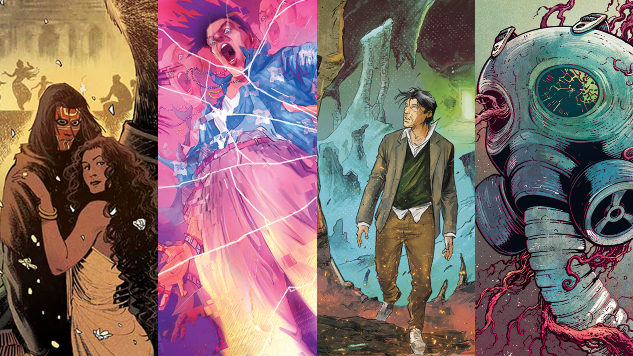 Damian Wassel, the CEO and Publisher of Vault Comics, said COVID-19 has "obliterated our convention and conference schedule for the first half of 2020," but they're diligently working to find alternative options while maintaining the health of their staff.
"Our entire team has been working to create alternate events to engage with both fans and retailers, and to give our creators opportunities to promote the books they've worked so hard on," Wassel said. "Operationally, we have the benefit of living and working in a small office in a geographically remote and sparsely populated place, so for now we're planning to continue operating as usual.
"We've discussed work-from-wherever contingencies for our team, and have plans at the ready for that. Meanwhile our employees all work on an unlimited PTO basis, so everyone has been encouraged to take their health and safety seriously, and respond in the way they see best for them."
The convention focus is a big one for publishers, as these events can have a major impact on the bottom line of today and the potential for the future for up-and-coming shops like Vault and Mad Cave. With events like Emerald City and Wondercon postponed already while rumblings are developing about the viability of San Diego Comic Con this year – Washington Post's Michael Cavna reported it's still slated as a go, but it's obviously a fluid situation – publishers will need to find alternative options for roll-out and promotion. Vault's working on it with their mysterious Vault Vanguard Comic Con, an event that's seemingly a virtual convention designed to tackle many of the same plans they had for Emerald City. We'll see what it is when more details arrive.
Ultimately, much of the fate of the comics industry in this situation relies on the actions of the publishing side. It's sort of like our government. When the top doesn't behave in good faith and in service to the people, everyone suffers. This is a time that requires flexibility and responsibility, with careful consideration for how their actions could affect their retail partners, creators, and beyond. Leveraging returnability 17 and rethinking approaches 18 could make an immense difference here, especially when whole cities are going on lockdown and shops lack the ability to actually sell product. Making the right choice for the self isn't the move here; you have to consider the whole. Behaving in any other way could cost everyone dearly in the short, mid and long-term.
---
This is a lot to consider.
The impact of the COVID-19 pandemic on the broader comic industry – its creators, its retailers, its publishers, and everyone else that's connected to those three – is all trapped in the same unsettled situation we're all in. Beyond that, it's all subject to the broader handling of the virus by the world's governments on federal, regional and local levels. While that might provide little assurance for the heavily American focus of the Western comic book industry, there are people out there trying to find answers and doing what they can to limit the impact of this situation.
That's all we can do, and the good news is that's exactly what most in comics are trying to do. While this pandemic presents unique, unprecedented problems in the short and mid-term, those I spoke to – both publicly and privately – are doing what they can to mitigate the impact on a personal level and a broader one. While there are some twists outside of anyone's control that could impact the broader industry, these conversations emphasized to me that if there's a problem, the comic industry will do what it can to find an answer.
And if everyone is working together, these issues can be mitigated. The comic industry is operating on a macro scale version of what everyone is dealing with personally right now. No one wants to hunker down and be trapped in their houses, but if you think beyond yourself and stay home, we can beat this thing, and do so together. That's where one final player comes into view for this piece: us, the readers. For everything to work out for comics, we have to think beyond ourselves, at least as much as we can.
That means doing everything you can to not leave your local comic book shop trapped with an extensive pull list that's uncollected and unpaid for. That means looking into mail-order, curbside pickup, or delivery options for your local shop. That means supporting your favorite creators in what is certain to be a tough time for them. That means doing what you can.
That doesn't mean overextending yourselves. If you can't do any of these things, no one could blame you. But if we all behave responsibly and help limit our negative impact on those around us, that helps them do the same for those they're connected to, and so on and so forth. Things are tight for everyone. But the best path to a good result is if we work together. That's always important, but perhaps more than ever now.
Think about that.
And then, for one final time, please wash your hands.
Thanks to everyone who agreed to chat with me for this piece, even the ones I couldn't fit in and the ones who were unable to respond in time. Keep an eye out for a separate piece with full quotes from each person featured here in a little bit. Also, if you enjoyed this feature, consider subscribing to SKTCHD for more content in this vein.