I went to France for a vacation. It was like going to a different world for comics.
Walking into Aaapoum Bapoum, a comic shop located in Paris, France's Latin Quarter, you can't help but feel like you're entering an entirely differently world for the medium. 32
You step in and find a perfect fusion of an impeccably curated bookstore, a lovingly laid out museum of sequential art, and a tour into the minds of each employee who has worked at the shop. It's a domain of transactions and sales, of course. But it's also more than that. As François Hercouet, the Editorial Director of Urban Comics – the France-based publisher of DC, Image, and BOOM! comic translations, amongst others – put it to me, Aaapoum Bapoum is a "holy place." It's a widespread celebration of the comic art form under one roof, no matter if you're talking bandes dessinées (or BD), 33 Batman, or Berserk.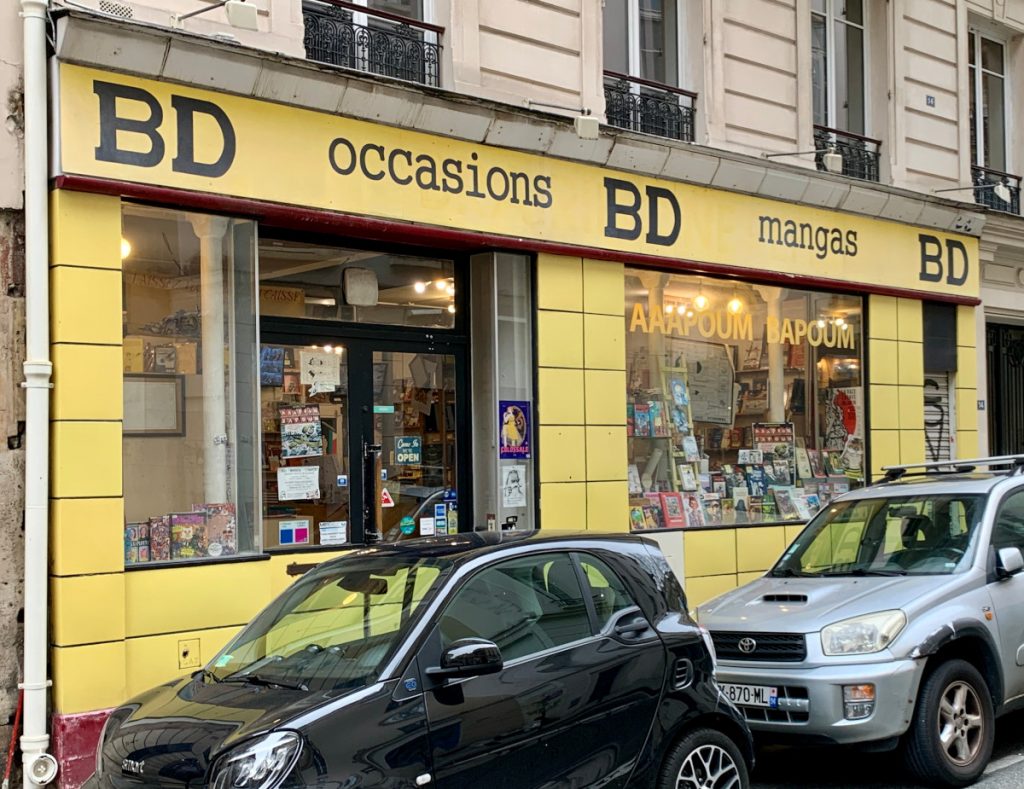 While Aaapoum Bapoum is a top tier shop in France and a one-of-a-kind example of the form, it doesn't exist in a vacuum. It's a reflection of France's relationship with sequential art. France loves comics. It loves BD. It loves Tintin. It loves Emil Ferris. It loves manga. 34 It loves it all. France is a comic country, albeit one of a slightly different shape and form as the United States.
During my recent three week visit to France, I couldn't help but find comics. Comics in shops like Aaapoum Bapoum or hole-in-the-wall emporiums like Lyon's Boul'dingue. Comics in Aix-En-Provence's everything market or in L'isle-Sur-la-Sorgue's vaunted Easter antiques fair. Comics in train stations, comics in window displays, comics on the Paris Metro, comics in museums, comics everywhere. At one point, my wife openly wondered if these "unplanned visits" to comic-related locations weren't so unplanned. That wasn't the case. The medium and art form are just so ubiquitous in the country that happy accidents are always right around the corner.
That experience was an eye-opener, and one I wanted to write about. There's a lot of wondrous things about France's relationship with comics, and plenty that could be learned from all of it. So, today, I'll be sharing some of the observations made during that visit, and maybe – just maybe! – there will be some actionable items in there that the American market could learn from in the process. Or maybe you'll just learn a little bit about how another country does this whole thing. One of the two!
---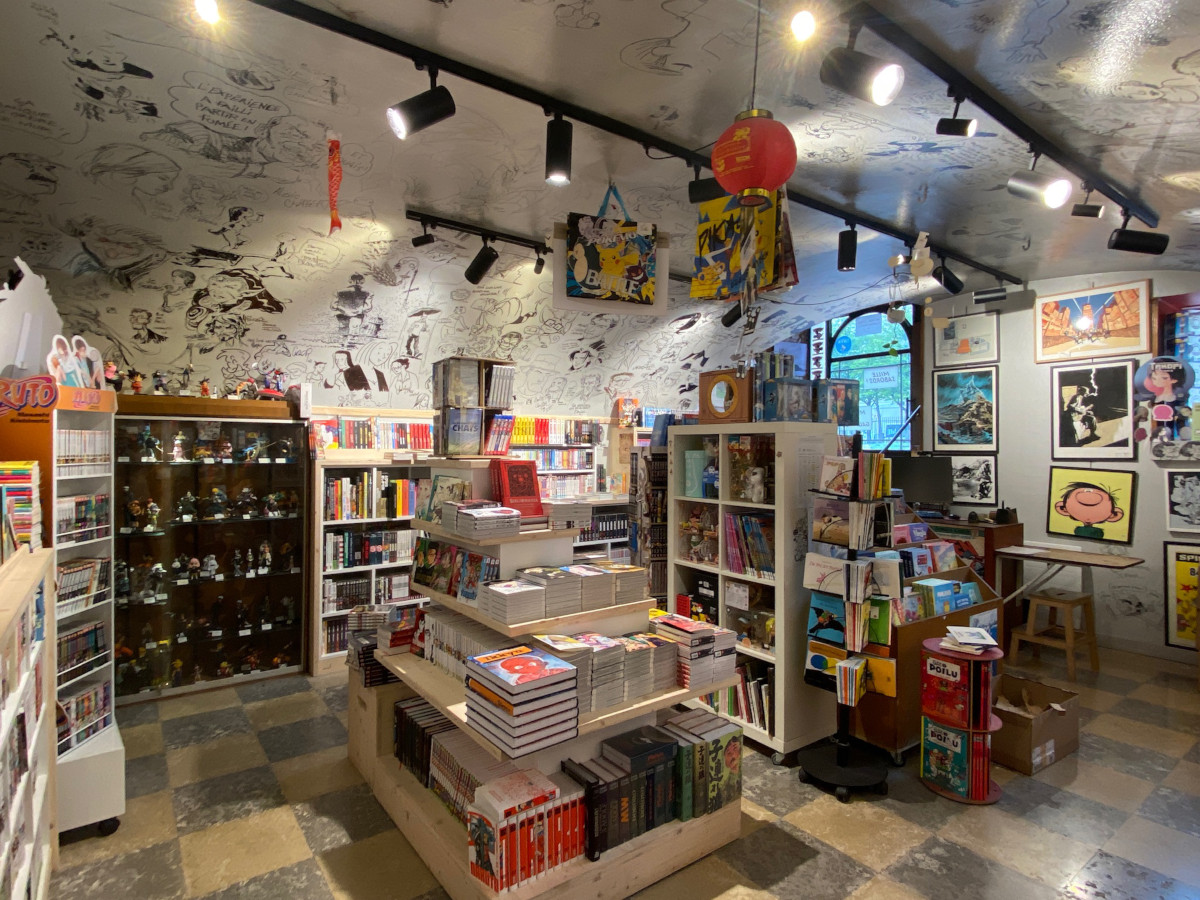 France's relationship with the medium is much different
Before we get into any of the saucier observations, one crucial point needs to be emphasized, and that's just how dissimilar France's feelings towards the comic book art form are compared to America's. The main difference between each's relationship with the medium is simple. While America sees plenty of success with comics and graphic novels, it still often battles questions about the legitimacy of the medium amongst certain audiences. That's not the case in France. This country doesn't just love comics; it's in love with comics. There's broad acceptance of the art form, and that's reflected by who visits France's comic shops: everyone.
In my two visits to Paris' comic shop Aaapoum Bapoum, you were equally likely to find people like me digging through single-issue comics and younger folk browsing manga as you were to witness middle-aged women looking for translated American comics and thirty-something couples gleefully exploring racks of highbrow BD. Comics are an art form for the people of France, and one that isn't looked down on by some as lesser than simply because they contain pictures as well as words.
A fun example of that came at our Airbnb, a little cottage on the same grounds as the family home, outside of Aix-En-Provence in the south of the country. When my wife and I were browsing the welcome guide our hosts created, I noticed a message within. It said that if anyone was interested, they had an extensive collection of comics available for browsing or borrowing. The sprawling collection of BD belonged to their twenty-something son, and each member of this lovely, erudite family delighted in it. When I asked our host if I could check them out, 35 they were equal parts flabbergasted and overjoyed. In all their time welcoming people onto their property, I was the first to ever ask to see the collection. Which is too bad. It was an incredible assemblage of comics and art, and the family took joy in walking me through them and discussing their favorites.
That experience was a microcosm of what we would see each day of our journey. France as a country is very much about celebrating the art form, no matter where you go.
Taking a train out of Paris' Gare de Lyon, Aix-En-Provence's TGV station, or Lyon's Part-Dieu? You'll find murals celebrating 50 years of the renowned Angoulême International Comics Festival, with the event, cartoonists who participated, and their art celebrated in a series of images on the walls of those stations — to say nothing of a plethora of manga, BD, and comics for sale in convenience stores at the stations. Going to a convention like Paris Fan Festival? You'll discover an event that's all about fandom and energy and the love of whatever thing you're into, whether that's comics, art, or games. Hitting up a local comic shop? It isn't just about selling wares but covering every square inch of the location with art and comics. We even came across a lovely exhibit and mural celebrating the art and life of Kim Jung Gi in the otherwise bizarre Musée Cinéma et Miniature in Lyon. Comic art is everywhere!
As a country, as a people, as a society, France is giddy about comics. The burn out that is so often felt by American fans is completely absent in my admittedly limited experience. They love comics. That colors every aspect of how the medium is approached in the country. 36
The rest of this article is for
subscribers only.
Want to read it? A monthly SKTCHD subscription is just $4.99, or the price of one Marvel #1.
Or for the lower rate, you can sign up on our quarterly plan for just $3.99 a month, or the price of one regularly priced comic.
Want the lowest price? Sign up for the Annual Plan, which is just $2.99 a month.
Learn more about what you get with a subscription