"It Could Be Better, But It Could Be Worse": Shops Discuss the Often Difficult Year So Far in Comics Retail
Coming off a multi-year high that began in 2020, things were solid when I checked in with comic shops in January. Sales were steady, manga was popping, and other categories had seen growth. While there were points of consternation, healthy numbers can act as a balm for even the most troubled comic retailer's soul. Ultimately, the good outweighed the bad last year.
But it was clear there were storm clouds on the horizon, if not there already. It wasn't because sales were down dramatically, or even across the board. It was because everything was harder and more exhausting than it had been before, with several retailers not even understanding how they came out of 2022 ahead. While success was there, it often felt tenuous. It's like Bruno Batista from Dublin's Big Bang Comics put it at the time: "The uncertainty is bigger than ever" for retailers.
They were hopeful, of course. Comic retailers are a hardy bunch, passionate individuals eager to do their job and do it well. But doubt was seeping into the picture. Shops were surviving or even thriving in some cases. They just didn't always feel very good about it.
If that was the case then, then the bad vibes have only gotten more pervasive since. Just as before, it isn't because everyone's sales have evaporated. Some shops are level or even up from 2022, albeit fewer than before. It's just a lack of faith in publishing partners and the material itself is taking hold, particularly when it comes to single issues. That's for good reason. Much of it isn't working. More than that, the job has gotten harder, and the margins tighter. That was more palatable during the boom times of 2021. Higher costs are easier to deal with when everything was selling. But as Joe Field of Concord, California's Flying Colors Comics put it to me, sales shifting back towards pre-pandemic levels but with post-pandemic costs is "not a good recipe" for success.
It's not in me to be hyperbolic, or even doom and gloom like so many others. But you have to completely ignore what's happening to miss that comics retail is facing major headwinds right now. If storm clouds were forming in January, then we're assuredly in it now, with most shops focusing on survival as much as anything.
That's been a consistent message throughout the year. Much of the positive energy and sentiment has dissipated, replaced with uncertainty and frustration. It's a make or break time in the direct market, and one that deserves focus. So, today, we're going to give it just that, as we'll be looking at the year so far in comics retail, examining how things are going, what's working, and what isn't amongst a group of retailers as we head into the back half of a year filled with question marks.
---
When I asked shops if they'd be interested in participating in this feature, the responses typically belonged to one of three camps: "Sure, just know it's going to be darker than usual"; "It was an…interesting first half"; or the endless positivity of Third Eye Comics' Steve Anderson.
We'll start with Anderson, because his Maryland and Virginia based shops had the strongest year of all I spoke to, it seems. The retailer described 2023 as "really good" so far, with product moving and Third Eye expanding. Even more exciting was the makeup of his customer base, as lapsed fans and new customers poured into his shops. He wasn't alone in experiencing that.
Jen King from Space Cadets Collection Collection in Oak Ridge North, Texas saw an influx of fresh faces as well. King believed that recent efforts at local conventions and shows — including non-comic ones, like sports card shows — have driven "new faces through the store doors." That's a big part of the reason that Space Cadets has had "a promising start" to the year.
Most shops viewed 2023 as varying degrees of alright, though, with Jared Myland of Leeds, United Kingdom's OK Comics perhaps best representing that group by saying, "It could be better, but it could be worse."
What that meant precisely varied. For Sunnyvale, California's Comics Conspiracy, it was "a slowdown" to pre-pandemic levels, but not far from 2021's peak and well above where they were ten years ago, according to its owner Ryan Higgins. That's a fine place to be in his mind. For others, like Greensboro, North Carolina's Acme Comics and California's Current Comics, results were down overall but with months and even quarters that were up, per Jermaine Exum and Travis Pratt, the owners of each shop. There were signs of good even within the challenges.
All in all, there were six shops that fit in this middle class who were having years that could easily be labeled as "okay," as Jackob Sareli from Tel Aviv's Comikaza put it. Okay is manageable. You can work with okay. Other situations didn't feel quite as rosy.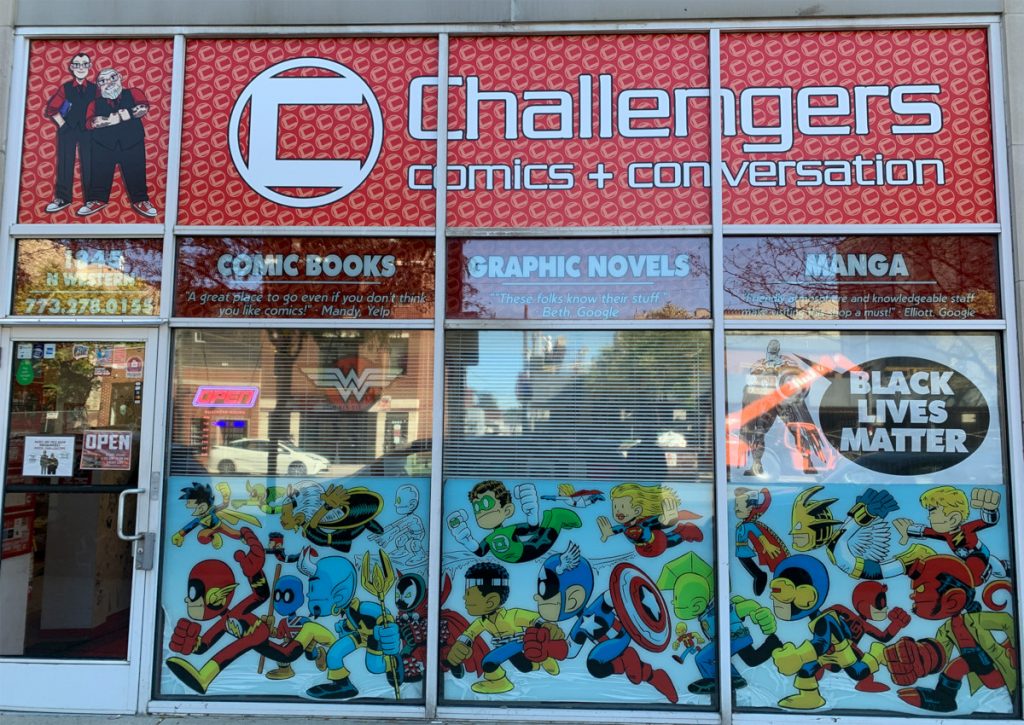 Take Challengers Comics + Conversation in Chicago as an example. This Eisner winning shop was incrementally up last year. They've quickly seen those gains erased in 2023. Patrick Brower, the shop's co-owner, told me sales were down "tens of thousands of dollars" from the same time last year, with the fact that they're "spending more per month on top of that" making the chances at growth even more unlikely.
The current environment can make things feel even worse than they actually are. Cape and Cowl Comics in Oakland, California is proof of that. Its owner Eitan Manhoff told me "It has felt like a very slow start to the year," with things only just recently picking up. Until he consulted his numbers, he was pessimistic about the year. It wasn't as bad as expected. They're only down 7% from the same period last year. That's still not ideal, but when compared to expectations and bumped up against how specific categories have performed, Manhoff feels a bit better about his situation.
Field's position is even more challenging. The veteran retailer told me he was "sad to say that everything is down." What Flying Colors is seeing is a painful combination of fewer people buying and each of those individuals purchasing less. That resulted in a sales dip of 17%.
"Over the last couple of years, an average transaction would be about $45, and this year, we're running in the $40 range," Field shared. "When you take that drop and then reduce the number of total transactions, that's what gets you to 17% down from 2022 in terms of sales."
This is the first time in recent memory that the majority of shops I talked to reported a drop off from the year before. Now, you could argue that this isn't too unexpected. 2021 and, to a lesser degree, 2022 were banner years for the direct market. Dipping from a high point isn't as painful as the alternative. But going back to what Brower and others said, when it comes with higher costs and longer hours, your margins aren't as pristine and the stresses begin to mount.
---
Let's talk about another first for this feature. Traditionally, the "What's working?" quotes for these pieces dominate the "What isn't?" ones in terms of length. While we all love riffing on things we don't enjoy, retailers are in this for the love of the game. I'm used to shops raving about standouts. This year?
What isn't working towers over what is. We'll get to the downsides later, but I could tell that some shops had to labor to come up with positives. Even when they did, caveats were attached. Take this line from Brower, who said, "While there are certainly 'winners' in today's market, I don't know that there will be 'big winners' anymore. Even the best-sellers for us sell a fraction of what best-sellers sold in years past." Shops are always clamoring for more 'Saga-like' hits, and now, those are rarer than before.
Perhaps even more troubling is there's little consistency in what works from shop to shop. Now, there's always variance due to the individualized nature of these stores. This is just more intense than usual. For example, both Anderson and Pratt shared a list of hot titles and there was just one point of overlap — DC's Dawn of DC initiative — which speaks to what an odd time it is. What works and what doesn't is almost entirely unpredictable, with some touting titles as big hits while others admitted they saw surprisingly little movement on them. 1
There are some that earned consistent mentions, though. Dawn of DC leads the way. Brower told me DC is the only publisher that is up at Challengers in 2023, and "it all has to do with the quality of the Dawn of DC books." Anderson shared it's putting up strong numbers at Third Eye as well. It's doing more than just driving sales with existing readers too. Pratt said they've seen new customers buying assorted titles in the line, while Exum noted that the Dawn of DC banner on titles has encouraged readers to sample other releases. This isn't just a Batman-fueled rise; others like Superman and Green Lantern are growing as well.
Image/Skybound's Void Rivals #1 — the home of the surprise launch of a shared universe featuring both The Transformers and G.I. Joe — was another standout. Batista said it "did gangbusters" at Big Bang, while it delivered "big numbers" at Comics Conspiracy, per Higgins. Exum emphasized that part of its success was it had multiple feeder audiences. Fans of writer Robert Kirkman, sci-fi readers, and its existing Transformers audience all hopped onboard. 2 Having multiple eager groups supporting it made for a hit.
It's worth noting that Kirkman and the Skybound team was one of the few groups this year that earned kudos for making retailer lives easier. When Void Rivals #1 was up for order, that team held calls with retailers letting them in on the secret — that a new shared universe with Hasbro's top names would launch there — to ensure shops could increase orders with confidence. It was a necessary move. As Exum told me, without that, Acme "would've ordered maybe 25 copies." Instead, they brought in 100. They're already down to just 15. That's a monster number in 2023.
There were a few other top sellers that earned multiple mentions. James Tynion IV continues to drive sales, and across an array of series. Saga still delivers for shops, with it dominating the top of Cape and Cowl's sales charts. Ultimate Invasion #1 hit for some. The new Incredible Hulk #1 and the excellent The Great British Bump-Off connected with fans at some shops. Facsimile editions continued to do shockingly well, including with kids, per Higgins.
Single-issues were a tough sell this year, though. As has been the case of late, it seemed as if the most consistent sellers were on the manga and graphic novel side. Sareli reported that manga and manhwa 3 are dominant forces for his shops. Movie releases like Spider-Man: Across the Spider-Verse saw surges in interest, as well, with characters like Miles Morales, Gwen Stacy, and maybe especially Spider-Punk generating sales. 4 Even movie announcements created a bump, with the upcoming DC slate from James Gunn and friends creating interest in books like All-Star Superman and Supergirl: Woman of Tomorrow.
A lot of what's working today is the good stuff, whether it's new or old. Ed Brubaker and Sean Phillips' latest graphic novel Night Fever was proof of that. Myland reported that OK Comics moved 100 copies in the first day, and Exum's order of 50 nearly sold through already even though it was meant to last "a while." That pair is one of the few guarantees of sales for shops.
Meanwhile, King told me "We can hardly keep" evergreen graphic novels "in stock." 5 That isn't unusual. Like Anderson said, "content is king" these days, and those are long-term sellers for a reason. Backlist graphic novels are leading the way for a number of shops, whether it's ones connected to movies, recent hits like Teenage Mutant Ninja Turtles: The Last Ronin, or Scholastic Graphix best sellers from folks like Dav Pilkey, Raina Telgemeier, or Kazu Kibuishi.
"You just go down the list of bestsellers, those are the books that wind up on our bestseller list every year, and they're still continuing to sell," Field said about the all-ages hits of the past.
Having classics to count on is important. That may especially be the case these days.
---
How crucial hits you can count on are is exemplified nicely by a pair of answers to the question of "What isn't working?" One was from Batista, who told me, "Everything, is the succinct answer to this," before adding, "I don't remember seeing regular customers so despondent about what they're buying." Myland clearly wanted to outdistance his peer in brevity, as his opening line to my query was a simple, pained, "Oof. So much."
To illustrate that even further, here's Challengers' year by category, per Brower.
| Category | Change in Sales, Year-Over-Year |
| --- | --- |
| Back Issues | +24% |
| DC | +3% |
| Supplies | Even |
| Graphic Novels/Collections | -3% |
| Other Publishers | -5% |
| Marvel | -6% |
| T-Shirts/Pins | -6% |
| Toys | -27% |
| Posters/Prints | -28% |
| Gaming/Magic the Gathering/Pokemon | -36% |
Of the ten categories worth mentioning at the shop, Brower shared that three are even or up — with back issues rising from a small number, as it isn't a point of emphasis for Challengers — with everything else down a minimum of 3%. While the bottom three are not comic specific products, it reinforces the 'everything isn't working' nature of the year.
New single-issue comics are the biggest pain point, though. Batista described their single-issue customers as having an energy of, "'I'll continue to buy them, I guess?'" While the other two main verticals at Big Bang — books (graphic novels, manga, etc.) and action figures — are thriving, single issue comics inspire "a certain ennui" amongst customers. The idea that reading single-issue comics was a duty for customers as much as anything came up multiple times in my conversations.
It hasn't helped that a lot of the big swings in that space have delivered hugely varied results. The Last Ronin sequel IDW dropped couldn't maintain the first volume's numbers for some. Several shops said Ultimate Invasion was killed by its $8.99 cover price. The new Avengers #1 was faced with sustained malaise from the previous volume.
"So many of these 'big moves' landed nowhere healthy for us, and that is highly worrying," Batista said.
The one that hit was Dawn of DC, and even it comes with a downside. As enthusiastic as retailers were about that initiative, the fact that all its titles are almost immediately going away for two months so a line-wide horror event in Knight Terrors can replace them is enough to drive retailers mad. Batista described it as "not just shooting their own foot, (they did it with) a bazooka." It could cost the publisher all the gains they made during the beginning of Dawn of DC.
If the Big Two and the top releases are inconsistent at best and maddening at worst, then they're aspirational compared to the rest. Continuing a trend from the past few of these reports, smaller publishers are struggling on the single issue side. Where that line begins really depends on the shop. Some said it begins around Dynamite, with that publisher and below consistently failing to connect with readers. Others noted it really should start at Image. Myland said each month features "one or two new and interesting series" from the creator-owned publisher and a dozen from "lesser-known creators" in "genres that are already well catered for." Shops have found it increasingly difficult to get readers excited about much of Image's line.
To emphasize how difficult this time is, though, some even insinuated that Marvel is where the trouble begins. Much of its line, particularly its incessant minis with no clear audience, are unmovable. And that's the biggest publisher in the direct market.
Either way, many felt there are just too many comics right now. Field said that with 100 plus "new titles coming in every week," there's no way his "staff of five can recommend" that many. And the problem is, if they don't sell immediately, they're dead when another slate arrives the following week. Combine that with many titles having no clear market and customers lacking the funds to support them even if there was one, and you have a recipe for disaster — or drastically reduced orders, at the very least.
Several shops emphasized that there's an increasing number of publishers that simply aren't earning orders anymore, as readership evaporates by the time #2 hits the shelf for many titles, if it existed to begin with. That's especially the case those also available on platforms like Whatnot and Substack. Some shops emphasized that competition from those spaces makes it even more difficult to move associated titles.
It's important to note, though: Shops want to sell these books. It's just many are perceived as a waste of time and money, orders that will end up as losses in the short and long-term.
"We love supporting new and innovative materials, but at a time when ordering a new Batman series feels risky, ordering a new small publisher book from unknown creators often feels downright foolish," Manhoff said.
And again, this isn't just a problem for the smallest publishers. As Pratt told me, "a bunch of titles from Image, BOOM!, Dark Horse and lower publishers only sell one to three copies each issue." The retailer noted that even top names like Scott Snyder and Jeff Lemire exist within that range. This is effectively an everyone problem.
Even more damning is this statement from Batista, who said, "70% of the publishers could disappear tomorrow, and 90% of the customers wouldn't even notice." The veteran retailer admitted that might come across as flippant, but it was important for him to note it's also likely a realistic number. He's probably not wrong. 6
Like Exum told me, this is nothing new, at least to some degree. Smaller publishers have always been tough sells. It's something he's seen for decades. But to some, this feels like a slightly different species of a previous problem.
That's the case for rising price points as well. People have been complaining about the cost of comics since they went from 10 cents to 12. Higgins, Anderson, and Exum all noted that if the quality is there, nobody will care. If readers want a comic, they're going to get it. That may be true, but the problem is, we're in a period when other costs are skyrocketing while household incomes have stagnated. While bigger, acclaimed titles might make the cut, others won't, and there are plenty that aren't in the current environment.
Multiple shops emphasized that comics are just getting too expensive. Myland said he's regularly surprised by the totals he ends up with when he rings people up, which King supported by saying that "I think people are price blind for individual comics but not to the final register tally." Batista shared that this was the first year a customer actually wanted to confirm that a comic cost as much as it did, because surely it had to be a mistake. Customers are noticing and reacting, with some even returning books to the shelves or reducing their pull lists as a result.
This is also primarily a single issue problem. While Sareli has concerns about Viz boosting its tankōbon prices from $9.99 to $11.99, most graphic novels are perceived as carrying enough value to make the purchase worth it. That isn't the case for the comics that cost $4.99 or more.
Rising prices cut in two other ways as well. Field has seen customers use $9.99 "anniversary issues" as not a moment of celebration, but a jumping off point. He also finds himself ordering fewer copies of the more expensive titles knowing that customers will bristle at the price. That happened at Big Bang with Ultimate Invasion #1, as they were "super conservative" when ordering because of its price point, despite its towering pedigree. Several shops believed Marvel cost itself significant orders and revenue because of that $8.99 cover price.
The strange thing about this environment is if it was just rising prices and comics being difficult to sell, retailers would probably be fine with where things are. It's less than ideal, of course. But they're used to that kind of thing. Where the pain really hits is in the process. This is business as usual at this point, but in an era of multiple distributors for single-issue comics — and everything really — the job of a retailer has gotten more confusing and difficult, especially with each distributor existing as "mini-monopolies," as King put it. 7 That results in longer hours and more frustration with little added value stemming from that.
"It's the same basic issue that we've been faced with for almost the past three years now," Brower said. "There's so much extra work for no extra income.
"In fact, looking at 2023 sales, it's way more work for way less money."
While some pointed out gains in the distribution space — for example, Pratt shared with a laugh that Penguin Random House has "finally figured out how to pack comics" 8 — the same cannot be said for all of retailers' partners. Anderson described "business to business challenges" as the "the biggest" he's dealing with. He wasn't alone in describing communication with publishers and distributors as being "very tough."
It's the details where things are lacking. Unpredictable shipment arrival dates. Data from distributors being a mess. Confounding listings for each product and cover. Covers changing regularly. Cover art not being available until right before orders close. New titles sneaking in at the last second. Solicits not existing. The things shops rely on to do their jobs just aren't there anymore, at least not consistently.
"Things have just felt very loose over the last couple of years, and it's the retailer who ends up holding the bag on a lot of this, which is frustrating, especially for us at Third Eye, as we go to every length to not just make sure our customers are taken care of, but that every experience with us is a showstopper," Anderson told me.
The biggest frustration for Anderson is it impacts Third Eye's ability to deliver for customers in an efficient manner. All the time they spend tracking down information that should be readily available is time they otherwise could have spent "promoting and selling more books." The actions of publishers and distributors are having a trickle-down effect that costs everyone money, which makes this a painful and simply bizarre set of unforced errors.
---
Earlier this year, I was talking with a retailer who had a big thought about the state of things. He wondered whether comics retail had died already, effectively, and what we were existing in now was a "zombie direct market." It continues to operate simply because it doesn't know how to do anything else — with the massive boost the pandemic proved to be for comic sales fueling its second life.
I bring this up because Field said something that reminded me of that. The veteran retailer emphasized that "publishers are not producing periodicals in a value-driven way," electing to "pump out more and more variant covers in the vain hopes to find more buyers." Field doesn't see that as a winning formula, at least not for a healthy direct market.
"It's epinephrine for a patient who's in a coma," Field said about the current approach of publishers. "That's the way you keep the heart beating when something might be dying, and it feels desperate. That's not a good look for anybody."
Publishers aren't the only somnambulant ones. While some retailers reported enthusiasm amongst their customers, several noted that many are just shuffling along simply because that's what they've always done.
"It feels like a lot of regular customers are just going through the motions right now," Batista said.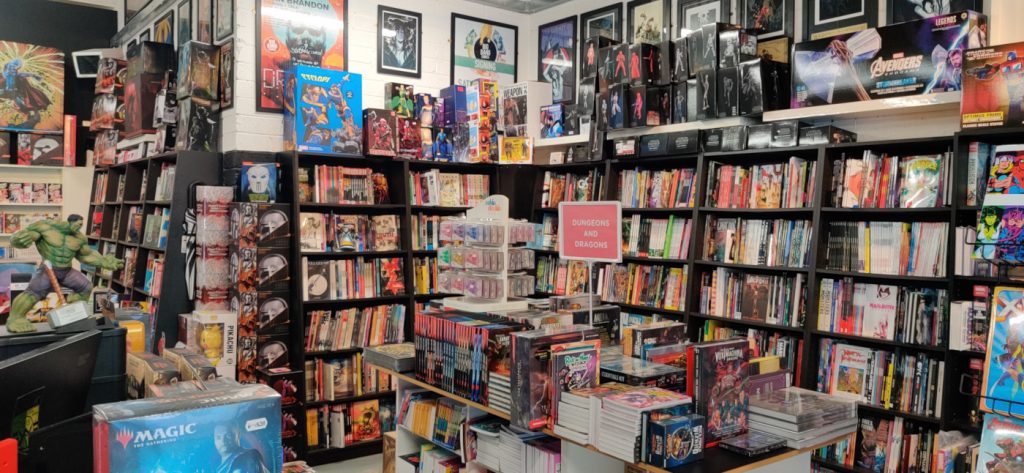 The question becomes, is that a "new status quo," as Batista wondered, or is it just a blip? It's hard to tell, but it does seem as if it's connected to the material produced. Batista said Big Bang has "never had as many customers cancelling books because they're just not enjoying them." Myland noted that they see enthusiasm for some things at OK Comics, 9 but long-term readers — especially Big Two ones — "appear to be buying out of habit." That's a tough place to be.
Again, it thankfully isn't the only place. Exum said "the vibe seems pretty good in general" amongst his customers, while Anderson — ever the optimist — spoke to the return of lapsed readers and the arrival of new ones as showing promise for the near-term. He has a ton of hope, saying, "2024 is gonna be lit."
He also views what is currently happening as part of a larger cycle. Anderson's belief is that every five or ten years, there's a down time followed by a period of fewer comics that are consistently better, which allows shops to build hits for publishers. Right now, we're at a point where "the market for single issues (has become) way too crowded." But he thinks we're coming out of it.
Retailers are going to need help to get to that next step, and they're going to need it from publishing and distribution partners. Shops requests from those partners were copious and eminently reasonable. Returnability was a recurring topic. More and better promotion was desired, especially in this fractured era for social media. Caring more about sales in shop rather than just orders at final order cutoff. 10 A greater focus on quality of comics, publishing fewer of them, and supporting them when they do hit. More information about releases, 11 and giving shops a way to communicate directly with their partners. Fewer variant covers deployed in smarter ways. That's just some of what would help shops do their jobs better.
To put it in the most abbreviated way, things need to change. The problem is, if you've read one of these articles before, you'll realize the list of requests rarely differ in a significant way. That's because they typically go unfulfilled, as Batista noted.
"At this stage, you can just go back to all our answers from the past years, collate them together, and realize that practically nothing changed. Sad, isn't it?" Batista sighed.
"My wish for this year is that the chasm between what publishers put out and what we can actually sell gets smaller," he added. "Big publishers seem to take zero input from us here on the front line, and that doesn't seem likely to change anytime soon."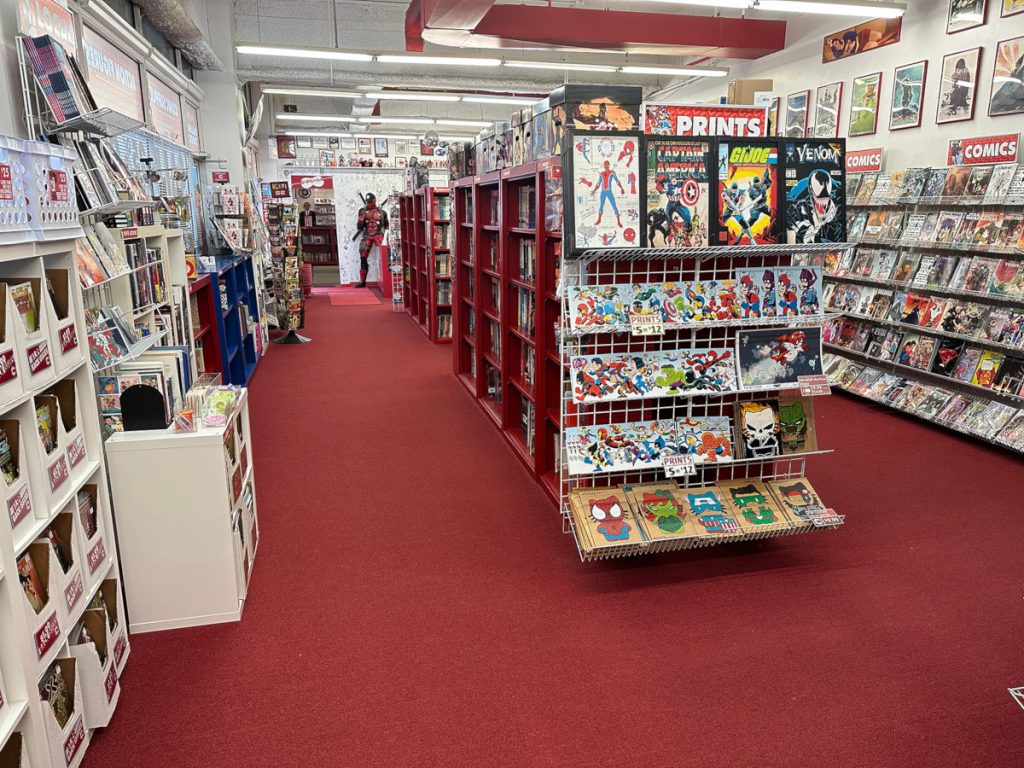 Running a comic shop is a hard job, one with tightening margins, limited support, and often adversarial relationships with partners, if said partners even engage with you. Sometimes I wonder why shops keep doing it at all. Some are asking themselves that question too. Field told me that Flying Colors is celebrating its 35th anniversary in October, and he "honestly doesn't know how long (the shop) will be around" past that. As a reflection of where he's at, when I asked Field what keeps him passionate about the job, he simply said, "Survival. It keeps me passionate."
Normally the answers to that question are feel good ones, but this year introduced a different flavor in that vein of Field's, where the bare necessities of financial survival are primary motivators. But it's always more than that too. If there was one consistent answer — including from Field, who does aspire to more than survival — it was the joy of connecting customers with something they'll love. Whether that's a kid, an adult reading their first comic, or anyone else, it's their favorite part of the job, as Brower noted.
"Opening up the world of comic books to people is why we do this," Brower shared. "Getting to be the person to introduce an amazing comic to someone? Knowing they're gonna love it? That's the stuff, right there!"
It's necessary to stay passionate about the job, if only because the rest is so much to take on. The distance between success and failure is frighteningly short these days. With sales flattening or worse and costs — of the time and monetary variety — rising, any loss can be painfully acute. It's created an incredibly risk averse market, one where the ceiling is low because the floor is even more so — and no one wants to reach it. It can turn ordering comics into a lose-lose proposition, one that can be difficult to extract victories from.
"It's a fine line between losing money because you spent money on copies you cannot sell, or you've lost money because you didn't order enough of this thing that everyone is asking for," Exum said.
That's the bet everyone in comics retail must make, and they have to do it dozens of times a month. Whether it's initial orders, final order cutoff, or reorders, shops have to constantly hope they thread that needle. If they don't, they likely won't lose big; but they'll lose, nonetheless. And those add up quickly. Also, that's just single issues! Graphic novels and other product lines bring their own challenges to the table.
Those challenges are why Exum looks at the current environment as something different than what we've seen before. As we talked, I kept saying things like, "pre-pandemic" and "during the pandemic" and "post-pandemic" as if it was a continued string of events that exist within the same family. He views today's direct market as something new, making any comparison difficult.
"I think those were different times," Exum said.
It's a new era, but it isn't necessarily a better one. Going back to what Field said in the beginning, the mix of pre-pandemic sales with post-pandemic costs is not a road to success. For retailers. For publishers. For distributors. For creators. While some categories are still succeeding, with graphic novels and manga staying sturdy, the single-issue comic is in a troubling spot. It's one that could lead to a whole lot of pain for all involved. And no one wants that.
For maybe the first time since I've started doing these features, each of the retailers I talked to seem to be in sync about what needs to be done to build a better future. The question becomes, can their partners get there? That's an important question, and one where the answer could change the direct market forever. Whatever it proves to be, there's only one certainty: we'll all learn that answer together.
Thanks for reading this feature. If you enjoyed it and would like to see more longforms, columns, or interviews in this vein, consider subscribing to SKTCHD for more like it.