"The Uncertainty is Bigger Than Ever": Shops on a Successful, Yet Strange, Year in Comics Retail
It's possible for two seemingly opposing ideas to be true at once.
Dualities like those might be rare, but anyone suggesting they're unlikely clearly isn't aware of the endlessly mercurial direct market. This comic shop-driven segment of the comic industry has long been thought of as its stable core, a 2,500 plus strong retail group dedicated to single-issues and trades. It's often positioned as the envy of other entertainment mediums, if only because of how atypical medium-specific retail stores are. But despite that perceived stability, it can behave in unexpected ways, with winds typically changing before anyone realizes it — making it a perfect environment for opposing ideas to take hold simultaneously.
For example, based on some of my recent writing, you may have expected 2022 to have been dire for comic shops. Instead, it was a solid year, with shops I talked to mostly reporting either improvement on or performance within the vicinity of 2021's record setting numbers. That said, while the numbers were good, it's impossible to deny that there's a pervasive, escalating feeling of uncertainty out there, with retailers not always trusting or even understanding their success.
A good example of that can be found in my recent podcast with retailer Patrick Brower, the co-owner of Chicago's Challengers Comics + Conversation. Brower's been in the business for more than 30 years, and he's been through more deaths and rebirths of the direct market than most current readers can imagine. He's seen it all, and can typically diagnose what's behind things as well as anyone in the market. And yet, confusion led the way when he contemplated his shop's improved sales in 2022.
"I'd be happier if I could understand why things were up," Brower told me. "If things were up because we were selling more comics — more quantity per issue or per title — I'd be much happier."
Comic shops welcome the success they've been having. But it's coming with less clarity, greater unpredictability, longer hours, more challenges, increased costs, and, to some degree, a rot at the core of the direct market's foundational product. You'd think shops coming off a banner year would be excited, emboldened by sales that require exclamation points at the end of each revelation. Instead, they're faced with question marks at every turn, as the grind feels more evident than ever before.
This isn't everyone, of course. Most retailers I talk to are a cheerful lot, and ones who still love and are in love with comics. But 2022 was an unusual year, with a wide array of experiences and responses, in which two opposing ideas absolutely could be true at once — one where the direct market is at the top while retailers are feeling the burn. It's a complex time, and today, we're going to dig into it, as we explore the year that was in comics retail with insight from some of the folks who live and breathe that world.
---
2021 was, by most accounts, one of the greatest sales years in the history of the comic industry — if not the greatest. While the endlessly growing book market was the driving force behind that, the direct market wasn't too shabby itself. It leapt upwards by 60% compared to the pandemic-locked year of 2020 and by 34% over the last ordinary year in 2019. Many shops I talked to set sales records in 2021. So, when I tell you that more than half the shops that participated in this piece reported a sales increase in 2022, you need to realize that this is a meaningful number.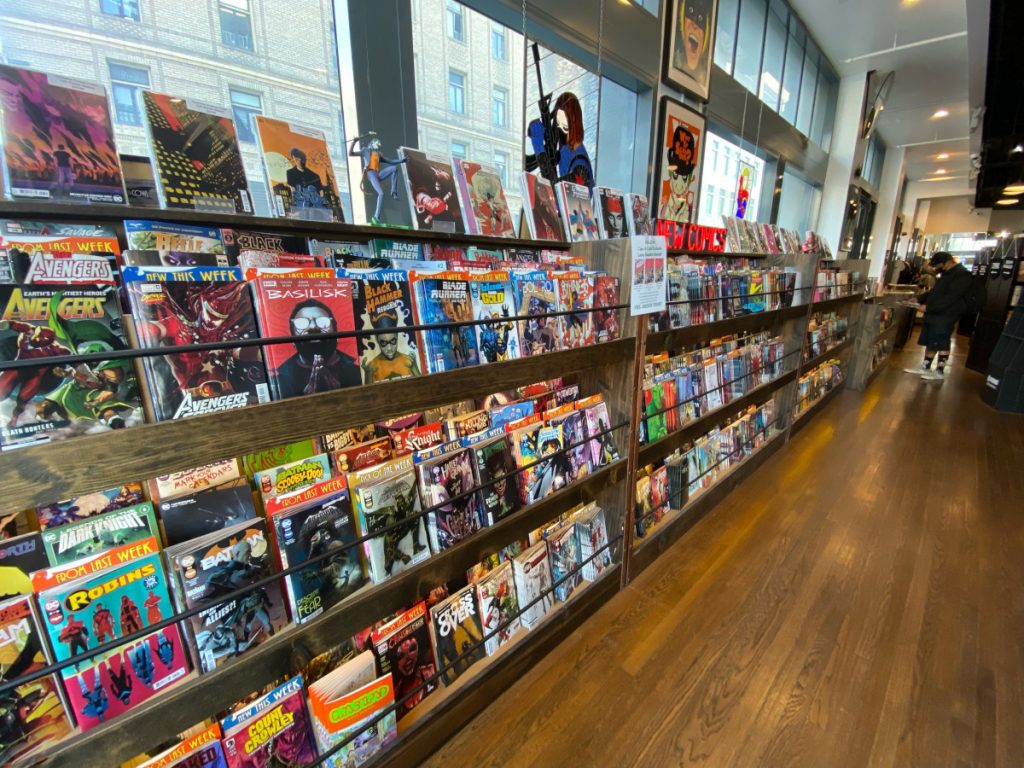 For example, Eitan Manhoff of Oakland's Cape and Cowl Comics shared that it was his shop's best year yet, with sales up 15% over his already banner 2021. While some of that stems from 2022 also being his store's "first calendar year fully open to the public since the beginning of the pandemic," performance is performance, and Cape and Cowl thrived. It saw increases in its top two product groups of new comics and trade paperbacks/graphic novels, which rose by 2% and 32% respectively. And even the stores that were down or flat understood why. Given the growth shops like Sunnyvale, California's Comics Conspiracy had seen in recent years, 2022 coming with "a slight dip" wasn't too concerning, per its owner Ryan Higgins.
"The unprecedented growth the store had over the last three to four years was never going to be sustainable," Higgins told me. "Our sales are still well above where they were five years ago, and astronomically higher than a decade ago."
The rest of this article is for
subscribers only.
Want to read it? A monthly SKTCHD subscription is just $4.99, or the price of one Marvel #1.
Or for the lower rate, you can sign up on our quarterly plan for just $3.99 a month, or the price of one regularly priced comic.
Want the lowest price? Sign up for the Annual Plan, which is just $2.99 a month.
Learn more about what you get with a subscription