Ten Observations from the Bustling and Bananas New York Comic Con
This year's New York Comic Con has now come and gone. Everyone had a grand time traipsing and shuffling throughout the Javits Center, the much-maligned home of this massive event, as we all bought things we couldn't resist and saw things we'd only see there. It's hard to tell just how big this year's edition was, but I'll say this: it seemed absolutely gigantic. Maybe that was due to this being my first full out convention since the pandemic, with previous ones I attended being at least somewhat intentionally reduced in capacity for COVID reasons.
But one way or another, NYCC's sprawling show floor with enormous booths and even bigger displays, its loaded with A-listers Artist Alley, and its filled to the brim panels seemed to indicate it was a strong turnout for one of the biggest conventions in the country. It wasn't just attendance either. There just seemed to be more to do in the convention center, as I somehow managed to find a completely new space on the third day that I had never seen. The place was sprawling.
Because of that, it's hard for any one person to make concrete, event-defining takes about NYCC. It was insane, and there was no way to do everything, or even a high percentage of the things available for you to do. But what I can do is make observations based off what I saw, what I heard, and what I experienced at the convention. That's what we'll be doing today. This isn't a look at the news of the convention, though. This is an examination of what it was like and maybe even what it all means, at least from a certain point of view.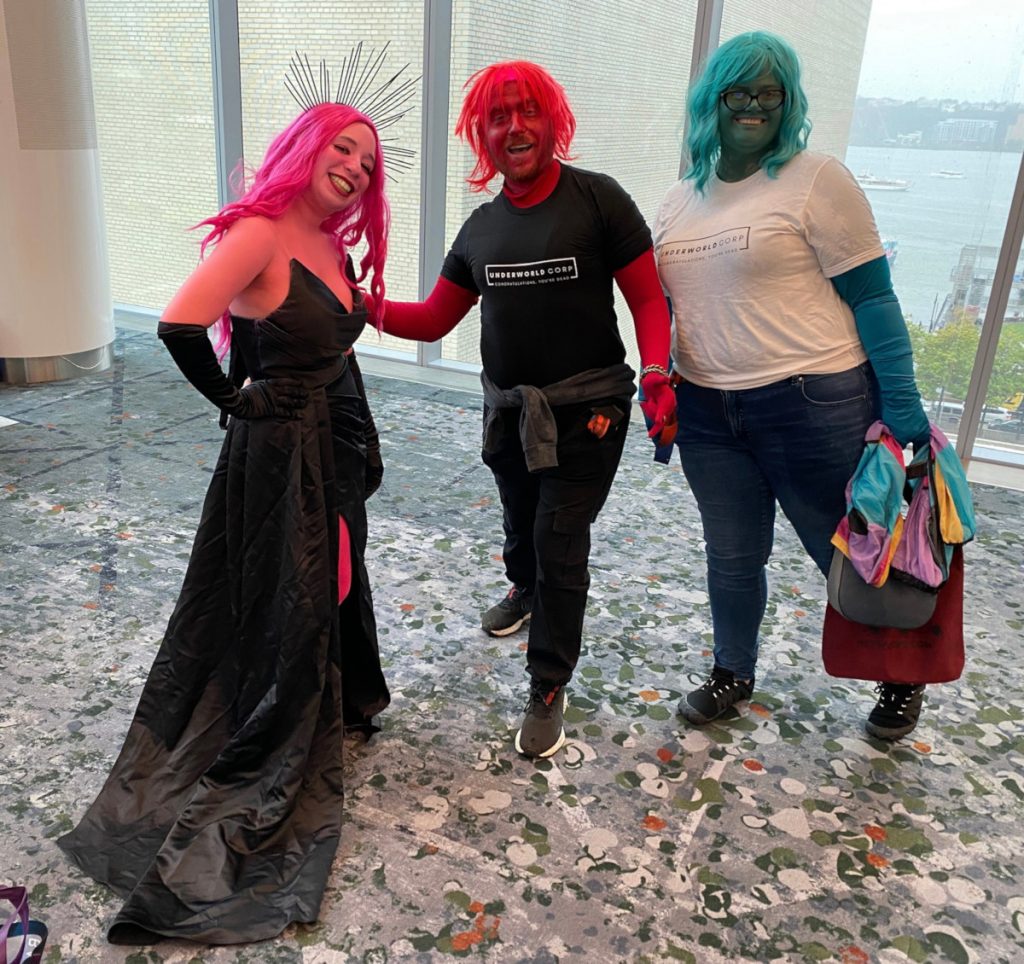 The Coronation of Lore Olympus
I'm hesitant to call it the winner of the convention, given that there were massive installations for a plethora of manga and anime series — including a Luffy from One Piece on the show floor that was so big it could have been the final villain in a Ghostbusters remake — but what I'll say is this: Rachel Smythe's Lore Olympus probably holds the crown right now as the top non-manga comic, 14 if NYCC was any evidence.
The obvious point to make here is Smythe's win for Digital Book of the Year at the Harvey Awards. Everyone saw that, and that's notable, even if it didn't take the de facto top prize in the Book of the Year category (which it naturally wasn't nominated for). Another is how one of the biggest stories to come from the convention was the reveal that Lore Olympus is beginning its end run on November 12, 2023, before concluding in 2024. That was significant.
The more important item to me, though is how passionate fans clearly are for Lore Olympus. That was showcased by both the number of and commitment by its cosplayers. While one of the trio of Barbie, 15 Demon Slayer, or One Piece probably led the way in terms of total cosplayers, there were gangs of Lore Olympus characters cruising the con throughout the weekend, particularly series lead Persephone. In fact, there were enough that at one point I thought someone said to me "There's Stephanie" until I realized they said, "There's Persephone," at which point I said "Oh Persephone!" before two dazzling, fully pink Persephone cosplayers turned to look at me inquisitively.
That's an important note: these cosplayers have to fully change the color of their skin to match the effectively monochromatic looks of each character. That's a commitment that extends well beyond putting on store-bought Malibu Barbie and Ken outfits or Tanjiro Kamado's iconic green and black kimono. If you wanted to look the Lore Olympus part, you really needed to go for it. Many — MANY! — did, and crushed it in the process. This isn't a surprise considering how well-liked Lore Olympus is and Smythe's position as a featured guest at NYCC, to say nothing of Webtoon's efforts to push the comic at the event. But it still stood out, and emphasized just how remarkably popular this series is — especially amongst the younger set, who clearly love it with a fiery passion.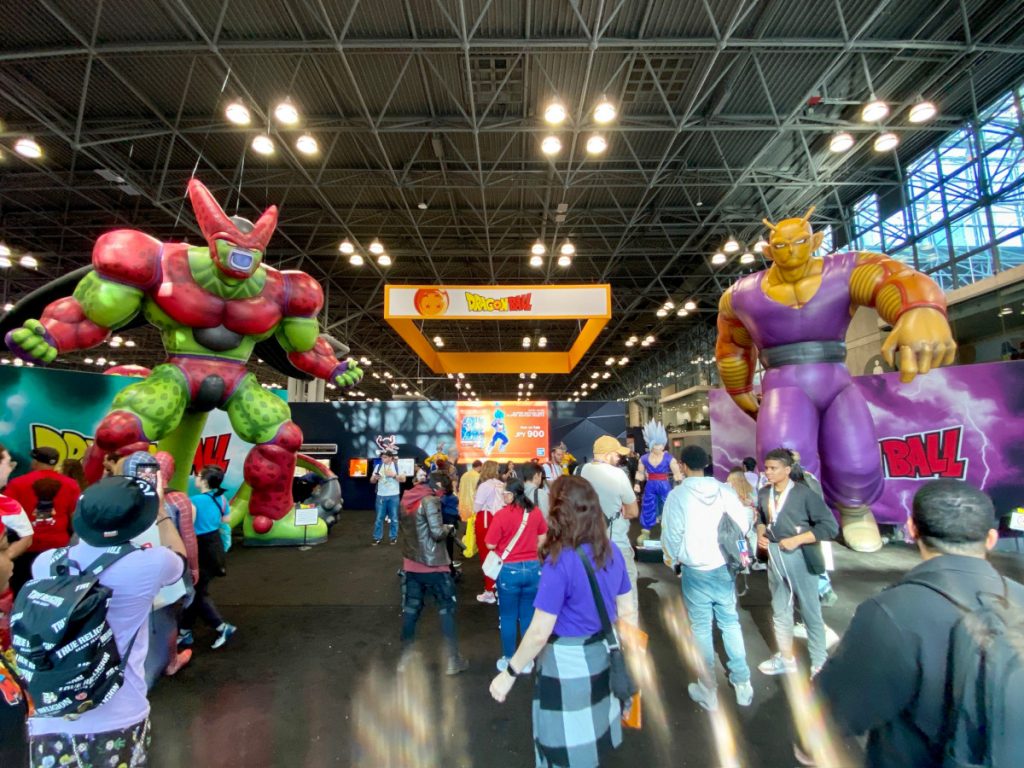 Manga and Anime > Everything
No story of New York Comic Con 2023 is complete without focusing on manga and anime. The biggest booths almost all seemed to connect to those mediums, whether you're talking Shueisha's titanic (and delightfully interactive and informative!) Manga Plus booth, Crunchyroll's monster space, or any number of series specific areas — from Dragon Ball to My Hero Academia. Heck, even Crocs centered on one of these titans, as the entire booth was focused on a collaboration with Demon Slayer.
No matter where you went on the show floor, you'd find manga and anime, from corner to corner — Manga Plus on one end and a kind of bananas Shueisha XR immersive viewing experience on the other — and on any number of the bodies of the people traversing the space. It wasn't just the show floor either. My wife went to the My Hero Academia panel, in which they premiered a new episode and effectively began the process of selling a MHA card game to fans, and it took place on the Empire Stage — where showcases of A-list celebrities like Ewan McGregor and Chris Evans resided. They had no trouble filling the space either. My Hero Academia fans were lusting for that debut.
I mentioned the inflatable Luffy on the show floor already, but quite literally and figuratively, manga and anime were the biggest things at New York Comic Con. It was not particularly close. It was remarkable to see just how dominant it has become, even if it is no surprise at this point.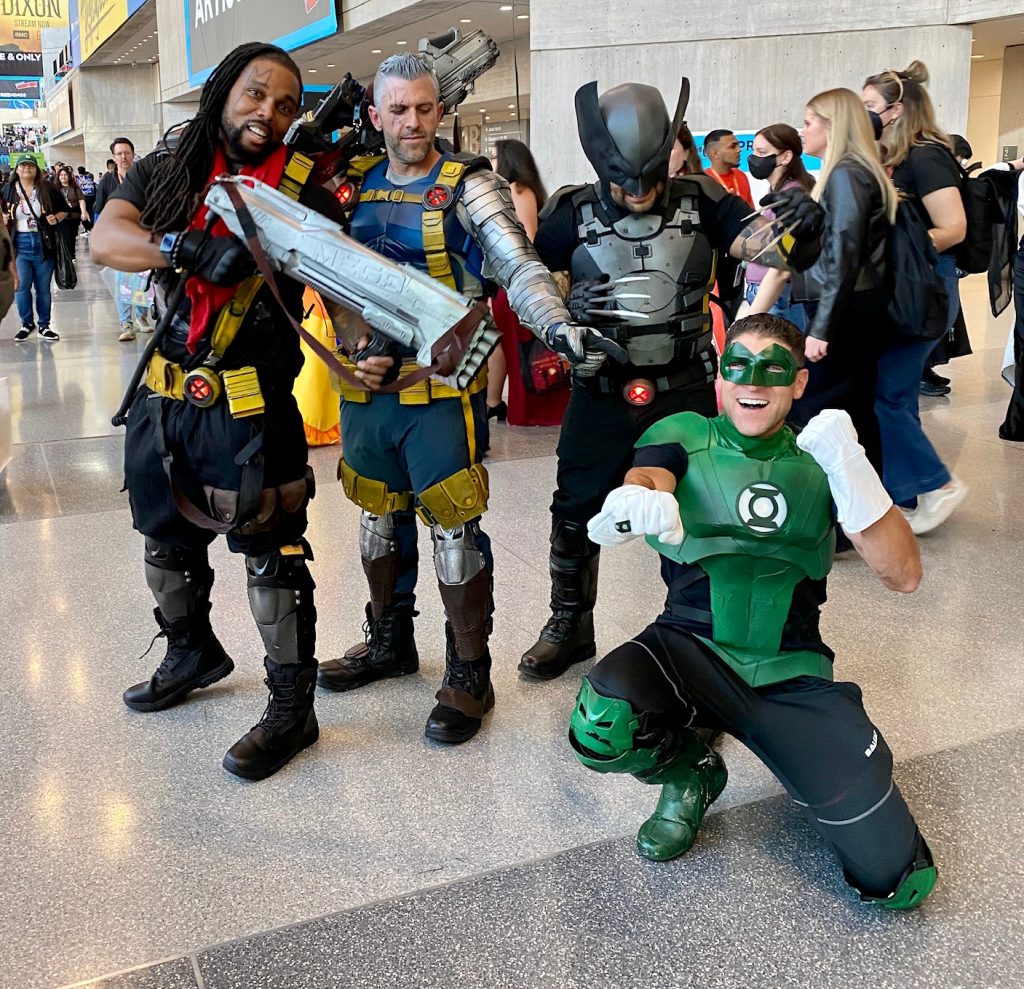 The Cosplay Gap Might Not Be as Significant as You Might Think
Let's talk about a core part of this event. While manga dominated and Lore Olympus stood out amidst the rest, how cosplayers split their allegiances proved to be fascinating to me. In fact, I'd say there was a broader mix of cosplayers than I've ever seen, at least in terms of subject matter. The aforementioned Barbie, Lore Olympus, and manga titans stood out, and there were remarkable, kind of shocking deep cuts passing me by every hour of the day — including some wild mash-ups, including a cadre of Mandalorian/Pokemon combos. That said, superhero cosplayers are still making the superhero/non-superhero split a pretty fierce battle, and the divide between those two was a lot closer to even than you might expect.
Whether it was squads of Loki variants running around, any number of Batmen making their presences felt, or roughly infinity Spider-Men pointing at each other whenever they could, the superfolks were plentiful. Giant Sentinels! Even bigger Sasquatches (from Alpha Flight)! There was a Galactus with a relatively sized Silver Surfer in hand! I even saw a Warlock from New Mutants. Warlock! I have never seen a Warlock in my entire con-going life, but this person absolutely crushed it.
It was interesting to see how robust superhero cosplayers still are, if only because it emphasizes that as much as we talk about how much superheroes have fallen behind manga and Webtoon and everything else, there is still a lot of love for these characters…even if it rarely manifests in the purchase of their comics.
Last cosplay note: There was way more sponsored cosplayers this year! That seemed to be a lowkey way that some brands were trying to bolster excitement in what they were promoting. The most notable example of this came when I was meeting with someone later in the day on Friday. As I was waiting for them in North Javits, they texted me "I'm about ten feet ahead of the Chucky parade." I'd typically be concerned about that comment, but this was an excellent frame of reference for me because it was very hard to miss this mass of Chucky cosplayers carrying a sign about the third season of the TV series starring the titular doll with the soul of a serial killer. I don't know if it was working, but it certainly stood out. 16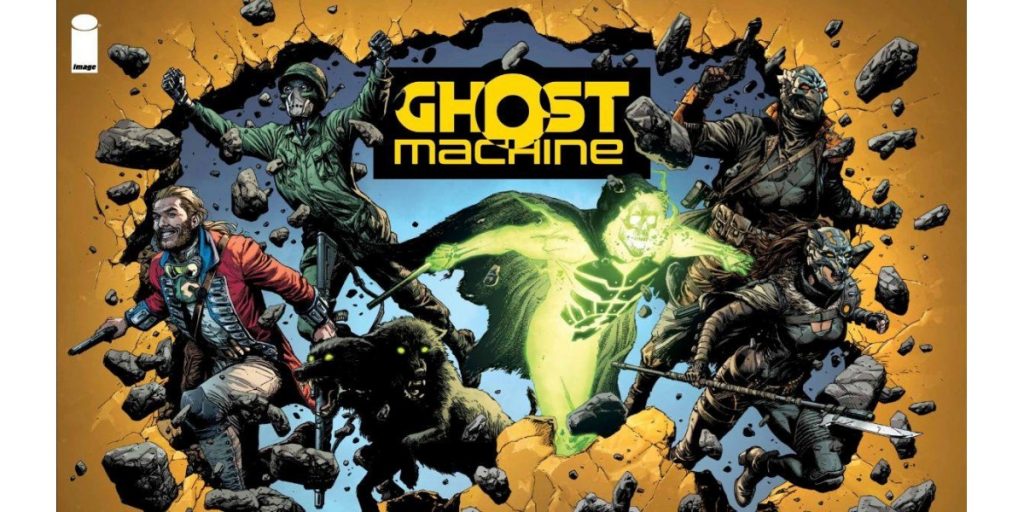 The Age of the Empire is Upon Us
This is something I'll be writing about in the future, so I don't want to get too far into it. But if there was one particularly interesting comics trend from NYCC, it was how much creator focus has shifted to controlling their own fates. Whether it was Arcbound — that 12-issue series from actor Tom Hardy, writers Scott Snyder and Frank Tieri, and artist Ryan Smallman that doesn't even have a publisher to its name despite rolling out every other key detail at the con — being announced, Geoff Johns' and his star-studded pals launching Ghost Machine at Image, a slew of artists going exclusive with Rick Remender's Giant Generator, the Massive-Verse having its own booth on the show floor, Sebastian Girner tabling for Goats Flying Press, or the unrelated but concurrent reveal of Ivan Brandon's Deathray through his Kickstarter for The Roman Stars, it's clear that creators are setting up their own spaces, even if it's at least in part a co-habitation agreement with someone like Image in several cases.
This strikes me as a smart move, and a likely response to the current environment for original comics. Whether it's ensuring control of your intellectual property or just ganging up to create greater visibility together, it's a possible path for a rising tide that lifts all ships without any of them getting burned at sea at the same time. That's a good thing. It might be a way to better insulate yourself from bad deals and the whims of the market. It's also something we're likely to see more of coming down the path, at least if the conversations I had at the con are any proof.
I'm not sure this is an option for everyone, of course. It's a lot easier to set up an imprint at Image if you're Johns or Brad Meltzer, or to attract a dozen A-list artists if you're Remender. Not everyone has a celebrity like Hardy attached to their book like Snyder does. It's not a path for everyone. But it's an interesting path, and one that is seemingly growing in appeal with the passage of time.
The rest of this article is for
subscribers only.
Want to read it? A monthly SKTCHD subscription is just $4.99, or the price of one Marvel #1.
Or for the lower rate, you can sign up on our quarterly plan for just $3.99 a month, or the price of one regularly priced comic.
Want the lowest price? Sign up for the Annual Plan, which is just $2.99 a month.
Learn more about what you get with a subscription