Ten Big Thoughts on This Year's Joyous – and Still Adjusting – Emerald City Comic Con
Four days, 25 interviews, and 94,000 steps later, Emerald City Comic Con wrapped for another year. Seattle's preeminent pop culture super event returned for its second convention in the COVID era, with this one rolling deeper than last December's edition — and feeling like it at the same time. More guests! More vendors! More panels! More everything!
It was also a lot for me, personally. While paired with my crack team that included friend of the site/audio and visual whiz David Kelley and my wife Amber, we recorded the aforementioned 25 interviews for the purposes of future text pieces, video features, and one special audio podcast that will arrive later. More than that, it was a remarkably rewarding experience, both personally and professionally, with the energy coming from the event being enough to refill my gas tanks after a particularly arduous stretch. I loved the experience, especially the part where I was able to see some of my favorite people and to be introduced to a bevy of individuals I always wanted to meet but never had before. It was a delight, through and through.
It was also interesting from a comics industry observer standpoint. This year found Emerald City at a bit of a transitional point, going from the heavy COVID restrictions and audience limitations of 2021's event to a slightly more normalized edition. That made it a particularly interesting convention to consider, especially coming on the heels of the immense (and COVID ravaged, from the sound of it) San Diego Comic Con and C2E2 with effectively zero restrictions in place. While I made my own observations, I didn't want to look at it solely from my viewpoint. So throughout the weekend, I had conversations with people from all parts of the industry, as well as regular con goers, vendors, and beyond, gathering insight on the event from a variety of perspectives.
That's what we'll be exploring today, as I share ten big thoughts on the wonderful and weird event that was Emerald City Comic Con 2022, from how its attendance was viewed all the way to an unexpected standout performer at the con.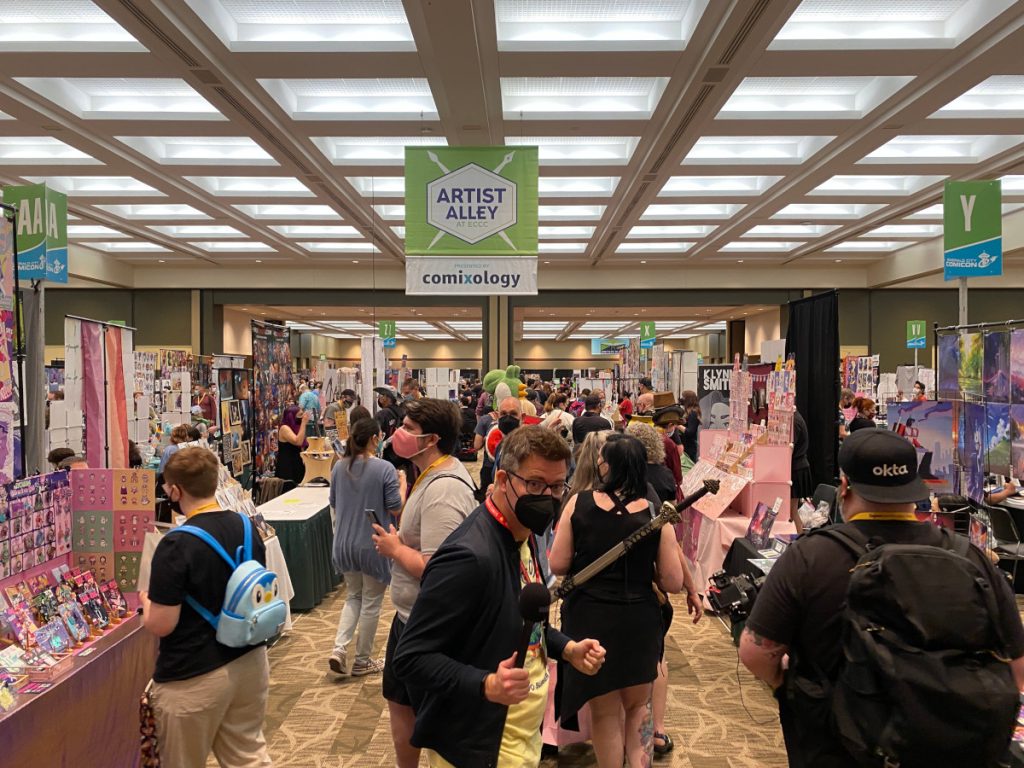 Down…But Up!
When quizzing people at the con, the takes – at least from an attendance standpoint – largely depended on the answer to a key question about the person I was talking to: whether they went to December 2021's edition that relaunched the con in the COVID era.
Those who didn't occasionally described this event with words like "slow" or "quiet," at least relative to expectations or previous experiences at Emerald City. Those who did, on the other hand, were impressed by the uptick, suggesting it was much busier than December. As someone who went in 2021, count me in the latter group. It felt considerably fuller this year than it did then, even if it did pale in comparison to the pre-pandemic days of 2019.
While it could be difficult to tell at times, there were some clear indicators as to this being the case. For one, the rows at the con felt much tighter. There seemed to be more vendors and fewer gaps between them. This stood out the most on the main show floor, as 2021 featured expansive berths between sellers, especially along the walls. To illustrate that then, I once set my phone up against a wall on the main show floor around midday Friday, setting it to an automatic timer, before strolling to the middle of the gargantuan space between vendors. Not a single person came close to me during that time. And I am not fast. That's unusual for any con.
This year, aisles appeared to be considerably narrower, with most filled with some people at the very least. It wasn't quite Peak ECCC, in which bumping into people was a way of life, rather than an occasional accident. That was especially constant when everything was in one building, effectively, instead of the lattice of associated hotels and convention centers the show was housed in this year. But you could feel it — especially with this year's con being in a rather humid week in August rather than March or December, ensuring that everyone was more than a little sweaty. 10
This all makes sense. 2021 was intentionally limited. Kristina Rogers, ReedPop's VP of Global Events, told Seattle's KUOW that December's show maxed out at 45,000, with 2022's attendance estimated at somewhere between 65 and 70,000 people. That's a considerable jump — albeit one that's well south of the show's apex at around 100,000 in 2019 — but one that still didn't feel overwhelming. The spreading of events into other buildings mitigated that to a degree. But as one veteran creator told me, this year's Emerald City felt much closer to a typical year than last year's. It was certainly a step in the direction of normalcy in that regard, even if the world itself hasn't fully normalized.
The rest of this article is for
subscribers only.
Want to read it? A monthly SKTCHD subscription is just $4.99, or the price of one Marvel #1.
Or for the lower rate, you can sign up on our quarterly plan for just $3.99 a month, or the price of one regularly priced comic.
Want the lowest price? Sign up for the Annual Plan, which is just $2.99 a month.
Learn more about what you get with a subscription