Sliding Doors: A Thought Experiment About What's Next for the Direct Market, Post Pandemic
If you take even a superficial glance at the world we're living in today, it's easy to see we're in a time of perhaps unparalleled change. All facets of life are being affected and when this is all said and done, one can only hope that the world is quite a bit different. And nothing is escaping these winds of change. Not even a medium of entertainment like comics, or one of its primary mechanisms of industry, the direct market.
Just look at the big markers you can see on the surface, like DC securing alternative distribution options via DCBS and Midtown Comics – ditching Diamond entirely in the process – or both DC and Marvel utilizing digital as a single-issue platform in a more robust way. Moves like those make it feel like there's a shift upon us, even if other publishers endeavor to hold the line for retail partners. And yet, in conversations I've had with shops from around the world – even ones who would typically be considered rather single-issue focused – I've noticed a softening of stances on moving forward with the way things work.
While many vocal retailers are resistant to change, others are learning from what they've seen and factoring that into how they're planning going forward. That's flexibility is significant, especially as change is happening and even greater movement is considered. And it's all because of how everything we've went through in recent months has realigned how we think and do business.
This change was something I was already thinking about, but then, writer/artist Declan Shalvey asked a rather interesting question in my May mailbag that made me consider its shape even more. That question was this: "What possible directions do you imagine the industry will move post COVID-19, like in a 'Sliding Doors' type situation?" 6
Given the significance of that question, I punted on answering it then as it isn't fit for a mailbag; that's a longform unto itself. Pair it with where my brain was already and I've been noodling on it for weeks now. It has grown to become its own thing altogether, a thought experiment with many sliding doors to choose from, continuously evolving as changes mount, like with DC's recent, monumental divorce from Diamond.
For this exercise, I'll be projecting outwards from effectively today to five years from now, roughly speaking. That length is enough time for the industry – or, more specifically, the direct market 7 – to theoretically recover and then move towards its next identity, if that's the direction it eventually heads in. And its eventual shape, what it looks like, is largely dependent on a very specific sliding door: how much publishers commit to digital going forward.
We'll be considering what I believe are the five most likely paths with that variable in mind, 8 and as the direct market always does, we'll start with where we were and already are: the status quo.
---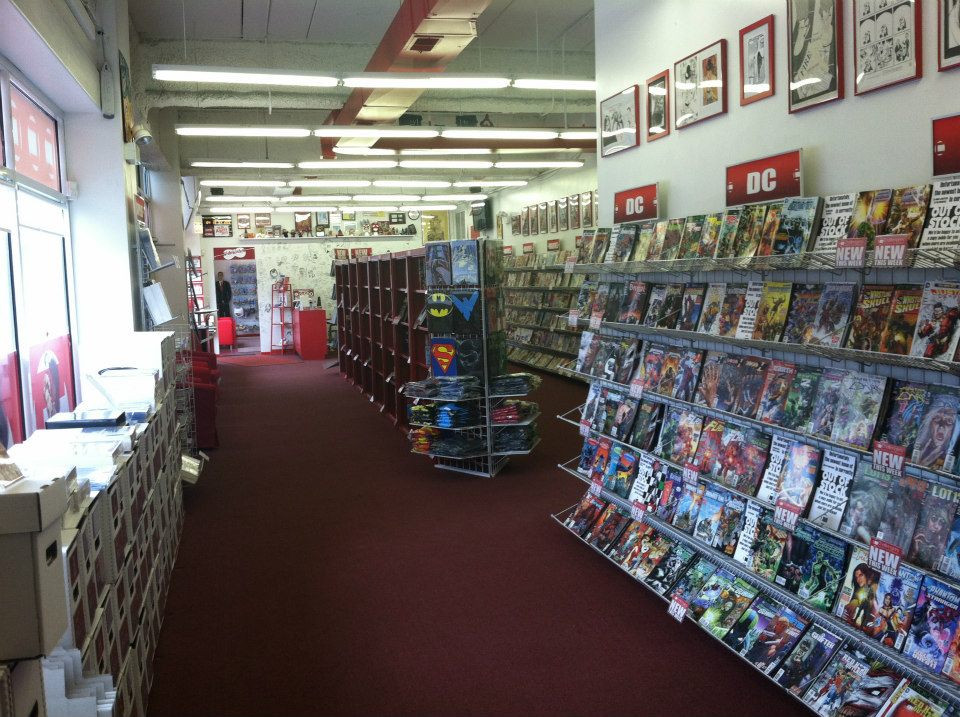 Scenario One: Business as Usual
The current state of the direct market is considerably different today than it was just a week ago, primarily because of DC's decision to extricate itself from its long-standing relationship with Diamond Comic Distributors. That was a Sliding Doors moment unto itself. Its decision to leave Diamond and work exclusively with Lunar 9 and UCS 10 as its distributors has effectively changed the future of the direct market and what "business as usual" even means, just with one move.
Before DC's disillusionment of its relationship with Diamond, I'd have wagered this would have been the most likely future for the direct market and its varying players. After all, if we have learned anything during this pandemic, it's that the most vocal elements of comics retail will do anything they can to keep the direct market as is. Because of that, their partners will continue to do what they can to make as much money off of them before this merry-go-round stops spinning altogether.
The rest of this article is for subscribers only.
Want to read it? A monthly SKTCHD subscription is just $4.99, or the price of one Marvel #1.
Or for the lower rate, you can sign up on our quarterly plan for just $3.99 a month, or the price of one regularly priced comic.
Want only the longform content? Sign up for the monthly longforms only plan, which is just $2.99 a month.
Learn more about what you get with a subscription