An Underrated Pair is at the Peak of their Powers in The Dollhouse Family
When great partnerships in modern comics are discussed, we often hear the same names touted over and over. With good reason, of course. Names like Brubaker and Phillips, Gillen and McKelvie, and Morrison and Quitely have earned the acclaim relentlessly lobbed their way, with each of these collaborations delivering highlight reels as much as bibliographies in their decade plus of working together. But there's one duo that is overlooked far too often in that discussion, with this team matching the greatness of even that vaunted troika of pairs.
That, as you may have surmised from the title of this very
article, is Mike Carey and Peter Gross.
Beginning with 2000's Lucifer #5, Carey and Gross have unleashed what has to be 100+ issues of comic work across four titles 10 – the aforementioned Lucifer, the endlessly underrated The Unwritten, the tragically slept on The Highest House, and The Dollhouse Family, the title we're here to talk about – during which they developed and cemented a creative mind meld that few teams could top. Each effort they take on is a showcase for one of the most simpatico collaborations in comics, with both elevating beyond the primitive confines of their standard titles, storytellers of equal measure rather than simply a writer or artist.
If they have a specific hallmark, particularly when it comes to the worlds they create together, it's delivering narratives with a storybook feel, but one where danger is always lurking. Their stories are often ones of tension, with even the good moments feeling on the precipice of something else, dreams with nightmares looming. That was evident throughout The Unwritten and The Highest House, two dazzling displays of the comic book form.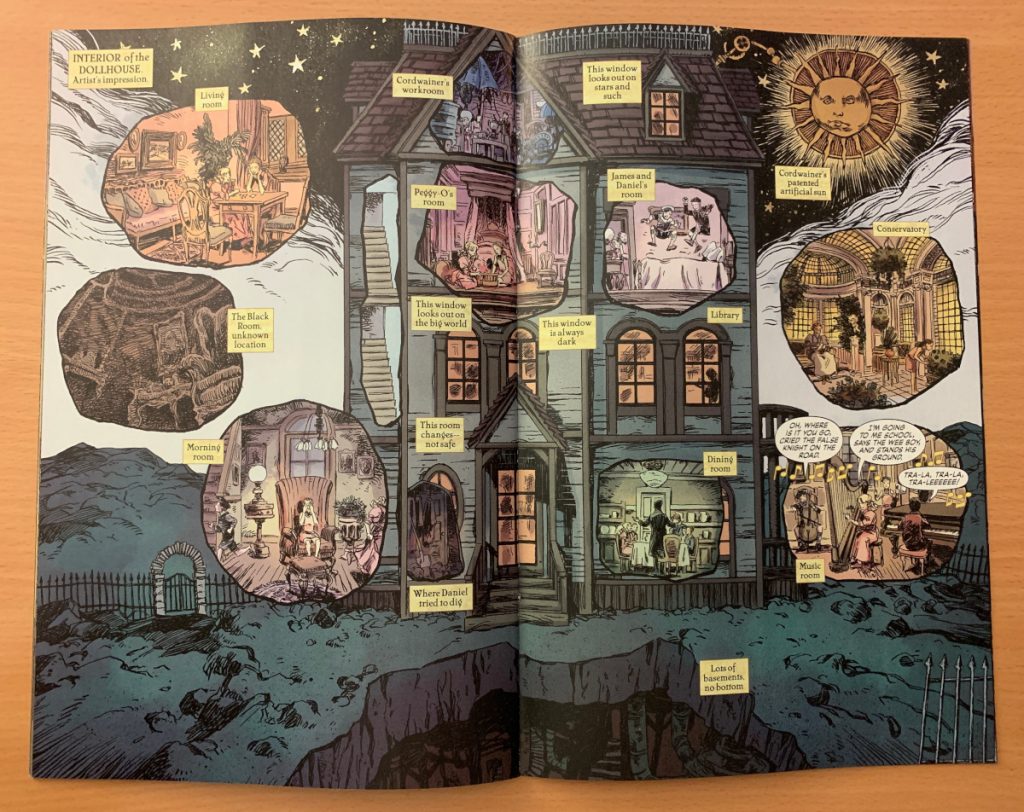 And it's arguably even more so in The Dollhouse Family, their current DC Black Label/Hill House title they're putting together with Vince Locke on finishes, 11 Cris Peter on colors, and the venerable Todd Klein on letters. This title is a complex one – it involves multiple timelines, angels and demons, the ghosts of the past, generations of families, and a whole lot more – but when you read it, it never feels weighty in a negative way. Like all Carey and Gross collaborations, even its darkest moments have a flow that propels and elevates the narrative. At its core, though, this story is also quite simple. It's about a young woman dealing with the curse of family 12 and her struggle to escape a nightmarish dollhouse that's more than it seems. And in the exploration of her life moving forwards and looking backwards at the decisions that put her in the position she's in, Carey and Gross have done something truly spectacular: they may be in the process of creating the finest work of their already esteemed partnership.
And that is really saying something.
The rest of this article is for
subscribers only.
Want to read it? A monthly SKTCHD subscription is just $4.99, or the price of one Marvel #1.
Or for the lower rate, you can sign up on our quarterly plan for just $3.99 a month, or the price of one regularly priced comic.
Learn more about what you get with a subscription