Comics Disassembled: Ten Things of Note from the Past Week in Comics, Led by CLEMENTINE!!!
Oh baby, do we have an ideal mix of my interests in the leadoff spot today. Let's get to the news of the week in the latest edition of Comics Disassembled.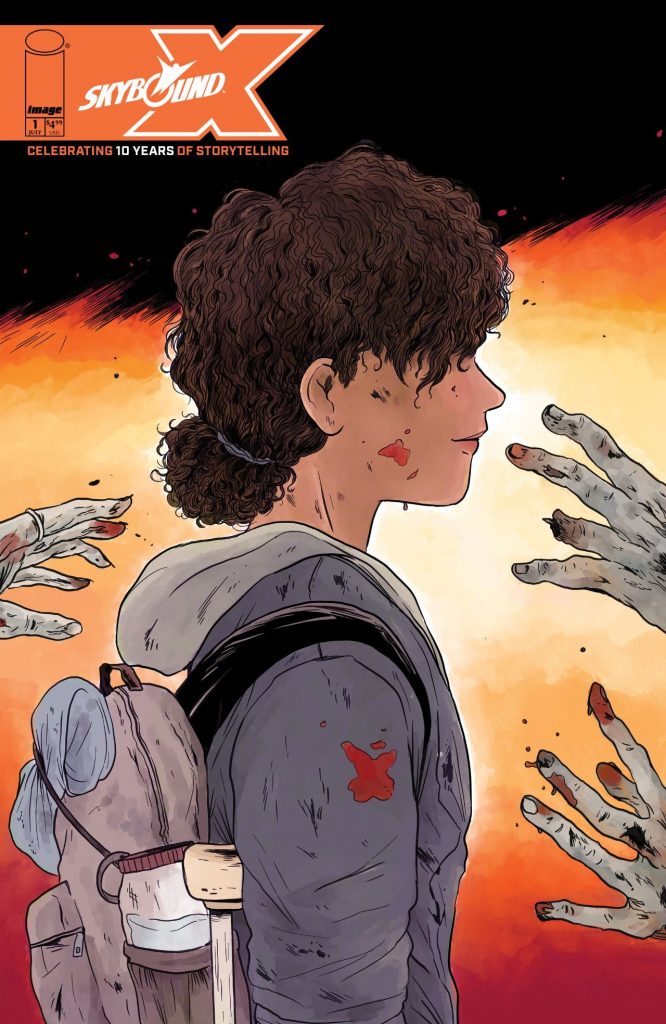 1. Skybound X, Gon' Give It To Ya
It's Skybound Entertainment's 10th anniversary, so they're doing things big with a five issue mini-series celebrating that occasion, loaded with exceptional talent like Robert Kirkman, Ryan Ottley (with those two teaming up for a continuation of their bonkers Rick Grimes 2000 story from The Walking Dead #75), Donny Cates, Erica Henderson, and an assortment of others. It will bring Skybound faves like Assassin Nation back to the table, much to my delight. It's going to be a whole thing. But there's one main reason I'm all about this series.
THEY GOT TILLIE WALDEN TO WRITE AND DRAW THE FIRST EVER COMIC STORY ABOUT CLEMENTINE FROM TELLTALE'S THE WALKING DEAD GAMES.
*ahem*
Now excuse me for losing all journalistic integrity and very briefly yelling at you, but it's important to convey my excitement at times. And any one of those aspects would have drawn my attention. A comic adaptation of Telltale's The Walking Dead, one of my favorite games ever? Series lead Clementine making her presence felt in comics after being unbelievably amazing forever in those games? Tillie freaking Walden writing and drawing a story? I'm all about those individually, but together is even more inspired.
Walden's one of my favorite cartoonists. She's an absolute ace, and Clementine is a remarkably apt fit for her strengths. Putting that together is the definition of two great flavors that will taste great together. Bravo to the Skybound team for conceiving of this idea and for convincing Walden to do it, as the Spinning and On a Sunbeam cartoonist is no doubt busy with her own work. I am over the moon about this one.
The one thing I'm not over the moon about: this will be an insane speculator darling. We already know Clementine is tremendously popular, and with this being her first appearance, getting a copy of Skybound X #1 will be not entirely dissimilar to the plot of Mortal Kombat. Remember when you get into your shop on release that it's back, back, low punch to use Scorpion's "get over here" spear attack, which would be convenient for acquiring a copy. Yes, it will massively damage the comic, but at least you get one. Or you could just add it to your pull ahead of time. One of the two.
2. Radiant Black, Going the Crossover Route
Previously I highlighted an upcoming issue of Crossover in which Chip Zdarsky, Phil Hester and Ande Parks will tell the story of how exactly Zdarsky went missing in that comic's universe. I loved the idea of Donny Cates and Geoff Shaw stepping out for an issue, both to see others play in that universe and to buy Shaw time to start on the next arc. It's the Immortal Hulk route, or really what Al Ewing titles have been doing on the regular, as typically an artist or several artists step in to give the main artist a breather. With it being planned, it's never a sustained gap without the main artist on the book. It's smart. I said when I wrote about Crossover doing that I hoped to see it more.
Well, that's already coming my way, as it turns out Radiant Black is doing it with its sixth issue, as Marcelo Costa steps out and tha gawd David "Darko" Lafuente is joining series writer Kyle Higgins and guest co-writer Cherish Chen for a one-shot issue. While Higgins spoke to this being an effort to get different creative voices on the book – and I'm sure that's a big part of it – I'm sure getting Costa a breather played a part. I do really like this strategy, which is why I'm highlighting it higher up. It's a rewarding move, as it brings in other voices, it preserves the health and sanity of the artist, and if deployed as part of a plan, it fits the larger narrative much better. It might be trickier to find fits or to jive with the way creator-owned titles pay out typically, but this is two examples in a very short window that make an awful lot of sense. Very big fan of this.
The rest of this article is for
subscribers only.
Want to read it? A monthly SKTCHD subscription is just $4.99, or the price of one Marvel #1.
Or for the lower rate, you can sign up on our quarterly plan for just $3.99 a month, or the price of one regularly priced comic.
Want the lowest price? Sign up for the Annual Plan, which is just $2.99 a month.
Learn more about what you get with a subscription