Comics Disassembled: Ten Things of Note from the Past Week in Comics, Led by DC Going International
If there's been a theme of 2022 in comics so far, it's been digital, digital, digital. Now, it's not necessarily a good theme, or a happy one. But it's a theme! That theme continues in this week's edition of Comics Disassembled, as a big name begins a much anticipated expansion.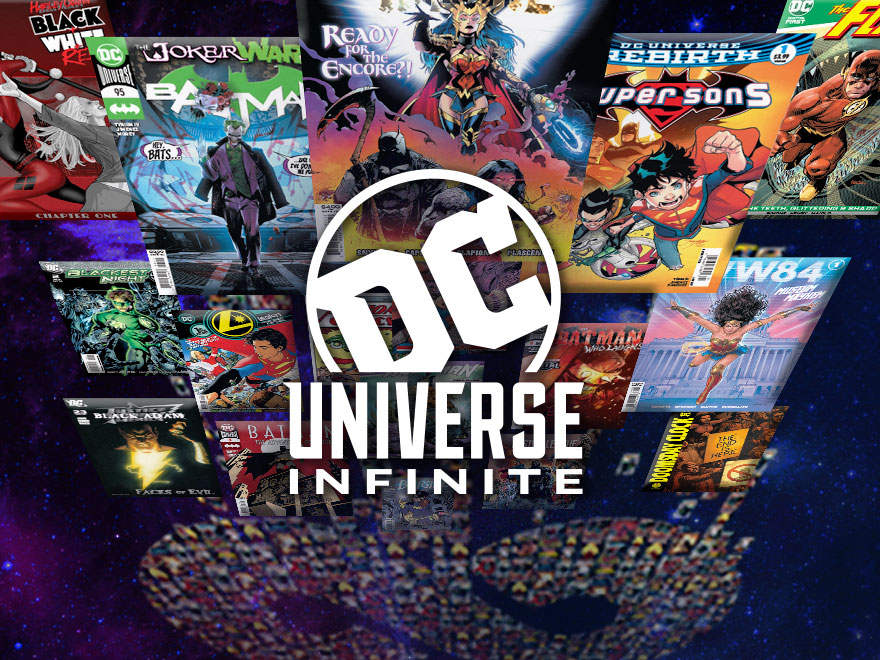 1. DC Universe Infinite, Expanding
It seems after a year of being a U.S. only product, DC's subscription comics app DC Universe Infinite is taking its talents to other countries, with Canada launching immediately, Australia and New Zealand hitting by now, and the United Kingdom, Mexico and Brazil still to come. Presumably there will be a roadmap for other countries as well, but this is likely a well-liked, well-received move, even if some of the articles revealing it were surprisingly caustic.
I'm sure the tin foil hat set look at a move like this and think, "This must be a reaction to ComiXology's recent moves!" as the international side of the digital giant's update have been…uhh…particularly poorly received. But it turns out that DC/Warner Bros. are companies that like making money, and a global expansion has been in the cards since launch. It just came later than expected, as the initial announcement suggested an expansion of the app's footprint would be arriving by Summer 2021. Oops.
I personally blame the supply chain.
Regardless, this is a big move, and an opportunistic one given the state of the digital space. It might not be the reason DC Universe Infinite is expanding, but ComiXology has certainly presented the app with an opportunity for growth. I have to admit, I was subscribed for a while but found myself rather unimpressed with the experience. It's hard to beat the price, especially with new comics arriving within six months of release. But I just found myself using it less and less, to the point where I kind of just forgot it existed? For some reason the only digital comics platform that has firmly inserted itself into my reading experience has been Marvel Unlimited. I'm not sure why the others haven't connected. It might just be a me thing. Find out for yourself soon if you live outside the United States, as you'll be able to judge DC Universe Infinite for yourself soon.
One final note: I still think it's wild that the app has the initials DUI. That strikes me as a real miss in the naming process. You would have thought someone would have mentioned it in meetings and it would have been removed from contention…but maybe not!
2. ComiXology, Updating
Speaking of ComiXology, the digital comics giant that has been under fire since its update is back with…well, another update, albeit one that's more superficial and modest than most would prefer. They've made improvements to the resolution of comics, to the New Release functionality, to the search functionality on the comics front page, and more. It isn't much – most of it is shockingly obvious stuff that should have happened to begin with, like the idea that if you're searching in the ComiXology area, you'll want to limit results to just comics, manga, and graphic novel content – but after an extended span of silence, it is something.
Meanwhile, Rich Johnston at Bleeding Cool had a six week update on the response to ComiXology's changes filled with a stream of consciousness breakdown on everything Johnston has heard. If you have an ad blocker or a computer with the processing power to handle 37 simultaneous video ads, it's worth a read. Most curious were notes he had about effectively pirated versions of existing comics being sold on Amazon's marketplace, most notably a couple Sex Criminals omnibi that are allowed to exist despite the blatantly improper nature of those products. Also interesting were tidbits Johnston heard about increases in Marvel Unlimited and DC Universe Infinite subscriptions, which doesn't surprise me in the least. While a one-for-one replacement of ComiXology doesn't exist, those two products are the closest we have to a lateral movement for consumers, especially considering that Marvel and DC still were fairly dominant on ComiXology, as the overlap between direct market and direct digital sales behavior has always been significant, from what I've heard.
Johnston really empties the notebook, and while some of it is almost certainly the type of thing you've read or heard if you're a comic book fan who has spent any time on a social platform in the past month or so, it's a fascinating and expansive read. It was well-timed too, as I had just been wondering if we were entering the "begrudging acceptance" phase of ComiXology's update. Perhaps not!
The rest of this article is for
subscribers only.
Want to read it? A monthly SKTCHD subscription is just $4.99, or the price of one Marvel #1.
Or for the lower rate, you can sign up on our quarterly plan for just $3.99 a month, or the price of one regularly priced comic.
Want the lowest price? Sign up for the Annual Plan, which is just $2.99 a month.
Learn more about what you get with a subscription