"Every Challenge Opens a New Doorway": Retailers on the Year So Far for Comic Shops
The verdict is in: the comics industry is thriving.
After the recent report from Comichron and ICv2 on industry-wide sales in 2021, it's difficult to deny. The book market 10 was in the stratosphere, and while the direct market — or the side of the industry encompassed by comic shops — wasn't quite as high, it's growing as well, putting up massive numbers in the process. As a reader of this site, this news likely did not come as a surprise, if only because most of the comic shops featured here didn't just do well this past year, they were setting records.
It's still wonderful to see this kind of data come in, and it's reflective of the unexpected highs that the comic shop side of the industry has seen over the past few years. The pandemic was believed by some to be prelude to the doom and gloom future so many have long expected. Instead, it has reignited a passion amongst many for all facets of this medium we all love. It's easy to point at singular market leaders 11 as what's driving this. The truth is, though, it's a little bit of everything.
And that's a very good thing. Even better than that, though, is this: the good times have seemingly continued to roll in 2022. This week's feature is a mid-year check-in with retailers from around the direct market, spanning four countries and varying sides of North America, and most shops are reporting similar if not improved numbers this year. That's wonderful to share. While one massive year is a good thing, sustained success is an even better one.
Despite that good news, there was a pervasive feeling to retailer feedback that varying elements of the direct market ecosystem are at a tipping point, with major issues looming large, hanging over the wins like a specter. Shops are happy for the good times, but they know enough about the landscape to question how long they might last. Patrick Brower, the co-owner of Chicago's Challengers Comics + Conversation, described the vibe well when I asked him how he's feeling about everything right now: "Trepidatious."
It's truly been a year of the good, the bad, and the uneasy for the direct market, as shops have continued to thrive despite having to negotiate some of the most uneven terrain in the history of the market, all while trying to plan for the future as much as they can. How exactly does one do that?
That's what we'll be exploring today.
---
I always like to contextualize this year's successes by framing it against the year that preceded it. It gives readers a reference point, as knowing a shop was up or down compared to the same period illustrates performance better than feelings or revenue numbers. And with 2021 being a record setting year for many, it'd be easy to expect 2022 to start slower. But one important factor ensured that many are well-ahead of that pace: plenty were still closed to in-store customers for some or all of the first half of 2021.
That meant some shops have qualifiers to the immense numbers they're putting up. Take Eitan Manhoff from Oakland's Cape and Cowl Comics. He told me 2022 is "going phenomenally well for us," and it's easy to see why. They've had a 55% increase in sales year-over-year! That's astonishing. Of course, Cape and Cowl was closed to the public for the first six months of last year, so it's a bit of an apples to oranges comparison. As Jenn Haines from Guelph, Ontario's The Dragon told me, any time shops like hers are closed to in-store customers, a "dramatic slump in sales" follows. For those who were closed for portions of last year, topping 2021's pace was short work.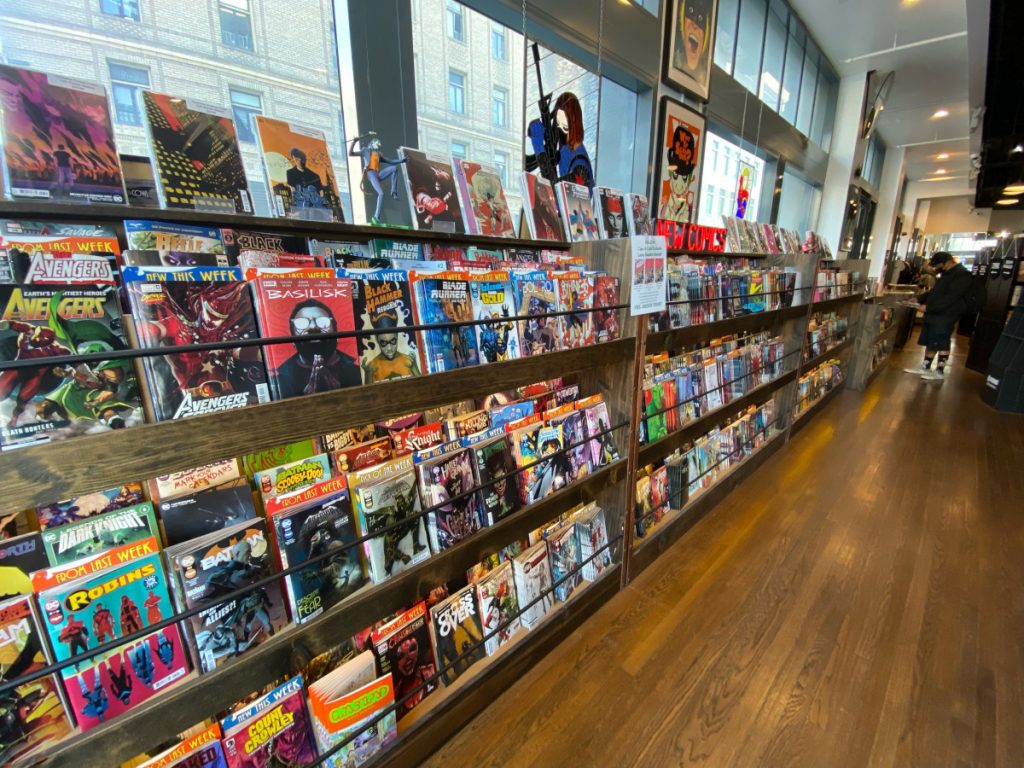 But even with that caveat, the response was uniformly positive. Brower reported that Challengers is up about 10% from this point in 2021, albeit with some surprising underperformers, like a May that was barely up despite the presence of the first on-schedule Free Comic Book Day since 2019. Ryan Higgins of Sunnyvale, California's Comics Conspiracy told me his shop had its best year ever in 2021, and his shop is looking like it might match — "if not beat outright" — those numbers.
It goes beyond performance, too. Sometimes, success doesn't just mean increased sales, but a return to normal operations. Jacob Sareli's Comikaza in Tel Aviv, Israel is a great example. When we talked back in January, Sareli told me he had one goal after a shaky year from a product availability standpoint. In 2021, he had one on-time, on-Wednesday new comic book day. This year, he wanted two. That happened for him already, with two coming on back-to-back weeks, something the retailer was thrilled about.
Sareli's seen other wins this year, including the opening of Israel's borders to tourists, bringing an influx of customers as visitors tour Tel Aviv. Pair that with a continued influx of young people coming into the store — Sareli noted that while the belief is that the average age of the comic store customer is increasing, the opposite is true in his store — and Comikaza is seeing improved performance.
The rest of this article is for
subscribers only.
Want to read it? A monthly SKTCHD subscription is just $4.99, or the price of one Marvel #1.
Or for the lower rate, you can sign up on our quarterly plan for just $3.99 a month, or the price of one regularly priced comic.
Want the lowest price? Sign up for the Annual Plan, which is just $2.99 a month.
Learn more about what you get with a subscription