Comics Disassembled: Ten Things of Note from the Past Week in Comics, Led by the Passing of a Great
It's time for another edition of Comics Disassembled, a look at ten things I liked or didn't like from the week of comics, and unfortunately, we have to start with one of my least favorite places to start. Alas.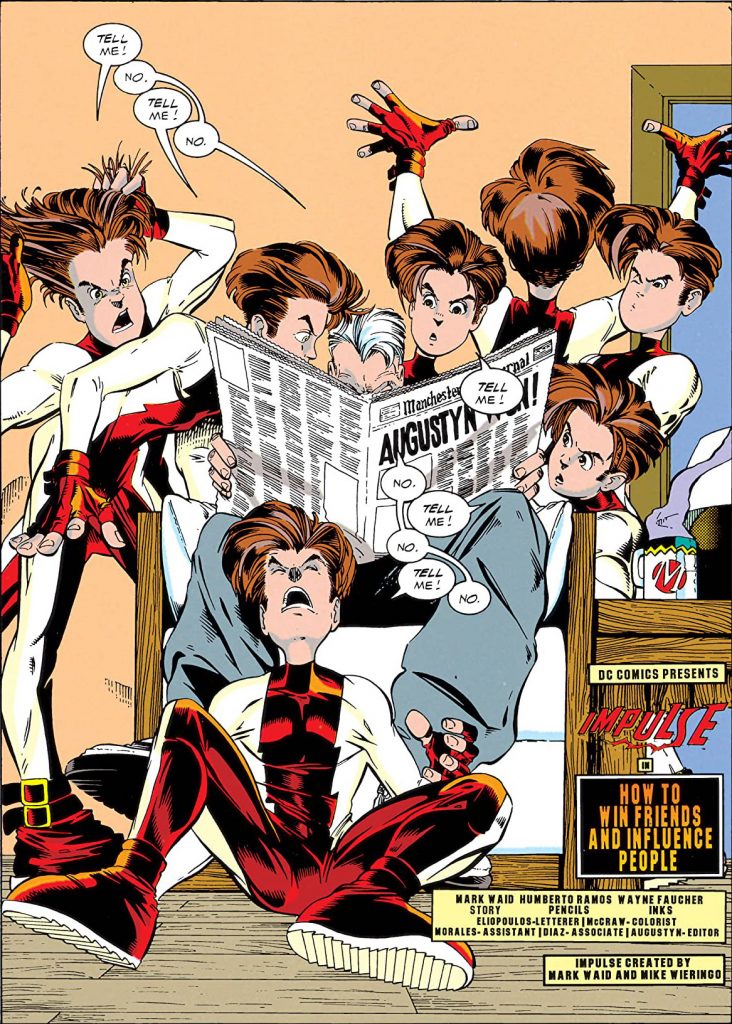 1. Rest in Peace, Brian Augustyn
There aren't a lot of people I could say this about, but I'm not sure if I'd be writing this right now if it weren't for Brian Augustyn. A writer and editor of many, many comics, most importantly to me, he was the editor of The Flash and then Impulse, both written by Mark Waid and drawn by assorted names, but most notably to me Mike Wieringo and Humberto Ramos (he also wrote Crimson, which was another fave, but that was a domino effect of the others). The latter title was my favorite comic growing up, which is saying something, as my religion was effectively the X-Men in my youth. Bart Allen and that Impulse title were everything to me, and while it was Ramos' art that inspired me and Waid's writing that fostered that connection, Augustyn was the advocate that helped them make it what it was, and helped so many others have a shot to make the comics they wanted to the way they hoped to. That's a huge thing, especially in the battle-torn worlds of superhero comics, where pushing for the new can be the equivalent of pulling teeth.
Back towards the beginning of the pandemic, I was putting together a 25th anniversary piece about Impulse when I reached out to Augustyn via Twitter to chat. He was more than happy to do so, and in our chats, it was a whirlwind of the realities and magic of making comics. More than that, you could tell there was genuine love there, and it was that love that made him such a great maker of comics and supporter of those he edited. It was a genuine delight to talk to him, something that briefly made me forget about the troubles of the world because I was enveloped in his tales about bringing those stories to life and the kindness he carried with him everywhere.
You could see all of his passion and talent in the work, whether it was on projects he edited like The Flash and Impulse or ones he wrote like Crimson and Gotham by Gaslight. The guy loved comics, understood them to a rare degree, and pushed to make them great, even if it wasn't the path his bosses desired on the surface. I respect the hell out of that, and enjoyed getting to talk with him and getting a better understanding of this person that shaped my love of comics in a real way. Augustyn helped make some of the most important comics of my life, cementing what could have been a brief fling fueled by Wolverine and Optimus Prime and turning it into something more.
During our final chat for that piece, I was able to thank him for that. I'm sure he'd heard that message before, but it made me happy to share that sentiment. That's especially true now, as Augustyn passed away this week at the age of 67 after suffering a stroke. He clearly affected the comics community in a very positive way, based off the stories that have been shared after news hit, and even after just a few conversations with him, it's easy to understand why. A great editor, a great writer, and based off my experience, a great person as well. He will be missed.
2. Action Lab, Under Fire
Tough times for Action Lab Entertainment, a comics publisher mostly in name these days, as it seems as if its true purpose in this world is as an aspiring and now actual defendant in a robust lawsuit that suggests…well, I'll let the smart people at Class Action dot org explain.
"The 46-page complaint contends that although Action Lab promised to print, promote and market creators' works, report quarterly sales and income numbers, properly maintain social media accounts, and generally make a reasonable effort to sell comics, the company has largely done none of these things and even failed to inform creators when its office shut down 'without reason.'"
To abbreviate that, Action Lab failed to live up to their part of the bargain, and creators – nearly 40 of them! – are looking for recompense. Understandably. Creators worked hard to make the comics they wanted to make in exchange for everything discussed, and instead, they earned a pittance for comics that sometimes never arrived or were never promoted or supported. This all comes after rather extensive analysis of all of this, from the allegations to the Action Lab contract itself, was done by Claire Napier over a three part series at Women Write About Comics and Comic Book Yeti. I would tell you to read more of what I have to say, but that wouldn't help you. Read what Claire wrote if you want to better understand all of this, because a) she covered it far better than I ever could and b) you should be reading what she writes anyways.
The point is, Action Lab is a hot mess and they're en route to getting what comes from that. Best of luck to the bevy of creators involved. It will be difficult to offset the harm done and the disastrous management from Action Lab, but hopefully something good comes out of this at some point.
The rest of this article is for
subscribers only.
Want to read it? A monthly SKTCHD subscription is just $4.99, or the price of one Marvel #1.
Or for the lower rate, you can sign up on our quarterly plan for just $3.99 a month, or the price of one regularly priced comic.
Want the lowest price? Sign up for the Annual Plan, which is just $2.99 a month.
Learn more about what you get with a subscription