Comics Disassembled: Ten Things of Note from the Past Week in Comics, Led by the Rule of Thummler
Sometimes these columns are easy, and once I'm wrapped, I'm wrapped. Other times a new item hits that throws off the entire exercise. This week was the latter, as Comics Disassembled, a look at ten things I liked or didn't like from the week of comics, is led by a new item that I only saw late yesterday after I wrote the column, but I knew it demanded a rewrite.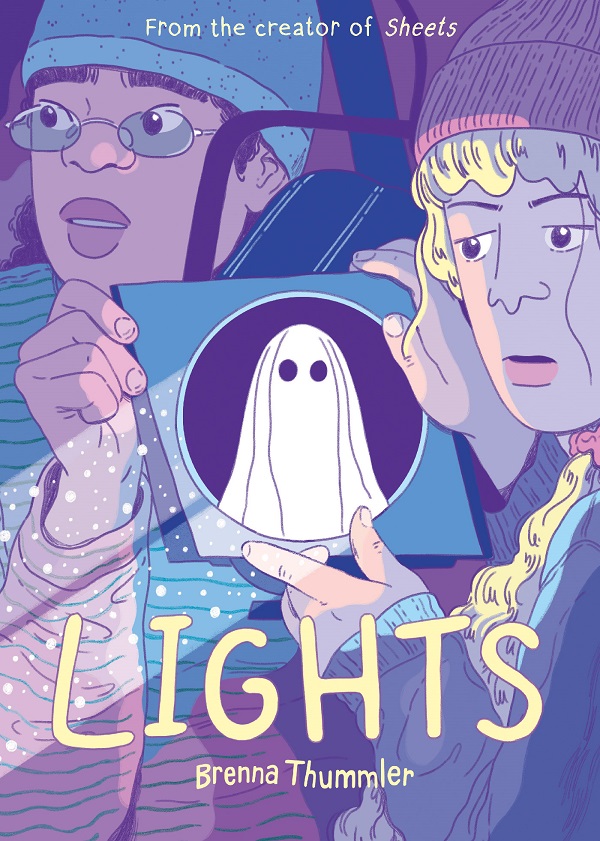 1. Brenna Thummler, Back in Action
I suppose this is a good description of where I am as a comic fan, but if you asked me what I'm more excited about, a new creative team on a new volume of The Avengers, an A-list duo taking the Titans to new heights, or the third and final book in Brenna Thummler's Sheets trilogy being announced, then it is an incredibly easy choice for me: Brenna Thummler all day, every day.
Thinking Brenna Thummler is one of the brightest lights amongst newer cartoonists from the past decade is one of my favored corners as a fan and writer about comics, and I am thrilled she will be delivering one more book in the upcoming Lights at Oni Press. That goes double considering recent questions about the publisher put a pall over its prospects, but the good news is, we will get one final book indeed, which will assuredly be a wonder as the other two have been.
Lights will presumably conclude the story of Marjorie Glatt, Wendell the ghost (complete with his titular sheets), and new addition (at least in Delicates) Eliza Duncan, with a beautiful mix of perfect cartooning and exceptional storytelling from Thummler guiding us on that journey. I can't wait to read it. It arrives September 6th. I have the hype!
2. Marvel and DC, Making Moves
This item used to be two separate items. Alas, instead, they've become only one, as I'm going to break down some top teams taking over some top books at Marvel and DC here. We'll start with Marvel, and the reveal of who will be writing the Avengers next. That was a subject I was recently talking with someone else in the comics journalism space about: Who might follow Jason Aaron when his run concludes his run this year? We spitballed several names, ranging from obvious picks like Donny Cates and Al Ewing to some deep long shots. In the process, though, I remember feeling that whoever it ended up being would almost certainly have to come from that pool. "Who else could it be, really?" I wondered.
Someone we never discussed, it turns out!
We really should have in hindsight, as it's writer Jed MacKay and artist C.F. Villa teaming up for a new volume of The Avengers that has "back to basics" and "classic lineup" written all over it. Featuring a squad of Captain Marvel, Thor, Iron Man, Captain America, Black Panther, Scarlet Witch, and Vision – WandaVision?!?!? – this series will apparently build off a mystery set up in one of the Timeless one-shots that MacKay had written previously. That's why we really should have considered MacKay: when Marvel was putting together its last two architectural one-shots in Timeless #1 (2021) and Timeless #1 (2022), it was MacKay they tapped to do so. He's the current King of Kang, and with the time travel master being a big focus in the Marvel Cinematic Universe, this only makes sense.
The only part that doesn't is MacKay just…doesn't really inspire a lot of energy or enthusiasm in me? That's not to say MacKay isn't a competent writer. From what I've read of his work in Black Cat, he's an entertaining, character-based scribe, while Villa does some very nice work in that series himself. It's just I don't feel like there's a ton of buzz around his work. I might be alone that regard. When I did a straw poll of retailers, one yawned at the news, but it seems as if there's some level of customer enthusiasm at other shops, especially when it comes to the writer's work on Moon Knight. On top of that, when I browsed the response online, it seems like the people responding to the news were quite enthusiastic about MacKay's arrival. It's entirely possible that my finger is not on the superhero pulse right now.
I guess I just sort of expected more of a headliner name in the spot, even though it's entirely possible MacKay himself is knocking on the door of the A-list with this move. There's just something about this announcement that feels muted. There's plenty more to come, as the initial announcement was light on the details. It does reveal that Stuart Immonen will be providing covers for the series, something I'm quite enthusiastic about. But it's still muted nonetheless. This series launches on May 17. We'll see if my enthusiasm turns around between now and then.
Meanwhile, the post Final Crisis/pre-Dawn of DC roll out continues, with the next logical step after the end of that series and the conclusion of Nightwing #100 taking place this week: the Titans are getting a new ongoing, and it's from the all-Australian, all-A-list creative team of Tom Taylor and Nicola Scott. While Susana Polo at Polygon's already doing the elite work of pointing out this reunites Scott with Nightwing's butt, my enthusiasm lies in the fact that Taylor is very good at what he does and Scott is also very good at what she does. Taylor has an incredible grasp on these characters, as we know, and when paired with Scott, the Titans as the replacement for the Justice League as DC's headliner super-team has its best possible chance at success. I'm very in on this book, which launches in May.
That wasn't it for DC title revelations this week. A little more detail came on the Dawn of DC front this week, as one title – Green Lantern – has already had a writer change with Jeremy Adams taking over for Mariko Tamaki (which is a huge bummer for me as a massive Tamaki fan) while Phillip Kennedy Johnson and Osvaldo Montos's Green Lantern: John Stewart comic went from its own title to a backup for the main GL book, which…seems like a lot of change and consolidation for titles that had been previously announced. Fingers crossed the other title that had some detail added doesn't change, as it's cool as hell that Milestone Initiative graduate Morgan Hampton and artist Tom Raney will be tackling a Cyborg series. It's wonderful seeing a newer creator in Hampton and an underrated vet in Raney getting this project, because that's one that has a lot of potential.
This all came with an updated timeline for Dawn of DC standing revealed, with it clearly being designed to create speculation amongst fans about what's coming creating that and then some. Popverse and a random Twitter account called Superman Updates breaking that image down like it was the Zapruder film entertained me to no end. I genuinely cannot believe the latter's efforts to simply brighten up the image resulted in actual revelations. Come on DC! You gotta know people are going to do that! Or maybe you did, and you wanted that? In which case, my admonishments stand reversed, and in their place, here are some compliments about a job well done!
The rest of this article is for
subscribers only.
Want to read it? A monthly SKTCHD subscription is just $4.99, or the price of one Marvel #1.
Or for the lower rate, you can sign up on our quarterly plan for just $3.99 a month, or the price of one regularly priced comic.
Want the lowest price? Sign up for the Annual Plan, which is just $2.99 a month.
Learn more about what you get with a subscription