So You've Got Taskmaster's Powers. Now What Do You Do?
I love exercises in which I hypothesize which superheroes would be the best in relatively ordinary human situations, like playing basketball or being a chef. It's fun to think about, if only because we so rarely get to see these characters in settings where the mundane is on the table. The idea of contemplating what Galactus would be like in the kitchen 18 or what kind of fast food Batman would eat 19 is both great food for thought 20 and wildly entertaining to me.
And while many, many characters would excel at varying sports or ordinary world challenges — these are superhumans, after all — there's one character that shows up on my lists over and over again, if only because his power set fits so well with basically every scenario I contemplate. That's Taskmaster, a character whose photographic reflexes make him just a YouTube video away from greatness. These reflexes allow him to copy whatever moves he sees, and while those are typically used by the character to win fights, they really can be leveraged in any scenario. 21
As I was working on my earlier Revisitor column about Fred Van Lente and Jefte Palo's Taskmaster mini-series from 2010, it started a conversation with a pal of mine about what we'd do with those powers. With that already being something I think about on the regular, it was easy to jump into, listing off all the highly skilled people I'd ape by watching YouTube video after YouTube video. But the person I was chatting with brought up some important points. For example, if I used those powers to become a better chef, it wouldn't help me better understand the right ingredients to mix or how much of certain spices to use, or if I watched a marathon runner, it wouldn't mean I suddenly have the lung capacity to do that. There's an uncopiable innate ability to some activities that even someone like Taskmaster can't watch his way into.
So with that in mind, today I'm going to consider what exactly I would do with Taskmaster's powers if I suddenly developed them, with the caveat being they'd have to be theoretically achievable for an individual like myself, a reasonably athletic person who is lounging on a deck eating a bean and cheese burrito as I write this. 22 The possibilities are endless — although much, much more difficult to contemplate if you're aiming for them to be actually achievable — but I'm keeping this to the first six activities I'd take on, focusing on those skills I'd be most excited to learn and eager to use, from the mundane to the magical. Let's get to it.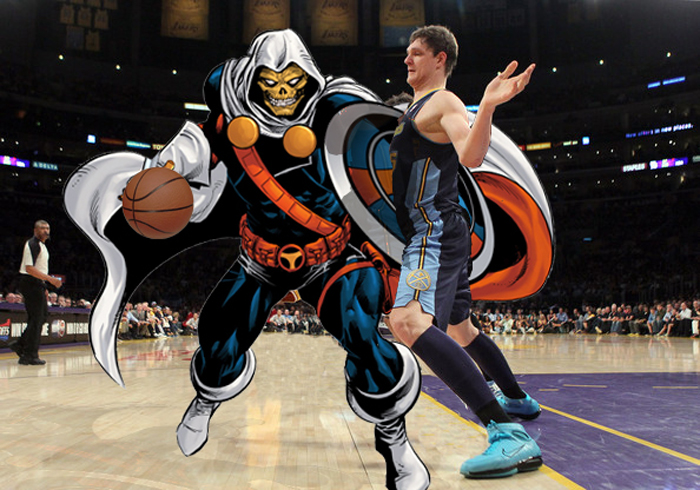 Shoot Threes Like Steph Curry
Two things that quickly became apparent to me as I considered this thought experiment was that most of what Taskmaster uses his powers on wouldn't be that interesting to me or would be impossible for me to accomplish. I don't fight people, so learning fighting styles and weaponry would be useless, and the top of my list wouldn't be possible simply because ideas like "Dunking like LeBron James" are restricted by personal factors, namely how I'd still jump like David Harper. That said, basketball was still at the top of my list, as I love the sport, I'm semi-decent at it already, and I would be thrilled to become amazing at it. 23
Most skills wouldn't be achievable for me either because physical limitations – the aforementioned dunking – or because I simply lack the basketball IQ to pass the ball like Nikola Jokic or Chris Paul. That said, there is one application that would instantly turn me into a monster on the court. That's becoming a legendarily great shooter. To do that, I would just watch every video on the internet of Golden State Warriors guard and, with apologies to my beloved Reggie Miller, the greatest shooter of all-time, Steph Curry.
While there is obviously a tremendous amount of physicality that goes into Curry's game – it's hard to make threes if you can't get yourself space – by perfectly recreating Steph's shooting motion and handle, I'd more than likely be able to take over any pick up game I could find, especially here in Anchorage, Alaska. Just imagine how satisfying it would be to walk onto the court and just start pulling up for the equivalent of a logo three, or to cross someone up so much they lose their equilibrium before you step back for a three as they sit and watch in horror. It would be incredibly satisfying.
Would I take my skills pro? Probably not. There's not a huge market for 6'3" guys with six-inch verticals that are in their late '30s, no matter how many times teams sign Kyle Korver. 24 But still, for this lifelong hoops fan, being able to make 105 threes in a row like Steph even in a non-game situation would be enough.
The rest of this article is for
subscribers only.
Want to read it? A monthly SKTCHD subscription is just $4.99, or the price of one Marvel #1.
Or for the lower rate, you can sign up on our quarterly plan for just $3.99 a month, or the price of one regularly priced comic.
Want the lowest price? Sign up for the Annual Plan, which is just $2.99 a month.
Learn more about what you get with a subscription