The Pull: A Look at the Comics Dropping the Week of May 22nd
After an absolutely monster week to kick this column off, this week is a bit quieter, which I'm thankful for (I might get a chance to finally catch up on my reading!). Let's look at my buys, recommendations and curiosities from this week of comics in the latest edition of The Pull.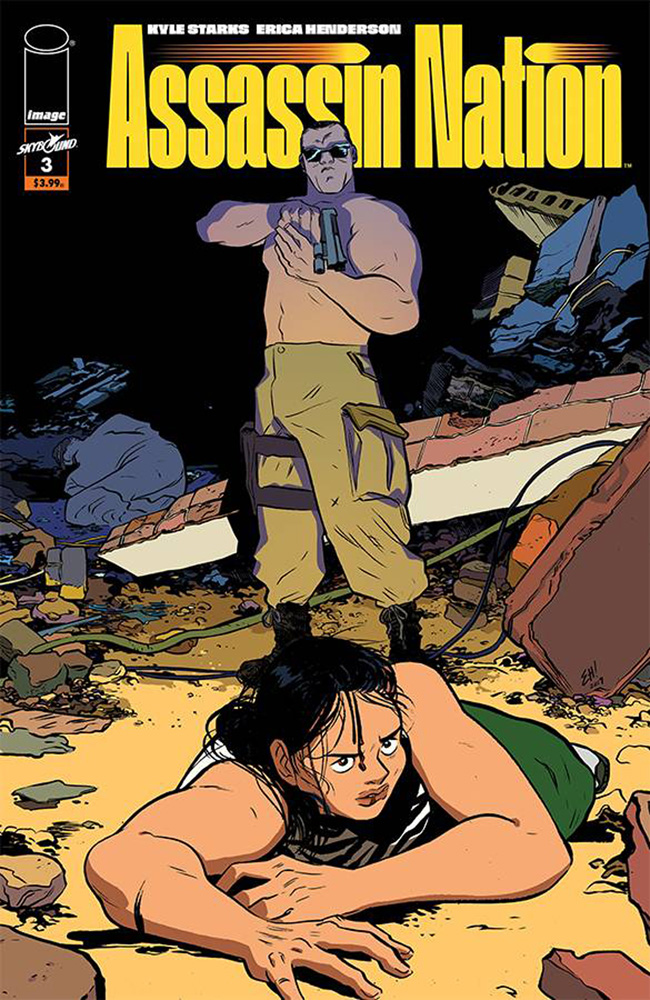 Book of the Week: Assassin Nation #3
This Image/Skybound mini-series from Kyle Starks and Erica Henderson may very well be the most fun series in comics right now. The marriage of Starks' mind for absurdist action and Henderson's impeccable gifts at visual storytelling and comic book humor is so on point, I'm not sure there's a creative team right now that has more complementary talents, full stop. It's being manifested in a comic that's what would happen if you blended all of the greatest action movies ever and then funneled them into a comic book – without cutting it to reduce the purity – which is what I never knew I always wanted in a comic.
Tinfoil hat time, though. The comic is about the world's greatest assassins protecting the former greatest assassin who is now the #1 crime boss in the world (or at least the area they're in), as someone is trying to kill him. You know, the kind of things that come with the territory of being a crime boss. If you're reading it, you probably have a theory who is trying to do this. My guess? DAVE. The most basic dude in the cast who is basically an assassin/assassin fanboy is so deliberately not special that he's the perfect candidate. It's a classic misdirection. Or it's not and it's someone else. Either way, it is, as Dave might say, so lit, and I'm fully onboard.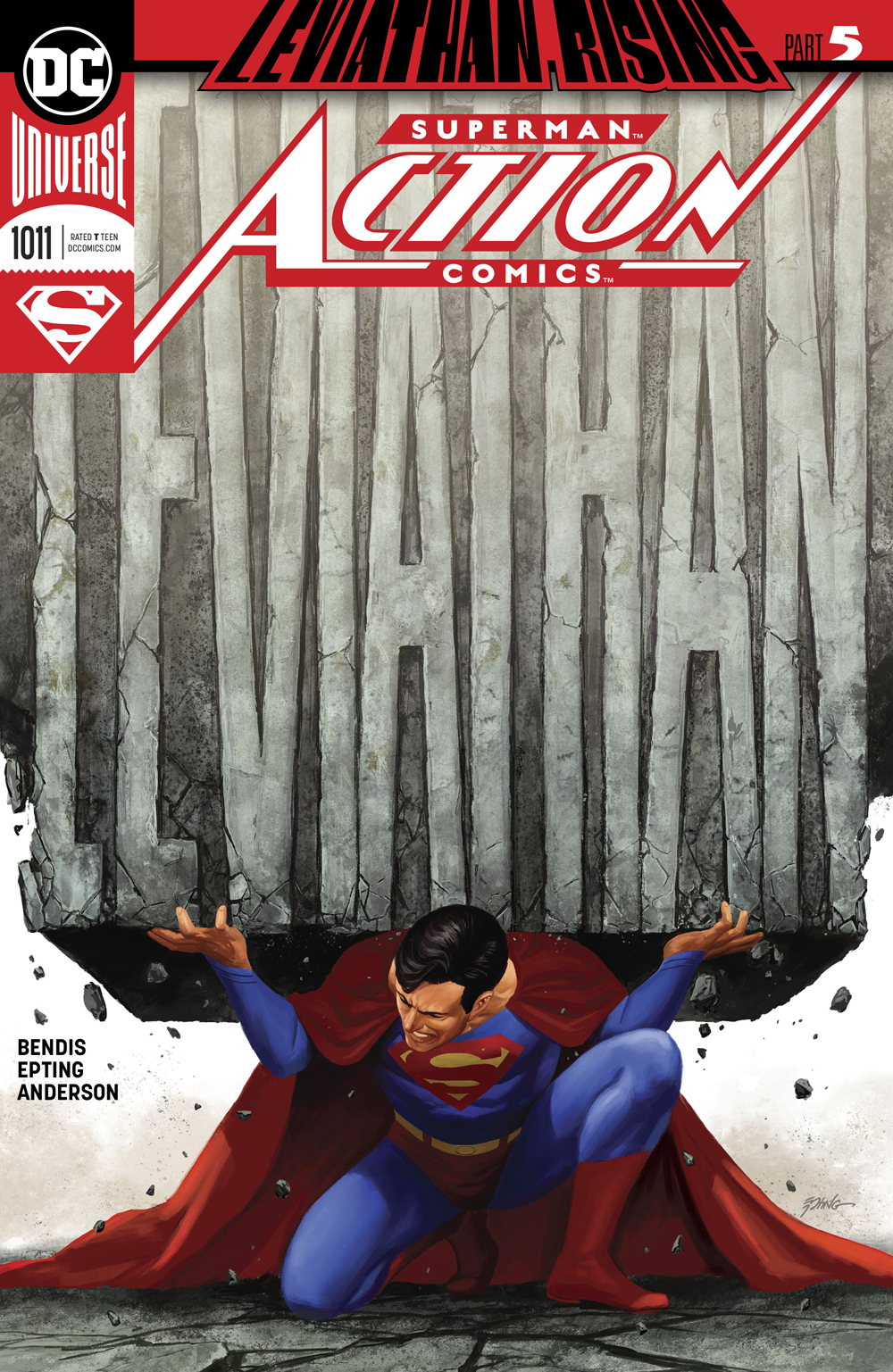 "You're coming with me": The for sure buys and recommendations of the week
Action Comics #1011: I have a piece coming up about writer Brian Michael Bendis and his overall impact at DC coming up, because I think it has been considerable. But on a very micro level, there's his comic work, and man, Action Comics has been a gem since day one. This is the conclusion of the Leviathan Rising arc, and it has been fantastic, both because the spy/mystery blend has been a wonderful fit for the broader Superman universe and because artist Steve Epting has been an absolute god throughout it. Very excited to read it, especially because it has my favorite solicit trope…it has a "shocking conclusion that'll affect the entire DC Universe!" Can't wait!

The Avengers #19: For some time, I was out on this book. The first arc just wasn't working for me. That day has passed, as it has become a proper Jason Aaron Avengers book, bring the Wolverine and the X-Men vibe to The Avengers, but still very much being an Avengers book. I mean, we've had both vampires and former X-Men student (and a literal child of The Brood) Broo as the IT person of their headquarters. This book is very, very fun and hasn't been negatively impacted by War of the Realms (so far).

Dial H for Hero #3: This is one of the four Wonder Comics books, and it is spectacular. Sam Humphries and Joe Quinones are doing work here, resulting in a fun, unexpected and unique title that I adore. Quinones in particular is on fire, as every scene where characters use the phone 1 to change into some weird hero is a brilliant tour of style and morphed storytelling. He's really doing things here that few comic artists are capable of. I love it.

Doctor Strange #14: I'm a little back on this right now – just one issue! – but by and large, this has been one of the best "Fresh Start" titles, although it has been heavily dependent on who has been drawing it. The good news is Barry Kitson is on it now, and that's always a good thing.

The Goon #2: Eric Powell's creator-owned series about a tough guy crime boss of sorts and his even tougher (but considerably smaller) pal has been going for a long, long time, but this new volume is a good jumping on point. If you're interested in maybe the most absurd title on the stands with outrageously good art and equal measures of hilarity, over-the-top fight scenes and poignancy, you're in the right place.

Middlewest Vol. 1 TPB: The first issue of this was a good one, but it also immediately made me want to wait for trade here. But Skottie Young and Jorge Corona is a fearsome duo, and this series feels like the right blend of fantasy and reality for me. Looking forward to catching up. Bonus points: it's $9.99!

Redlands Vol. 2: Jordie Bellaire and Vanesa del Rey are making a heck of a comic here, although it's one I decided to switch to trade on in the second volume. So I have quite the treat coming my way here. If you're into badass women, witchcraft, ominous atmosphere and foreboding tones, and haunting art, you might enjoy this.

Runaways #21: I was legit concerned that my interest in this would waver when Kris Anka stepped away on art, but my god, Andres Genolet! How is he this good and also this good at matching Anka without completely copying him? It's astonishing. Plus, this is a Chase-centric issue, and I'll be very interested to see how Genolet and Rainbow Rowell handles his rise as basically the dad of the group and his feelings about Gert and Victor's relationship. That last bit has been looming for a bit and this feels like the right time. Plus…THAT COVER FROM ANKA.

Shuri #8: This is one of the underrated gems from Marvel's line right now, and this latest arc finds regular series writer Nnedi Okorafor returning with the excellent Rachael Stott on art. That team is hard to beat.
Would buy, but I'm a dirty, rotten trade waiter
Game Time Decisions: The Ones that Might Come Home
Buffy the Vampire Slayer Vol. 1 TPB: I'm not a huge Buffy fan (I never watched the show besides weirdly the finale, read a fair bit of the recent Dark Horse comics and very much enjoy the movie, oddly), but I am a fan of Jordie Bellaire and Dan Mora, and this restart from them seems like an appealing approach to a comic series. So I'm intrigued. This buy would be a pure creator play, but given how far back I am on my reading, this might be a buy later if I do trade.

Clue Candlestick #1: Dash Shaw is making a Clue comic. That's it. That's the selling point. It's such a remarkably odd pairing of creator with creation that I kind of feel like I have to buy it. But at the same time, it's a mini-series, so this is a probable wait for trade title. One way or another it's going to come home eventually, both from a curiosity and probable quality standpoint.
The Rest of the Week's Releases
ADHOUSE BOOKS

AFTERSHOCK COMICS

Animosity #21
Mary Shelley Monster Hunter #2
ALBATROSS FUNNYBOOKS

AMERICAN MYTHOLOGY PRODUCTIONS

ANTARCTIC PRESS

Mobster Graveyard #4 (Of 5)
Offbeats #3
Tainted Love #2 (Of 4)
William The Last Fight And Flight #3
ARCHIE COMIC PUBLICATIONS

Archie's Superteens TP
Riverdale Season 3 #3
AVERY HILL PUBLISHING

BOOM! STUDIOS

Amazing World Of Gumball Adventures In Elmore GN
Avant-Guards #5 (Of 12)
Avant-Guards Volume 1 TP (Discover Now Edition)
Black Badge Volume 1 HC
Bone Parish #9 (Of 12)
Buffy The Vampire Slayer Volume 1 TP
Faithless #2 (Of 5)
Welcome To Wanderland #4 (Of 4)
COMIXTRIBE

CONUNDRUM PRESS

Meat And Bone GN
Wage Slaves GN
DANGER ZONE

DARK HORSE COMICS

Elfen Lied Omnibus Volume 1 TP
Invisible Kingdom #3
Legend Of Korra Ruins Of The Empire Part One TP
DC COMICS

Absolute Batman The Black Mirror HC
Action Comics #1011
Batgirl #35
Batman Beyond #32
Books Of Magic #8
Cover Volume 1 TP
Detective Comics #1004
Dial H For Hero #3 (Of 6)
Flash #71
Freedom Fighters #6 (Of 12), $3.99
Justice League Dark #11
Looney Tunes #249
Martian Manhunter #5 (Of 12)
Outsiders By Judd Winick Volume 1 TP
Sandman Volume 8 World's End 30th Anniversary Edition TP
Scooby Apocalypse Volume 5 TP
Scooby-Doo Team-Up #48
Silencer #17
Terrifics #16
Wonder Woman #71
DRAWN AND QUARTERLY

DYNAMITE ENTERTAINMENT

Battlestar Galactica Twilight Command #4 (Of 5)
Elvira Mistress Of The Dark Spring Special #1 (One Shot)
James Bond Black Box TP
EDITIONS TREVILLE

Tokyo Sweet Gwendoline SC
FANTAGRAPHICS BOOKS

Red Ultramarine HC
Structure Is Rotten Comrade HC
GHOST SHIP

Creature Girls A Hands-On Field Journal In Another World Volume 1 GN
HUMANOIDS

IDW PUBLISHING

Clue Candlestick #1
G.I. Joe A Real American Hero #262
Ghost Tree #2 (Of 4)
Highwayman TP
Road Of Bones #1 (Of 5)
Shining Beacon TP
Sonic The Hedgehog #17
Star Trek The Q Conflict #4 (Of 6)
IMAGE COMICS

Assassin Nation #3
Black Magick The First Book Of Shadows HC
Cyber Force #10
East Of West Volume 9 TP
Gasolina #18
Matador Volume 1 TP
Middlewest #7
Middlewest Volume 1 TP
Monstress #22
Redlands Volume 2 Water On The Fire TP
Redneck #20
Rumble #12
Savage Dragon #244
Warning #7
Wayward Volume 3 HC
IMPACT THEORY

KEENSPOT ENTERTAINMENT

KEVIN EASTMAN STUDIOS

Drawing Blood Splilled Ink #1 (Of 4)
Radically Ronin Ragdolls #1 (One Shot)
KODANSHA COMICS

10 Dance Volume 3 GN
Grand Blue Dreaming Volume 6 GN
Love In Focus Volume 2 GN
Quintessential Quintuplets Volume 3 GN
Seven Deadly Sins Volume 32 GN
Yuri Is My Job Volume 3 GN
KOYAMA PRESS

House Of The Black Spot GN
LION FORGE

Catalyst Prime Summit Volume 3 Truth Or Consequences TP
Midnight Radio GN
Quincredible Volume 1 Quest To Be The Best TP
Rolled And Told #9
Stiletto #3 (Of 3)
LITTLE SHOPPE OF HORRORS

Little Shoppe Of Horrors #42
MAD CAVE STUDIOS

Honor And Curse #4 (Of 6)
Knights Of The Golden Sun #7 (Of 7)
MARVEL COMICS

Age Of X-Man The Amazing Nightcrawler #4 (Of 5)
Amazing Spider-Man Omnibus Volume 4 HC
Asgardians Of The Galaxy #9
Avengers #19
Champions Because We Still Need Heroes TP
Doctor Strange #14
Fantastic Four Behold Galactus TP
Fantastic Four Volume 2 Mr. And Mrs. Grimm TP
Marvel Comics Presents #5
Miles Morales Spider-Man #6
Moon Girl And Devil Dinosaur #43
Mr. And Mrs. X #11
Runaways #21
Shuri #8
Silver Surfer Epic Collection Volume 13 Inner Demons TP
Spider-Man Sinister Six TP
Star Comics Planet Terry The Complete Collection TP
Star Wars Age Of Rebellion Jabba The Hutt #1
Star Wars Galaxy's Edge #2 (Of 5)
Star Wars Legends Epic Collection The Rebellion Volume 3 TP
Tony Stark Iron Man #11
Unstoppable Wasp #8
Venom #14
War Of The Realms Journey Into Mystery #3 (Of 5)
War Of The Realms New Agents Of Atlas #2 (Of 4)
War Of The Realms Punisher #2 (Of 3)
War Of The Realms Strikeforce The Land Of Giants #1
War Of The Realms Uncanny X-Men #2 (Of 3)
Wolverine Infinity Watch #4 (Of 5), $3.99
X-Force #8
NOBROW – FLYING EYE BOOKS

Hilda And The Nowhere Space Netflix Tie-In Novel HC
ONE PEACE BOOKS

Rising Of The Shield Hero Volume 11 GN
ONI PRESS

Invader Zim #43
Spectacle Volume 2 GN
PAPERCUTZ

Loud House Volume 6 Loud And Proud HC
QUIRK BOOKS

Manfried Saves The Day GN
SCOUT COMICS

SILVER SPROCKET

TITAN BOOKS

Warlock Holmes The Sign Of Nine MMPB
X-Men The Dark Phoenix Saga HC
TITAN COMICS

Best Of Star Wars Insider Volume 9 The Original Trilogy TP
Life Is Strange TP
Secret Life Of Pets #1
TOKYOPOP

Futaribeya Manga Volume 4 Room For Two GN
TOON BOOKS

Comics Easy As ABC SC
Trip To The Top Of The Volcano With Mouse SC
UDON ENTERTAINMENT

VALIANT ENTERTAINMENT

VERTICAL COMICS

Kino's Journey The Beautiful World Volume 2 GN
My Boy Volume 4 GN
VIZ MEDIA

Children Of The Whales Volume 10 GN
Mobile Suit Gundam Thunderbolt Volume 11 GN
Ooku The Inner Chambers Volume 15 GN
Platinum End Volume 8 GN
Ran And The Gray World Volume 3 GN
Urusei Yatsura Volume 2 GN
WILLIAM MORROW

Nice And Accurate Good Omens TV Companion HC
YEN PRESS
Forbidden Scrollery Volume 7 GN
Kakegurui Twin Volume 2 GN
Kiniro Mosaic Volume 9 GN
Shibuya Goldfish Volume 4 GN
Sword Art Online Hollow Realization Volume 3 GN
Tales Of Wedding Rings Volume 6 GN
Trinity Seven The Seven Magicians Volume 16 GN
ZENESCOPE ENTERTAINMENT
Gretel #3 (Of 5)
Oz Heart Of Magic #2 (Of 5)
---
The premise is a kid finds a phone that, when he dials it, turns him into a random hero, all of which are at least somewhat terrible or hilariously cliche.↩