The SKTCHD AWRDS: The Creators of 2019 (Part Three)
Day three of the SKTCHD AWRDS is here, and today, we're getting a bit more outside the box with the picks. As a reminder, this week is all about my favorite writers, artists, colorists, letterers, etc. etc. from the year of comics, with five coming each day until Friday. It's not just my picks for the "best" or "favorite" creators, though. There's no way I'd do that. I've created unique awards for every creator and title I'm featuring during this effort, making for a comics awards show unlike any other. It's like the Eisner Awards, but driven by a man mad with power and with completely improvised award categories.
You might be wondering, "How did David determine the winners of these clearly very important awards?" Great question, fictional reader. The short answer is I read a lot of comics, made a really big list and then fine tuned it from there. That's about it, but this committee of one believes I'm onto something here. Let's get to the next group of five – which will continue from the first and second waves in alphabetical order based off last name – with five more coming each day this week.
Have other favorites you think I missed? Get to the forums and let me know! I am CERTAIN I forgot someone I love because these efforts are impossible to get perfectly right.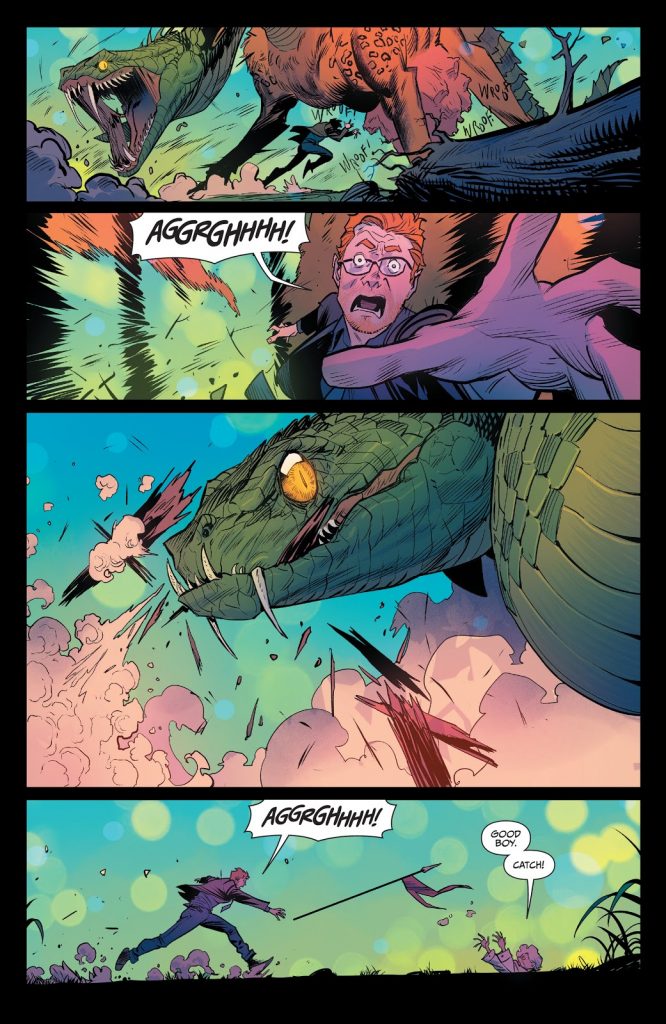 The Art Team of the Year Award: Dan Mora + Tamra Bonvillain (Once & Future)
It was a fierce competition for the Art Team of the Year award. For this category, I wanted to find the artist and colorist I felt elevated each other's work the best, and it was the only one that I had before the creators. I wanted to focus this one on the collective rather than the individual, and so it made sense to reverse engineer the result.
But as I started digging into it, it became pretty obvious to me: it had to be Dan Mora and Tamra Bonvillain for Once & Future. I already touted the pair in my art feature interview with Mora, but they deserve far more acclaim as a partnership than I gave even there. Few artist and colorist collaborations result in the highs that this one does, as each issue of Once & Future is a tour de force that sees this pair elevate each others work in astonishing ways.
Mora's line art has never popped like this, as Bonvillain knows just how to bring the figures and world to life in a way that accentuates his efforts. And while Bonvillain has other, notable partnerships – I'm particularly fond of her work with Ramon Villalobos – there's something about this story and Mora's line art that just makes her colors sizzle. When I first saw preview pages for the first issue of this series, I knew I had to read it just because of how these two artists made each other's work sing.
And the wild thing is, to my knowledge, this is the first time the pair has worked together. Amongst the other competitors for this category, that's truly rare, as I had considered names like Jamie McKelvie and Matt Wilson, Cliff Chiang and Matt Wilson, or Russell Dauterman and…Matt Wilson. 7 Those are all long-time partnerships. But Mora and Bonvillain are seemingly first time teammates, which makes it this effort all the more amazing. I hope they keep working together for a long time, because there's just something about this pair.
The rest of this article is for
subscribers only.
Want to read it? A monthly SKTCHD subscription is just $4.99, or the price of one Marvel #1.
Or for the lower rate, you can sign up on our quarterly plan for just $3.99 a month, or the price of one regularly priced comic.
Learn more about what you get with a subscription