The SKTCHD AWRDS: The Creators of 2020
Now that the Creators of 2020 portion of The SKTCHD AWRDS have wrapped, I thought it'd be good to share the totality of them in one place. And that's here, right now! So for those that missed them earlier in the week, you might not know that instead of ranking creators or anything like that, I give them something far more serious: seemingly arbitrary awards that are totally real and legit, I don't care what anyone says.
These awards are personalized and reflective of what I want to say about each creator, and are meant to highlight that this isn't a "Best Creators or Comics of 2020" thing, but a showcase of the people and releases that made this the year what it was for me. Because of that, when I say creators, I mean basically any role in comics, as today celebrates a trio of editors, two writers, a letterer and a colorist. Anyone who plays a part in the making of comics was eligible. Additionally, I'm only considering work done in comics released in 2020, whether that's single issues, trades or graphic novels. 1
And the good news for you all is these awards, now that they're in one post, are open to non-subscribers. Want to check them all out? You now can! Give them a read below, and hey, if you enjoy them, consider subscribing to support SKTCHD going forward! But let's get on with the show. To the awards!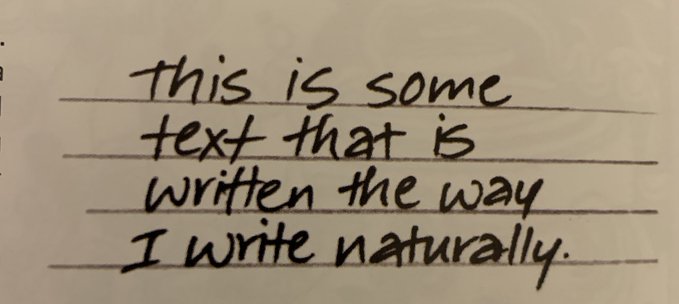 The Line of Best Fit Award: Aditya Bidikar (Afterlift, Blue in Green, Giga, Grafity's Wall Expanded Edition, Home Sick Pilots, A Map to the Sun)
I was reading the Expanded Edition of Grafity's Wall, a rerelease of Ram V, Anand RK, and Aditya Bidikar's excellent graphic novel that dropped this year, when I came across two pages from Bidikar explaining his hand lettering process for the series (which you can see part of above). It reveals both why and how he decided to go that route. It's a fascinating breakdown of a letterer's process, and honestly one of my favorite parts of an already very good comic. But it's relevant to this award not just because it's one that goes to Bidikar, but because of how it showcases the thought that goes into each and every one of his projects. Grafity's Wall isn't the exception, it's the rule to his craft, even if not every comic Bidikar letters is done in that way.
You look throughout his varying projects from the year, including Grafity's Wall but also its creative team's follow up in Blue in Green, Afterlift with Chip Zdarsky and Jason Loo, Giga with Alex Paknadel and John Lê, A Map to the Sun with Sloane Leong, as well as the recent debut of Dan Watters and Caspar Wijngaard's Home Sick Pilots, 2 and you find an artist who finds the right solution for each project no matter what the situation calls for. It all feels organic, matching the linework of the art and the weight of whatever world we're in perfectly. There's no disconnect; Bidikar pairs everything so well it all feels part of a whole.
I remember years ago chatting with Steven Finch, aka Fonografiks, when the veteran letterer said this about his work that I complimented, "It's generally the letterer's aim to go unnoticed, so I may not have done my job as well as I thought." I think about this a lot when I consider the work of a letterer. Whether or not Bidikar agrees with that sentiment is uncertain, but I will say this: I feel like what Finch meant is reflected in what Bidikar accomplishes every time he letters something new, and that's managing to find a solution that just feels right, as if it's the only answer for this specific project. That's not to say that Bidikar doesn't bring style to the craft, as there's so much life to his work. But it feels like he's taking a test that no one knows the answers to and yet he always manages to pass with flying colors.
He's standing out by fitting in, with plenty of style to spare. There's a little space in there for a letterer to do that. That's where Bidikar lives. That's where he thrives.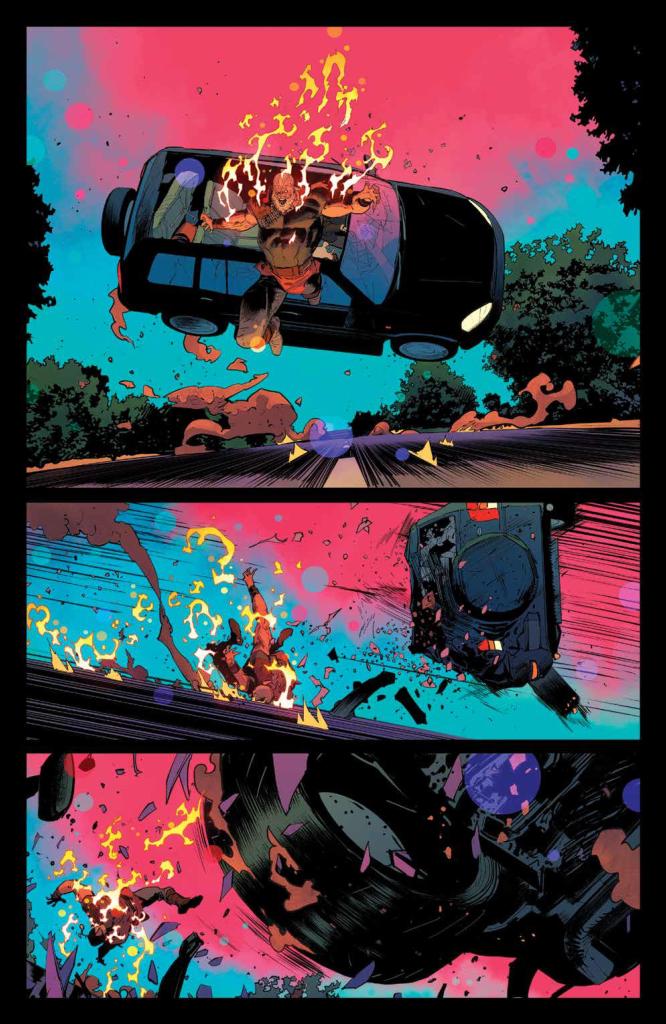 The Storyteller Award: Tamra Bonvillain (Once & Future, The Low, Low Woods, Ludocrats)
There's just something about a comic Tamra Bonvillain colors. There's a feel, an energy, a vibe to it. Whether you're talking the spookiness of the British woods in Once & Future or the dark corners of rural Pennsylvania in The Low, Low Woods, Bonvillain is one of the most gifted colorists in the business when it comes to making you feel something without you necessarily understanding why you do. She's a maestro of our emotions with each and every color choice she makes.
Something people often don't think of when it comes to the colors of comics is it, like the writing or line art, is storytelling. The hues chosen for a background, the lighting on a character, the overall palette, the rendering, everything. The decisions that are made when it comes to how a comic is colored will change how you feel about what you're reading, maybe without you even realizing it. That's what Bonvillain is great at. The subtlety of emotion, the potency of a moment, the connection we feel.
Obviously each of her collaborators are gifted in their own regard, but I don't think it should be any surprise that her artistic partners – people like Dan Mora, Nick Derington and Ramon Villalobos – have seen so much acclaim in recent years. They're constantly being shown in their best light thanks to Bonvillain, as they – and readers – can trust that she will make the right choice for the story no matter what it calls for. Because she's a storyteller, and a damn good one at that.
Want to learn more about Bonvillain's work? Listen to her recent appearance on Off Panel where we discussed her coloring, career, and more.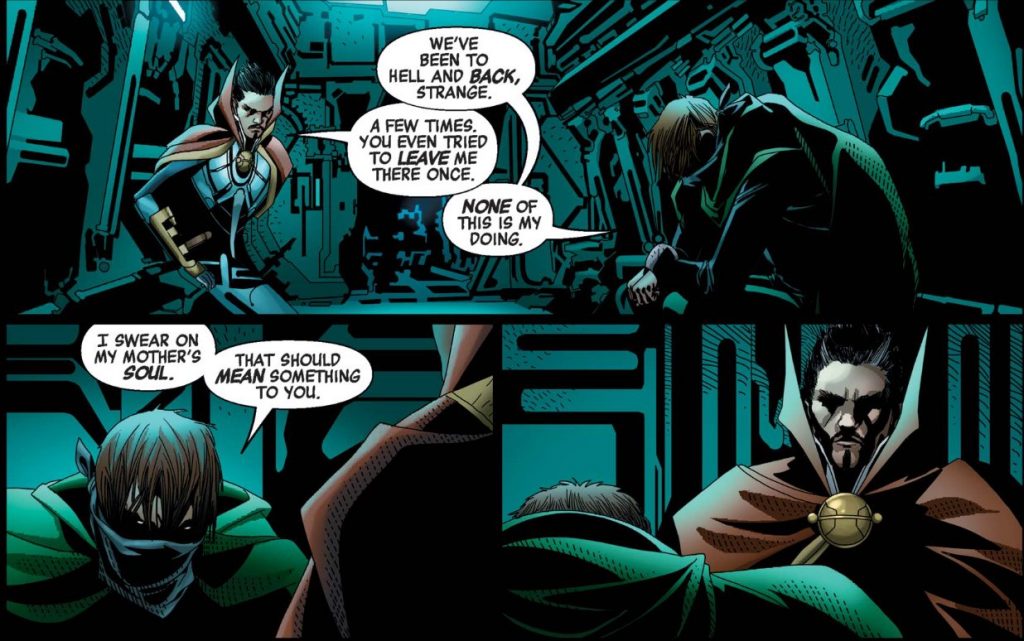 The Callback Award: Christopher Cantwell (Doctor Doom, Iron Man)
While Christopher Cantwell has written many good things, not all of which are for Marvel (i.e. She Could Fly at Dark Horse, AMC's Halt and Catch Fire), I'm focusing on his Marvel work for this point. Both his Doctor Doom and Iron Man runs have been very good. I expected that to be the case, if only because both Doom and Tony Stark are comparable figures to Halt's Joe MacMillan: they're geniuses often ruined by the internal push for greatness that fuels them. And that is true. Cantwell writes a mean Doom and Stark, and that's not a character-based statement. He's just good at it.
But that's not why Cantwell made the list.
The thing that really impresses me about Cantwell's work on Marvel titles is his rare ability to call back to the history of the characters without getting overburdened by it. The past is present, but the present isn't defined by the past. Take that trio of panels above from Doctor Doom #2 3 as an example. If this is the first comic you've ever read, you'd understand what Doom is saying because it's implied history. It says Doom and Doctor Strange have a bond from their past, and it works in isolation. But if you've read Roger Stern and Mike Mignola's tremendous Doctor Strange & Doctor Doom: Triumph and Torment from 1989, you know that this means everything to Doom.
This might not seem like something special, but it's a characteristic that Cantwell utilizes throughout all of his Marvel work at a level few match, with really only Al Ewing topping him in the current stable (and Ewing tops everyone in everything, basically). And his comics feel like rich texts because of it, conversations with the history of Marvel comics but all in service to what's happening on the page. It's one of the most impressive single characteristics from any creator of 2020 in my book. Big fan.
The Idea Men Award: Mark Doyle, Andy Khouri, Chris Conroy and DC's Black Label Editorial Team
While I'm not ready to commit to such a statement, if I were to name a single entity as my publisher or imprint of the year, it very well might be DC's Black Label. This is an idea that shocks me given that I was once rather outspoken against the name, if not the content, but hey, I calls 'em as I sees 'em. And, not to get into spoiler territory for next week, but a shocking amount of my favorite comics of the year came from the broader Black Label world, whether it's the core Elseworlds-like superhero line or Joe Hill's Hill House pop up. I was quite the fan of the work going on there.
More than anyone, line editors Mark Doyle, Andy Khouri and Chris Conroy – as well as assistant editors Amedeo Turturro and Maggie Howell – were to blame. Their work in bringing a wide assortment of titles to life, casting creative teams and then giving them space to find the best stories possible, was essential to making it happen. While you might think this is a celebration of darkness, as that's how many people think of the Black Label line, the bulk of the line's best titles were about finding light within the dark in some way, shape or form. If there's a better, more valuable theme to 2020 than that, I don't know what it'd be.
The wild thing is two thirds of this crew was let go in DC's Warner Bros. fueled layoffs, as both Doyle and Khouri have now departed (Conroy is still there, doing his thing as well as anyone in the editorial game). It's a genuine shame, because Doyle and Khouri are clearly people who have a great feel for how to get the most out of the comic form while developing trust with a broad mix of talented creators. That's everything you want out of editors, so their presences will be missed. Which is why it's worth celebrating this exceptional crew, as two of them may no longer be at DC, but both this year and in the past, they represented the very best the publisher had to offer.
For all intents and purposes, Doyle, Khouri and Conroy were DC Comics for me in 2020, which is a heck of a thing. If you're going to go out, you might as well go out swinging, and this trio hit a home run with that last cut.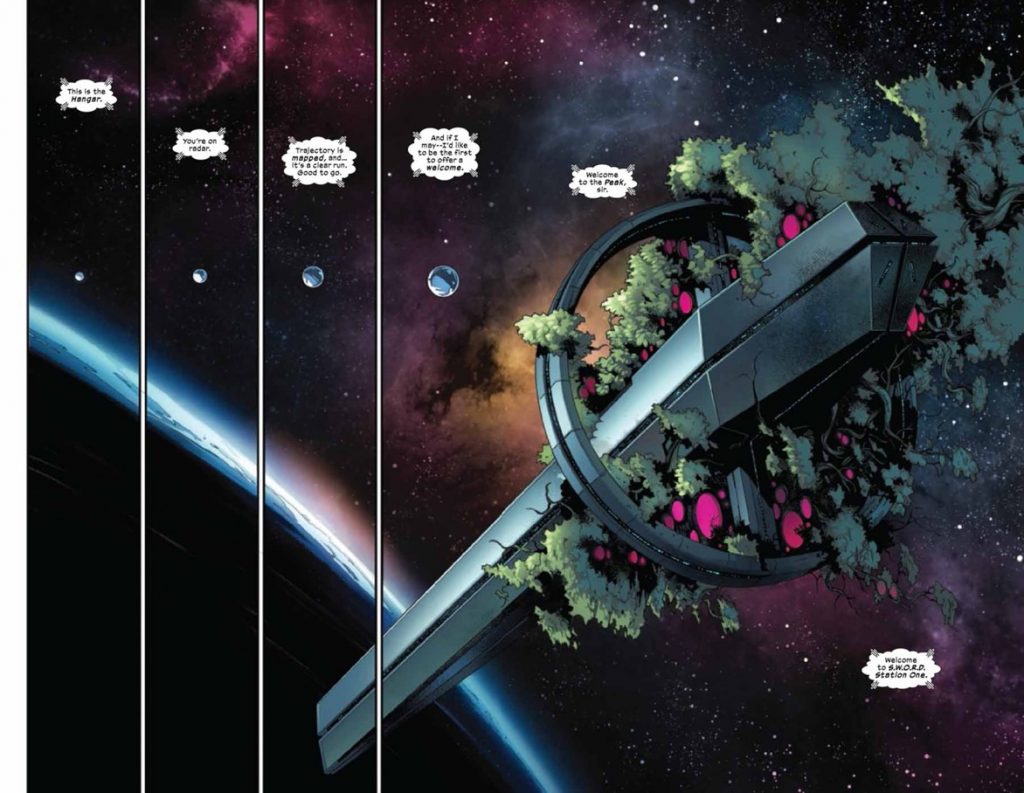 The Writer of the Year Award: Al Ewing (Immortal Hulk, Guardians of the Galaxy, S.W.O.R.D., We Only Find Them When They're Dead)
I might have shown my hand earlier, as I touted Al Ewing in my write-up for Christopher Cantwell, suggesting the virtual certainty of the writer's inclusion on this list. But what you might not have realized is the award it indicated he might take, as that's right everyone! Al Ewing is my writer of the year!
It's a funny award to give to someone who was already one of the best in the business. It's not like Ewing "got better" since last year, with that improvement leading him to this apex. It's that he's now in a position to seemingly define the titles he wants to take on and the corners he wants to own, allowing him to find better fits for his style and ideas that maximize his talents. Al Ewing in 2020 is like a great young athlete who is waiting for their chance to show what they have even though we already knew they were elite in limited time. In 2020, Ewing was given every opportunity to succeed, and instead of just doing that, he thrived.
Just look at the list of titles I listed above. His year was so tremendous that I didn't even bother to list Empyre, the event comic he co-wrote with Dan Slott, despite the fact it was fairly well liked! But the other titles he worked on were more representative of his strengths, as Immortal Hulk approached its endgame by getting into the meat of its core story with the Leader ascendant, Guardians of the Galaxy tore down and rebuilt some of its key elements, S.W.O.R.D. basically reinvented everything about its identity with a glorious retrofitting onto the current X-Mythos, and We Only Find Them When They're Dead was basically Ewing unfiltered to the max, which is saying something.
That's a lot, and those are all big, sprawling stories on top of it. But the thing that amazes me about Ewing is no matter if you're talking space gods or internal battles within a Marvel legend, the scribe never loses the characters at the center of them. To be so big and so small at the same time is a tough balance, but Ewing makes it look easy. Even the cosmic scale is character driven, and it's for that reason you can't help but invest yourself in the stories he writes. They're built on majesty and empathy in equal measures, making us care as our jaws drop.
The question becomes "what's next?" for Ewing, as you could say he's gotten to the point that he's arguably Marvel's strongest writer, even possibly out-Hickman-ing Hickman with S.W.O.R.D. #1 (I say that with much love to Hickman, who I clearly have an affinity for). He's hit a pinnacle for writers in his line of work. Where do you go when you're already at the top?
If Ewing's proven anything in his rise to that position, the answer is clearly, "wherever he wants." Whether it's more of the same or something completely different, I'm here for whatever Ewing has on deck for us in 2021.
Related: Did you listen to Ewing's appearance on Off Panel earlier this year? Learn more about the process behind his work in that episode.

The Builder Award: Gina Gagliano (Random House Graphic's Publishing Director)
While Gina Gagliano's title is the Publishing Director of Random House Graphic, with that likely being reflected on her business cards, I'm not sure if that really does her justice. Gagliano is one of the smartest people in comics, and I'm sure depending on the moment, the work she did this year varied wildly from curator or tastemaker to editor or marketer. She knows everyone, she has excellent taste, and she knows how to make comics work inside and out.
Because of that, maybe the best way to describe Gagliano is as a builder, with Random House Graphic's debut line in 2020 – including gems like Trung Le Nguyen's The Magic Fish and Thom Pico and Karensac's Aster and the Accidental Magic – being a reflection of the work her and the fantastic team she's built at RHG (including Whitney Leopard and Nicole Valdez, to name just two). it takes a savvy, clever lead to create a new line in a crowded market like the young readers graphic novel world and still stand out. You can't just acquire some books and hope for the best, especially in a year like this. You have to create plans and be ready to remix them on a moment's notice if everything comes crumbling down.
That's what Gagliano did this year, building a line and a new empire at the same time. It's a heck of a thing, with assuredly even more greatness still to come in the future.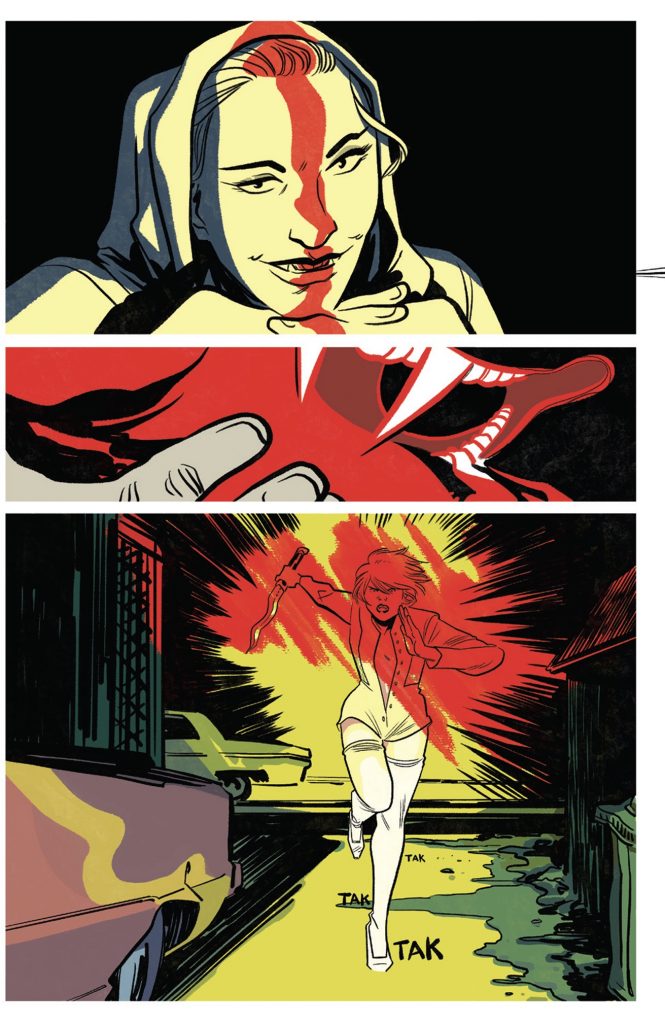 The Elevator Award: Erica Henderson (Dracula, Motherfucker!)
I've touted Erica Henderson many, many, many times on SKTCHD before. Henderson is undoubtedly one of my favorite artists, with her character acting and comedic timing being amongst the best in the game for me. So her making the list probably isn't that much of a surprise. Her not making it might have been more of one.
But the award I'm giving her underlines that even if her appearance here was fait accompli, 2020 wasn't just a usual year. That's because Henderson, already a great, raised her game several levels in my book with the graphic novella her and Alex De Campi put together this year, Dracula, Motherfucker!
A lot of what I already loved about her work was apparent here, as her pristine storytelling and remarkable character work showed up on each and every page. But it was her coloring herself and her layout choices that took everything to another level, as slight tweaks to her process resulted in real gains for her work and for us as readers. It's all about impact, and Henderson used color to sear feeling into us as we read while using layouts to build anticipation throughout, resulting in moments hitting us like a stake through the heart. It was part format and part things Henderson had learned in recent years driving this (as discussed when she came on Off Panel this year), but I love the changes. They made a great artist even better, which can be tough to do.
If you're already great, gains are typically negligible, small tweaks often imperceptible to readers. But Henderson took a genuine leap here, and that's because she made bold changes that resulted in wins for everyone, not the least of which was her. That's why she earns the Elevator Award this year. No one elevated their game like she did on Dracula, Motherfucker!, resulting in a gorgeous, potent read that surpassed my already high expectations for her.
Bonus points go to Henderson for the above page, which maintains its position as one of my favorite pages of the year, even if I cannot even explain why. I love it so!
The Little Things Award: Jonathan Hickman (X-Men, assorted other X-Things, Decorum)
There are a lot of places you could start when you consider the year that Jonathan Hickman had, most of which are immense moments of wonder. The totality of "X of Swords." The Davos issue of X-Men. Each page of outrageously titanic ideas in Decorum. Hickman's a guy who isn't lacking in plans or big ideas, and they were on display in 2020, as per usual.
But when I think of Hickman's year, the first thing I remember is Explodey Boy.
Now, if you didn't read Empyre: X-Men, you probably have no idea who I'm talking about. But Explodey Boy, for my money, was the star of the mini-series, as its climax – both narratively and from an emotional standpoint – came down to the resurrected version of the character and his zombiefied original having a chat in the midst of utter chaos on Genosha. It's a small moment, as it's just the two talking about what the resurrected version's life is like in Krakoa, but the choice to take four pages from an event tie-in to have these two iterations of a new character converse is what I want to focus on here.
Hickman has always been known as the big idea guy, the man with the plan, the architect of architects. I remember when the rumor he was going to take up the X-Men mantle was out there, some doubted he could do it well. His work lacked heart, some said. But if you read Hickman's work, you start to realize that the big ideas are always built around the little ones, whether it's Explodey Boy's self-reflection, the menace of the conversations in X-Men #4, Nightcrawler and Cyclops digging into religion in X-Men #7, or Imogen Smith-Morley chatting with Mr. Morley over a nice cup of tea. These small moments are foundational elements for Hickman, as they are what make the biggest beats matter, and he is so, so good at them.
2020 was a wonderful showcase for that skill set for Hickman, and a reminder that the esteemed writer thrives at the little things, even if some forget that on occasion.
The Curator Award: Joe Hill (Basketful of Heads, Plunge, Locke & Key)
While the bulk of the actual curatorial work I'm touting here likely took place in 2019 – if not 2018! – the result of all that effort was fully realized in 2020, as Joe Hill's DC Black Label imprint Hill House completed its run this year. And what a run it was! With apologies to Daphne Byrne, a fine comic even if didn't compare favorably to its peers, four of Hill House's releases were stone cold killers, giving Hill an 80% Stone Cold Killer Rate, or SCKR for those looking to abbreviate.
That's incredible! Just about unbeatable! Does it help his case that Hill was like, "You know who would be great at writing this comic? ME!" with two of them, and he was in fact correct? Yes. That's sort of cheating from a curatorial standpoint. But the point is, I loved this line, not the least of which was for Hill's own work on his duo of titles for it in Basketful of Heads and Plunge. They're two wildly different books, with the former feeling like an 80s revenge slasher film with a badass, Norse axe-wielding heroine at its front, while the latter is part Cthulhu, part aliens invade, part "what would Stuart Immonen be good at drawing?" and a boss of a comic because of it.
But they both excel because of Hill's strengths at characterization, idea generation, and putting his collaborators in a position to succeed. He did much of the same in his Locke & Key work for the year, as In Pale Battalions Go was a remarkably strong entry into its larger mythos. But the name of the game for Hill was his self-named line. I was skeptical going in, and was proven woefully wrong in the end, as the five hardcovers I own suggest. It was a hell of a run, and something I'd love to see more of going forward. Hill clearly has an eye for this kind of thing, so let's use it, shall we?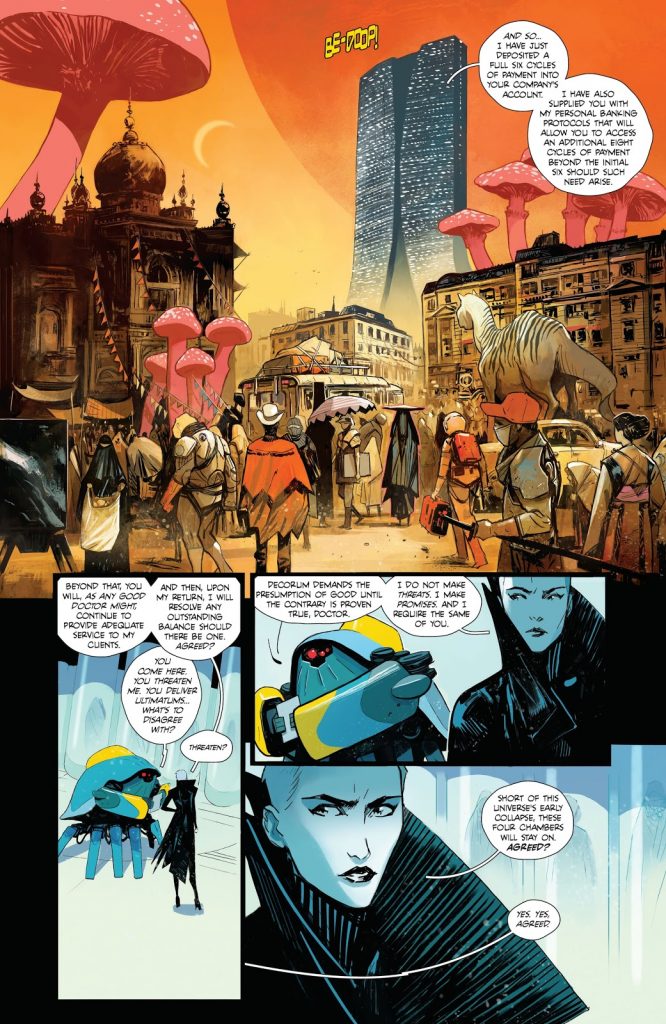 The Artist of the Year Award: Mike Huddleston (Decorum)
There was no debate here.
As soon as I wrote Huddleston's name down, which was one of the first on my list, if not the first, I knew what his award would be: Artist of the Year. There just wasn't any other choice. Consider any attribute you want an artist to do well and you'll find Huddleston doing that as well as anyone in comics in Decorum, his collaboration with writer Jonathan Hickman.
Storytelling? Huddleston's a master. Finding the right answer for each element of a comic? He switches styles faster than I change clothing during the pandemic, which is very, very fast, killing it at each of them. Creating iconic imagery? I can immediately envision a bevy of them from the title's six issues. Designing memorable characters and environments? Heck yes.
I mean, Decorum's arguable co-lead, the well-mannered assassin Imogen Smith-Morley, is basically worth the award by herself. Every appearance is a statement as much as art, with us learning so much about her from costuming choices to posture and gestures to how she gets down to her business. Even how Huddleston decided to realize her personal, private engagements with Mr. Morley says so much about her, with his pencil heavy approach bringing a clarity and beauty to the scenes that match her personality to a tee. 4
Huddleston has long been one of the most underrated artists in comics. But now that he found a project that allows him to fully realize his strengths, we're left with one undeniable idea: he's the best there is at what he does, at least as far as 2020 is concerned.
Interested in learning more about this tremendous artist? Read Huddleston's own thoughts on his work and process in our art feature interview from earlier this year.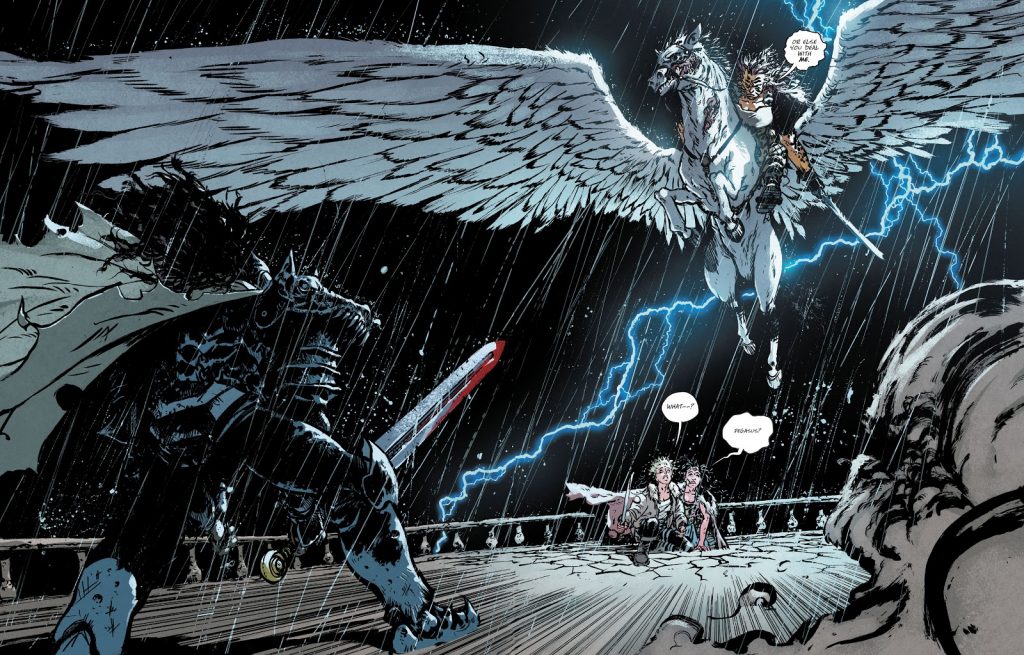 The Showstopper Award: Daniel Warren Johnson (Wonder Woman: Dead Earth)
I've made this comment about Daniel Warren Johnson's work before, but it's worth repeating here: every release from DWJ is an event comic. Wonder Woman: Dead Earth? It's an event comic. His commission drops? Event comics. The announcement that he's drawing Beta Ray Bill? Also an event comic. That's because Johnson puts so much thought and consideration into each and every piece he does that everything feels like its biggest and best version possible, with the cartoonist contemplating all angles to his work no matter if it's a giant DC release or a sketch for someone.
Just take that piece above. It's from Wonder Woman: Dead Earth #2, and it features Cheetah riding the damn Pegasus to save the day, and it feels like the biggest moment in comics history as you read it (particularly because of that jumbo sized Black Label format). Then you realize that Dead Earth has something like ten moments like this, and all of his commissions feel like that as well. Johnson is a remarkable storyteller, and someone who gives his stories so much heart and depth. But no one in comics is the showstopper DWJ is. 2020 didn't prove that – it was already a thing – but it solidified his case.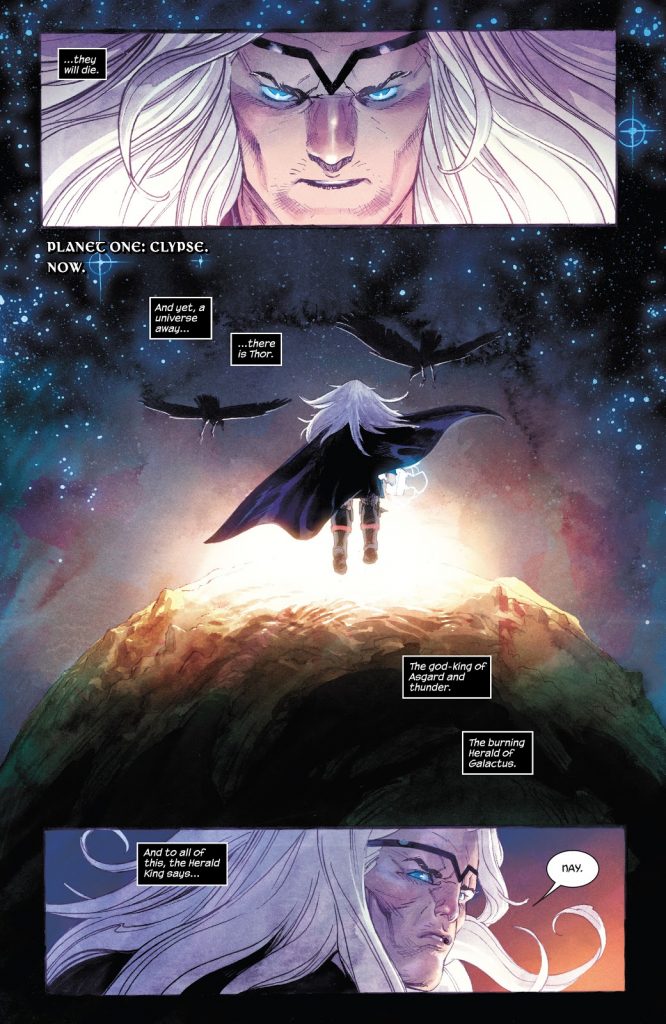 The Going Big Award: Nic Klein (Thor)
If DWJ is the showstopper of the year, then Nic Klein is the king of going big with his art. It's been incredible to see Klein unleashed on a title of the scope of Thor, as we've seen the artist bring situations to life where even characters like Galactus look minuscule in comparison. The scale he's able to achieve is honestly impressive, and it feels completely fitting to a title like Thor, a god amongst men.
But the thing that really makes Klein's art pop isn't the scale. It's that he never loses sense of the moment when he's doing it. Size alone does not create impactful art. You need to be able to tie that scale to feelings of foreboding, of wonder, of power, of majesty. And Klein does that as well as anyone, constantly delivering huge moments that feel grounded in the story, delivering the right mix of potency and stakes that we need as readers to feel the totality of its impact.
It helps a lot that he has an ace like Matt Wilson coloring him, as the page above doesn't have the same impact without Wilson's ability to imbue any scene with wonder. But Klein's gifts to make the small seem big and the big seem enormous is what makes this Thor run work as well as it does. The end of everything doesn't connect if you don't feel the weight of everything. Few do that better than Klein, and he proved that time and time again in 2020.
Klein and I jumped on the phone earlier this year to talk about his art. The art feature interview it resulted in was a gem. I highly recommend it.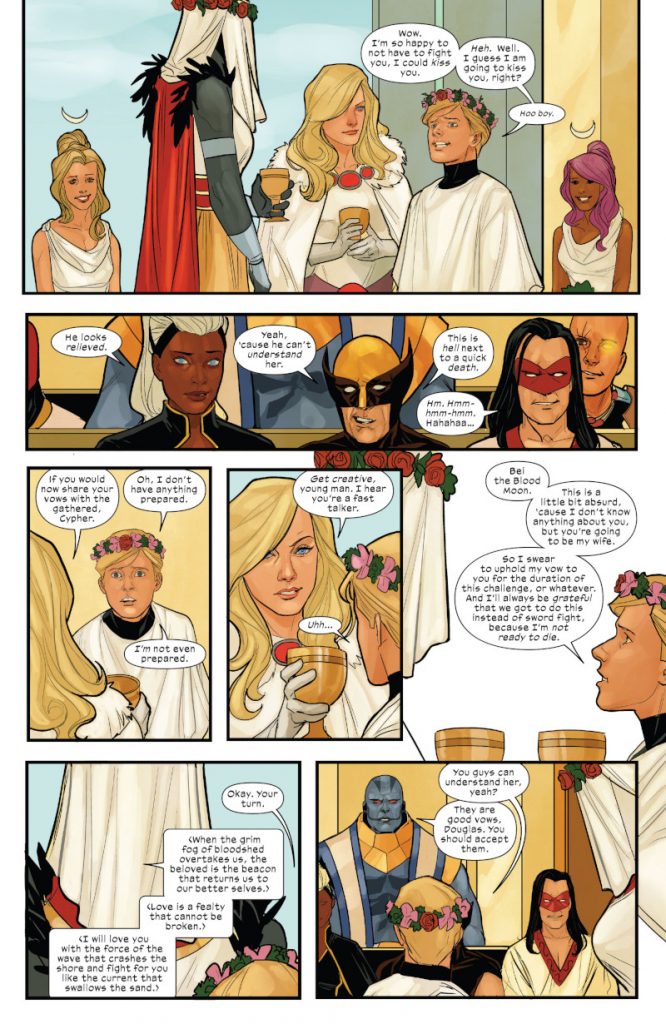 The X-MVPs Award: Pepe Larraz, Phil Noto, Rod Reis, Marte Gracia and the other Artists of the X-Line
While there are many standouts in the current X-Men line, I wanted to give a special award to the real MVPs from this year: the assorted artists who make it look so dang good. Whether you're talking Pepe Larraz batting cleanup, Phil Noto being a Swiss Army Knife that can be used anywhere and still thrive, Rod Reis' standout performances in both New Mutants and X-Men, Marte Gracia tying everything together with his colors, Valerio Schiti's virtuoso S.W.O.R.D. debut, or even Tom Muller's design, the one constant the X-Men line has locked in is it's going to look good.
While there are a bevy of other tremendous performers from the year in this regard, as everyone from Carmen Carnero pinch-hitting on Hellions and Joshua Cassara's performance on Wolverine #7 was a killer, these books being so, so, so good looking is a consistent element other lines in comics miss out on. Credit to the line editors for recognizing the importance of this, because by and large, it's been a thing, and a very good one at that.
That said, I do want to single out one of these artists. There's a reason Pepe Larraz has become the guy whose number is called every time there's a momentous story to be told. The trio of pillars that held up the X of Swords event – the one-shots in the beginning, middle and end in Creation, Stasis and Destruction – were Larraz's to own, and staked a fierce claim to the "best superhero artist right now" mantle with his performance. Equal parts enormity and personal, Larraz has the rare gift to nail the macro and micro with equal ability, and I've loved seeing his elevation within this line since House of X. He deserves all the praise in the world, and he's getting it now.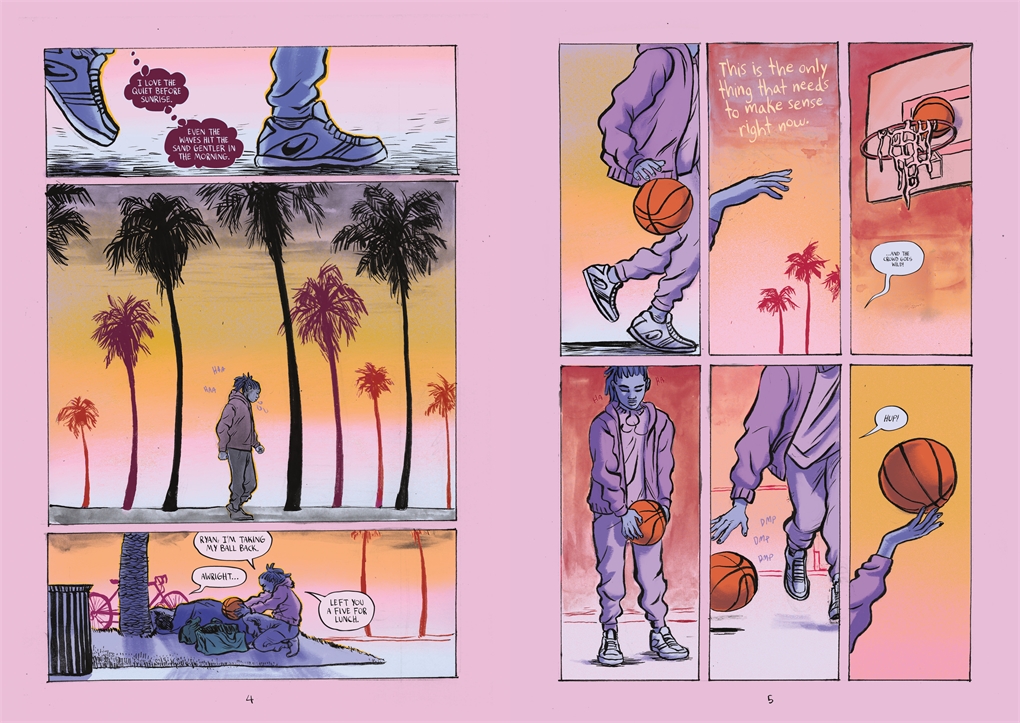 The Rainbow Award: Sloane Leong (A Map to the Sun)
The first thing I think of when I think of Sloane Leong's graphic novel A Map to the Sun is its colors. Whether you're talking about her colors in the comic itself, the unconventional hues of the pages themselves, or the rainbow look of the book when its closed and you're looking at its collected pages, this is a book that is vibrant in so many different ways.
The blur of colors feel like a perfect representation of the torrid emotions that reside within the pages of this graphic novel, a strong work from an excellent cartoonist who leaves no creative stone unturned. Few books I read this year feel more singularly representative of its creator than A Map to the Sun – even if Aditya Bidikar did deliver his trademark strong lettering work within – because of the vision Leong has for this book, this story, and this collection of characters.
A Map to the Sun is a pure reflection of a cartoonist expressing themselves in all the hues that color our emotions at a certain time of our lives, using each attribute of their project to reflect and underline the narrative and its cast's trials and tribulations. While the writing is powerful and the art is effective, it's those colors that carry onwards with me, not because of what they say, but because of what they make me feel. Leong's someone who, above all, makes us feel. That's a rare talent, and an important one.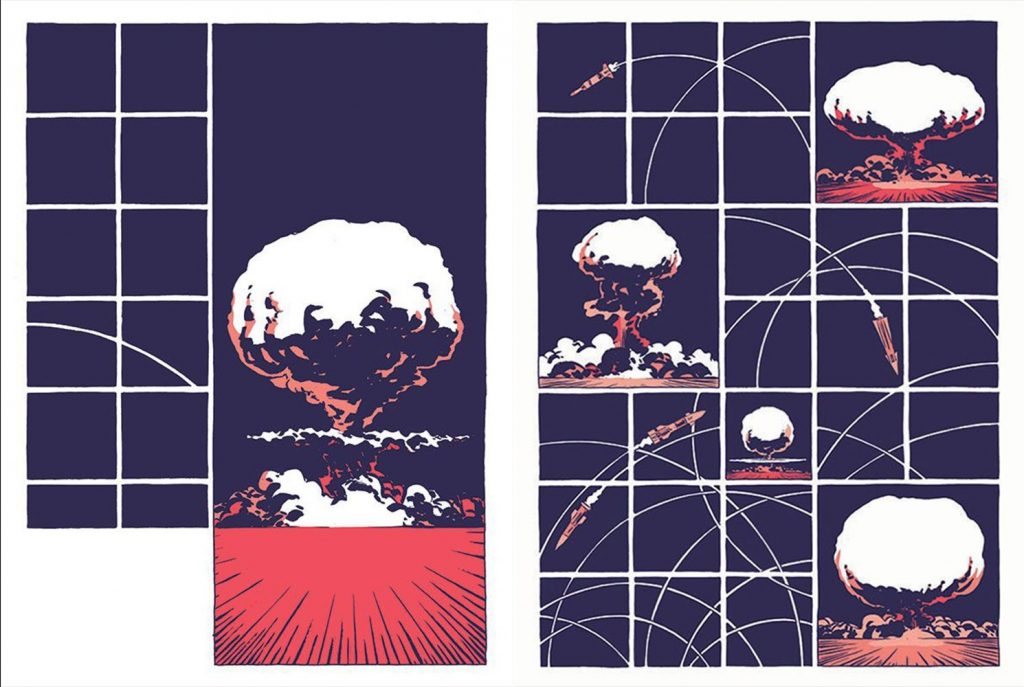 The Out of Nowhere Award: Jesse Lonergan (Hedra, Planet Paradise)
I'm not sure which of his 2020 releases I liked more, Hedra or Planet Paradise, as they each had their own strengths and charm. Hedra, with its oversized pages filled with remarkable storytelling, unexpected humor, and wildly imaginative layouts. Planet Paradise, with its atypically small pages loaded with an A+ lead, its droll humor, and its evolution on Hedra's streamlined delivery (this time with words!). It's hard to pick between the two.
The fact that I'm doing that at all, though, is a heck of achievement on its own. Because you know what? I had genuinely never heard of Lonergan before this year! I mean that with absolutely no disrespect, but it's true: he was like summer television on 1990s NBC for me – he's new to you. So for him to release two strong contenders for my favorite comics of the year in one calendar year, each of which was delivered with its own undeniable and original charm, was one of the unexpected delights of the year in comics for me.
But if those two works were any indication, there's a whole lot more goodness coming our way in the future from Lonergan. After those two dynamite releases, I know one thing: the only thing that would be unexpected about them is if I'm not buying and reading them day one.
Lonergan joined me on Off Panel to talk about all of this earlier this year. It's a good episode with a heck of a talent. Listen up if you missed it!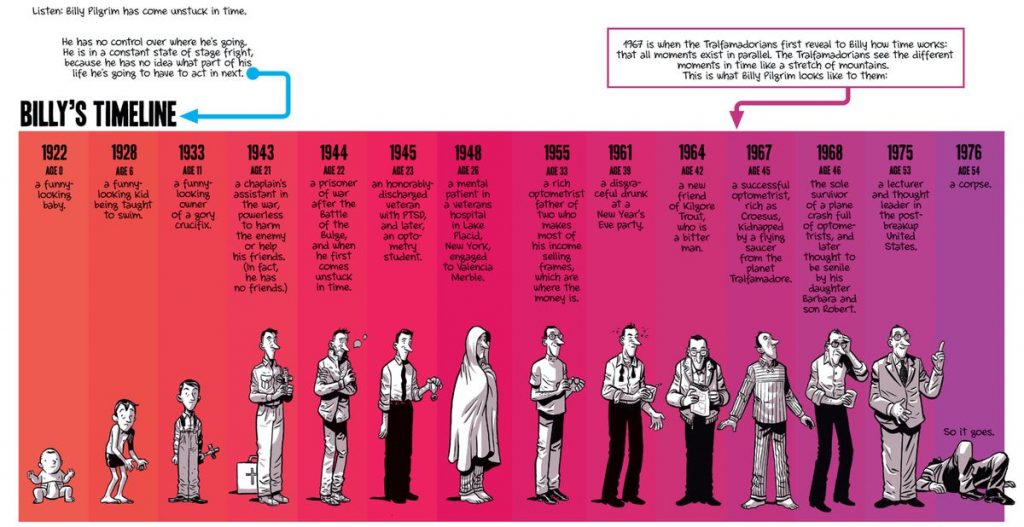 The Master Award: Albert Monteys (Slaughterhouse-Five)
If it weren't for Mike Huddleston, the Artist of the Year Award would have been Albert Monteys to lose. His work in Slaughterhouse-Five was that good, even if you just consider the line art from the book. He brings unforgettable moments from Kurt Vonnegut's seminal novel – all written for comic form by Ryan North, of course – in astonishing ways, whether you're talking the before and after of the Dresden bombing, anything and everything involving the Tralfamadorians, or Billy Pilgrim's initial abduction. Each page of the graphic novel is lovingly brought to life, with the care of someone with deep love of the story and the talents of an absolute master.
But the staggering thing about Monteys is it wasn't just the line art that was him. It was the coloring in the book. It was the lettering in the book. It was everything that wasn't North, basically. Throughout, each aspect of the visuals aren't just exemplary, they're perfectly complementary to each other. Consider one moment later in the story, where Billy Pilgrim is haunted by a barbershop quartet performing at his 18th wedding anniversary. There's something about their performance that has whammied him, and as he's considering it, the quartet's vocals are all in white speech bubbles. But as soon as he realizes it's not what they were singing but how they looked, Monteys changes it to so the bubbles are a darker color, visually reinforcing how the words don't matter.
Now, I know I'm weird, but that's amazing. That sequence is textbook, A+ comic book craft, with inventiveness and effectiveness leaping off the page. But that's what Monteys brings to every project he takes on. Slaughterhouse-Five was him finding a pitch perfect comic for his specific talents, and he did not waste a page, panel or line within it. A virtuoso, masterful performance, and a bit of a coming out party in America for this rather gifted creator.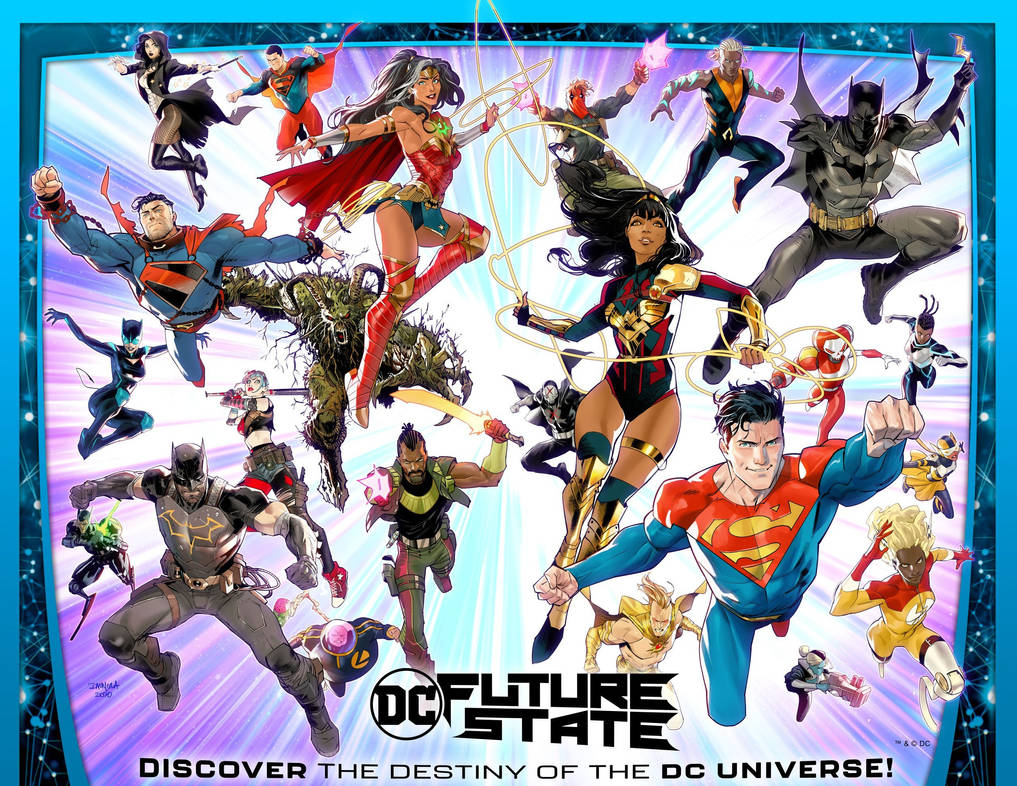 The Next Big Thing Award: Dan Mora (Once & Future)
Dan Mora made my Creators of 2019 list, so maybe this is a bizarre award to give him, but hear me out. When the year began, Mora was drawing Once & Future, a very solid, fairly popular BOOM! series with Kieron Gillen and Tamra Bonvillain. Now, he's still drawing Once & Future, but because he's a maniac, he's also redesigning DC's characters for a new era, he's telling a story with Mariko Tamaki about a new Batman, and, oh yeah, he and Tamaki are teaming up as the new team on Detective Comics.
It was my opinion before that Dan Mora should be the next big superhero artist, because it seemed as if he both had the chops and the interest. It seems the world is catching up, because that seems to be happening.
And it's well deserved, because he's not just a "hot" artist, but an incredibly talented one. Few manage to bring the same combination of energy, storytelling and character acting to a single project, and when you pair all that with a real sense of design, you have a remarkable base to start from. Mora seems to be continuing to build on that base, which is scary for his peers and good for us as readers. Don't be surprised if he's on this list again next year. Heck, don't be surprised if he's the biggest artist in comics next year. I certainly wouldn't be.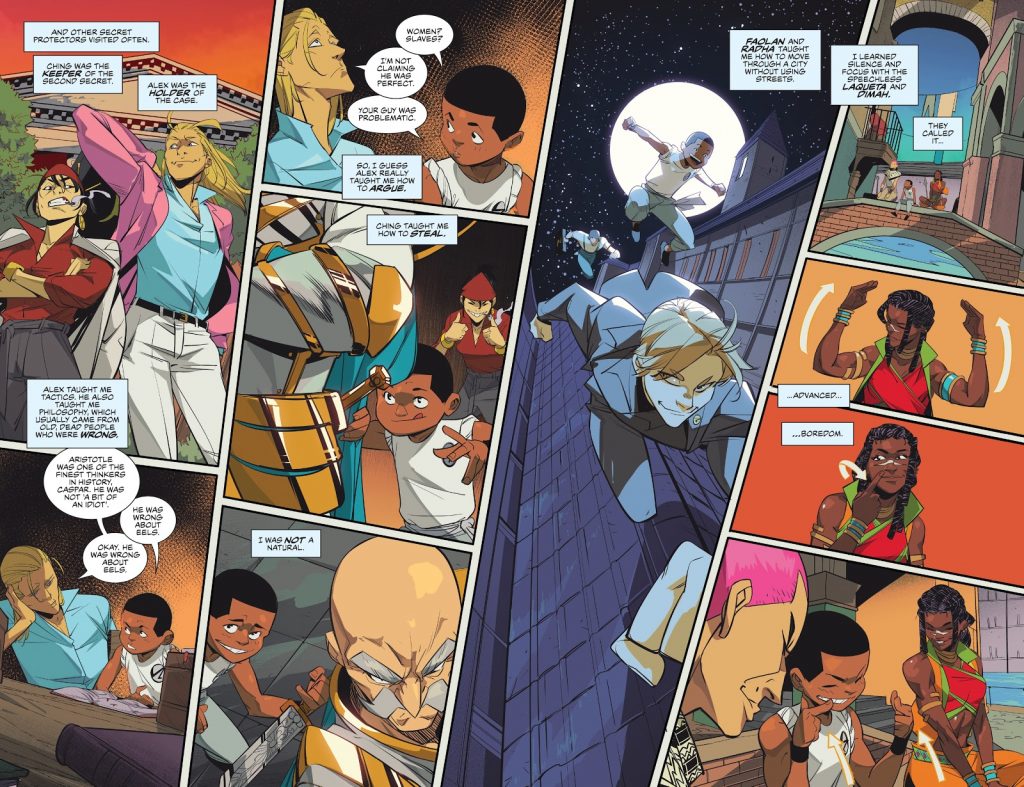 The Life Award: Daniele di Nicuolo (Seven Secrets)
Imbuing characters with a real sense of life is one of my favorite things that comic artists do. If a character feels alive in their own, comic book way, the probability of me connecting with them – and the story as a whole – increases dramatically. A successful artist will be able to do that with a few key players of the cast, giving you anchor points to work with, focal points from which your connection to the title is fostered. That's a real gift if you can do that.
Daniel Di Nicuolo has somehow managed to do that with, as far as I can tell, every single speaking or prominent character in Seven Secrets, the BOOM! series he's working on with writer Tom Taylor, colorists Walter Baiamonte and Katia Ranalli, and letterer Ed Dukeshire. And that's unbelievable. Whether you're a Keeper or a Holder, a good guy or a bad guy, faceless or not, Di Nicuolo has found some nugget to bring each and every character to vibrant life.
I mean, look at that page above. That's a quick breakdown of series lead Caspar's training by varying Keepers and Holders, and each character's energy is bursting off the page, loaded with details and joy that brings them to life. The wildest thing about this gift that Di Nicuolo has is it works even on characters who perpetually wear masks, as the standout character for me is Canto, whose face is covered but feelings rarely are thanks to the artist's incredibly gestural art. It's remarkable.
Seven Secrets is a good book with a whole lot of artists on board. With Daniele Di Nicuolo drawing it, it's a great book, and it's all thanks to the life he brings to the page. Remarkable work, and a real unexpected bright spot for yours truly as a comic reader.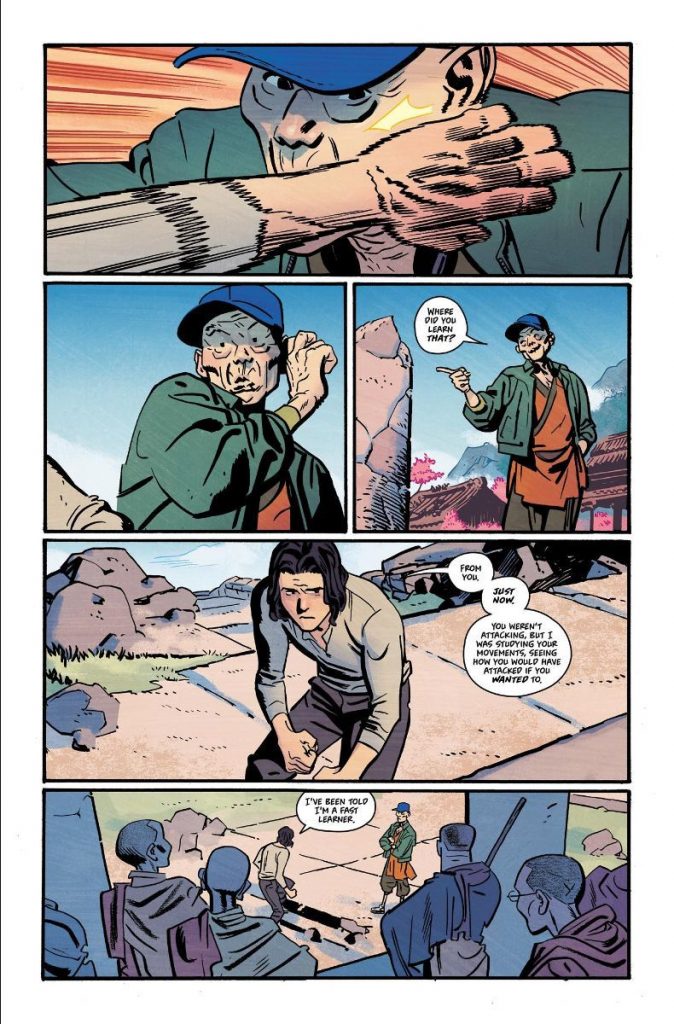 The Best Actor Award: Chris Samnee (Fire Power)
Fire Power is a lot of things – a family drama, a comedy, an action story, etc. – but its foundations are all built off of martial arts stories from yesteryear, albeit with a modern twist. And martial arts are fundamentally built off of movement, both of yours and your opponent, as an appreciation of that is a pathway to victory.
In that regard, it's not altogether different from being a comic artist. While comic art doesn't "move" in a traditional sense, it's all about compellingly delivering the actions that suggest an event transpired, whether that's a reaction to a hilarious joke, your husband's reaction to a question about a former love, or a hand across the face, as demonstrated above in Wei Lun's reaction to series lead Owen Johnson successfully striking him in Fire Power's prelude OGN. If you can understand movement and how you to properly deliver it, you're well on your way to success as an artist, whether that's in comic books or of the martial variety.
While I'm skeptical of Chris Samnee's abilities as a hand-to-hand fighter – sorry Chris! – we know full well how good he is as a comic artist, and that's at least in part because of his ability as a character actor. His appreciation of movement and the before and after of moments helps him be best in class in that regard, and those gifts are on full display in Fire Power. It's remarkable to read that series and just see the faces and the reactions and the movements Samnee is able to deliver, as they're paramount to not just making this story believable, but in making us care about it.
In the hands of Chris Samnee, every character feels real. That's genuinely impressive, and for an original property like this, it's essential. While there are a lot of reasons to appreciate an entertaining gem like Fire Power, Samnee's the biggest, and he proves it each and every issue.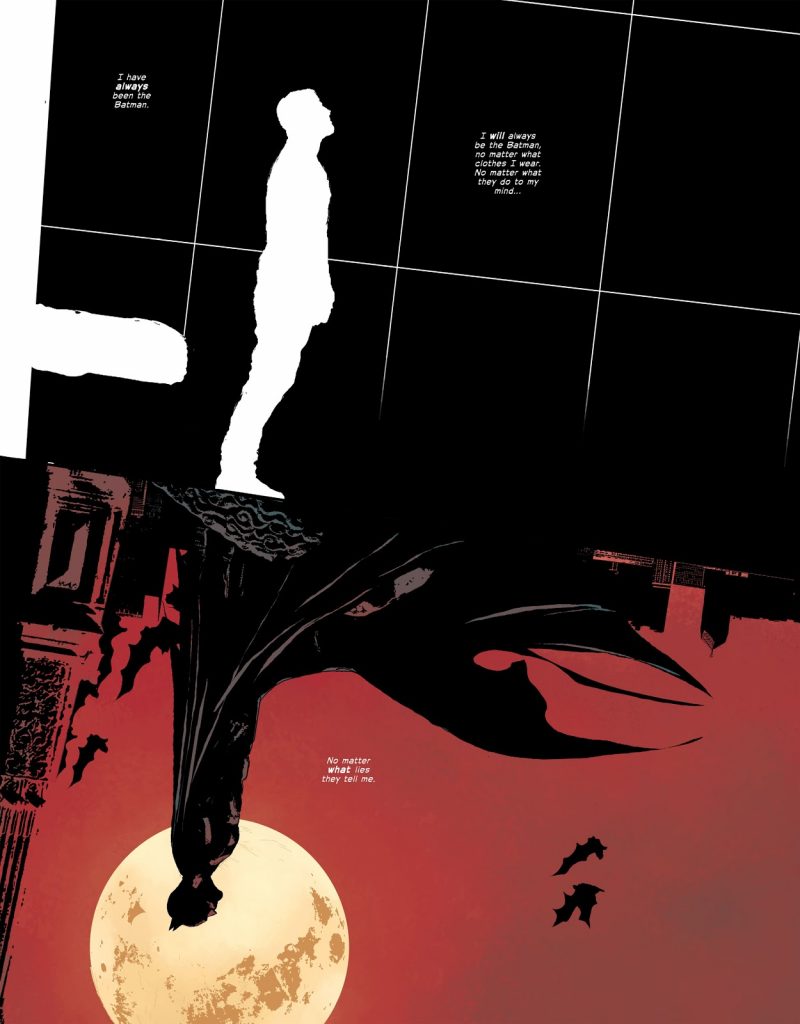 The Flash Award: Andrea Sorrentino (Gideon Falls, Batman: The Smile Killer, Joker: Killer Smile)
Andrea Sorrentino is obviously very good. I mean, look at that page right up there. It's a hell of a thing. That's just what he does. But the thing I want to talk about here isn't necessarily the work itself – which, again, is very good! – but the number of projects I listed above. This year, Sorrentino completed Gideon Falls, finished Joker: Killer Smile, and then did its one-shot follow-up, Batman: The Smile Killer. That's 10 releases this year, with one of them being an 80-page issue.
You might know this, but you also might not, so I want to emphasize something: that's insane. Averaging even a single issue a year would have been a heck of an accomplishment, but effectively doing that while three of them were oversized issues and one of them was a quadruple sized one? It's unreal, especially considering he did it without dropping off at all. Heck, I'd argue his work was even better!
I talked to Sorrentino about his speed in an art feature interview earlier this year, and I got the impression it's something that is brought up frequently. So I hate doing this, as it's a common refrain. But it's such an impressive feat for an artist to both be as good as Sorrentino and as fast. Most artists are one of the two, tops. To be both? Well, that's something worth celebrating.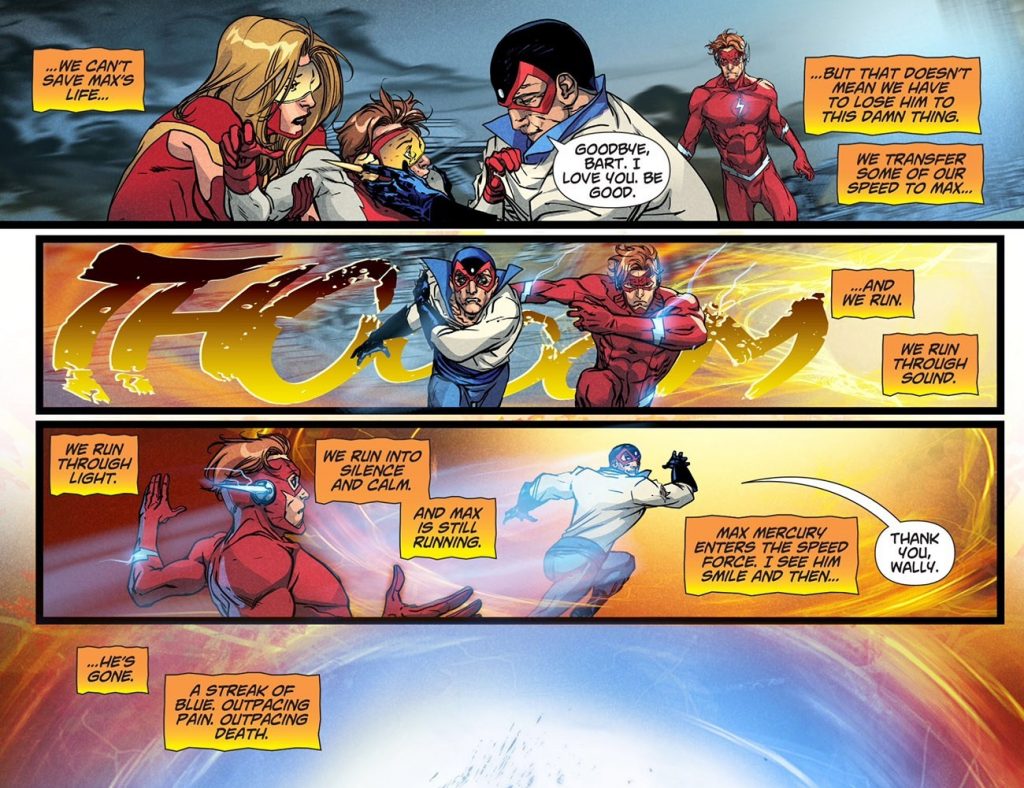 The Jordan Clarkson Award: Tom Taylor (DCeased, Seven Secrets)
In 2018, basketball writer Robby Kalland crafted one of the all-time great tweets. Within it, he talked about Utah Jazz sixth man – although I believe he was with the Cleveland Cavaliers at the time – Jordan Clarkson and his own belief that he's, effectively, the greatest scorer in NBA history despite considerable evidence in the contrary. It was a simple tweet. Kalland tweeted the following:

Since then, this has become shorthand for Clarkson's YOLO attitude about offensive contributions, any time he thinks he can take over a game but it might actually be ill-advised. "It's Jordan Clarkson time" – Jordan Clarkson is a genuine thing on NBA Twitter.
You may be wondering to yourself at this point "What the hell does this have to do with Tom Taylor?" What does an Australian comic writer have to do with the most irrationally confident player in the NBA currently? I'll tell you! Tom Taylor IS Jordan Clarkson, except for one substantial difference. 5 Taylor, like Clarkson, does things that others might consider ill-advised. Telling a story about a zombiefied DC universe and somehow making it about hope. Creating a shonen manga story at BOOM! Whatever Dark Ages might end up being at Marvel. Taylor is the king of the comic book heat check.
The difference between the two, though, lies in their relative capabilities. While Clarkson is a very good scorer, he's not good enough to carry his shot selection. Taylor, on the other hand, is easily capable of making his bonkers ideas pop, as it doesn't matter which alternative universe he's dealing with or property he's reinventing, the guy has the chops to make it happen. And it never ceases to amaze me. I mean, the guy made me care about a club that Solomon Grundy and The Creeper created together. That's insane. All of that sentence. It's just wild.
But that's how Taylor works. When it's Tom Taylor time, it's Tom Taylor time. We're all the better for it. More Tom Taylor time, I say!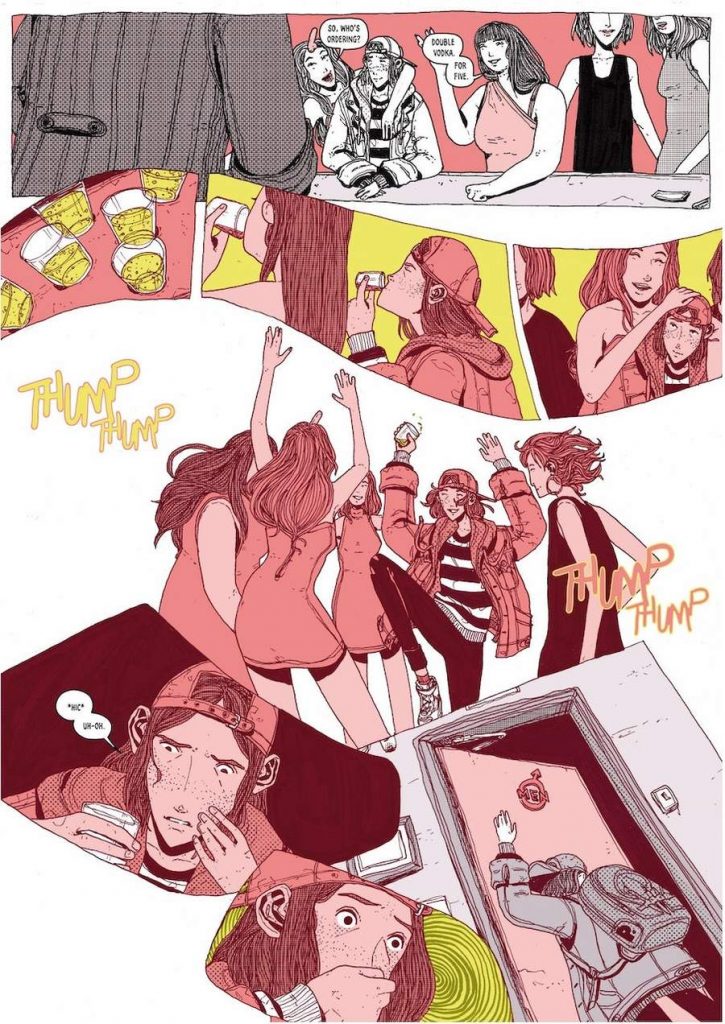 The Newcomer of the Year Award: Zoe Thorogood (The Impending Blindness of Billie Scott)
Starting out at any level or size of project has to be intense, as no matter what you do – a two page short, an eight page anthology entry, a 20 page comic, whatever – is your very first and very best (at the time) being revealed to the world, your work laid bare for all to see. I know I've heard from some creators that it's ideal to start small, that way you work the kinks out in miniature before diving into your magnum opus.
Cartoonist Zoe Thorogood did not seem to get that memo!
Her first graphic novel, The Impending Blindness of Billie Scott, arrived from Avery Hill Publishing this year, and it's a 164 page release that examines the story of the titular artist whose life is about to change forever as her vision departs her forever. There are pros and cons to the release, but the former far outweighs the latter. And it reveals a creator who might not be fully formed quite yet, but is starting from a base of real perspective and craft.
The thing I love most of all from Thorogood's work – which is very strong throughout, from her art that has a lot of manga trappings but feels like it has the aesthetic interests of someone like Brandon Graham, if only for how much depth it gives to environments, to her rich character work – in Billie Scott is the emotion she's able to convey in us, the reader. When I came to the inciting incident that triggers Billie's loss of sight, I felt anger. When things begin to fall (more) apart for her, I felt sadness. When we get to the end, I felt triumph.
This isn't strictly because of plotting or effective story mechanics. This is because of her gifts as a cartoonist, her holistic approach to writing and art that results in impactful beats. The writing reinforces the art and the art reinforces the writing, making the world feel real and our emotions the same because of it. Some of it is still raw, as you can feel the roughness on some of the edges of the book, but that rawness can be an advantage, just as it is for Billie and her art. It makes for a heck of a debut, and the start of something more, I have to imagine.
In short: maybe it's a good thing she didn't get the memo.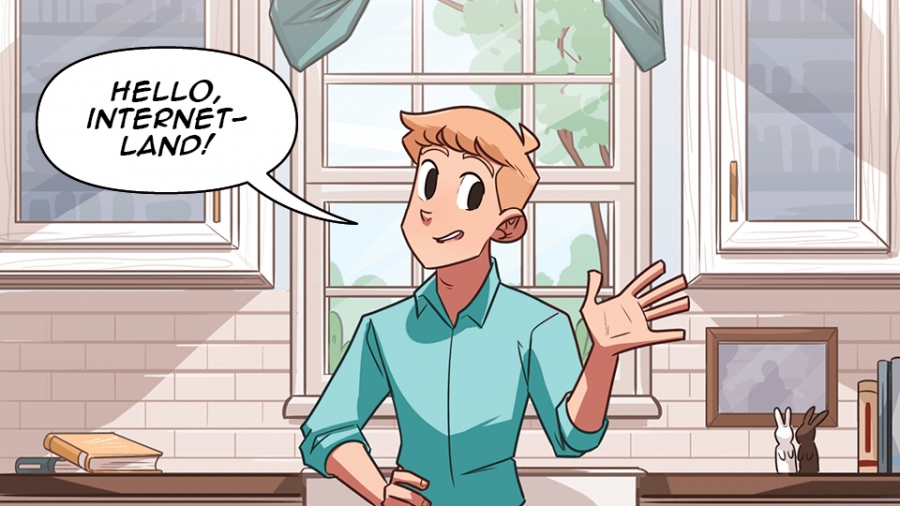 The Charmer Award: Ngozi Ukazu (Check, Please!)
There are fun comics, scary comics, intense comics, hilarious comics, action packed comics, and a million other varieties, but charming comics are a type that's a bit more rare. I'm not saying they don't exist, of course, but they show up less frequently for one reason or another. That is, unless Ngozi Ukazu is making them, because near as I can tell, Ukazu is incapable of making a comic that isn't incredibly charming.
Take Check, Please!, for example. Ukazu's beloved webcomic-turned-First Second release concluded this year, and this tale of Eric "Bitty" Bittle in his time away during college – during which he becomes a champion hockey player, falls in love, and tells his friends and family that he's gay, becoming the best and most real version of himself in the process – is all all charm. While part of that is the nature of the story, as it's at least in part a romantic comedy, it's more than that.
It comes from Ukazu's talents as a cartoonist, as she's a gifted character actor who brought each cast member to life in a remarkable way through gestures and expressions throughout. It comes form her writing, as she has a way with words and is genuinely hilarious. But maybe even more than those two things, it comes from her mentality. Ukazu seems to value stories in a different way than most, letting little beats have their moment, giving oxygen to elements on the periphery, and not forgetting about ancillary characters because everyone has their story.
Her mindset as a cartoonist makes the world of Check, Please! feel lived in a way few are. It reminded me so much of my college experience, of the times my friends and I shared and arguably survived. That can be hard to do. But it's because that time is all about the little things becoming the big things, and Ukazu gets that. That's where the charm comes from. The life at the center, but on the sides as well. Ukazu doesn't forget that; she emphasizes that, and her work is all the better for it.
I had a wonderful chat with Ngozi on Off Panel earlier this year about the story behind Check, Please! I highly recommend it.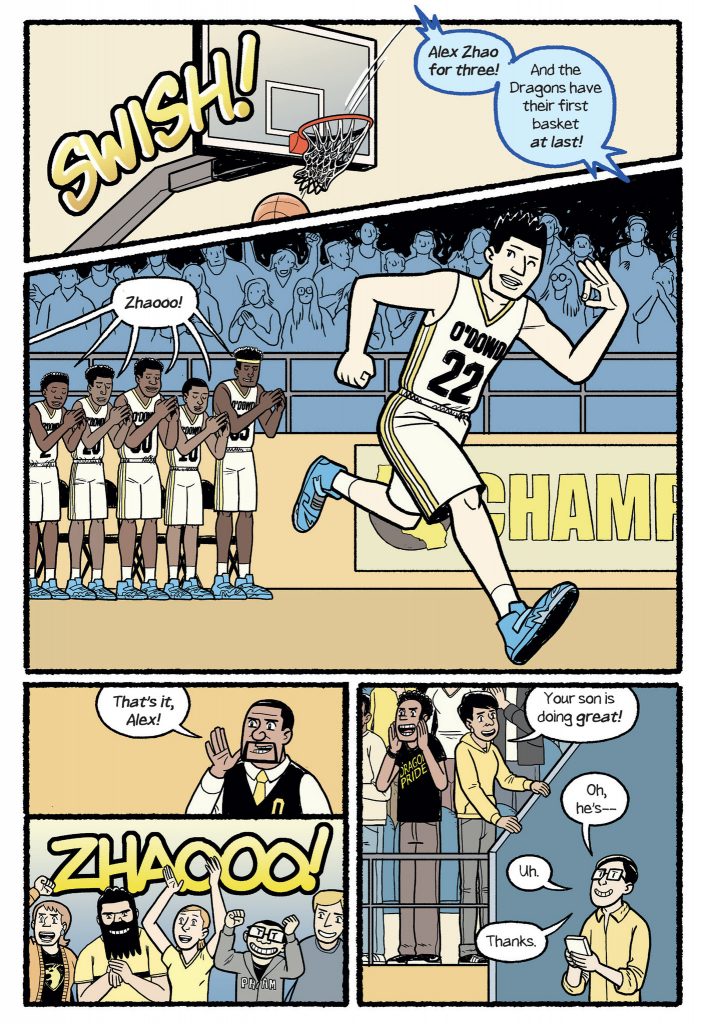 The Creator of the Year Award: Gene Luen Yang (Dragon Hoops, Superman Smashes the Klan)
And finally, we get to the biggest award of them all on the penultimate creator. Who else could it be, really? No one owned 2020 in comics quite like Gene Luen Yang, the already esteemed (to say the least) cartoonist. But Yang delivered on a remarkable balancing act this calendar year, as he both created one of the best graphic novels of the year in his long in the works basketball story Dragon Hoops and his DC release with Gurihiru, Superman Smashes the Klan. Those two releases alone say all I need for him to earn the award, as – spoiler alert – both ended up being top 10 comics for me in 2020. The craft within the former from a cartooning standpoint and the latter from a writing one showcase what we already knew, and that's that Yang is almost in a class of his own.
But the thing that really astonishes me about these releases is both how they feel like such insightful, heart-filled stories while still keeping Yang present in his own way. That is far more obvious in Dragon Hoops, as he's the main character of his own graphic novel, with the book being about Yang following the men's basketball team of the high school he teaches at – the Bishop O'Dowd Dragons – as they vie for the California State Championship, even crossing into his own realizations about his work as he embeds himself with the team. But it's the case in the latter as well.
Superman Smashes the Klan isn't so nakedly about Yang, but this story that's part Superman tale while also part being about the American Dream and the nation's (occasionally) welcoming nature to people of all varieties is for all immigrants, whether from Krypton or China. Because of the nature of the year, it made this story that's based off a radio serial from 1946 feel downright prescient and even timeless.
Yang's presence in his own work, both literally and figuratively, strengthens the work, anchoring it to reality no matter how big or grandiose it might get. That can be tough to do. It's not like every comic could just include an author in the story and boom, magic happens. It easily could have backfired. But because Yang is such a savvy storyteller, he used it in a way that only enhanced the work.
That made both of these stories told in the past feel like urgent, necessary reads at times. That might be a happy accident, or maybe it's an example of Yang being very, very good at his job. Whatever the reason, the result is inarguable: Yang's one of the very best to do it. In fact, this year, he was the very best to do it. If you've read these books, you know it's well-deserved.
Gene joined me on Off Panel earlier this year to talk Dragon Hoops. It's a great follow up to the book if you've read it already.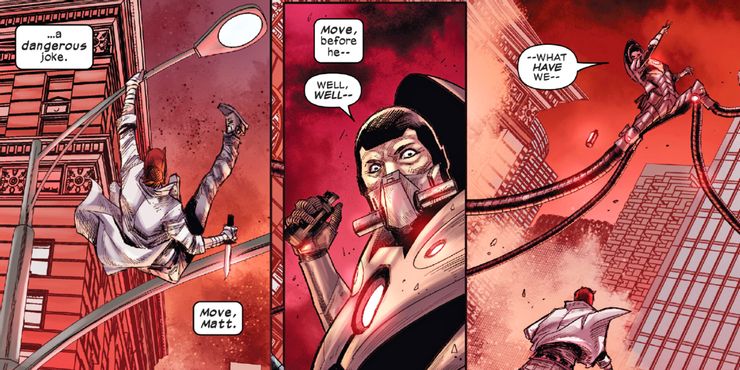 The Stilt-Man of the Year Award: Chip Zdarsky (Afterlift, Daredevil, Sex Criminals, Stillwater)
Blessed be, Chip Zdarsky. You delivered the greatest Stilt-Man appearance of the year in Daredevil – perhaps even the only Stilt-Man appearance of the year! – and what an occasion that was. Stilt-Man was actually scary! It was genuinely impressive. On that alone, Chip may have qualified.
But then what did he do? He got greedy and made a bunch of great comics! Afterlift! Sex Criminals! Stillwater! Assorted other comic books! Zdarsky has become one of the genuinely most exciting creators in comics these days, whether it's in complete stories like the affecting, inventive Afterlift, haunting, foreboding tales like Stillwater, or the brilliance of his Daredevil run. There's heart, there's brains, there's craft, and there's everything we want out of good comic books. Whatever he takes on has a different flavor, but the one unifying factor is the quality of the work.
It's been a thrill to watch his rise up the ranks of the comic world, as if he's being lifted up by hydraulic stilts of his own. But this is no Stilt-Man. While he can't reach those kinds of heights, Chip has truly become one of the most consistently great creators – whether it's writing or drawing, as he did on Sex Criminals 6Along with 50 other roles.[/footnotes] – in comics. It's both well-deserved and exciting to see. And I suspect there's another gear here. I can't wait to see what it is.
I had a great talk with Chip about his work with Stilt-Man and other characters this year on Off Panel. Definitely worth a listen, if you enjoy great podcasts with Chip!