Welcome to Assassin Nation Week
We're spending the 4th of July week with the team behind the brilliant Image/Skybound series
It's a special week here on SKTCHD, as we're doing something a little different than usual. First off, it's going to be a free week on the site, so all content that rolls out this week will be available to anyone who comes to the site, not just subscribers. I'll be doing these once a quarter or so as a way to get the word out, so if you enjoy the content, please, feel free to subscribe, and perhaps share what the site has to offer on social as well.
Second off…it's Assassin Nation Week!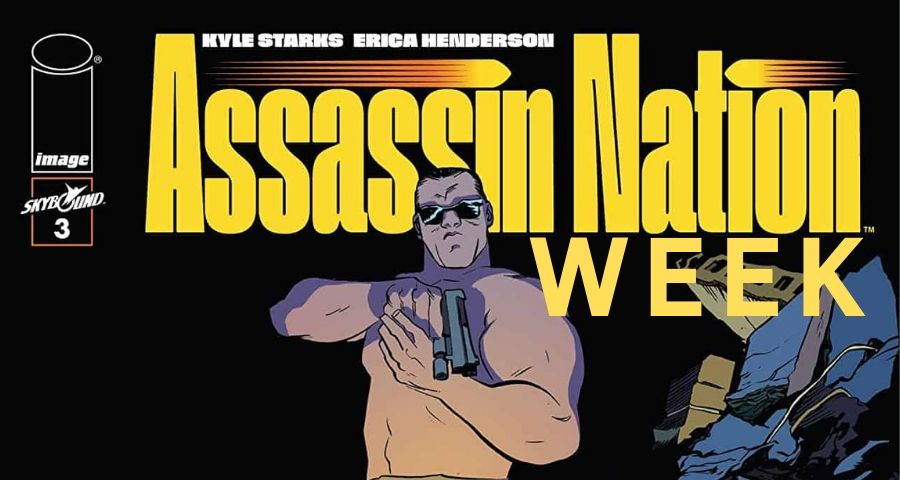 Ever since the first iteration of the site, I've wanted to put together a week on SKTCHD where I spend an entire week with the creative team of a title to show how an issue of a comic is put together from beginning to end. That means writing, pencils + inks, coloring, lettering, editing and even the production side of things. That's what we'll be doing this week, as I talked with the squad responsible for one of my favorite comics of 2019: Assassin Nation. So what does that entail? Here's the breakdown for the week:
It's going to be a good time, with some inside looks at how comics are made in case you've ever been curious. It's going to be a blast, and we'll be focusing almost entirely on the third issue of the series with effectively no spoilers involved. So even if you haven't read the series yet, you're good!
So come back here in a little bit for Starks' talking about his work on the book, and spend some time with SKTCHD this Independence Day by reading all about Assassin Nation. Hope you dig it!
If this type of content appeals to you, consider subscribing to SKTCHD for regular content in this vein!