Dave Scheidt Talks the Peril and Pizza of the Upcoming "Slice"
The writer talks his upcoming Stela comic
When someone hears the word "ridiculous," all kinds of things can pop into a person's mind. It can be a good thing! Or maybe it's something bad. Maybe it makes you shake your head, or perhaps makes you smile. For me, I find myself using it in a complimentary fashion the majority of the time. Like when Kevin Durant makes an impossible shot and I laugh and shake my head and say "ridiculous" to myself. Or as I watch John Wick and turn to my wife and say, "this is ridiculous!" but mean it as high praise.
Slice, a comic by the team of writer Dave Scheidt and artist Aaron Pittman from the mobile publisher Stela, is definitely the good kind of ridiculous. It's the story of Jon, a young pizza delivery guy, as he tries to survive the summer in a sleepy lake town where delivery drivers keep going missing. As Scheidt says later on, it fuses three of his favorite things – comics, pizza and horror stories – into one comic, and having seen a bit of it at ECCC, I knew it was going to be something ridiculous and fully entertaining. With it set to debut on Stela this Monday, May 30th, I talked with Scheidt about the book, how it got to Stela, working with Pittman, the best slasher flicks and pizza slices, and more. Give it a read, and if you haven't checked it out, the Stela app is ready and waiting for all you iOS users.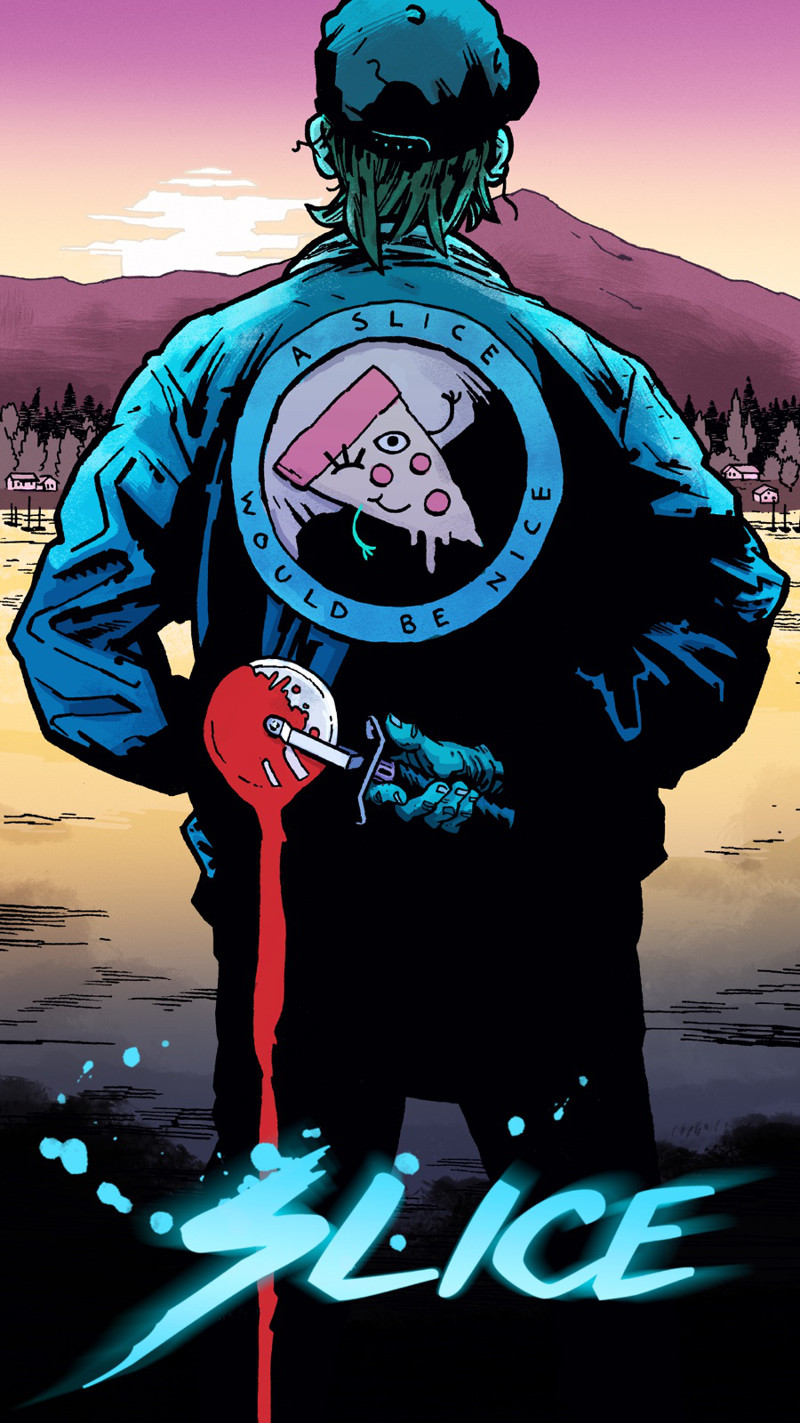 I'm going to have explained the idea in the intro, but I still want you to explain it as there's no way I can do it justice. What's Slice all about?
DS: Slice is a homage to three of our favorite things, comics, pizza and horror stories. When you get down to it, I think it's really about a story about being young and having the worst first day of work, ever. It's a sort of throwback to '80s style horror but with our own spin.
So let's talk the beginning of the book: what's the origin of Slice? And beyond that, it kind of feels like one of those random, hilarious ideas a person comes up with that maybe never gets developed, but what made it one you just had to tell?
DS: Man, I'm glad that comes across. It really developed like you said as a funny, dumb idea. Aaron and I just talked about various and elaborate ways of getting killed by a crazed pizza man. It made us laugh but at some point we had a "Holy shit. Is there a real story here?" moment and we ran with it. I think that's the best way to work. Take things seriously when needed but have fun with it.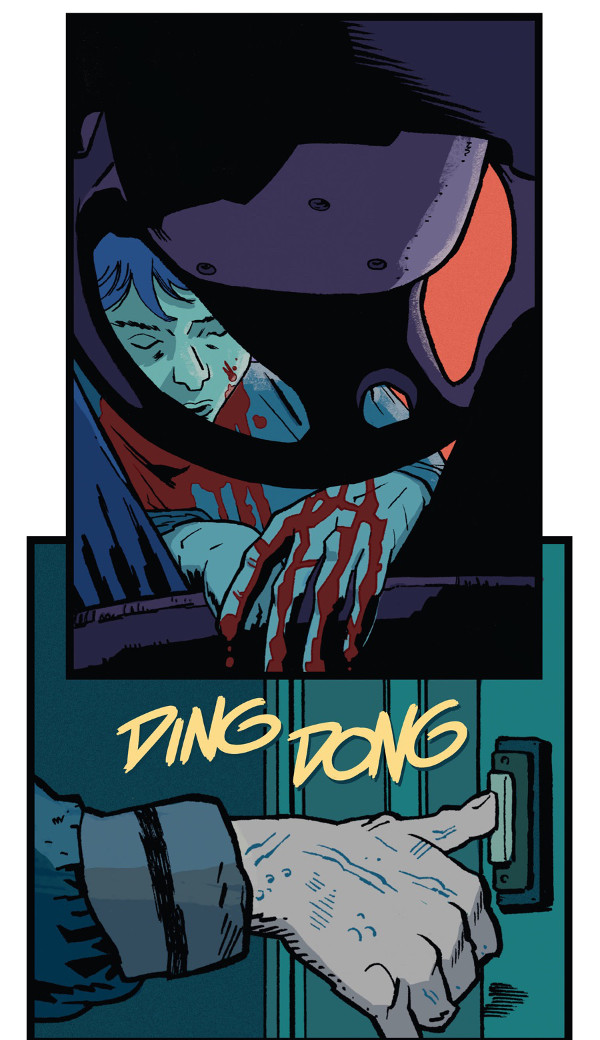 It's a unique idea, but it's also going to have a unique home: Stela. What made the Stela team someone you wanted to work with, and what made it the perfect home for Slice?
DS: We pitched Slice to Jim (Gibbons, Senior Editor of Stela) while he was still editing Dark Horse Presents. That more or less fell through after Jim left Dark Horse. A few rejections later, We were bummed but one day out of nowhere we got an email from Jim asking about if Slice found a home yet and the rest is pizza history! Working with Stela though has been awesome because at no point were we hit with any roadblocks or "you can't do this" or "This is too violent". Stela has really allowed us to tell the story we wanted to tell from the very beginning just a billion times better when we got to work with Jim Gibbons, our editor who helped shape the book into the best possible version. Not only is he a great editor but a great pizza eater. I guess you could say pizza brought us together!
It's kicking off, but how many total chapters can we expect of Slice? And could you see yourself bringing it back in follow ups, like, "Slice II: Deep Dish of Death" or "Slice III: Brick Oven of Doom"?
DS: It's a total of six chapters all together. I like those sequel names! I'm going to steal them. We had a ton of fun working on this book and not to spoil anything but in classic horror movie fashion, there is ALWAYS a way to do a sequel. We just don't want it to be too cheesy, you know? Sorry.

Speaking of Stela, one of the things that makes it super unique is its vertical orientation that kind of changes how comic storytelling works a bit. For you and your artistic collaborator, Aaron Pittman, how does that change your approach? Are you guys doing anything special to take advantage of how the app works?
DS: That's all Aaron. My scripts are fairly straightforward and It's Aaron doing all the heavy lifting as far as telling our story in such a cool, weird format. He's penciling, inking AND coloring it. He's put so much work into this thing and I think it shows.
This being a horror story the vertical formatting really helps build up suspense and amp up the tension as we are basically controlling how the reader takes the story in so that helps a ton. It's really cool when you are trying to create a mood or set up a scare. Horror comics are hard, man! Creators don't get enough credit for that.
Speaking of Pittman, he's someone you've worked with before. But besides being compadres, what made him the right fit for Slice?
DS: I don't think anyone else could have told this story as well as Aaron. It is very much an amalgamation of the two of us, creatively. We just really clicked on this project. He has been doing a webcomic called Grimfish by himself for a few years now and those just blew me away. Slice is a story we've wanted to do for a few years now and we've talked about it over and over and Aaron has just fucking nailed it. He really has brought this book to life better than I could ever have imagined it. I look forward to riding Aaron's coattails for the foreseeable future.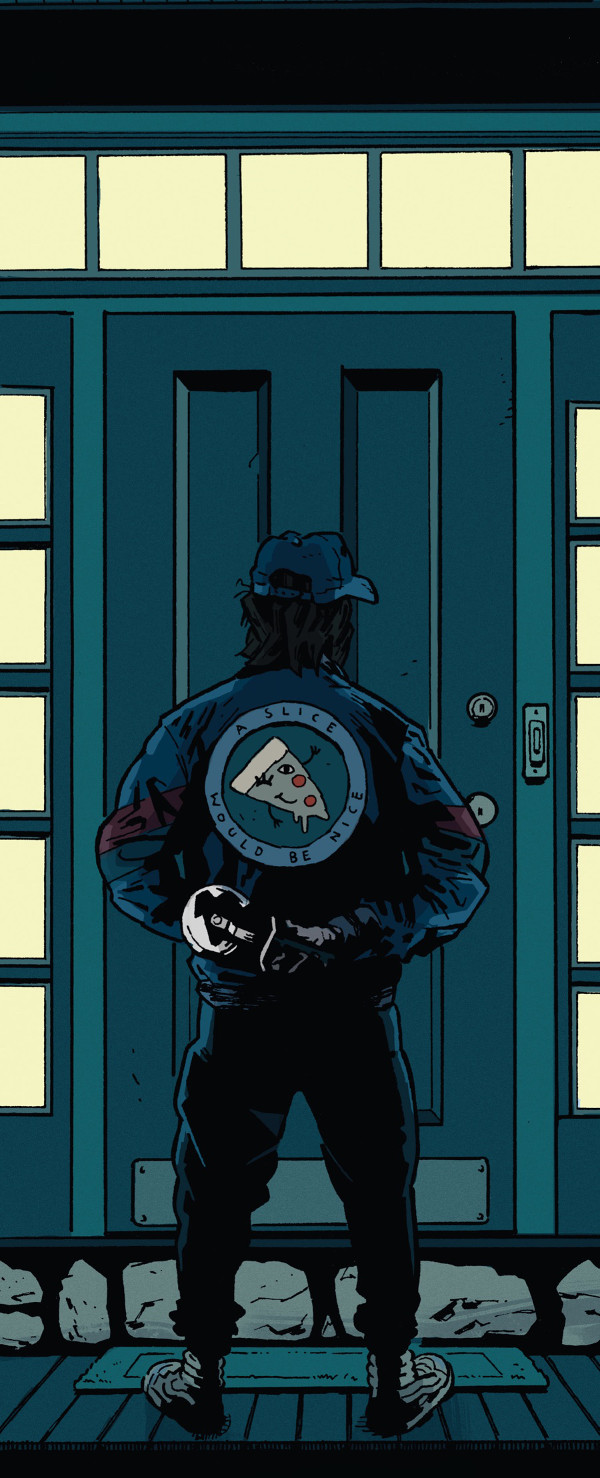 I know 80's slasher flicks are one of the big inspirations for the book, and that's something you enjoy. As a fan of that side of the movie world, I gotta ask: what are some favorites, both in a "this is a classic" sort of way but also in a "I can't help but love this ridiculousness" way?
DS: As far as '80s horror goes I think Slice is more along the lines of movies like The Lost Boys and Fright Night. I love the buddy movies angle in horror because you care about those characters a lot more and what happens to them. There's a little Halloween in this, a little bit of Friday The 13th. I also love a lot of contemporary films horror films Attack The Block, The Guest and It Follows. We really feel like this is along the lines of other horror stuff we admire so much because horror is still very punk rock and has a great DIY aesthetic to storytelling. We had a cool idea for "our" take on the genre and ran with it and it's been so much fun. There is so much of us in this book, and that feels very rewarding.
As the writer of Slice and an aspiring pizza eater, clearly your love of arguably America's most popular food has intersected with your love of comics. So let's talk pairing. I have my phone out and I'm about to enjoy the first chapter of Slice. What slice do you personally recommend as the ideal partner for the comic?
DS: I'm glad you saved the best question for last. I think all you need is a good slice of cheese or pepperoni and you're good. Pizza and comics forever.