Marvel Style: A Mini Oral History of 2015's Secret Wars Tie-In, Infinity Gauntlet
Earlier in the week, I shared an oral history of the making of 2015's Secret Wars event. This Marvel mini-series from writer Jonathan Hickman and artist Esad Ribic was a massive deal both in the sense that it had a huge area of effect and big sales, but also because it resulted in Marvel's entire line going away. With the Marvel and Ultimate Universes both temporarily being destroyed, 9 the publisher ended every active title and replaced them with an immense amount of tie-in titles, each of which belonged to three unique camps. Those were:
Last Days: These were stories were set in the Marvel Universe and depicted the, you guessed it, last days of the 616 from the perspective of an array of characters.
Battleworld: Focusing on how Battleworld worked, you could argue that these titles were the "important" ones, although importance is in the eye of the beholder.
Warzones: These focused on the individual domains of Battleworld, helping readers better understand these individual regions.
While the tie-ins were covered at length in my oral history, I originally intended to use one specific title as a focus piece within it to help readers better understand what went into creating these unique titles. 10 That title was Dustin Weaver, Gerry Duggan and Albert Deschesne's Infinity Gauntlet, a five-issue mini-series that told the tale of the Bakian Clan, a family surviving in a ruined landscape called New Xandar that's populated by both the Annihilation Wave and other cosmic characters like Thanos and the Guardians of the Galaxy. 11 They do that at least in part because the matriarch of the family, Eve, returns, and she both happens to be a Nova and has the ability to turn the rest of the family into ones as well – including their dog Zigzag! – eventually facing off against Adam Warlock, the Annihilation Wave, and multiple versions of Thanos over the span of the story.
It's probably my favorite of all of the tie-ins I read, as the Bakian Clan is a winning group of characters, particularly the daughter – Anwen – who acts as the series lead, and Weaver's art and wild ideas make for a unique and exciting read. It represented everything you could have wanted out of one of these titles: going big and crazy with an idea and then letting the creative team do their thing. Series editor Nick Lowe even called it "one of my favorite things I've done," which, if you know anything about his career, is really saying something.
I wanted to feature that title in the oral history…but it turns out that would have resulted in an even more insanely long piece when the final result was already pretty dang lengthy. So, I cut it with plans to do something with those interviews I put together. That's what we're doing today, as you're not just getting one oral history this week, but a second mini 12 one that walks you through how a Secret Wars tie-in like Infinity Gauntlet came together, and what made this one such a standout.
---
Infinity Gauntlet was a natural offshoot of the brainstorming that took place at Marvel's editorial retreats in the build-up to Secret Wars. Two of the three primary team members from this title attended those retreats, and they were aiming to fill a hole in Marvel's schedule.
Nick Lowe (editor of Infinity Gauntlet): It was such an interesting and fascinating project.
Gerry Duggan (co-writer of Infinity Gauntlet): That was taking the "Nova slot" on the publishing calendar, and obviously Infinity Gauntlet was a bigger name than Nova for the title.
Lowe: I was already working with Gerry on Nova, which is probably why I brought Gerry into this one in particular, because he already had great Cosmic and Nova knowledge at that time.
Duggan: Nick Lowe matchmade me with Dustin Weaver, and everything that you love about it came from him.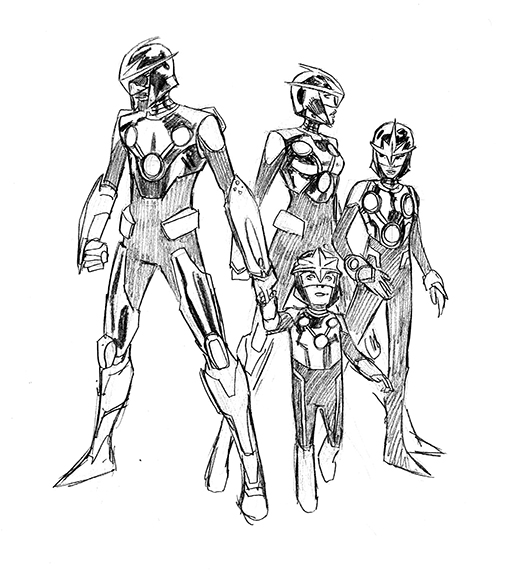 While Lowe was a long-time Marvel veteran at that point and Duggan was an entrenched writer in the publisher's stable, Weaver was less of a household name. He had worked on notable projects like the mini-Marvel event Infinity, Avengers, and S.H.I.E.L.D., each with Secret Wars' architect Jonathan Hickman, but he hadn't necessarily been unleashed in full. This was an opportunity to see that happen, and one Lowe had been waiting for.
Lowe: I'm pretty sure I hired Dustin for his first Marvel work and edited his first couple Marvel things. I loved working with him. And the more and more we did together, the more and more I could just tell that he had more in the tank. He hadn't really written anything and the little that he had written, I thought there was so much good to it. (Co-writing) was what we'll often do that (acts as) a good way to ease someone into it.
Dustin Weaver (artist and co-writer of Infinity Gauntlet): Nick asked me if I'd be interested in doing the Infinity Gauntlet tie-in to Secret Wars. That was the first I'd heard of it. He knew that I was interested in writing and told me that I'd have that kind of control. Not long before this I had done an issue for the Edge of Spider-Verse series. With that issue I did everything except the lettering, and I sort of felt like I bit off more than I could chew. I never got the script where I wanted it. So, when Nick told me that I'd have help on Infinity Gauntlet by a writer who could script it, it sounded like a good idea to me. 
Lowe: I needed someone to co-pilot this with (Dustin), and I very much wanted him to hold the reins. I think out of the gate, I wanted it to be more of a strict collaboration between Dustin and Gerry. But it came down to the point where Dustin kept throwing really cool stuff out and both Gerry and I recognized, "let's rein him in in a few places, but let's let him go here" for the most part.
Duggan: There was a very short conversation on the way in – we wanted to make sure Dustin had a free hand to design this as he (saw) fit.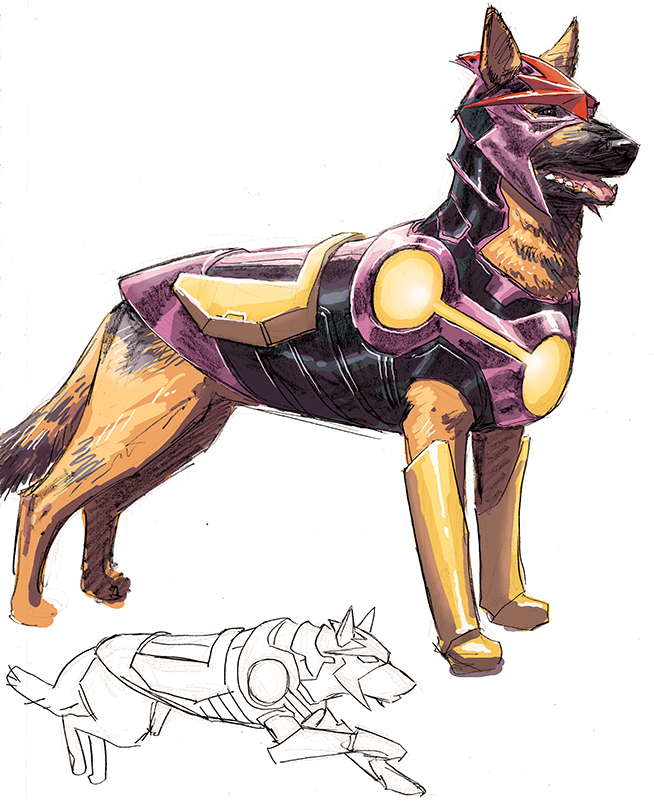 Lowe: Everything he turned in, I would call Gerry and be like, "Gerry, are you seeing this? It is so cool." If I recall, he just sent a design with a dog Nova. I don't even think we talked about it as a story point. And we're like, "What is this? It's so good."
Duggan: He was the one who said there ought to be a K9 unit, and I said "Yep, of course there's a K9 unit."
Lowe: (Dustin's) in the same realm as Jack Kirby. Dustin has more ideas and fits more ideas into an eight-page story than probably anyone else working today. He throws out both ideas. Story ideas, but also visual ideas.
The rest of this article is for
subscribers only.
Want to read it? A monthly SKTCHD subscription is just $4.99, or the price of one Marvel #1.
Or for the lower rate, you can sign up on our quarterly plan for just $3.99 a month, or the price of one regularly priced comic.
Want only the longform content? Sign up for the monthly longforms only plan, which is just $2.99 a month.
Learn more about what you get with a subscription