Comics Disassembled: Ten Things of Note from the Past Week in Comics, Led by an Art God's Resurrection
Apparently a whole lot of things were announced at New York Comic Con and I heard of none of them. That's one of the bizarre parts about going to a con. If you're there, you have no idea what's actually going on at the con 95% of the time. You know what's going on in about a five foot radius of you and whatever is on your agenda, but that's about it.
So there's plenty to catch up on. Let's get to it in Comics Disassembled, my weekly look at ten things I liked or didn't like from the past week of comics.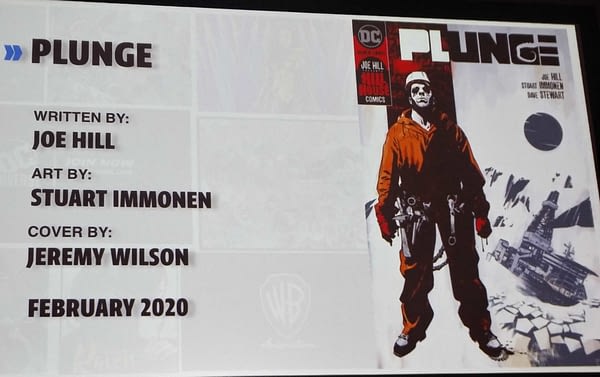 1. Stuart Immonen, Returning
Stuart Immonen is one of my favorite comic creators of all time, full stop. And while his "retirement" was mostly a retirement from making traditional print comics for a minute – shouts to Grass of Parnassus, Stuart and Kathryn Immonen's excellent Instagram comic! – it's still incredibly exciting that we're seeing him back in action in a regular series.
That's right: he's back, baby! And it's not just any regular series, but it's a new Hill House title written by Joe Hill himself called Plunge, a title that sounds like an amalgamation of The Thing and Event Horizon. That's a fusion I wouldn't normally expect, but if this project is enough to get Stuart out of "retirement" and back into the print comic game, I have to imagine it's going to be worthwhile. That's it! Immonen back! Coming in February! Let's do this! IMMO-NEN! IMMO-NEN!
2. Surely Books, Definitely Not Jesting
Mariko Tamaki is one of the best of the best, and seeing her get the opportunity to roll out her own curated imprint of LGBTQIA+ graphic novels at Abrams is an incredible thing. It's called Surely Books, and it's set to arrive in Spring 2021. It's going to feature a mix of non-fiction and fiction, with creators like Grace Ellis and Terry Blas onboard to tell stories on this imprint.
We're only in the infancy of the rollout of this imprint, but it's wonderful to see publishers empower incredible people to find storytellers that fit a specific idea a line is going for. These curated imprints in both the direct and book market are a great idea, and honestly feel like the future in a storytelling medium that would benefit by zigging away from the algorithm driven decision making other mediums are leaning towards. It fits the vibe of comics, and it puts good people in a position to do what they do best: make comics. And with Tamaki at the helm, there's not much to argue with here. This will be a good thing, and something that's worth paying attention to as it develops.
3. Jamie McKelvie, Killing It
We knew Jamie McKelvie and Matt Wilson were teaming up again.
We even had seen some art.
Now we have a title, a concept and an interview! It's called The Killing Horizon, and it finds McKelvie and Wilson teaming up with letterer Aditya Bidikar, designer Cecile Richard and editor Katie West for a hard sci-fi series about a woman in a post, post apocalyptic future who finds herself at the center of a deadly space-based war when she discovers something she maybe shouldn't have on her job that involves studying dead alien societies. It's a lot. It's also early, as this comic isn't coming until Summer 2020. But McKelvie did a full interview with Evan Narcisse over at io9 about the book – or at least what he can say so far – and it's sounding quite intriguing.
More importantly, with McKelvie, Wilson, Bidikar and Richard on board, this will at a bare minimum be one of the best looking comics out there. That alone makes this a buy. It could be a series about a habitual ceramics collector in Pittsburgh and I'd be like "weird direction but I'm intrigued" because it's going to be so good looking. But it's a hard sci-fi story with an original, intriguing premise. I like it. This is a good start.
The rest of this article is for
subscribers only.
Want to read it? A monthly SKTCHD subscription is just $4.99, or the price of one Marvel #1.
Or for the lower rate, you can sign up on our quarterly plan for just $3.99 a month, or the price of one regularly priced comic.
Learn more about what you get with a subscription