Comics Disassembled: Ten Things of Note from the Past Week in Comics, Led by Charts, Charts, Charts!
It's a relatively light news week, at least from what I've seen, but the good news is there's some pretty interesting bits right off the top. Let's get to all that and more in this week's edition of Comics Disassembled, in which I break down ten things I liked or didn't like from the week of comics.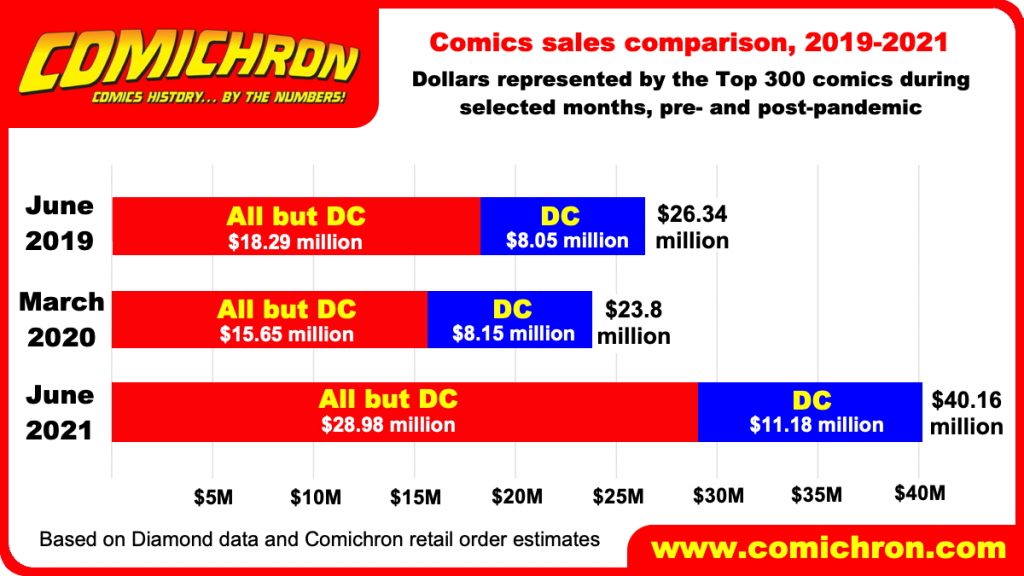 1. Sales Charts, Being Back (Mostly)
I have good news for those interested in this kind of thing: Diamond's order charts are back, as the distributor finally returned to the fray with numbers for June 2021's orders from shops. I have even better news, as depicted in the above chart from Comichron: it was a banner month, with orders towering over both the last non-pandemic month and the equivalent month two years ago, surpassing $40 million in just single issues and just under $60 million when you include graphic novels.
Now, there are important caveats to be made, as John Jackson Miller does in his write-up on the subject, with the biggest one being that June 2021 was a five Tuesday and Wednesday month versus the four of June 2019 and March 2020. More weeks means more opportunities to sell. That's going to make a difference. But it's actually more of an apples-to-apples comparison than it might seem, as June 2019 still had 18 more releases even without that extra week included. That means nearly $14 million more revenue with fewer releases, which is pretty dang incredible.
I know what some of you wiseacres might say: it's just because comics have gotten more expensive! Which is true. They are more expensive, with the average weighted cost of a top 300 release being $4.75 for June 2021 compared to $4.20 for June 2019. But even with that in mind, if DC's releases averaged out to about the same price, we're still talking over two million more copies of comics ordered, roughly speaking. That's a big deal!
I'll have more to add about this later, as there's a specific subject I wanted to look into involving all of this. But it's still very promising, and certainly reflective of what I have been hearing.
2. Caveats, Being Necessary
One very important note about those numbers from Comichron, though: the DC numbers are very much estimates. I saw some people making some broad assumptions on the ol' internets about that data, saying the usual, "oh DC is dying!" type nonsense for the purposes of, I don't know, internet clout or just to be a weirdo. But the bigger books are very much on the low end of estimates, from what I understand, with Miller himself saying the following in his write-up:
Things to remember: As always, DC projections are from an initial order dataset and thus handicapped amid Diamond's entries, which include reorders and any reprints that hit in during the calendar month. This most impacts a book like Nice House on the Lake #1, which had 29 days of reorders in June and no reprint until July. Estimates for DC's titles are more reliable for regular series issues in the middle of the chart: orders for the highest sellers and first issues may tend to show more variation. 
I've heard from folks around those parts that JJM's estimates are typically pretty low, particularly on the bigger books, and for something like Nice House, it's very, very low from what we've heard. That's an important note to remember because it does not mean the sky is falling for DC. It's a baseline to go off of. It's worth noting too that it also means that $40.16 million number is probably low, meaning its towering success is not fully reflective of the heights the direct market reached in June. That's a heck of a thing, and a crucial caveat.
The rest of this article is for subscribers only.
Want to read it? A monthly SKTCHD subscription is just $4.99, or the price of one Marvel #1.
Or for the lower rate, you can sign up on our quarterly plan for just $3.99 a month, or the price of one regularly priced comic.
Want the lowest price? Sign up for the Annual Plan, which is just $2.99 a month.
Learn more about what you get with a subscription