Comics Disassembled: Ten Things of Note from the Past Week in Comics, Led by Renegades Renegading
The calm before the storm is here, but within it is a whole lot of fun and interesting comic tidbits! Let's look at all that in Comics Disassembled, my look at ten things I liked or didn't like from the week of comics, led by a renegade shifting into a leader.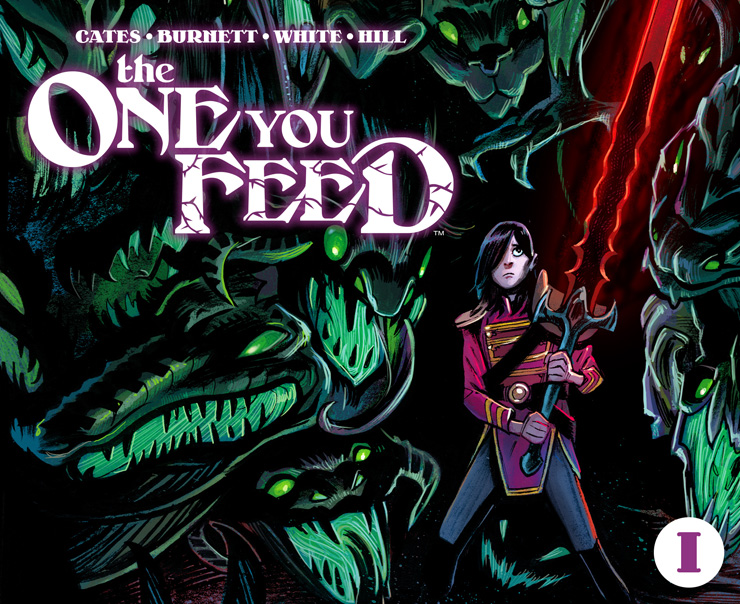 1. Panel Syndicate, Being the Way?
I'm a big fan of Marcos Martin, both as a person and as a creator, and I always get a kick out of labeling the digital comics platform he and writer Brian K. Vaughan willed into existence – Panel Syndicate – as a renegade outfit when I talk to him. It's sort of a tease but also true. Panel Syndicate is as DIY as we get in comics, from its pay-what-you-want structure to its completely creator-owned nature. If you're publishing on Panel Syndicate, you're supporting creators who are trying to tell the stories that they want. It's a wonderful thing, and fitting to comics nature that such a platform is considered "renegade" even in a facetious manner.
However, something interesting has happened in 2020. While earlier works were great and notable and featuring excellent creators beyond Martin, BKV and colorist Muntsa Vicente, including names like David Lopez, Kim Niimura and Albert Monteys, 2020 has seen Panel Syndicate have another moment thanks to the influx of names on the platform. Whether you're talking Ed Brubaker writing Friday for Martin and Vicente, Alex de Campi, Ryan Howe and Dee Cunniffe joining up for Bad Karma, or – most recently – Donny Cates and Dylan Burnett moving their collaboration on the platform with The One You Feed with colorist Dean White and letterer John J. Hill, these renegades have started to resemble a modern day Wizard Top 10 Creators list.
That's of course not to downplay previous players in their sandbox, but with the pandemic limiting creator faith in both the stability of the comics market and in the opportunities available, it only makes sense that the unreal flexibility of Panel Syndicate would appeal. Consider what Cates and Burnett are doing. I think you could make a very easy case that Cates is the hottest creator in the direct market, and what he's doing now is reducing the risk associated with print production costs and still getting the cash flow from single issues while still maintaining flexibility to release this God Country-connected story at somewhere like Image later on. This is the best of all worlds, and something that could make it easier for some to discover Cates and Burnett's work that might not have otherwise.
My question is this: could some variation on this formula be the way forward for comics? Could the renegades at Panel Syndicate have unlocked an ideal blending of direct market release patterns and similar cash flow with flexibility for collections in the direct and book markets that lacks some of the risk that can come with print single issues? It's curious, and fits my favorite scenario from my June thought experiment about potential ways forward for the direct market.
I do love the potential here, though, and I'm thrilled that the Panel Syndicate line continues to grow as situation and opportunity have shifted creator interest in their direction. I think The One You Feed has the potential of being their biggest release yet – save for BKV and Martin's The Walking Dead: The Alien, of course – a huge success for Cates, Burnett and the team, and a pivot point for Panel Syndicate's position going forward. Or maybe I'm overstating things! We'll see, but what can I say?
I've always appreciated a good renegade.
2. Numbers, Looking Up
On the flip side of that, the main numbers man himself – John Jackson Miller of Comichron – dropped some knowledge on Twitter this week that is very worth paying attention to. While Miller baked many a caveat into this delicious pie, as his numbers are estimates even more than usual, he found that September's direct market numbers compared favorably both to March's pre-pandemic orders and September 2019's performance despite there being 25% and 20% fewer releases respectively.
Again, that's with the idea that these are heavy estimates – and with the idea that there's a ton of returnability in play right now – but it's still notable because dang, that's outrageously great news. While much of the response to it was the same tired "BuT I tHoUgHt CoMiCs WeRe DyInG" sarcastic volleys we normally see in these situations, this is tremendous news even in the face of that returnability. That's because when you pair it with something like my recent retailer check-in where people like Challengers Comics + Conversation's Patrick Brower and Cape & Cowl Comics' Eitan Manhoff were raving about the nearly unprecedented consumer interest in new comics, it starts to add up as a double win. This seems real, and it is spectacular.
It did make me think of something, though. In our COVID-influenced present, where making movies and television shows is a) painfully expensive and b) extremely difficult, there is a real opportunity here for comics. I'm not saying comics are going to become everyone's medium of choice, but with the creation of comics being a naturally socially distanced experience and with many of the sales mechanics being sorted out at this point from a health consciousness standpoint, we may be hitting a window where comics will be almost the only game in town for new visual-based stories. That's obviously terrible, but could this, in a weird way, lead to a growth period for comics because entertainment-starved people turn to whatever is available?
Maybe! If publishers recognize the opportunity! All I know is people are getting crazy bottom of the barrel when it comes to streaming options, with even recent phenomenons like The Vow being met with funereal tones. If there was even a time for a marketing splash to say, "hey, you want great stories? Try these comics!" this might be it. Knowing comics, they'll probably let it pass them by. I hope the industry doesn't do that, though.
The rest of this article is for
subscribers only.
Want to read it? A monthly SKTCHD subscription is just $4.99, or the price of one Marvel #1.
Or for the lower rate, you can sign up on our quarterly plan for just $3.99 a month, or the price of one regularly priced comic.
Want only the longform content? Sign up for the monthly longforms only plan, which is just $2.99 a month.
Learn more about what you get with a subscription