The SKTCHD AWRDS: The Creators of 2021
The SKTCHD AWRDS continue, as we move on from the comics of the year to the people that made them. It's a celebration of those whose work stood out most during one heck of a year in comics. Given that this banner year featured some highlight reel worthy work, it seemed only right that the writers, artists, cartoonists, colorists, letterers, and beyond who made the magic happen deserve their propers as well. Thus, we're giving completely real, totally fake awards to each of them!
As per usual, there are some some caveats. Some of the rules from the comics side of the equation apply, as those highlighted were only eligible for work released in 2021 (for the first time in the first format I engaged with it in). Additionally, these are not meant to be the "best" as much as my favorites, because, as noted last week, I do not represent everyone so favorite feels more accurate to me. Lastly, given that I celebrated the work of a bunch of cartoonists last week, I didn't want to double up too much, so cartoonists were only included if their work did not make the cut last week. Apologies to Barry Windsor-Smith and friends! You're only getting one SKTCHD AWRD, because I want to maximize my range of applause.
That's it! Let's get to the Creators of 2021, highlighting all 25 in one massive piece, with each of them in alphabetical order by first name.
Also: this full version is open to non-subscribers. If you enjoyed my perspective on these creators or this feature at all, consider subscribing to SKTCHD for a whole lot more like it!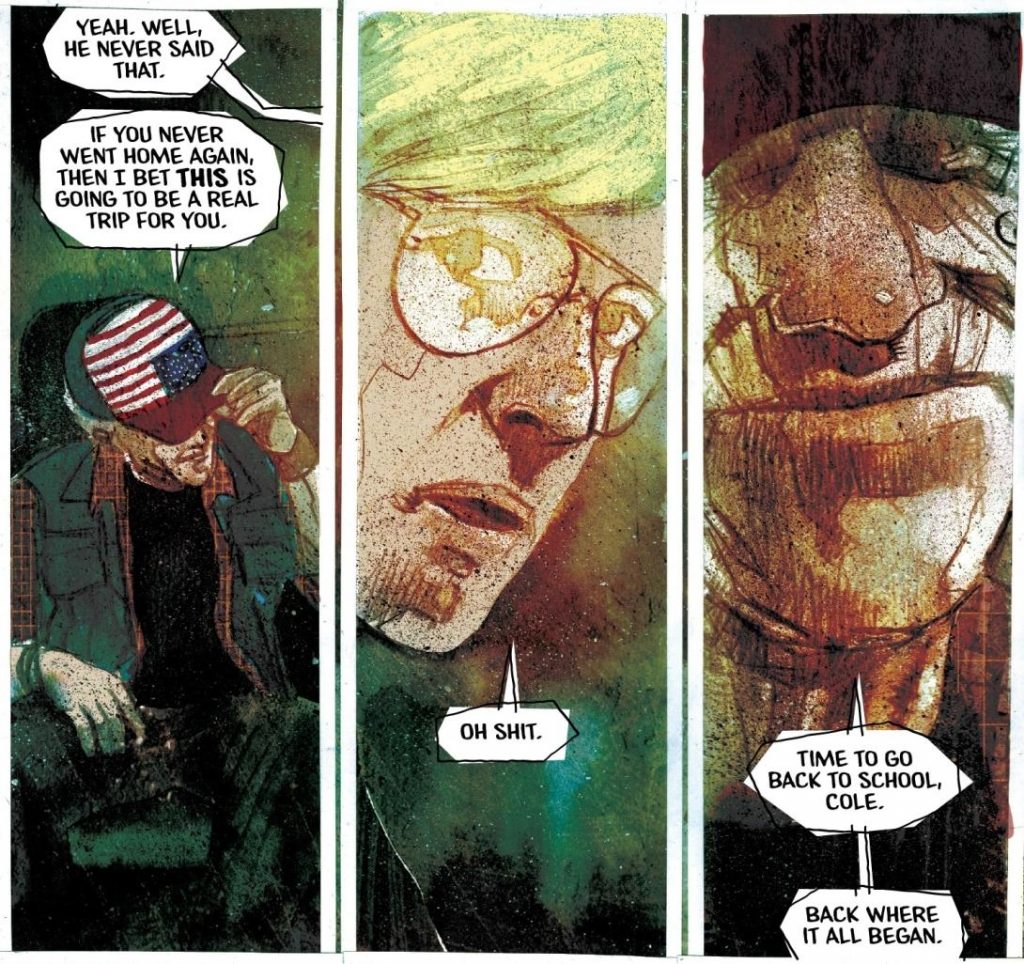 The Letterer of the Year Award: Aditya Bidikar (So many comics please don't make me list them all)
What else is there to say about Aditya Bidikar at this point? He letters everything we all like, and he does so in such a project-specific way that each gets work its own specific look that equally fits the needs of the title and as a showcase of his unique talents as a visual storyteller. There are few in comics in any role who are more adept at flexing, both in the sense that he adjusts to the needs of his collaborators and at making us drop our jaws in awe at the craft being laid down. Bidikar isn't just the letterer of the year in comics, but the letterer who wears the crown until someone else takes it. I don't see that happening any time soon, but I'd truly love to see them try.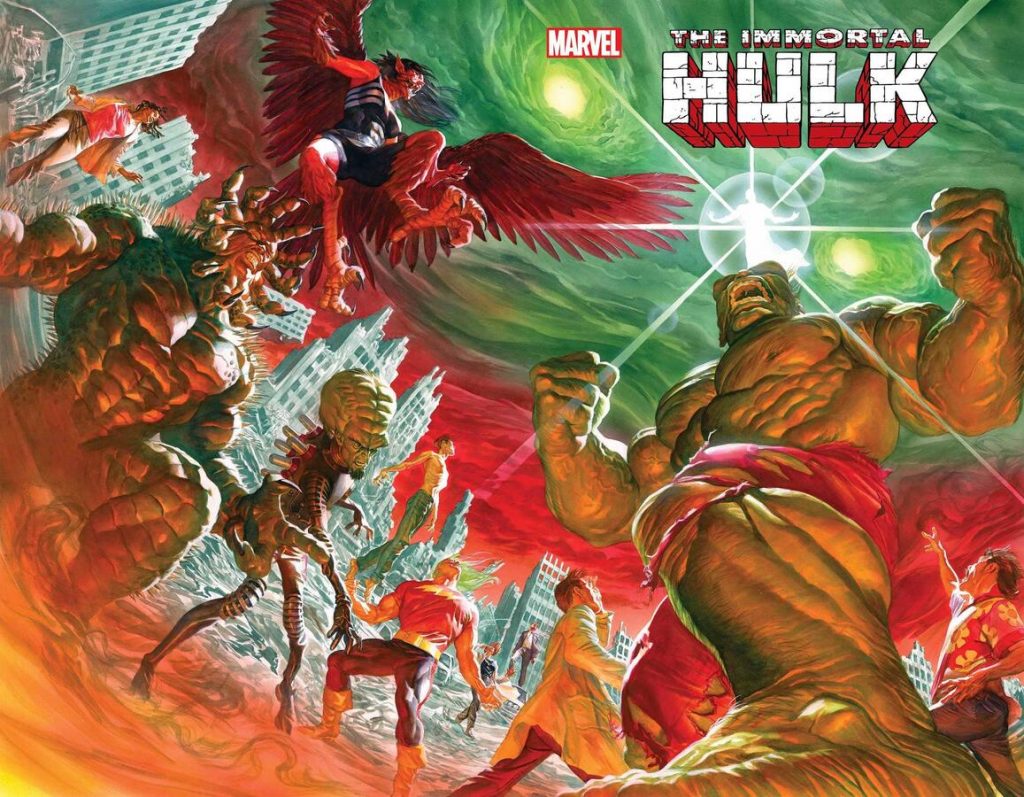 The Immortal Award: Al Ewing (S.W.O.R.D., Immortal Hulk, Guardians of the Galaxy, Defenders, We Only Find Them When They're Dead)
What a truly unusual year for Al Ewing. It felt loaded with distractions – in the path of his titles, from his collaborators, you name it – and there was every reason for that to distract from or even harm the work Ewing does. Instead, it was yet another banner year, as Immortal Hulk ended well, S.W.O.R.D. excelled through a challenging run of tie-ins, Guardians of the Galaxy had some outrageous high points (issue #10 is a sneaky contender for my issue of the year), Defenders expanded horizons, and We Only Find Them When They're Dead did some immense, bonkers things within this year.
Through it all, Ewing continued to show his gifts as a genius plotter, king of character work, continuity master, and someone with a near unparalleled sense of the moment. Like our favorite heroes, Ewing could have let some tough times bring him down, and like them, his talent has proven to be effectively immortal.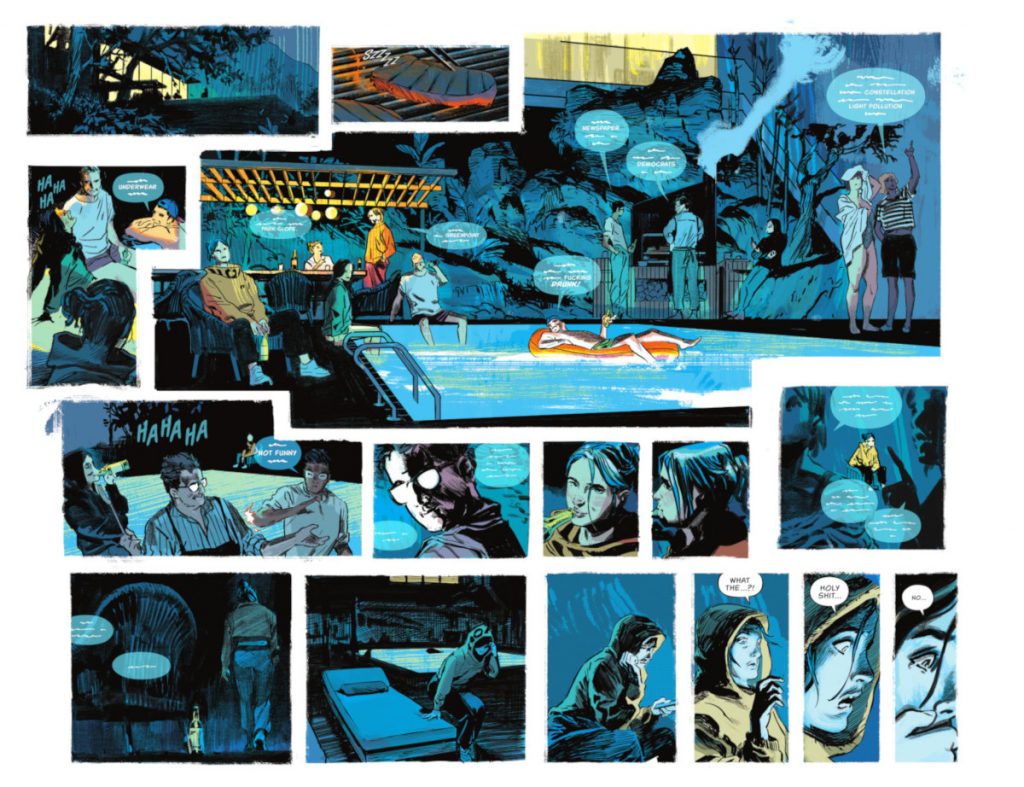 The Problem Solver Award: Alvaro Martinez Bueno (The Nice House on the Lake)
The Nice House on the Lake is a unique book, with constantly shifting asks for the line artist behind it, Alvaro Martinez Bueno. While this is often true, it feels even more so in the case of The Nice House on the Lake: its success fully rests on Bueno being able to solve the problems put in front of him. Sometimes that results in pages that look like the one above, with Tetris-like layouts necessary to deliver all of the crucial information in a double page spread. Other times it's about just making a moment, either big or small, hit with the appropriate weight. Or it might just require him to design an instantly iconic house. Who knows, besides the endlessly challenging James Tynion IV?
To accomplish the goals of a title like this one, you need someone who excels at everything that might be asked of an artist, with a versatile skillset that can accomplish – and thrive at – anything within the medium of comics. That's Bueno, one of the finest visual storytellers in comics today, and a problem solver of the highest order.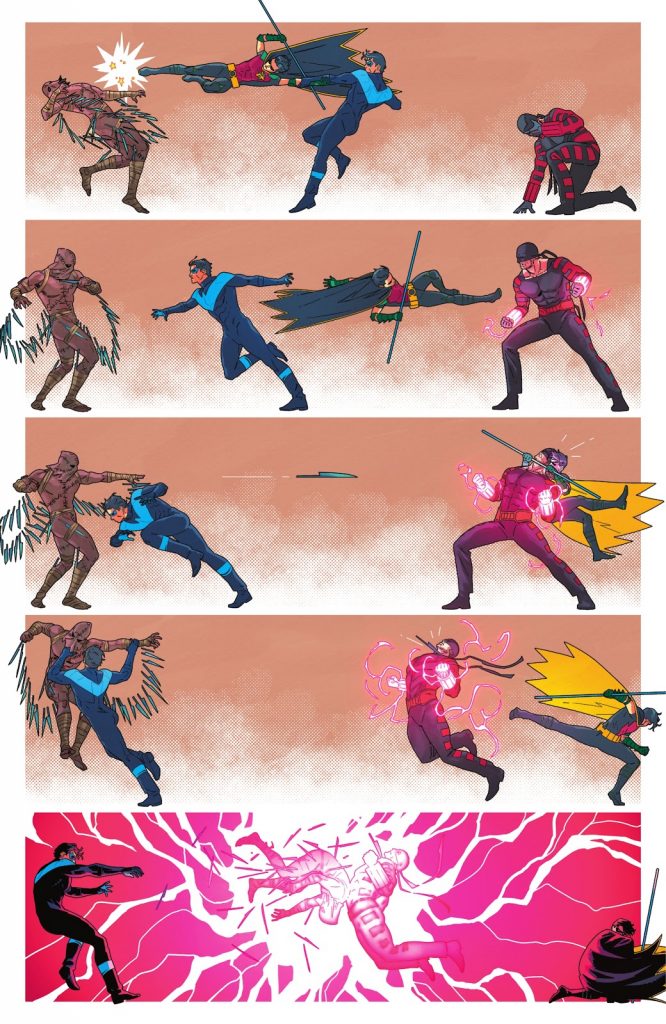 The In Motion Award: Bruno Redondo (Nightwing)
His performance in the De Luca Effect-filled Nightwing #87 is the obvious headliner in this regard, but instead, I want to point to the above page from that title's 80th issue as evidence of how Bruno Redondo's deserves this reward. It's five horizontal panels on one page, each showcasing a different step in a fight between Nightwing, Robin, and two baddies, and there's very little showy about it. It's not about that. It's about the choreography of the fight, and how Redondo can convey through visuals just how in sync Dick Grayson and Tim Drake's balletic battle routine is. Sure, it looks cool, but it says a lot about these characters (and the relatively inept nature of the villains) without saying anything at all in dialogue.
Redondo is a living, breathing cheat code, someone who can build meaning into any sequence and character into any fight. When our heroes are in motion, we aren't just seeing cool things; we're learning about them at the same time, all thanks to Redondo's remarkable, consistently great execution.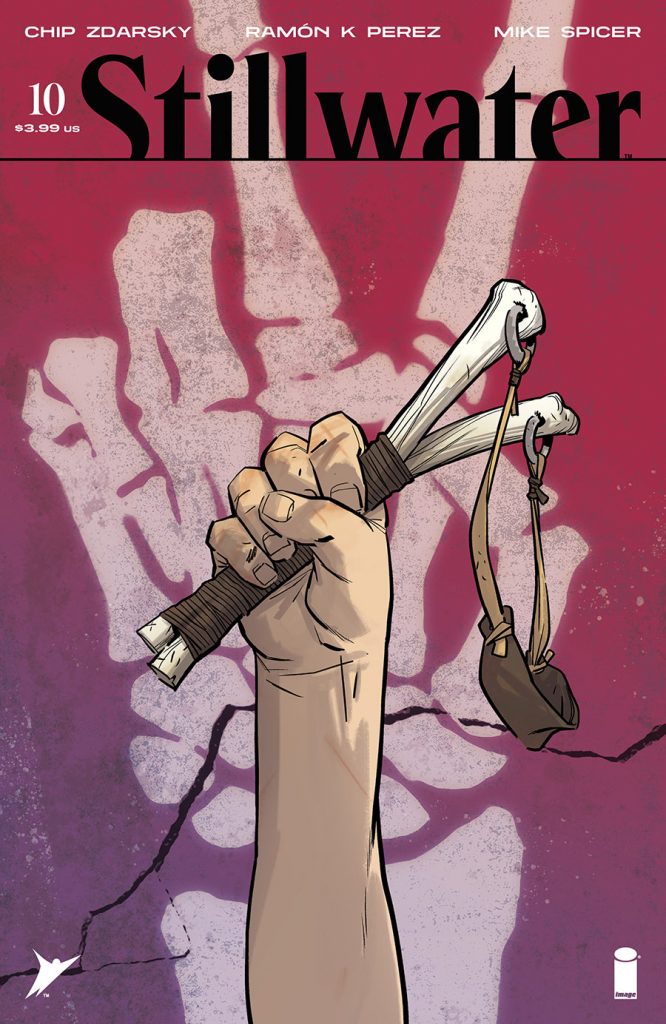 The Man Who Has Everything Award: Chip Zdarsky (Stillwater, Daredevil, Newburn, Public Domain, Kaptara, The All-Nighter, Justice League: Last Ride)
Indie guy or superhero writer? Funny man or serious auteur? On Twitter or off? These are the types of choices that could destroy anyone in the year 2021. Except Chip Zdarsky. What did he do? He was given a series of choices that included all of these and said, "All of the above, please!" And then had the audacity to thrive! How dare he?!
That's why Chip gets The Man Who Has Everything Award. Few writers/artists/cartoonists or Substack-based entrepreneurs can balance so many different hats and excel at all of them at the same time. The way it usually happens is one project might seem like a weaker one or something might stand out well above the rest. But for Chip, more work just means more great comics while taking on more roles. While it does make me concerned about his sleep schedule, it makes me happy for us, the readers. Tough times for the ol' Chipper, but an endless period of bounty for all of us.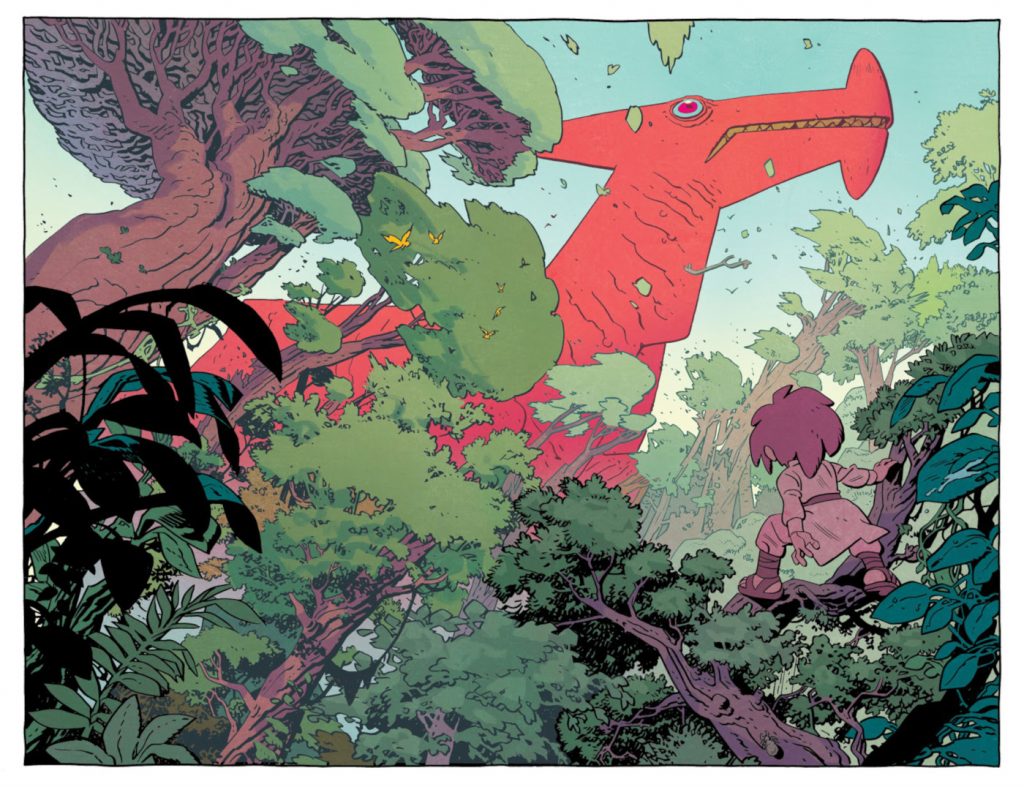 The Artist of the Year Award: Chris Samnee (Jonna and the Unpossible Monsters, Fire Power)
The above image comes from Jonna and the Unpossible Monsters #1, a showstopper, double page spread from that title's debut that few artists could bring to life better than Samnee. If that was the only contribution Samnee had brought to the world of comics this year, it's entirely possible I would have considered him for Artist of the Year, if only because I love that spread so much. But Samnee's true talent isn't highlighted in the most obvious moments, but the fact that he brings these same awe-inspiring storytelling talents to each and every panel, page and issue he works on. There are tiny panels with shockingly few lines in the midst of a random issue Samnee's drawn that astonish and enamor me as much as those big beats, and that's something very few can match the artist in.
The fact that he's elevating moments both big and small, enlivening unforgettable characters, and perfecting the art of the action sequence while drawing two comics at the same time makes his gifts all the more astonishing. This was one of the easiest awards to give this year: it was Chris Samnee's world this year; we were just enjoying living in it.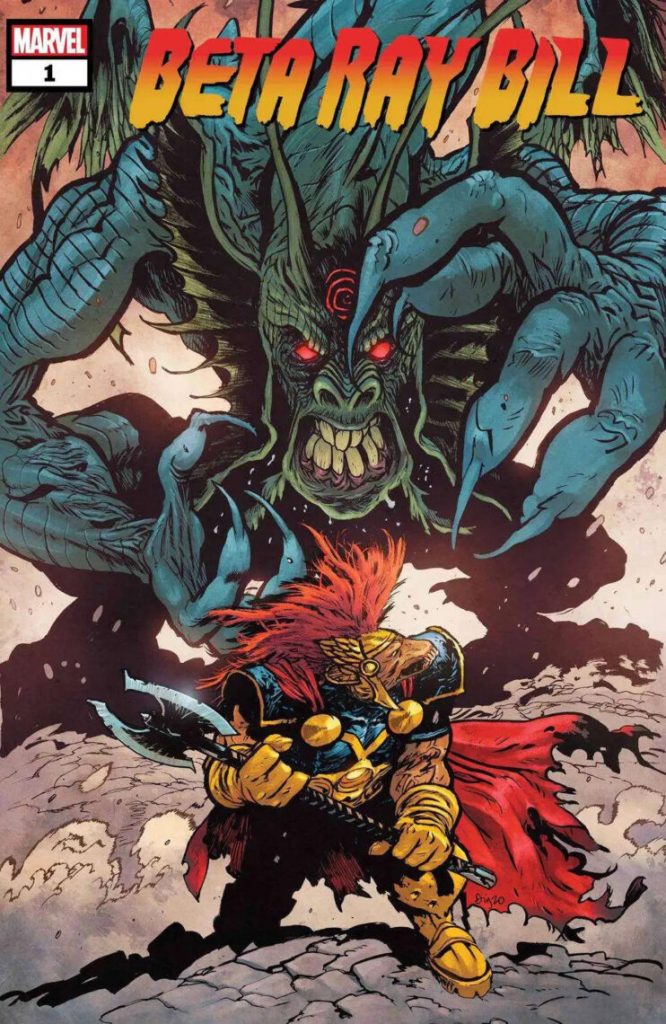 The Scalable Award: Daniel Warren Johnson (Beta Ray Bill)
Daniel Warren Johnson's a fixture here on SKTCHD. It's for obvious reasons: he's pretty good at this art thing! And even though it didn't make my list this year, his efforts on Beta Ray Bill were a perfect example of everything we love about DWJ's work. I want to talk about one element in specific here, though: his ability to work with scale is unparalleled. Beta Ray Bill was an electric showcase of that, as it was loaded with the classic Johnson setup of "normal sized thing being presented near an absurdly enormous thing" and delivered with maximum enjoyment.
But I don't want to make this seem like simple trope of his work. Johnson doesn't do it because he's expected to do it. It's because he works on the right projects and they're right answers at the right time. More than that, he is the absolute best at it. Whether it's a cutout view of Skuttlebutt and everything going on within her or Bill versus Surtur or, most importantly, that moment in the final issue where Skurge uses a weapon Skuttlebutt makes, you know DWJ is going to make those moments unforgettable. And he does, each and every time.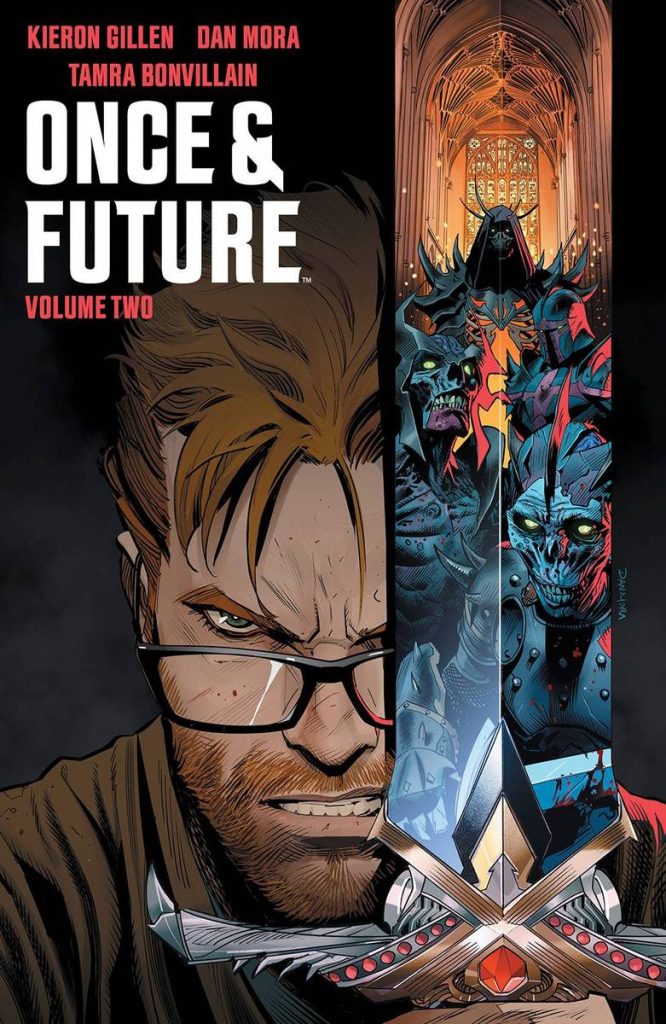 The Machine Award: Dan Mora (Once & Future, Detective Comics, Future State: Dark Detective)
Someone needs to explain to me how Dan Mora continues to draw multiple comics all the time with zero downturn in quality. I do not understand it. Does he have clones? Is he multiple people? Is he, in actuality, a machine, like a Terminator designed only for drawing comics? I need answers here, people!
The funny thing about it is there was a part of me that wondered how Mora could keep improving. I already thought he was one of the best in the business, as he constantly brings an energy and storytelling gifts to the table that few can match. He continues to grow in subtle ways, but I love that he found an alternative solution to my "how will he continue to improve?" question: draw way more and maintain the same quality throughout. It's insane. The guy is unstoppable.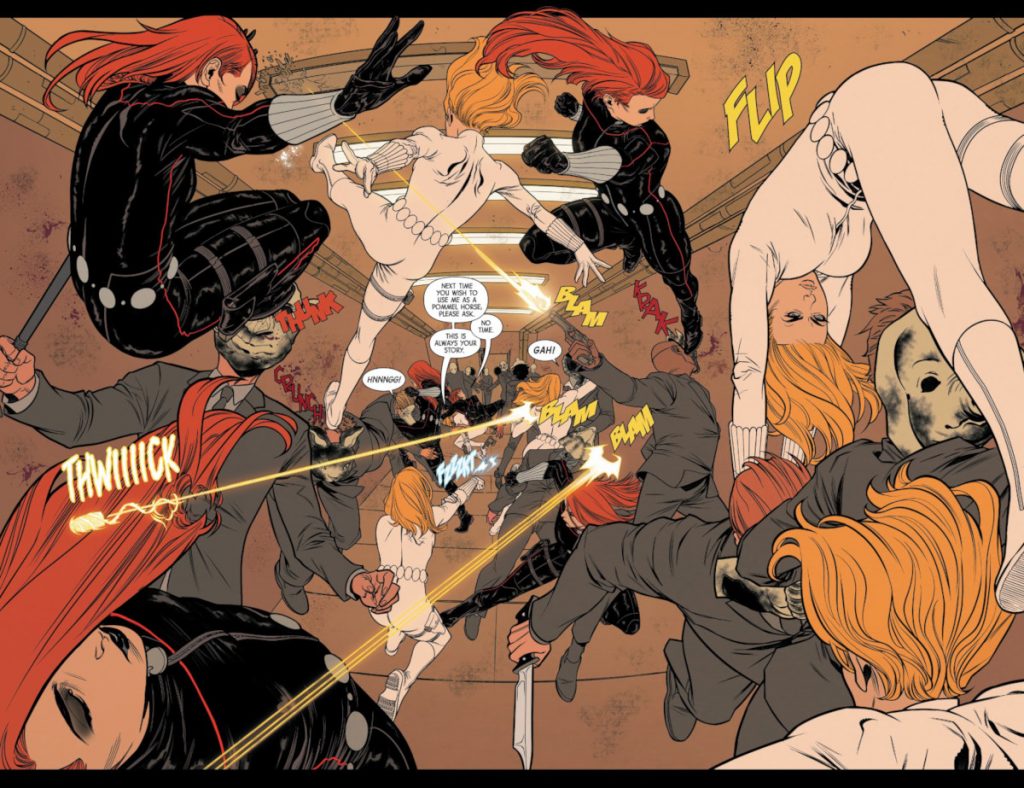 The Highlight Reel Award: Elena Casagrande (Black Widow)
Elena Casagrande starting to earn significant praise for her work on Black Widow has been a thrill for me as someone who owns considerable land on "Elena Casagrande is actually one of the best artists in comics" Island. And it's easy to see why that praise has been coming her way: I'd say on a per page basis, Casagrande might have delivered the most "Wow!" worthy pages in the superhero comics of 2021. The page above is a perfect example, and it underlines how effective the artist is at building astonishing moments out of impeccable storytelling. And she's been delivering it throughout her run on Black Widow.
While I do want to give her partner-in-Black Widow-ing Rafael de Latorre a lot of credit, as they are one of the most complementary art rotations going in comics right now, with de Latorre ably stepping in to keep momentum going so Casagrande can get a break, the Casagrande issues are just another level. Her ability to turn each issue she tackles into a highlight reel of greatness is truly special, and evident each time a new Black Widow entry drops.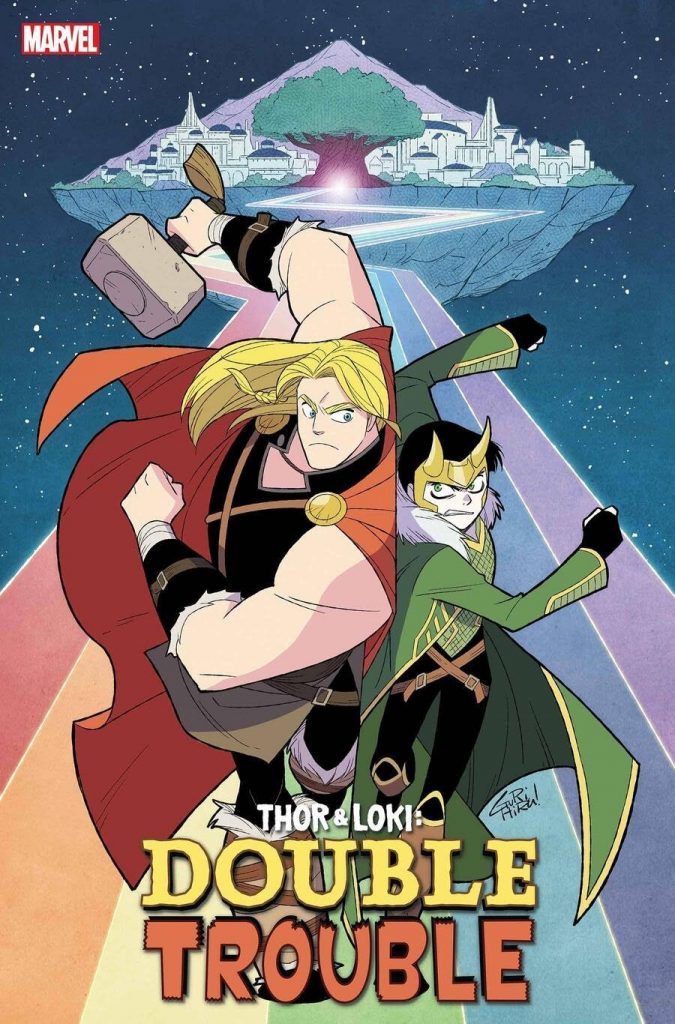 The Cute Without the 'E' Award: Gurihiru (Thor & Loki: Double Trouble, It's Jeff!)
"Cute" is a word that's thrown around about comic art as if it's a pejorative, a term that defines the work as lesser than simply because it is, in fact, completely adorable. That's an absurd concept to me, and Gurihiru's art is proof of why. Gurihiru, in case you don't know, is an art team that consists of Japanese artists Chifuyu Sasaki and Naoko Kawano, and yes, they draw cute comics like Thor & Loki: Double Trouble and It's Jeff! But there's a reason every project they take on works and works well: they're amongst the finest storytellers in comics!
Everything they do is note perfect, conveying emotions to the maximum and helping readers empathize (and connect with) each and every character. That they also make us go "Aww!" on occasion doesn't take away from that; it just means they can do a whole lot of different things at the same time. Gurihiru's name on a cover makes that work appointment reading for me, as I know it's going to be a treasure of a comic, if only because of the art. That's a rare quality for any artist. Even ones whose art is considerably less cute!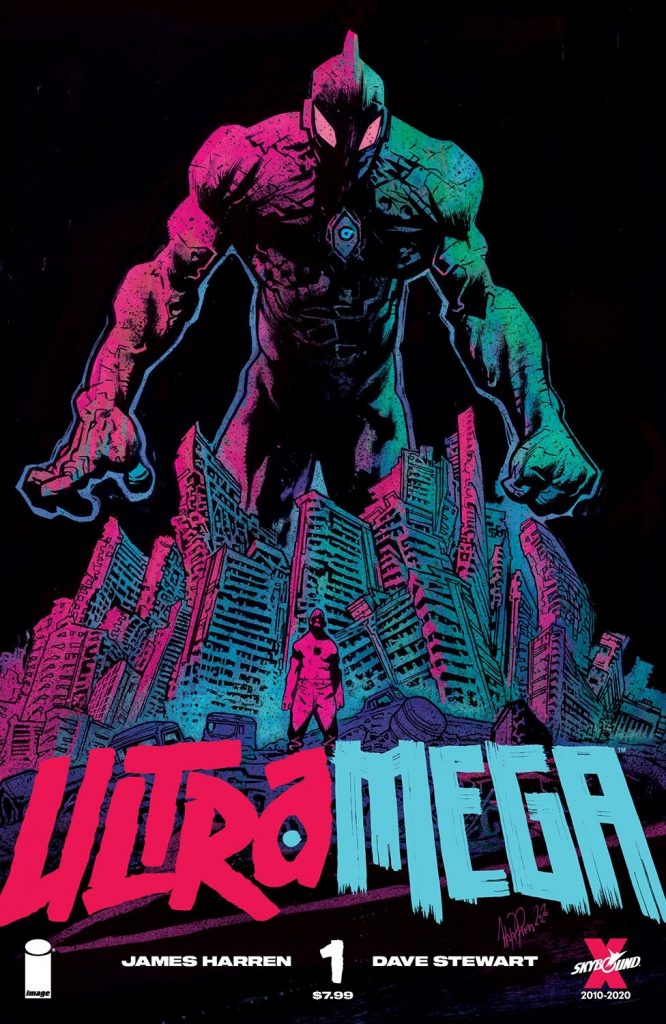 The Big Monster Award: James Harren (Ultramega)
James Harren (JAMES HARREN!) has long been a favorite here in the SKTCHD offices, and for good reason: everything he does is incredible. As one of the best artists in comics, his explosive energy and excellence in moments both big and small are a unique combination, and one that makes everything he does a must read. So when I heard that he was going to be both writing and drawing a Ultraman/kaiju-type comic in Ultramega – one of my preferred genres – I had the hype.
He did not disappoint. Ultramega is an absolute blast, with a big, bonkers story that has zero problem completely reorienting the story at will. It's the first thing Harren has written, to my knowledge, and wisely, Harren the writer leaned all the way in to the strengths of Harren the artist. It's all big monsters, high drama, and energy, a recipe for a surefire hit in this space. And because it's Harren, the art is outrageous, with colorist Dave Stewart bringing the max out of it. Ultramega's a great book, but more than that, it's an electric highlight reel for the greatness of one James Harren (JAMES HARREN!).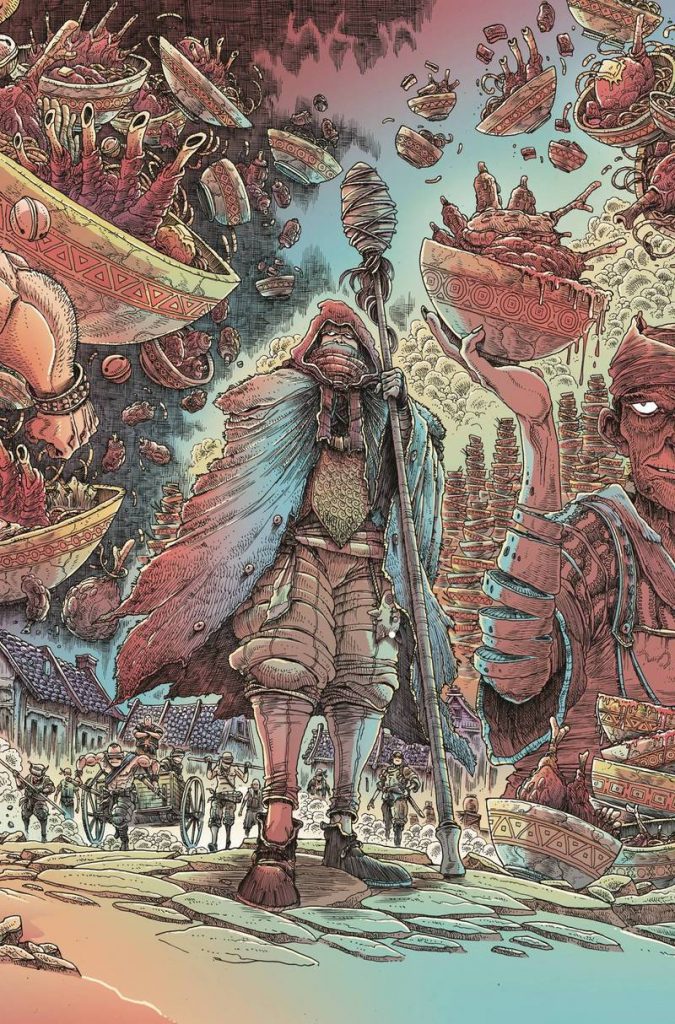 The Personality Award: James Stokoe (Orphan and the Five Beasts)
Amongst the many, many things I love about James Stokoe's work, the personality he brings to each work might be my favorite. The guy's an absurdly talented cartoonist, with big ideas and big art that astonishes throughout. But in his Dark Horse series Orphan and the Five Beasts, that personality shines through the most, perhaps, as it distinguishes it from anything else on the market. Whether it's in his script or in what he values on the page as an artist, Stokoe delivers a singular vision in the book, as he does on every project he takes on. When you read a Stokoe book, you know immediately it's one. No one else makes comics like he does, and you feel it as much as see it.
So, sure, he's really good at making comics that are big, bonkers fun, and yeah, I guess he's one of the best artists in comics. But I love that personality aspect. I want to feel what makes a comic one the one you want to tell, and the only you can tell. That's too often absent from the work, in my opinion. Not in Stokoe's case. His personality shines through, elevating the work in the process.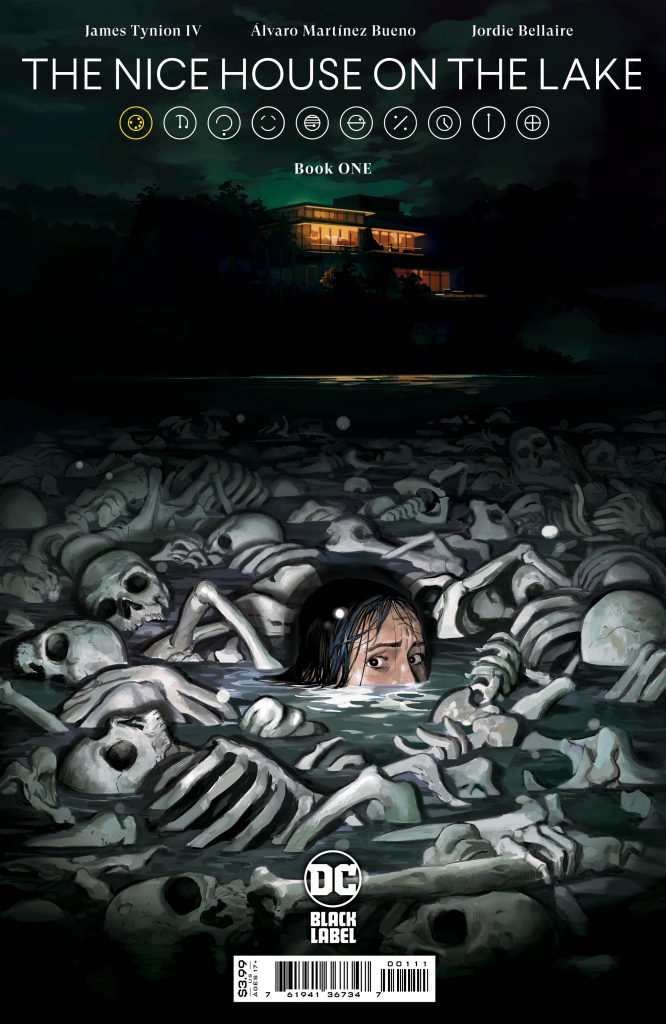 The Visionary Award: James Tynion IV (The Nice House on the Lake, Something is Killing the Children, Wynd, House of Slaughter, The Department of Truth, Razorblades: A Horror Magazine, Batman)
While the comics themselves are great – particularly The Nice House on the Lake, my second favorite release from the year – if there's one thing I appreciate about James Tynion IV's efforts from 2021, it's his risk-taking and vision of a new path for comics. If anyone had every excuse to play it safe, it was the guy who was writing Batman at the time. For all intents and purposes, he had reached the apex of being a certain type of writer in comics. Why not enjoy it?!
Because he clearly wanted more, or, at the very least, he wanted different. So he took his talents to Substack. So he kept pushing to find new ways to do things. So he kept trying to find ways to grow his audience and, at the very least, the orders on his titles. Tynion's efforts in 2021 resulted in a lot of great comics, but more than that, by betting on himself instead of the Bat, he might have unlocked a new path for creators who are willing to try something new. That's a heck of a thing.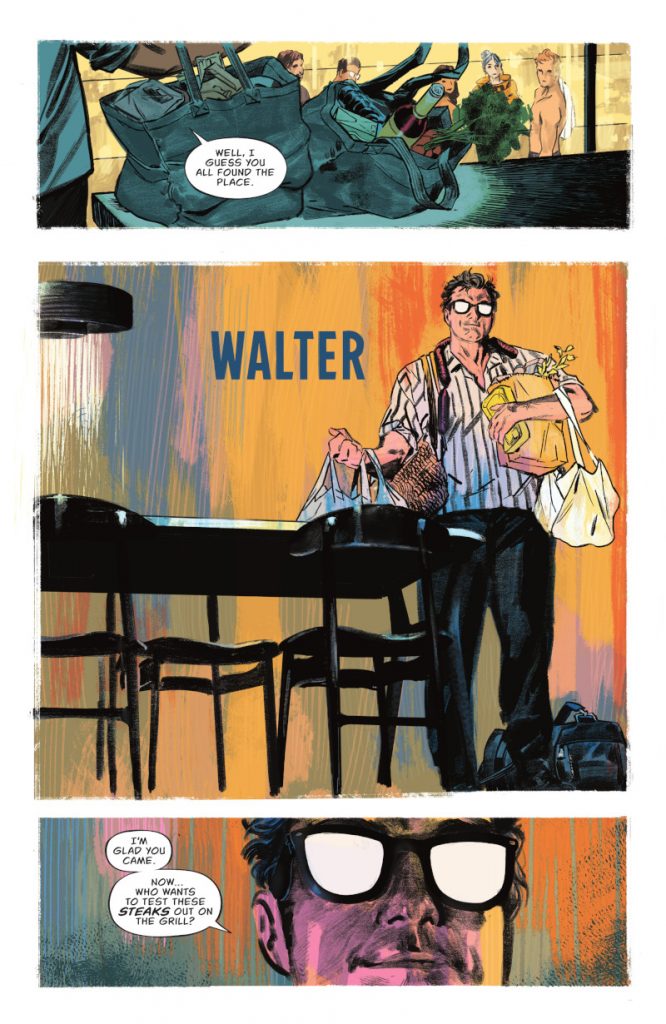 The Colorist of the Year Award: Jordie Bellaire (So many comics!)
Quantity and quality are two important variables when it comes to considering the work. The latter is obviously more important, but for a role like a colorist, the former is too as long as you can maintain the craft. That's something Jordie Bellaire did this year as well as anyone: taking on an unreal number of projects – including The Nice House on the Lake, Black Widow, Head Lopper, and many more – and just crushing it on each and every one of them.
It feels like it's been a quiet few years for Bellaire, as she's been writing more and coloring what felt like considerably less. But 2021 was a massive year for her on the latter front, and she brought so much atmosphere, impact, and storytelling gusto to each. It was a heck of a year for Bellaire, and, in my opinion, the best in her form in 2021. But don't call it a comeback: she never went anywhere to begin with.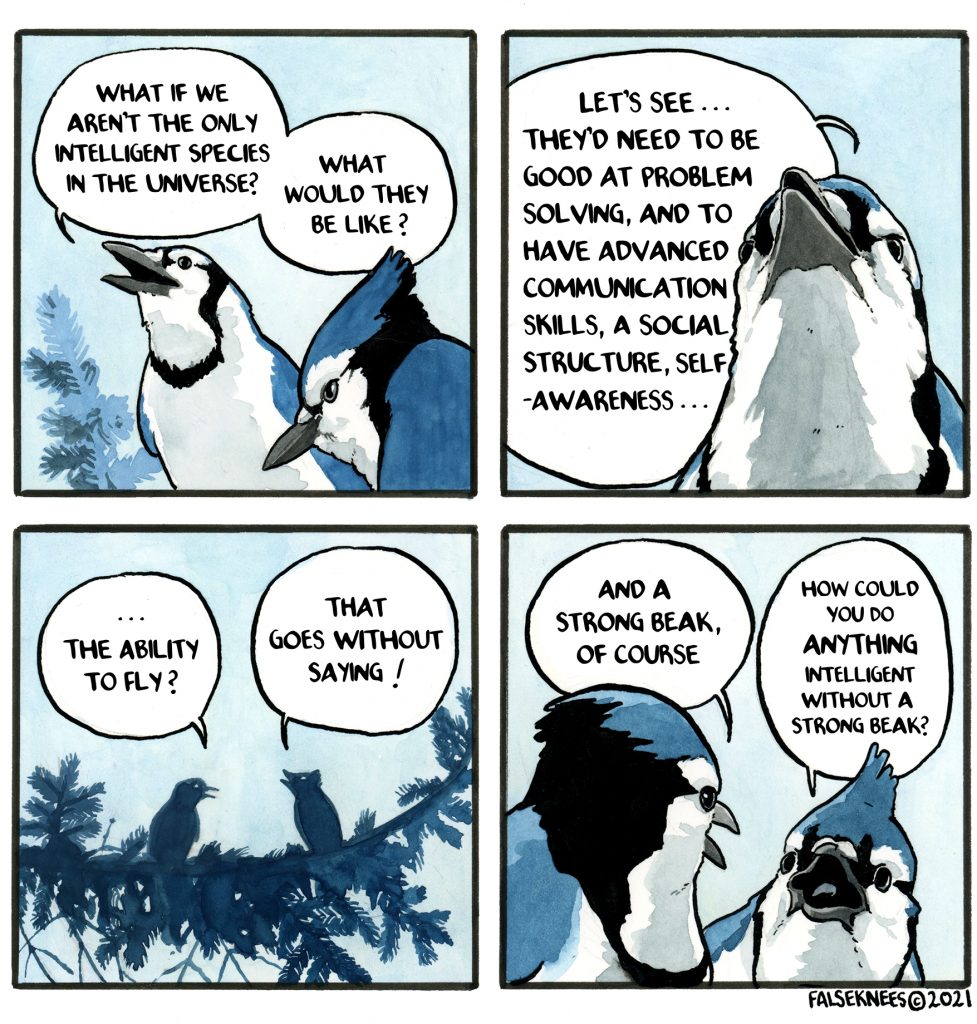 The Multi-Platform Award: Joshua Barkman (False Knees)
False Knees was one of my great joys in comics this year, as Joshua Barkman's efforts on that webcomic entertained me in a variety of ways throughout. His craft is through the roof, with his character acting and washes throughout staggering me as a reader. His insight into life through the prism of his animal subjects astonish and amuse me. And his ability to play within the confines of rigid structures while adventuring around them impresses me. Barkman is a heck of a talent.
More than anything, though, what impresses me about Barkman is his platform management. I know, that's not exactly a traditional "creator" idea, nor is it sexy. But it's increasingly important! And no one I'm aware of manages being on as many platforms at the same time (15!) with their comic as well as Barkman does. In fact, I wouldn't have discovered False Knees this year without his steadfast management of the series on both Twitter and Instagram, as they worked in concert to connect me with it. Now, I'm all in. For as great of a creator as Barkman is, it's his management of False Knees' footprint that might be his most enviable gift.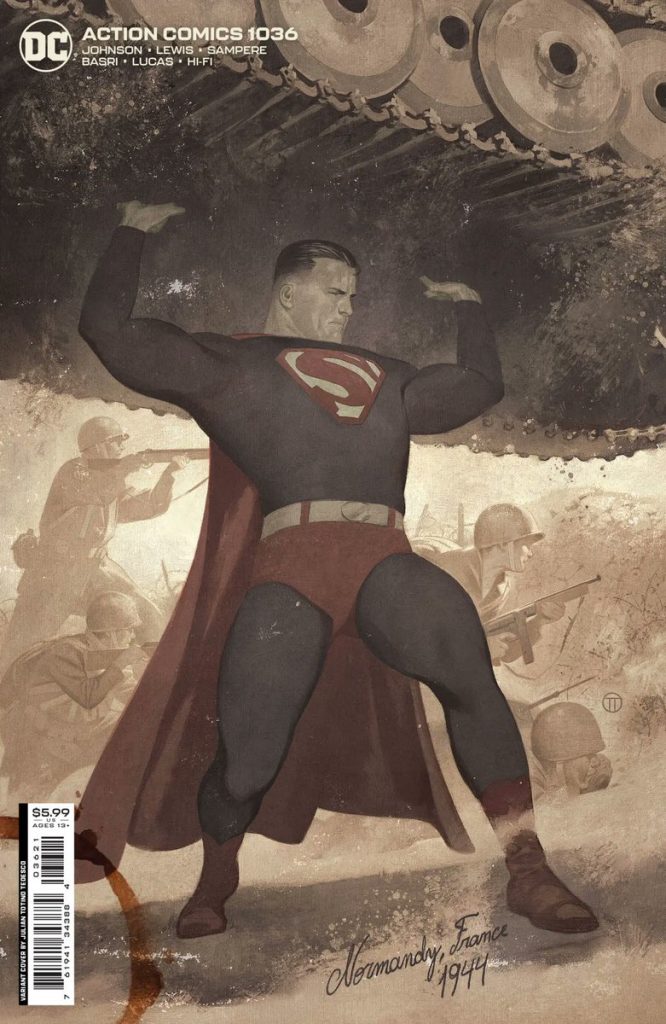 The Artist's Artist Award: Julian Totino Tedesco (oodles of covers)
What else can I say about Julian Totino Tedesco that I haven't said already? Tedesco is on my shortlist of the greatest cover artists ever, and certainly one of the finest working today. He seems to be settling in as the guy companies call when they know they need a cover that makes a major impact and gets the people talking, and the fact he does it with conceptual wizardry and pure craft delights me to no end. He's everything I want out of a cover artist – storytelling, stand out work, does things his own way – all rolled into one.
While he doesn't have a constant title he's working on A covers for, seemingly, his work on titles like Action Comics, Wonder Girl, Dune: House Atreides, and assorted others is so prolific and electric it doesn't matter. You feel his presence, even if he isn't on the same title each month.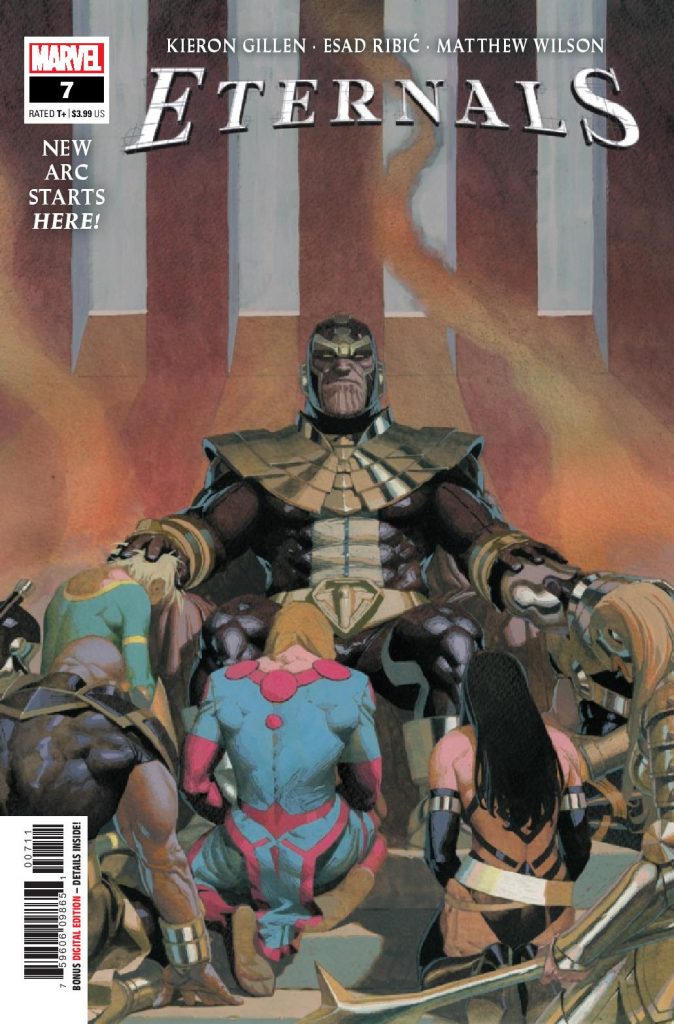 The Writer of the Year Award: Kieron Gillen (Eternals, Once & Future, Die)
If you want comic book greatness but varying flavors of it at the same time, there's no better writer to follow than Kieron Gillen these days. His primary release list in 2021 was his Marvel epic Eternals, the popcorn action of Once & Future, and the introspective and deeply personal Die. They sound different. They're much more dissimilar in execution, even if many of the hallmarks of what we love about Gillen's writing is omnipresent. The lively voice, even for often stilted god types in Eternals. The clever plotting. The stories about stories nature of things. It's all there, but it's also all different from one another in the best of ways.
That's tough to do. With some writers, they're them and that's the flavor you get each time. Gillen's gifts at being himself but also different parts of himself for each project gives each a special, irresistible flavor that jives nicely with one another, as if the trio together are wildly different foods with complementary tastes that elevate each other. Gillen's year has been unsurpassed in that regard. And most regards, to be honest, which is why he was my easy pick for my Writer of the Year Award.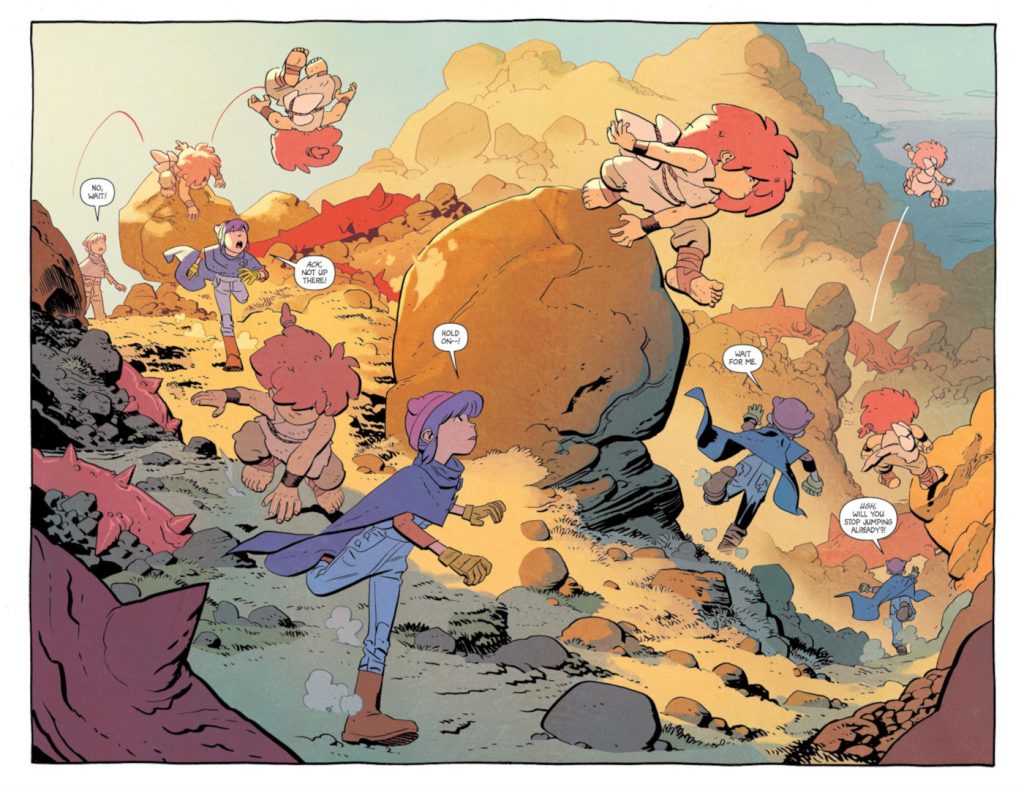 The Challenge Accepted Award: Matt Wilson (Eternals, Jonna and the Unpossible Monsters, Fire Power, Thor)
Not all coloring jobs are created equal. All present their own challenges and difficulties, but some likely are more rigorous. Take Matt Wilson's efforts as an example. He has the whole spectrum covered. While working with his pal Chris Samnee probably isn't easy, per se, they've been working together long enough and Samnee's inks are clean enough it's probably less difficult than others. Meanwhile, he's also working with two immense talents known for painting themselves – that's Nic Klein on Thor and Esad Ribic on Eternals – which means two immense talents that already think in color and use washes aplenty. So the bar he's comparing himself too is those artists themselves. That's a lot!
Consider that challenge accepted and delivered on! Wilson's work on each and every project he's tackling right now is of the highest quality, with each having their own unique flavor that he brings to the work. Each project and artist has different needs, and Wilson never fails at finding the right solution to those problems. He's one of the best in the business for a reason, and 2021 was even more evidence of just how great Matt Wilson truly is at coloring comics.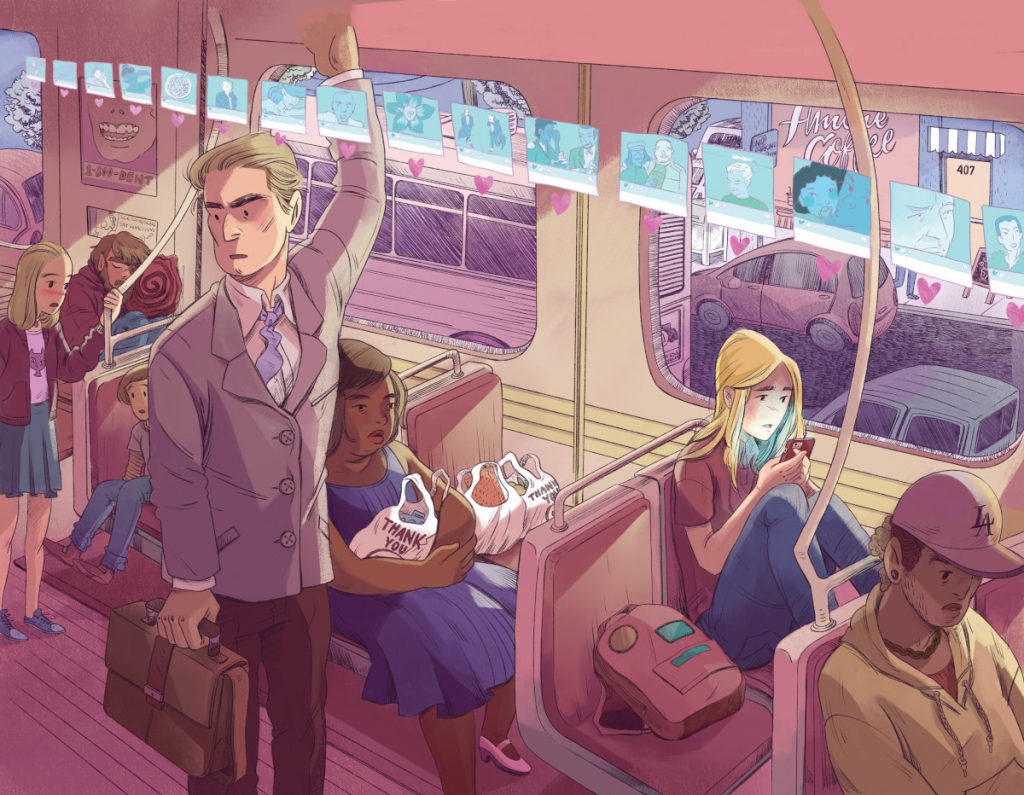 The Storyteller Award: Nicole Goux (Everyone is Tulip)
This is one of my favorite pages of the year. It speaks volumes without saying anything, dialogue-wise. It all rests on artist Nicole Goux's ability to highlight Becca, the lead of Everyone is Tulip, and her relationship with social media. It's a remarkably ingenious page, as it does three things:
It helps us understand what Becca is doing on the bus.
It uses the direction of the bus and its movement to indicate the passage of time.
It underlines the vapidity of the Instagram experience, with the mindlessness of the constant swipe-double tap-like rhythm that some approach the platform with.
Conveying all of that in a single double page spread is a tall task, especially with zero words to it. But Goux absolutely crushes it. That's Goux on each project, but perhaps most especially here in Everyone is Tulip, a graphic novel that acts as a showcase for the artist's genuinely remarkable storytelling abilities. This is only two pages from a full-length graphic novel, but the quality throughout never slips. That's just what Goux is: a master storyteller at the top of her game.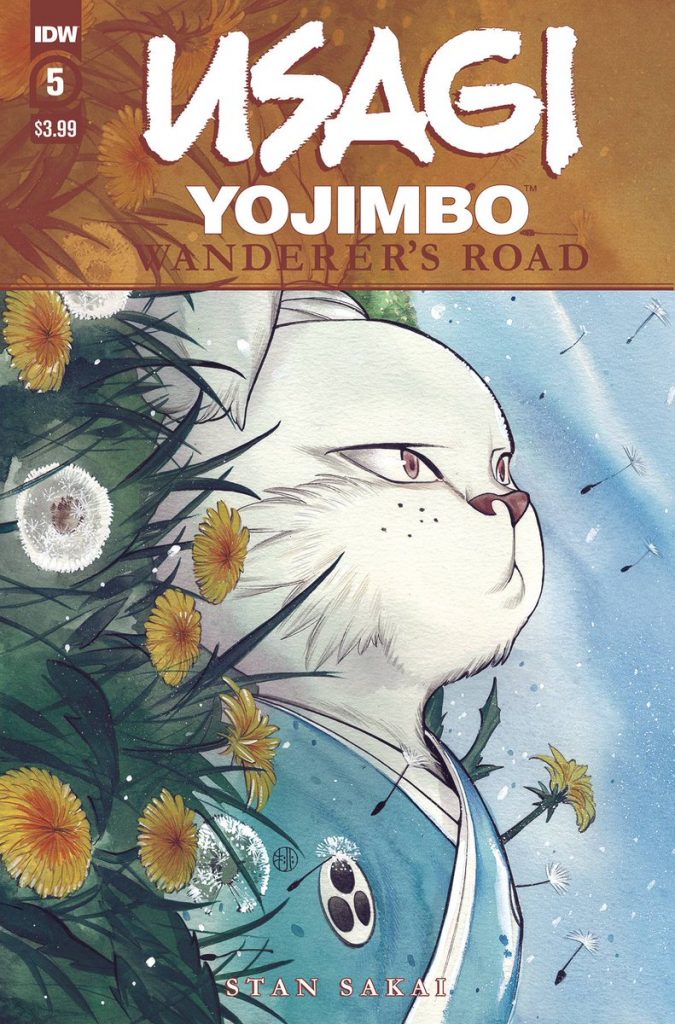 The "I Get It Now!" Award: Peach Momoko (a whole lot of covers, but namely Usagi Yojimbo)
One day, there was no Peach Momoko in comics. The next, Momoko was everywhere. Everywhere. I didn't understand why either. It's not because there was any indication that she was a bad artist. It's just going from nowhere to everywhere was baffling to me.
This year, though, I finally got it, and it was thanks to some covers Momoko did for Stan Sakai's long-running Usagi Yojimbo series. Each had a serenity to it, a slice of a moment that spoke perfectly to this character's identity. More than that, there was true beauty to these covers, with each showcasing the exceptional gifts and the varied approaches Momoko contained within. For the variant cover artists of the moment, it can be easy to get pigeonholed as one thing, and one thing only. That can create an idea that this is all the person is capable of. I was worried that was the case with Momoko, but those Usagi Yojimbo covers absolved me of those concerns. Peach Momoko is a remarkable talent, someone that has shown a whole lot already, and perhaps a capability for more than has been asked of her to date. I'm excited to see even more in the future.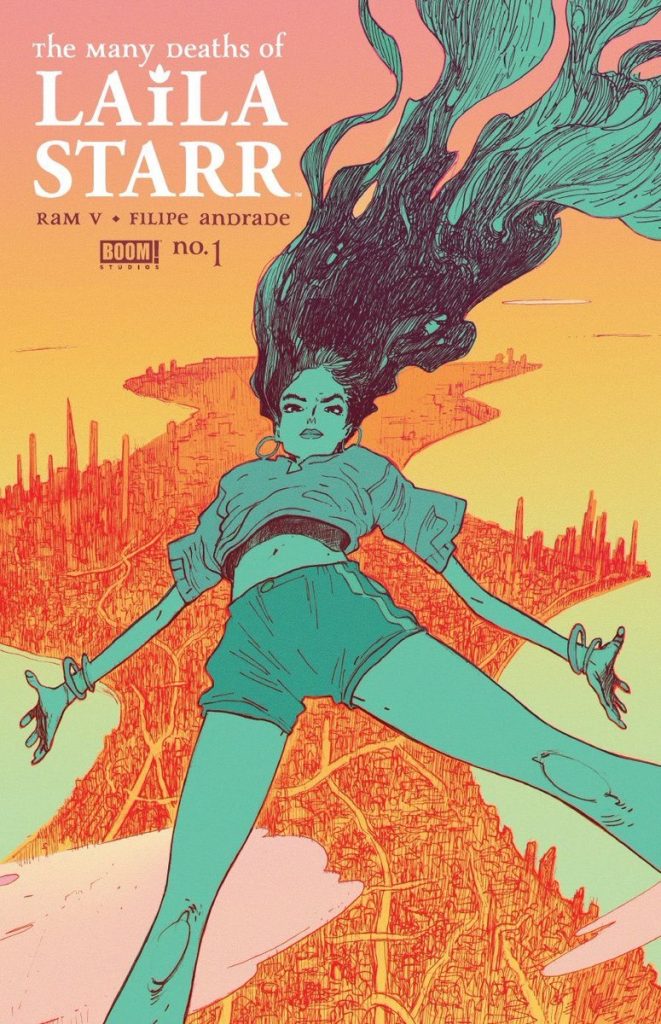 The Heir Apparent Award: Ram V (The Many Deaths of Laila Starr, Swamp Thing, Radio Apocalypse, Venom)
Calling Ram V the next big thing would be insulting to a degree. He's already a big thing. 1 It's close to accurate, but not quite there. Instead, The Heir Apparent Award felt right, both because of what he's done already and what I see in the future. I truly believe this: there's no reason Ram couldn't be the biggest writer in all of comics in the next three to five years. Heck, in the next one.
2021 was proof of that, as he's passing all the typical high-end tryouts with flying colors. Swamp Thing, an opening salvo for so many writers, tackled with an inventiveness few in recent memory have matched. Co-writing Venom, as Marvel loves revealing writers to larger audiences with immense co-writing gigs. And The Many Deaths of Laila Starr, a project that showcased the towering, astonishing capabilities he has. It's clear the Big Two believes in him. It's clear Ram still knows to bet on himself. And it's clear that there's no real ceiling for Ram V, just how quickly he can reach the mountaintop. If 2021 taught us anything, it's coming sooner rather than later. I can't wait.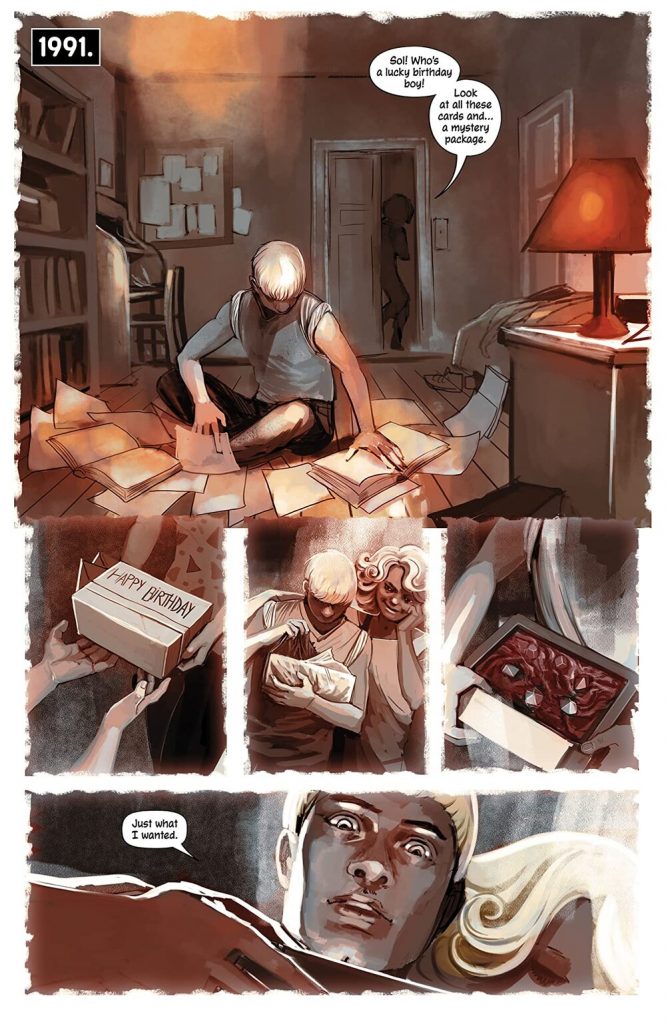 The Natural 20 Award: Stephanie Hans (Die)
As great as Kieron Gillen, my self-appointed writer of the year, is, Stephanie Hans made Die for me. Our belief in the world and connection to the cast was built from the ideas Gillen delivered but made real and complete by Hans' work throughout the series. No issue proved that better than the finale, a tour de force from the artist, as she finally digitally painted so many moments we were waiting for (as well as an assortment of others we had no idea were coming). From the honestly kind of delightful finish for Chuck to the final page, Hans and her painterly art proved to live up to the moment – and, in reality, enough to surpass and elevate it.
My feelings towards Die wavered throughout the run. This was in part due to things outside of its control – i.e. pandemic-related release schedule breakdown – but also just because I didn't always connect with every beat. But Hans was my constant, the natural 20 that always hit regardless of the moment.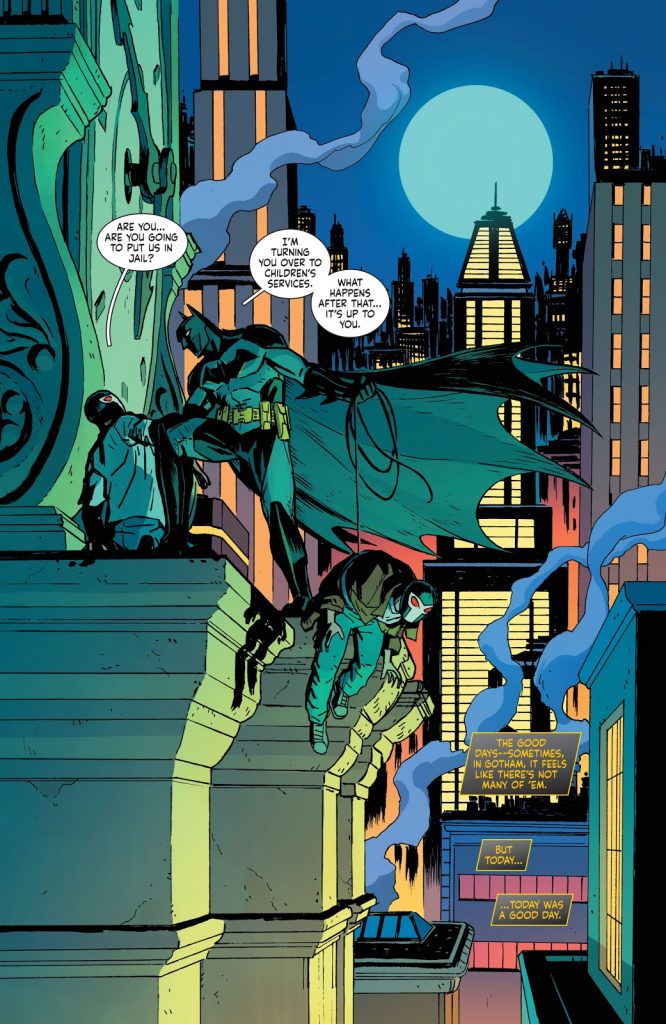 The Scottie Pippen Award: Tamra Bonvillain (Once & Future, Future State: The Next Batman, Wonder Woman)
Scottie Pippen is remembered as a teammate to Michael Jordan, a player whose measuring stick was always MJ, the G.O.A.T.. That, in many ways, is the destiny of even the best colorists. They're often presented as modifiers to the true talent, the line artist. But one thing people often forget, both in terms of Scottie and colorists, is the insane impact they have. Scottie Pippen was one of the 40 best players ever! Being a teammate of MJ is cool, but there's a reason we still talk about Pippen and not Mark Randall: Scottie ruled.
It's the same for Tamra Bonvillain. As great as Dan Mora and Nick Derington, two consistent Bonvillain collaborators, are, their greatness is inseparable from her coloring. So much of what we love stems from her work! Take the above page as an example. The lighting, the separation, the atmosphere, the everything – that comes from Bonvillain! Put that page in the wrong colorist's hands and it's a mess. Put it in Bonvillain's and it's a stone-cold classic. Part of that is being a good teammate. But like Scottie Pippen before her, an even bigger part of that is Tamra Bonvillain being incredibly good at her job.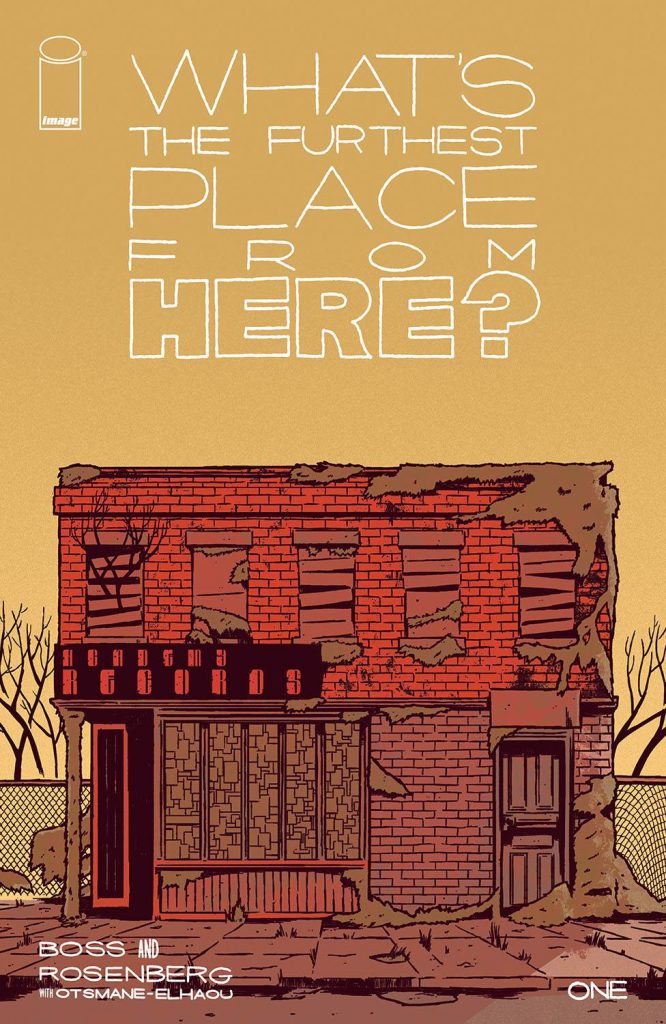 The Fully Alive Award: Tyler Boss (Dead Dog's Bite, What's the Furthest Place from Here?)
You really get a sense of the world when you read a Tyler Boss comic. That's the case for something that's wholly his own, like Dead Dog's Bite, or a project that he's drawing (albeit with more storytelling and world-responsibilities than just drawing might imply) like What's the Furthest Place from Here? It's not about rigorous backgrounds or adding elements with no purpose. It's about helping us, the reader, better understand the world in which the story we're reading takes place. And he might be better at that than just about anyone else today.
When you read either of those books, you feel completely immersed in them because of the intelligence behind what happens visually and the awareness of the things that make worlds feel real. I think back a lot to Dead Dog's Bite and how it calls ketchup "spaghetti gravy," something that came from the real world that Boss baked into the book. That's both hilarious and one of those details that's so absurd that it naturally makes everything else feel real. Those are the beats never misses, and the ones that make his work feel so fully alive.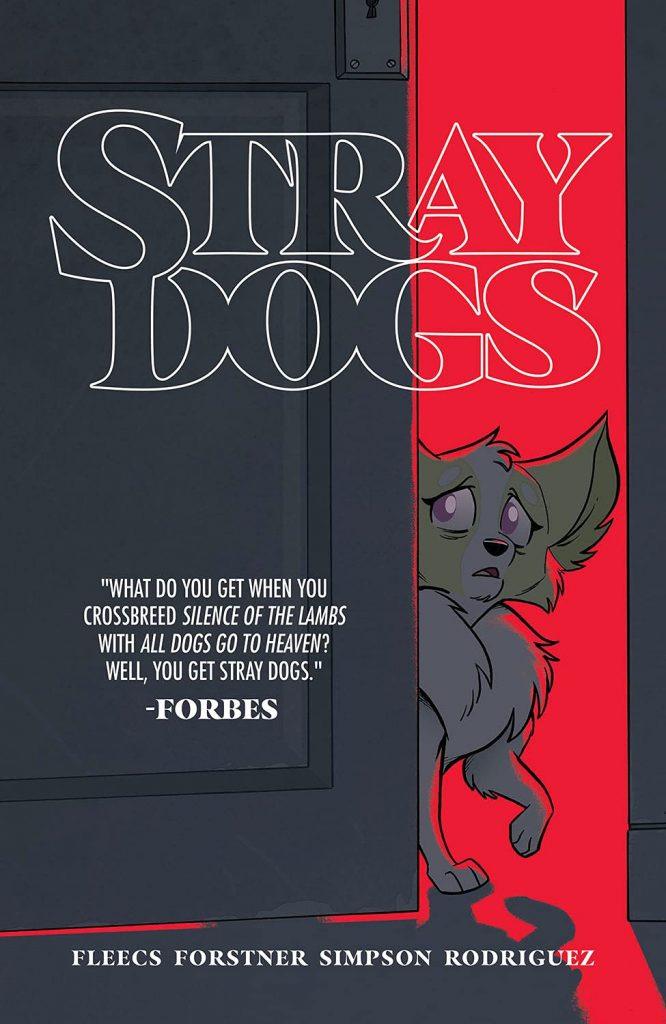 The Don Bluth Award: Trish Forstner (Stray Dogs)
This came up already in my write-up about Stray Dogs overall, but we're going to go into more detail here: Stray Dogs does not work at all if it wasn't Trish Forstner drawing it. It's a great concept, but you need to connect with it, and the heaviness of the subject needs to be balanced somehow. Forstner's Don Bluth-like approach to the depictions of the core cast of talking dogs is the straw that stirs that drink. Brad Simpson's colors help, as it completes the animation feel to it, but Forstner's ability to deploy such a style without making it feel like a gimmick is absolutely essential to its success.
More than that, Forstner's ability to use that style and still perfectly tell the story – connecting us with the cast and delivering the intense emotions amongst them – is truly remarkable. Animation styles can be difficult to work without motion, but Forstner nails it. It's a tremendous effort, and one that both defines the book while helping it reach heights that would be impossible without it.
---
Or at least as much as a human being is a "thing."↩