"I See Good Things Coming": On Comics Retail's Craziest Year Ever
As the COVID-19 pandemic spread across the world, there was increasing concern over what it could mean for the future of the direct market. 1 It's easy to see why. With cities deploying shelter-in-place orders, ordinary citizens staying at home and shopping less, and substantial in-industry changes like Diamond Comic Distributors putting a pause on comic distribution for two months, it was difficult for some to not to look at it all and think, "Maybe this is the end." There's always a doom and gloom vibe to the direct market side of things, but during a time that paired a pandemic with an economic crisis? Forget about it.
And yet, despite all of that, when I reached out to a bevy of comic shops for their perspective on the year that was, it wasn't all that different from years past. Don't get me wrong, the details differed. But the blend of performances and even the range they lived in hewed reasonably close to years past. Some were up and some were down, with a fairly ordinary divide between those two poles. Of the nine shops I spoke to, six were down from 2019 2 and three were up, with the low being a 25% drop and the high being a 20% increase. Given the environment they were contending with, it's honestly incredible, as John Hendrick from Dublin's Big Bang Comics suggested.
"If you had have told me (that we'd be down 5% on the year) back in April or May I'd have laughed at you and called you insane," Hendrick said.
When you consider that of the shops I spoke to, each and every one of them was closed to customers for as little as one and a half months and as much as ten – that's Oakland's Cape and Cowl Comics, who still has yet to reopen to in-store foot traffic – and that many were on reduced hours when they returned, it really is bonkers. Even more wild was something Pittsburgh Comics' Colin McMahon shared. He said his percentage decrease on the year was the exact percentage of the year his shop was closed, which he accurately described as "eerie." So, for some, those closures represented a huge chunk of lost revenue from the year.
Add it all up, and you could say that despite the trials and tribulations of the year, the direct market dodged a bullet. 3 It could have – or even should have – been much worse, even if it was still a painful, stressful year that was way more work than these tireless mavens of comic books are used to.
Once you consider all of that, the question becomes, "What helped these comic shops survive?" The short answer is "a whole lot of things." The long one is much more complicated. That's why in this week's feature, we'll be looking at the good, the bad, and the hopeful from 2020 in comics retail, arguably the most insane year in the history of the direct market.
And that is saying something.
---
While there were many defining themes to what carried comic shops through this year, if I could only select two, they would be "adaptation" and "enthusiasm." Those will be our focuses today. We'll start with the latter, because in some ways, that's the more surprising element from 2020. While many industries were beset by demand shock, 4 shops I talked to saw the exact opposite happen, instead facing a towering influx of interest from consumers upon Diamond's return to distribution.
"It was quite unexpected to see our Wednesday sales numbers jump to double what they were before the shutdown, and that has continued," Patrick Brower of Chicago's Challengers Comics + Conversation told me. 5
"Some people are starving for comics and have all the time in the world to read them," Cape and Cowl Comics' Eitan Manhoff shared. "Others discovered comics are a great alternative to melting their brains to yet another mediocre TV show."
That last point is one of the most interesting I learned from this exercise. While some shops understandably lost customers for any numbers of reasons – loss of work, tighter budgets, moving because of costs of living, etc. – I was stunned by how consistently retailers told me that their gains in customers surpassed any losses they faced.
"A few people didn't come back, but our gains with customers were so large and we diversified so much it didn't affect us that badly," Hendrick shared. "In fact, I'd say we are busier than ever."
"Any customers we lost – and we did have a few move away or lose their jobs – (were) far outstripped by new customers or current customers buying more," said Ryan Higgins from Sunnyvale, California's Comics Conspiracy.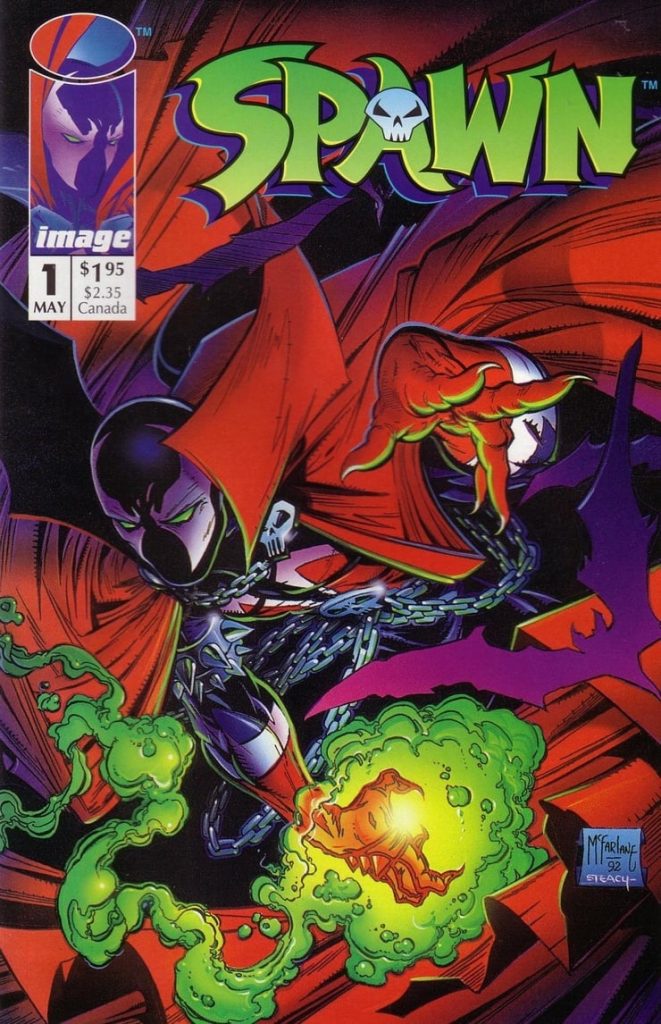 While this wasn't everyone – Jacob Sareli from Tel Aviv's Comikaza is understandably concerned by the disappearance of his customers – it was a consistent message from the majority. Demand was rarely a problem, whether you were talking existing customers or new ones. And that demand was aimed at comics both new and old. As I reported earlier, the back issue market blew up in 2020, and the shops I spoke to experienced this trend firsthand. In fact, one retailer – Ralph DiBernardo of Rochester, New Hampshire's Jetpack Comics – sold his entire back issue inventory to one investor early on in the pandemic and has been rebuilding ever since. This trend is massive amongst those that lean into that market.
"We have seen a massive increase in back issues," Manhoff said. "We do Instagram Live sales every weekend that are hugely successful for us. It's not all key issues, we sell classic stories, lots of work by popular writers and artists. Just anything cool we can find."
"So many people digging in my back stock these days," shared Jen King of Oak Ridge North's Space Cadets Collection Collection. "I love the energy of it."
While some of this was undoubtedly speculation and heat driven by related apps, it wasn't all that. Customers both new and old were in the market for everything from first appearances and variants to "random filler issues," as Higgins mentioned. The interest in this market doesn't seem to be slowing down, so for some like McMahon, building up collections to better tap into this market is a core focus for 2021.
In terms of newer comics, the spectrum on this was broad. Marvel and DC were leaders, as per usual, with many customers relying on the old faithfuls. But it extended beyond that. Sareli reported that manga was dominant in his shop, with 18 of his 25 best-selling trades fitting within that category. 6 Brandon Schatz of Edmonton's Variant Edition saw strong performances from DC's newer ideas – including Future State, even if that's a 2021 initiative – and the new Star Wars: The High Republic series, but there were two primary leads for his shop beyond those. One was "all ages comics, full stop," while the other was more of an idea than a category.
"Folks are looking for something new," Schatz said. "Fresh, concise ideas."
Fitting into that idea was King's experience with small press books. When Diamond's distribution shut down, she partnered with creators and publishers outside the usual Diamond-based ones to bring in waves of new titles. That made a huge difference with her shop's comics-thirsty customers.
"In the middle of COVID with absolutely no traditional distribution going on, we managed to sell hundreds of independent and self-published titles," King told me. "Our customers still want to get subsequent issues even after we have gotten access to the Big Two again."
Many new customers leaned towards graphic novels, and perhaps because of that, Manhoff saw heat in original, standalone graphic novels like Dragon Hoops, Dracula, Motherfucker!, and Ed Brubaker and Sean Phillips productions like Pulp and Reckless. 7 What else moved for Cape and Cowl? Well, the same thing that did at a whole lot of shops: the X-Men.
"If you looked at our Top 10 best-selling single issue from the year, you would wonder if anyone other than Jonathan Hickman was writing comics these days," Manhoff said. "Holy crap our customers love the X-Men."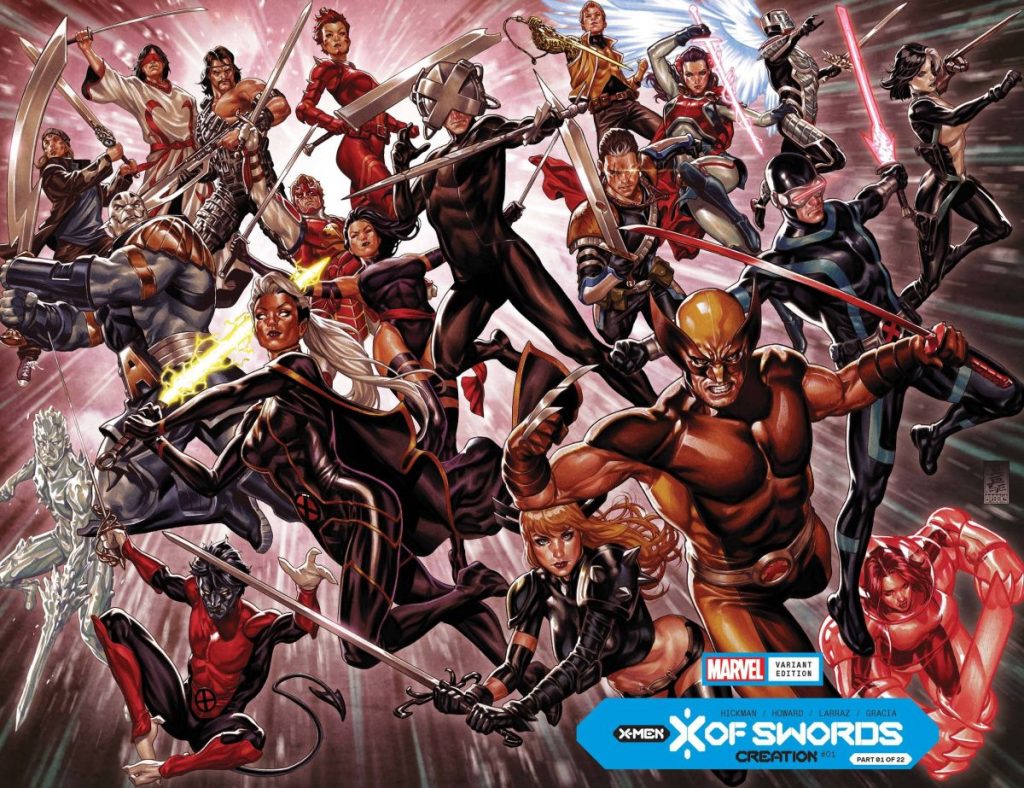 That's the case at shops across the country, including many of those I spoke to. Challengers' top seller list for the year was loaded with X-Men titles, and it was much the same at some of the others. The line's mega-crossover "X of Swords" resulted in anywhere from slight lift to major gains for related titles, 8 with the caveat being that most reverted to pre-Swords sales after the event concluded. Still, gains are gains, and as Hendrick said, "It was a pretty ballsy move by Marvel, but it seems to have paid off. We would reorder extras and new printings and they all sold.
"So, for us and Marvel that worked." 9
---
It's time to talk about the other theme from the year, and that's "adaptation." Due to the state of the world, comics retail was faced with two options – evolve or die – and because they're savvy individuals, they chose the former. That meant 2020 became a year of endless new tactics or, at the very least, an expansion of existing ones, whether it was mail-order and delivery or Facebook Live experiences and personal shopping.
A perfect example of this comes from Katie Proctor from Portland's Books with Pictures, who was a blur of activity this year, taking on all kinds of new efforts that resulted in big wins for her store. She told me that between March and late December she filled 545 10 personal shopping orders for customers, a truly staggering number, 11 all while becoming a prolific delivery person, with her routes each being things of equal parts beauty and madness.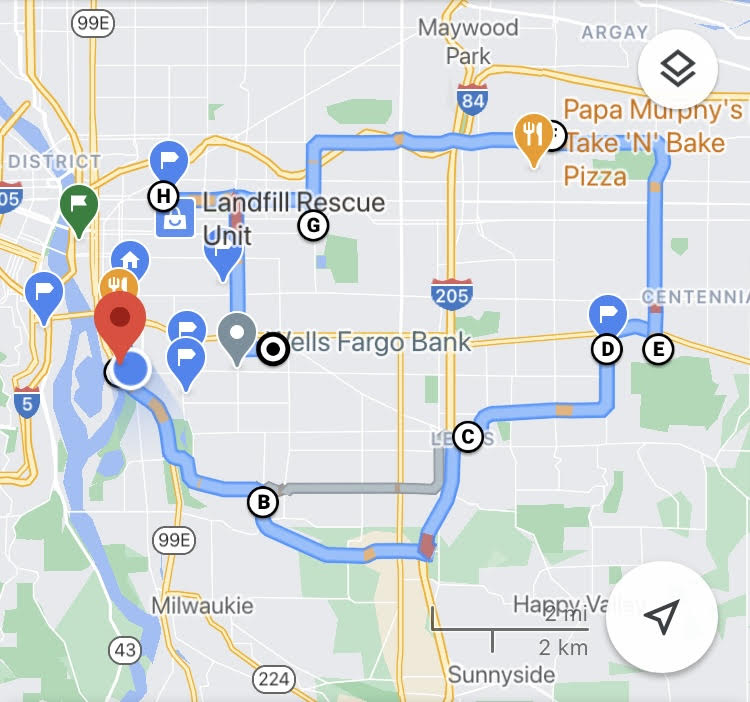 It wasn't just Proctor, though, or those specific tactics. The shops I spoke to either survived or, on occasion, thrived because of the changes 2020 asked of them, including several that benefited from opening web stores early on in the pandemic.
"Opening a fully functioning webstore via Shopify is what saved us," Brower said. "We use Square as our credit card processor and through them we can easily send out invoices to anyone. We're not a pre-pay shop, but with this function people can pay in advance and just grab their books via a quick handoff (or curbside delivery). This is something we are doing regularly now."
"One week into our lockdown out here in California we made the switch to ComicHub. We've made a number of other moves that kept the ball rolling, but none of them have quite had the impact of switching to the Hub," Manhoff said. "Our customers can do all the pre-ordering and special requests they used to make at the counter from the comfort of their phone or laptop. They can shop our entire inventory from their toilet at 1:30 in the morning or while riding passenger in the car on the way to some sweet hike." 12
This connects to another one of the hot trends from 2020, and that's the meteoric rise of mail-order. While this has always been a thing, it's never been one to this degree. But when the mobility of your customers is limited, you adjust accordingly. This requires extra work, of course. But that's to be expected in such unique circumstances. It's worth it to Steve Anderson of Maryland and Virginia's Third Eye Comics.
"Mail order exploded, and as such, we've been growing and improving our mail order presence and department," Anderson said.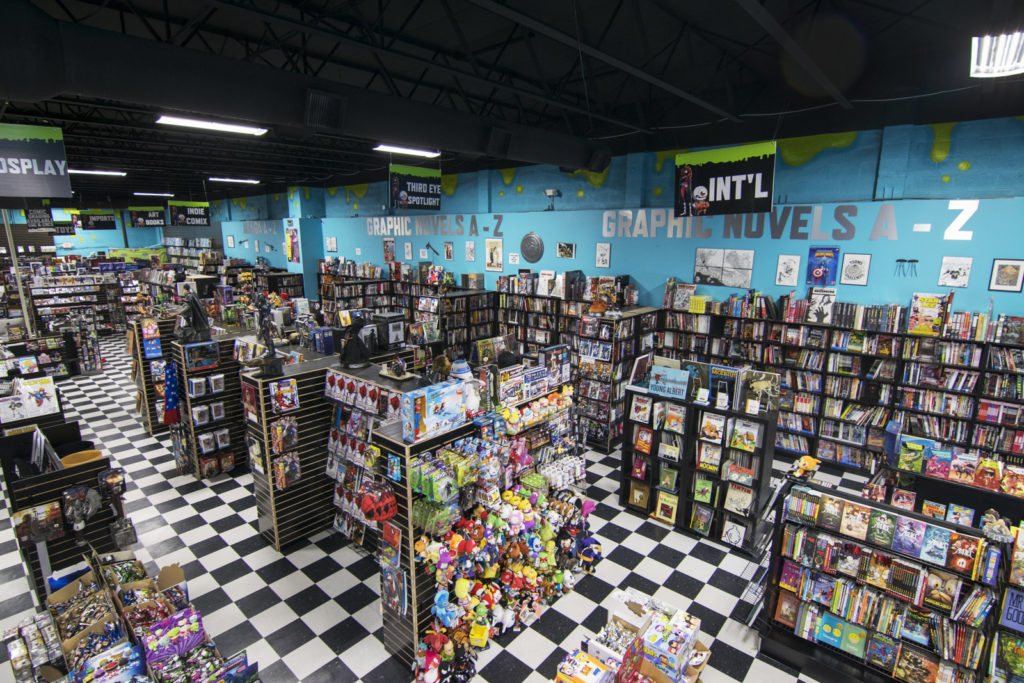 That limited mobility and frequent lack of in-store foot traffic put an extra emphasis on social media as not just an awareness tool but a sales one. Manhoff said one of his biggest changes this year was Cape and Cowl's social presence evolving from "goofballs" at a comic shop to more "product focused" efforts. That's happening everywhere, especially with the widespread adoption of Facebook and Instagram Live as ways to move inventory, with few surpassing King's shop in that regard. 13 DiBernardo told me these platforms are big now and will be even more so going forward.
"We quadrupled our use of social media and will run with that for some time," DiBernardo shared. "Social media (is) now our primary advertising."
That's an important thing to consider, because many of these new tactics will be carried forward into 2021 and beyond. Not all of them, and perhaps not at the same volume. But embracing platforms like ComicHub, leveraging social media, and expanding mail-order footprints played a huge part in old customers sticking around and new ones joining up. It made it easier than ever for people to get the comics they wanted, and that makes a big difference in a time like this. It's like Higgins said: 14 "I think this changed our business forever."
Retailers themselves weren't the only ones adjusting, of course. Publishers saw the potential downfall of comics retail and adjusted accordingly, and they did so in ways that aided everyone. One was in how most publishers – particularly Marvel, though – reduced the size of their lines, resulting in shops repeatedly telling me how it was more killer and less filler 15 in terms of what they were being asked to sell.
"It's always better when less is coming out," Anderson told me. "It helps us focus, and build readership and audiences for new properties."
"I love where we are now," King added. "This is a great balance."
While not everyone agreed with this – DiBernardo said "the volume of releases is still too high" and it was mentioned that the limited availability of the trade backlist is a growing concern 16 – most believed it was crucial to their success. The other side of that "helpful publishers" coin 17 was how many houses finally embraced returnability on a broader scale. As a quick note, traditionally direct market inventory is non-returnable. If it doesn't sell, comic shops are stuck with it, unlike the book market where inventory is returnable. When the pandemic hit, many publishers – which means basically everyone that wasn't Marvel – embraced this idea. It made a massive difference.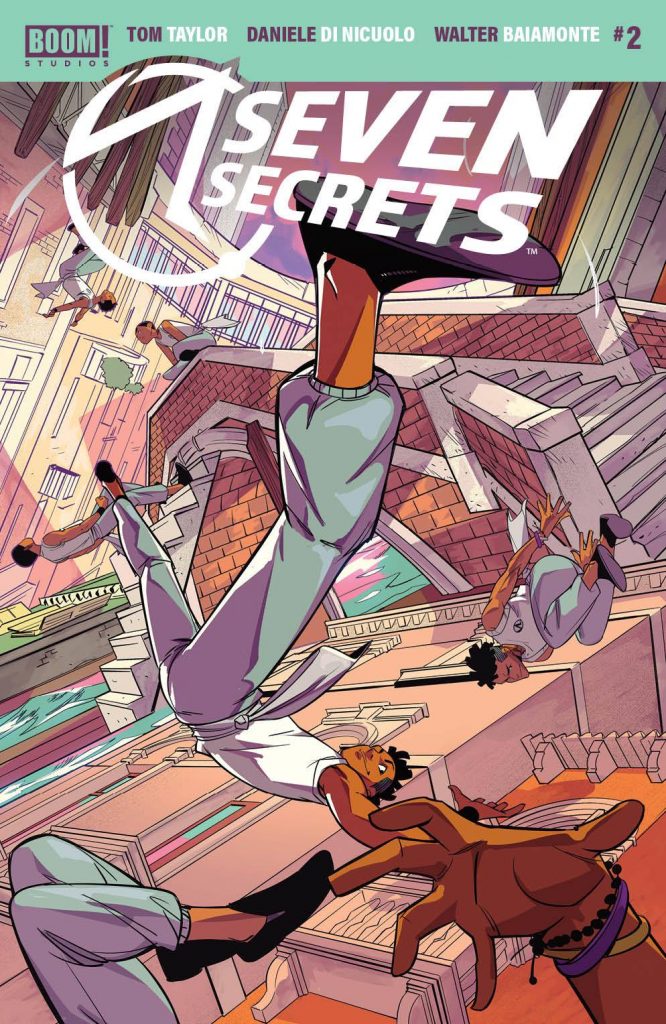 The math on this was simple. Shops are typically taking on the most risk of anyone when they order books, and in a situation where consumer turnout was uncertain and available funds for those who did was much the same, the expected answer for most was "cut orders to the bone." But because publishers deployed returnability in such a wide scale, it allowed shops to order deeper. Everyone won because of it.
"Returnability was the best thing publishers did, and I'd wager it helped far more than it hindered," Schatz said. "Our pulls increased significantly due in part to our ability to take more chances, and our want to hand sell good products for a publisher willing to take a risk along with us."
"That returnability is everything. It allows us to find our new ceilings and I think it should be something that should stay," King noted. "Empty racks sell no copies. Full racks give choices."
"Returnability is the most important thing that was offered and should be offered," Hendrick added. "This just cemented that fact. I know it's hard in such a low margin business but really, we should have that. I think if we did our industry would grow and our businesses would be safeguarded."
This was the most popular move of the year, as was the evolution of the returnability programs at the publishers. A good example of that came from Sareli's store. Comikaza traditionally didn't leverage these programs because he would have to ship unsold inventory back, a punitive cost in of itself when you're based in Israel. However, to aid shops, most publishers switched to systems that "offered a credit through destruction or stripping of comic covers" and then required retailers to complete an online form about it. That's it. This allowed him to participate, which was a massive relief for his shop.
Consumers themselves were adapting to the environment as well. While it was inconsistent enough that I'd call this a net even, it was interesting how some shops I spoke to saw increased interest towards either single issues or graphic novels, with little consistency behind why it happened. Brower did say that new customers were "90% trades and graphic novels," and I'd bet that was fairly universal. That said, 2020 was a year of the most consistent idea being inconsistency, so who knows?
There was also a ton of interest in product lines outside of comics, as those who sold puzzles, collectible card games like Pokemon or Magic, or Dungeons & Dragons did so with a smile on their face. Hendrick noted Big Bang made serious hay with action figures, with that channel increasing 65% on the year for them despite being locked down on the regular. That was the case for a lot of shops, though. Consumer interest was high and capitalizing on that was reliant on retailers adjusting to the new normal. The good news is, those I spoke to did just that.
---
Usually, this is where we get to other side of the coin: the product that didn't really move. There are typically a few consistent things that miss for shops each year. It's just a thing. For example, last year it was DC's main line, which just didn't connect. This year? There was almost nothing that overlapped in the shop's answers, with many even straight up saying that nothing stood out. That's wild, especially given the state of the world! It really does underline how enthusiastic consumers were in 2020. It was like they wanted whatever they could get from shops.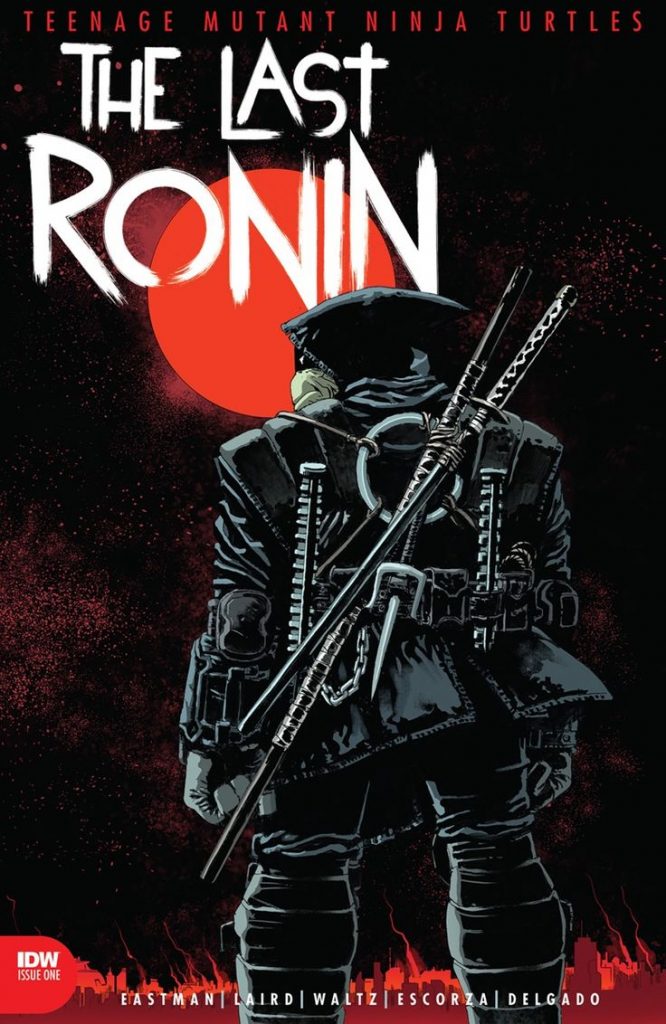 There were some downsides mentioned, of course. McMahon was frustrated by delayed titles like Teenage Mutant Ninja Turtles: The Last Ronin, the only one that earned multiple negative mentions from shops, as Anderson described it as "the biggest ball drop of 2020." Schatz said his customers are over universe-wide events at the Big Two. Brower mentioned that "untested new books" from smaller publishers – even Image – had a hard time this year. But as far as big complaints are concerned, that's fairly minor compared to the past.
The bigger complaints were systemic or industry related. Several shops saw considerably less foot traffic this year because of the pandemic – Sareli said "we had to cut down shelf issues to the bare minimum because of all the time our shelves weren't visited by walk-in customers" – which has an area of effect on product. But even then, others saw the opposite, as Anderson found that his customers were thrilled to get back in the store, saying, "if there was one thing this pandemic did, it reminded people just how special it is to go into a physical store and experience the space."
The counterbalances are everywhere for the biggest issues on the year. Foot traffic was a problem for some but not others. Challengers closed its second location this year but Third Eye opened two more and Cape and Cowl began an expansion of its retail space. Every issue seemed to have a balance, with no subject seeing that more than the general idea of DC Comics in 2020.
As you likely know, DC left Diamond and created two distributors to work with for single issue distribution early on in the pandemic. Beyond that, they laid off the bulk of their experienced direct market staff. Those are just two examples of things they did this year, but the point is this: they changed things up in a massive way during a time many were simply looking for stability above all. The result from that turmoil is this subject being by far the most polarizing one I've ever brought up to anyone, be it creator, retailer, publisher, or whomever. The responses to, basically, "how are you feeling about them as a publishing partner?" crossed every single square inch of available spectrum and then some.
While most everyone had a strong opinion on this one, I'm going to keep it to just two quotes because these exhibit the poles of that spectrum I was referring to.
"A partnership implies working together," Brower said. "Currently DC Comics does not seem to care about the direct market at all."
"The retailer outrage over DC continues to be one of the most embarrassing stories in modern comic history," said Higgins. "It did not affect our ability to get our customers their DC Comics titles one bit."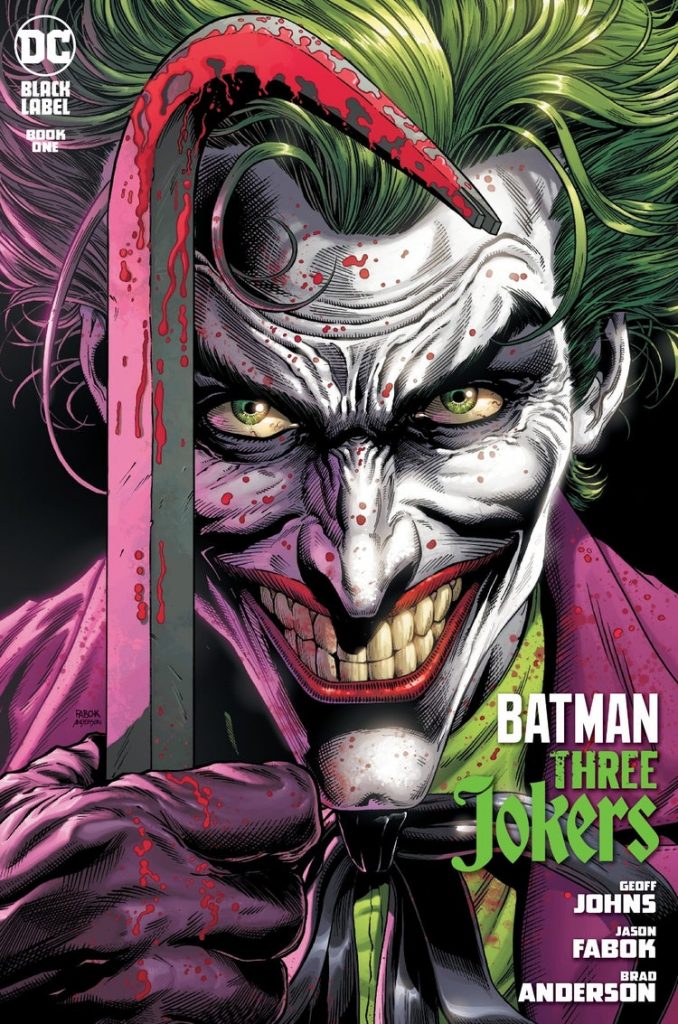 Now, here are some important notes to make. Brower is generally one of the most reasonable retailers I talk to, so him going off stands out, and Higgins would readily admit to his shop being a "DC store," as he said in another answer, so he's a bit more DC friendly than others. But that's still a pretty wide spectrum. I'd say about half of the shops I talked to were between happy and thrilled with DC, meaning Higgins was hardly alone, while the other half was relatively angry or distrusting of them. Meanwhile, Manhoff told me that while he is a big fan of their work as a publisher, as a partner, he "trusts them about as far as (he) can throw a giant mega-corporation." 18
In summation? ¯\_(ツ)_/¯
How each shop felt about DC seemingly was directly correlated to how much they took to the publisher's new distributors. DiBernardo and Higgins were big fans of UCS 19 and Lunar respectively, so they were in on DC. McMahon and Brower were unenthusiastic about the amount of work these changes added to their already full plates, with the latter saying, "DC leaving Diamond is a constant source of frustration and angst and they don't even care." 20
While this wasn't in reference to DC, DiBernardo sort of encapsulated the biggest downside to 2020 for shops and one of the costs to DC's changes when he told me that, despite his sales being up 15% overall, he was still down on the year because of the work it took to get there.
"Labor was way up, so in the end we are down about 10% this year," DiBernardo told me.
Whether you're talking mail-order or delivery or Facebook Live sales or whatever, all of these new tactics were fine and dandy…but they came with a cost.
And that cost was time.
I was frequently told throughout the year that it was taking considerably more time to do the same work, resulting in a situation where the cost of survival was any semblance of normalcy. Owning a comic shop was already a full-time job, but now it was several, with help being far more difficult to find and even more so to keep. That might sound like the cost of doing business to some, but when you're on day seven of punishingly long days, you probably start wondering how much more of this you can take.
---
While the costs were real and these shops are hardly representative of the totality of the direct market, if you could boil down 2020 in comics retail into one phrase, it'd probably be this: it could have been so much worse. In a year that very easily could have been the end for comic shops as we know them, we instead found savvy veterans adjusting to a changing market, (most) publishers working with them, and consumers showing record levels of thirst for the product. There was a massive time cost to the year and some retailers are ready to tar and feather DC, but what 2020 revealed to them didn't just offer them survival: it gave them hope.
There are real places to build here going forward, and you can see that in what shops told me was at the top of their wish lists for 2021. Do you want to know why? A lot of shops effectively said, for once, their partners – for the most part! DC returning to Diamond was still the number one most requested item! – are doing a pretty good job at looking out for them.
"I think that everyone is doing everything they can to keep our shops open and thriving," DiBernardo said. "For all the complaining and nitpicking I do, we are in a solid and secure position thanks to everyone working as hard as they can to keep the supply chain on track."
Don't get me wrong: there were still requests! Some were very regional and shop-specific, like Hendrick effectively saying fix Brexit and get him comics or Sareli wanting greater offerings of signed bookplates and materials connected to ordering certain levels on graphic novels. 21 Others were more consistent, like returnability from all publishers, which was described as a "must" by Manhoff. More still were nitty gritty details of the comics retail arts, like fixing point-of-sale compatibility issues, greater consistency in service and shipping charges from distributors, 22 or just greater clarity on how each house is doing things. But I think McMahon was speaking for everyone when he told me, above all, he's just hoping things "slow down at some point."
"Most of my time is spent keeping the boat on the right course and not swamping," he said. "I can't wait to be proactive rather than reactive."
When you look at the world of entertainment, you see industries going through a reckoning. Movie production houses and theaters are either going to change forever or eat themselves alive. TV production costs are through the roof and making typical considerations incredibly difficult. Even the simple act of eating and drinking with friends has been damaged tremendously by the events of 2020. And yet comics continue onwards, floated by creatives that typically work in isolation and a distance as well as the adaptability of those who make the world turn on the business side.
This could have been the end of everything for the direct market, but instead, many properly recognized these challenges as not just trouble, but opportunity as well. King certainly was one of them, who sees a bright future for everyone…if collaboration between each facet of the industry continues.
"It may be unorthodox, but we are an industry that looks to have made it out the other side largely intact and there are lots of other industries that this is not the case," King said. "We've got to lean in to each other to make this an industry that others want to emulate.
"As always, I see good things coming for us in the future."